"Encanto" Writer/Director Charise Castro Smith On Breaking Boundaries
With the release of Disney's Encanto, Charise Castro Smith (The Haunting of Hill House, Devious Maids) has broken through not one but two ceilings: as the first Latina to receive a directing credit on a Disney animated feature, and only the second woman ever to do so.
"I am glad this milestone has been reached. I wish it had been reached earlier and I wish this weren't such a small club," said Castro Smith, who worked on the movie for a little over three years, co-directing it with Zootopia's Byron Howard (also Tangled) and Jared Bush (also Moana), and co-writing with Bush. "My hope is that the membership of this very exclusive little situation I find myself in will expand rapidly. It is very exciting."
Encanto, Disney's 60th animated feature, centers on 15-year-old Mirabel, the sole member of her magical family to not inherit a special power. When the extraordinary gifts of the Madrigals and their hidden life in the mountains of Colombia are threatened, it is Mirabel who may be the only one with the ability to set things right. The lush, authentic animation is complemented by catchy, original songs by Lin-Manuel Miranda.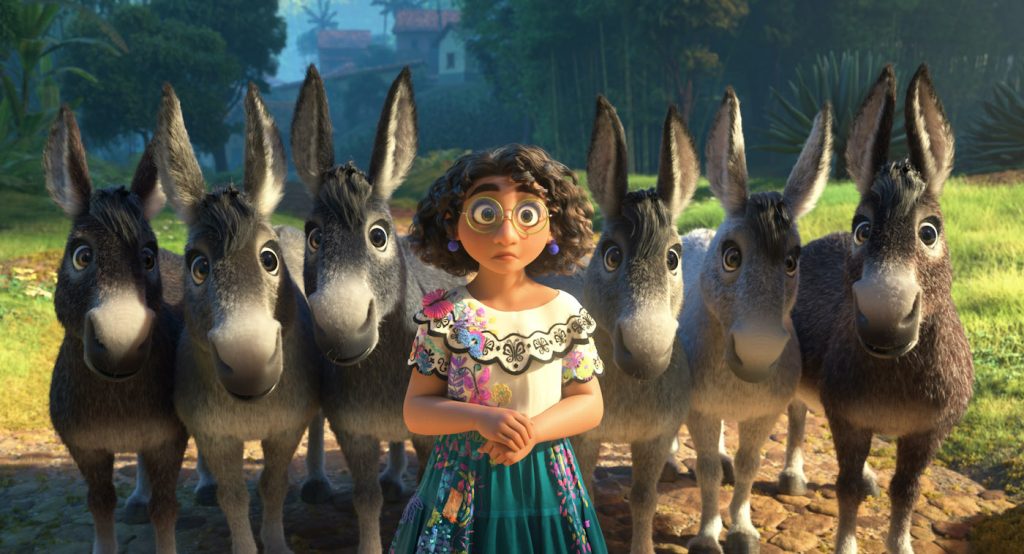 In a conversation with The Credits, Castro Smith spoke about relating to her main character, collaborating with Howard and Bush, and conveying the story through the music of Miranda. The following interview has been condensed and edited.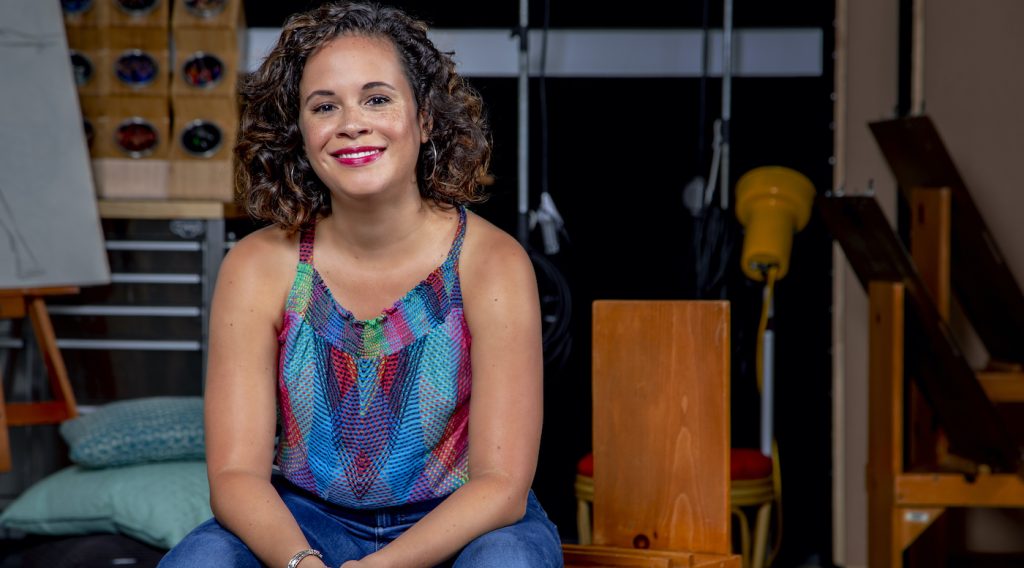 How did you imbue Mirabel with your own experiences as a Latina woman, daughter, and granddaughter?
Yes, there's a lot of aspects of the film which feel really, really close to me personally. As soon as Byron and Jared told me that they were making a movie about the one girl in a magical family who didn't have any magical powers, I was like OK, I know how that girl feels. It was really important to me, from the very beginning, to put on screen Mirabel doubting herself, misunderstanding her worth, and going on this journey, where she really recognizes her own worth and knows it and believes it and her family sees it and she doesn't question that for herself anymore — especially as this really fallible, human protagonist of color. She's the first Latin Disney musical lead, and that was one really important aspect of the movie.
I read a statement from you that your maternal grandmother really encouraged you to pursue a career in the performing arts. Mirabel also has a relationship with her "abuela," or grandmother.
My grandmother was sweet, very encouraging, not like "abuela" — but that feeling of precariousness, that feeling of pressure to succeed was definitely a part of my family's story. My family immigrated from Cuba in the 60s, and my mom came when she was a kid.
Often the main character is the one with the power who may feel like an outsider. This story flips that concept. Why take this route?
Something we talked about a lot as we were developing this film was how everyone is so invested in these personas on social media right now, and how we all have this pressure on us to project these perfect lives. Like you don't post a picture on Instagram of being up at 3:00 in the morning with your screaming baby. You post a cute picture where everybody's happy, everything looks amazing. And so this idea of Mirabel as the person who doesn't have that amazing persona to project, who feels left out, and having her as the underdog, as the person who is struggling to fit in, felt extremely relatable and felt like what everyone's experiencing.
When Jared Bush and Byron Howard came to you, where did the story come from? Was it commissioned by Disney or was it their story?
I think they were interested in and developing this idea for a couple of years before I came on to the project, and started by really asking questions about their families, about how well they actually knew their family members, how well they understood the layers beyond the roles that we all sort of slip into in our families. And so it was really that initial curiosity that was the impetus.
You co-wrote Encanto with Jared Bush. How did you work together?
Jared and I worked very, very closely. I would write a draft, he would do some notes on it. And then he would give me a draft and I would do some notes on it. So we were sort of two brains, one script, for the last three years. And the process at Disney Animation is, I think, in some ways kind of a hybrid between a new play development workshop and a TV writers' room, because each draft of the script is completely storyboarded, recorded, edited, made into a film, and screened. And then we would get notes from the studio leadership team. So we basically made this movie eight times over the course of the development process.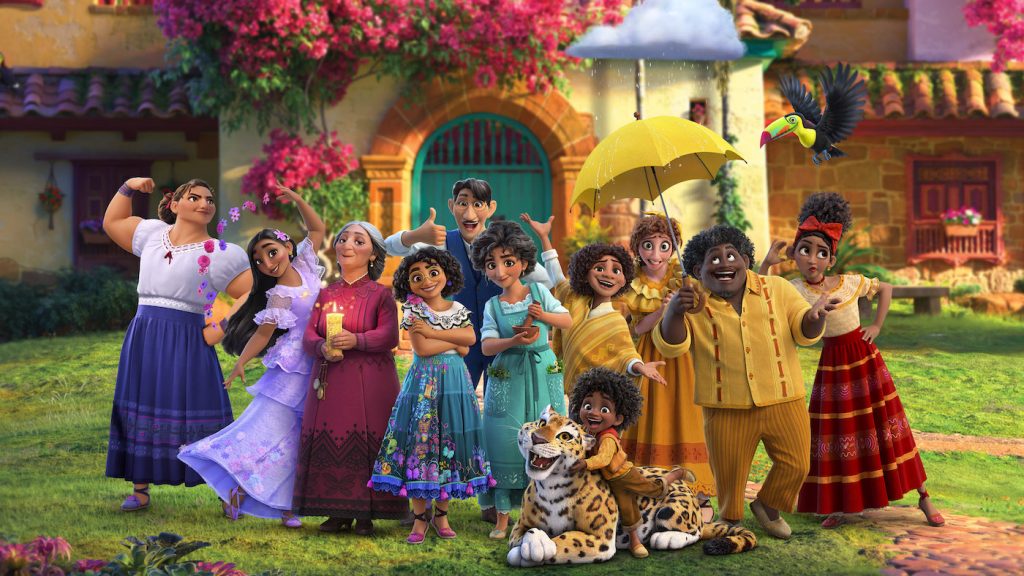 How did your background in theater help with telling this film's story?
My theater background was immensely helpful because this is a musical and there are a lot of aspects of it that feel very theatrical. The movie takes place in one setting basically, all inside the Madrigal home really, except for a couple of scenes. And so thinking about how to use space in interesting ways became a really interesting challenge. It also kind of drew on some of my TV experience, in that in animation the storyboarders — there was a team of about 10 or 12 that was always storyboarding as we were writing new pages — in some ways function as a writers' room because they're the ones who are reading the pages, making intensive notes about them, and pitching new ideas.
And how did you collaborate with Jared and Byron as directors, in this case for an animated film?
I had never worked in animation before and I had also never directed on this scale before. The thing about animation is there's such a vast amount of work to do: managing the design teams, directing the animation, directing the vocal performances, working with Lin on the songs, continuously evolving the script. There were 800 people who worked on this movie from start to finish, as opposed to live-action, and absolutely every single thing that is on screen is created by someone — every single leaf, every single hair, someone has to think about deeply and make. Byron has been at the studio for something like 30 years — he started as a storyboard artist — so he has an intense and deep knowledge of directing animation. I would say Byron was primarily the person who was directing animation. Jared and I both come from more live-action backgrounds, so we were really directing the vocal performances, helping with design, heavily in the edit room almost every day, working with Lin on songs. But we all sort of had our hands in everything.
We must talk about Lin-Manuel Miranda. What impact did his songs have on the story, both in writing and directing it?
I think the first song that we got from Lin was actually the first song in the movie, the "Family Madrigal" song, and it was actually Lin's idea to try to musicalize this huge extended family — there's a tremendous amount of exposition in this song — and have it just feel like a whirlwind journey through this town, where we just get to know everyone and get to meet this place and meet Mirabel. And then from there, it was a really organic collaboration. With some songs Lin had a very strong feeling, like the Luisa song, "Surface Pressure," he knew that Luisa had to have a reggaeton-inspired song, so he was really driving on that one. Other ones, like Mirabel's song, "Waiting on a Miracle," took a lot of development and a lot of back and forth of Jared and Byron and I really zoning in on exactly what that song needed to convey. That was actually the last song that was finished in the entire movie because I think we needed to see the entire movie to know what that song really had to carry. And so there were songs that were very easy and songs that took more development, but Lin is a genius. Every time we got an email with a new song from him, I felt like I was getting a secret treasure.
Encanto hits theaters on November 24, and Disney+ on December 24.
Featured image: MEET THE MADRIGALS – (clockwise starting from center) Stephanie Beatriz as the only ordinary child in the Madrigal family; Ravi Cabot-Conyers, Rhenzy Feliz and Adassa as Mirabel's cousins Antonio, Camilo and Dolores, respectively; Mauro Castillo and Carolina Gaitan as Mirabel's uncle and aunt, Félix and Pepa; María Cecilia Botero as Mirabel's grandmother, Abuela Alma; Angie Cepeda and Wilmer Valderrama as Mirabel's parents, Julieta and Agustín; and Jessica Darrow and Diane Guererro as Mirabel's sisters Luisa and Isabela. © 2021 Disney. All Rights Reserved.