Suit Up For Battle in Riveting "The Last Duel" Behind-The-Scenes Video
You've got two knights (old friends, in fact) in heavy armor fighting to the death, who do you want behind the camera? You're not going to do better than director Ridley Scott, whose 2000 hit Gladiator reinvigorated the period piece as something vital, bloody, and relentlessly exciting. He's moved ahead a few centuries with The Last Duel, starring Matt Damon, Adam Driver, and Jodie Comer, but Maximus (Russell Crowe)'s deathless line from Gladiator still gets answered in the affirmative here. "Are you not entertained?" We are.
A new behind-the-scenes look at The Last Duel plunges us right into the titular trial by combat. The film is centered on Marguerite (Jodie Comer), married to Jean de Carrouges (Matt Damon) in a time of "codified patriarchy" as the screenwriters (more on them in a second) have explained. The wheels come off their marriage when Marguerite accuses her husband's old friend, Jacques Le Gris (Adam Driver) of attacking her, setting into motion the events that will lead to the two men fighting to the death and a potentially horrific fate for Marguerite.
In the new video, we see Scott's camera array (five in all) as he captures every possible angle of the battle. "It's all geometry," Damon says the legendary director told him, as he nimbly advises where every camera needs to be and what he wants from each. Although the action itself looks a lot more like bloody arithmetic. As brilliantly as the fight is choreographed, it is a game of simple subtraction—one winner takes one loser's life.
About that script. Scott directs from a screenplay from a great director in her own right, Nicole Holofcener, which she co-wrote with Matt Damon and Ben Affleck (Affleck plays Count Pierre d'Alençon.) That's a pretty excellent starting point.
The Last Duel is set to hit theaters on October 15. Watch the new behind-the-scenes video below:
Here's the official synopsis:
The historical epic is a cinematic and thought-provoking drama set in the midst of the Hundred Years War that explores the ubiquitous power of men, the frailty of justice and the strength and courage of one woman willing to stand alone in the service of truth. Based on actual events, the film unravels long-held assumptions about France's last sanctioned duel between Jean de Carrouges and Jacques Le Gris, two friends turned bitter rivals. Carrouges is a respected knight known for his bravery and skill on the battlefield. Le Gris is a Norman squire whose intelligence and eloquence make him one of the most admired nobles in court. When Carrouges' wife, Marguerite, is viciously assaulted by Le Gris, a charge he denies, she refuses to stay silent, stepping forward to accuse her attacker, an act of bravery and defiance that puts her life in jeopardy. The ensuing trial by combat, a grueling duel to the death, places the fate of all three in God's hands.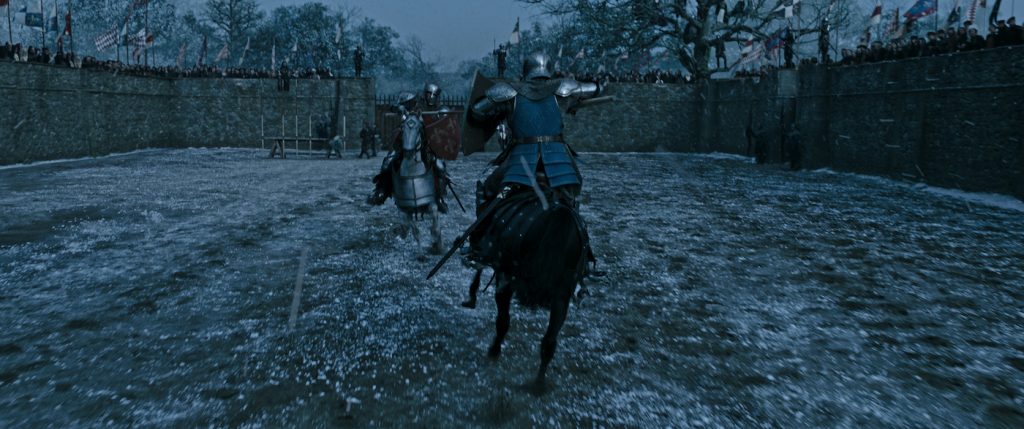 For more stories on Century Studios, Searchlight Pictures, Marvel Studios and what's streaming or coming to Disney+, check these out:
"The Beatles: Get Back" Trailer Will Knock Your Socks Off
Will Poulter Joins "Guardians of the Galaxy Vol. 3" As Adam Warlock
New "Eternals" Footage Reveals Epic Battle Between Immortal Beings
Featured image: Matt Damon as Jean de Carrouges in 20th Century Studios' THE LAST DUEL. Photo by Patrick Redmond. © 2021 20th Century Studios. All Rights Reserved.