Costume Department Coordinator Kenya Morgan on Entering Marvel's Cinematic Universe
Making a mid-career pivot is never easy, especially when that pivot is designed to get you into the entertainment industry. Or so one might assume. For Kenya Morgan, her journey from working in a retail position for an educational sheet music company to becoming a costume department coordinator for director Ryan Coogler's Black Panther 2 (officially titled Black Panther: Wakanda Forever) began with an origin story worthy of a Marvel superhero.
"I worked in your standard retail for about twenty years," Morgan says. "I did everything for that company, I learned to ship and receive, to do order processing and billing, because the philosophy of that company is everyone needs to know how to do everything just in case someone is out, it's always helpful to have an additional set of hands who can jump in an assist."
This proved valuable training for entering the Marvel Cinematic Universe, and her work, like the film universe it helps create, is a massive, sprawling, interconnected web of people working in dozens of departments towards one specific goal—make a killer new Marvel movie. Yet Morgan's journey from sheet music retailer to Wakanda began with that aforementioned version of a superhero origin story. After moving into events, sales coordinator, and customer service manager (adding to her superpowers, if you'll allow), Morgan's position at the company ended in 2015. She was in need of a fresh start.
"It was a bit of a midlife crisis. I didn't know what I wanted to do with the rest of my life," she says. Morgan considered getting into tech and learning how to code, but in the meantime, she wanted to volunteer and do something that kept her close to creative work.  She ended up volunteering at the Center for Puppetry Arts in Atlanta. It was while was volunteering that her mom had a fortuitous moment in the most unlikely of places. "It's funny, my mom was actually getting her tires worked on at the repair shop and saw the Atlanta Journal-Constitution article on the Georgia Film Academy. She called me and she said, 'Hey, what about this?'"
Morgan thought about it, applied, and got into the inaugural class. Her work ethic and collaborative instincts were an ideal match for an industry with a huge amount of varied jobs that requires people working together across dozens of artistic mediums, where a seamstress, a stunt coordinator, and a key grip are all on the same team. She began making connections. Although she had some theater background, entering the world of film and TV proved challenging. Morgan liked it.
"All of the skills I brought from my corporate job transferred over and gave me a very solid foundation for responsibility, following things through, being on top of things, and getting in front of things. Stuff that supervisors really appreciate [laughs]. That's how I ended up here."
Here is in the vaunted Marvel Cinematic Universe, the home of the most successful interconnected film franchise in movie history. Working on Black Panther: Wakanda Forever, which she's forbidden from speaking about specifically, of course, has been a crash course in modern moviemaking.
"It is a beast," Morgan says. "It is larger than any production I've ever worked on. When I started really watching the credits for Marvel movies and saw positions in the crew, these were jobs that I had no idea about, we didn't cover some of these things even at the Georgia Film Academy, but they're all here in the MCU. From the different types of animal wranglers to the different types of digital tech work that needs to be done, to the layers of made-to-order handmade costumes, it's huge."
Morgan had previously worked on a Netflix feature in the costume department, no small matter, but the size of Black Panther: Wakanda Forever was staggering. "The costume department for the Netflix feature was about fourteen people. [Black Panther: Wakana Forever] is more than 80, and that's spread across two offices with illustrators and other designers…there are so many parts, so many departments, it's massive."
As the costume department coordinator, Morgan's job entails knowing pretty much everything that's going on inside her massive department. "I spend my days reconciling budgets and expenditures, interfacing between the production office and our PAs and other departments," she says. "I think here we've got maybe between fifty to seventy people on the lot, so everything from payroll questions to check requests, it's all admin. I have a very specific role."
A crucial role at that. Imagine trying to keep track of all the ins and outs of a costume department in a film based on a fictional country, Wakanda, that needs to be portrayed with all the richness, variety, and realism of an actual place with actual history. Wakanda has multiple distinct cultures within it, and each culture has its own clothes, customs, beliefs, modes of being. All the MCU films are huge by any metric, but within the MCU, Black Panther: Wakanda Forever is especially huge due to the world-building involved. Morgan's department is lead by Oscar-winning costume designer Ruth E. Carter, and Morgan helped explain just how comprehensive the work being done in the costume department is with a proudly nerdy comparison.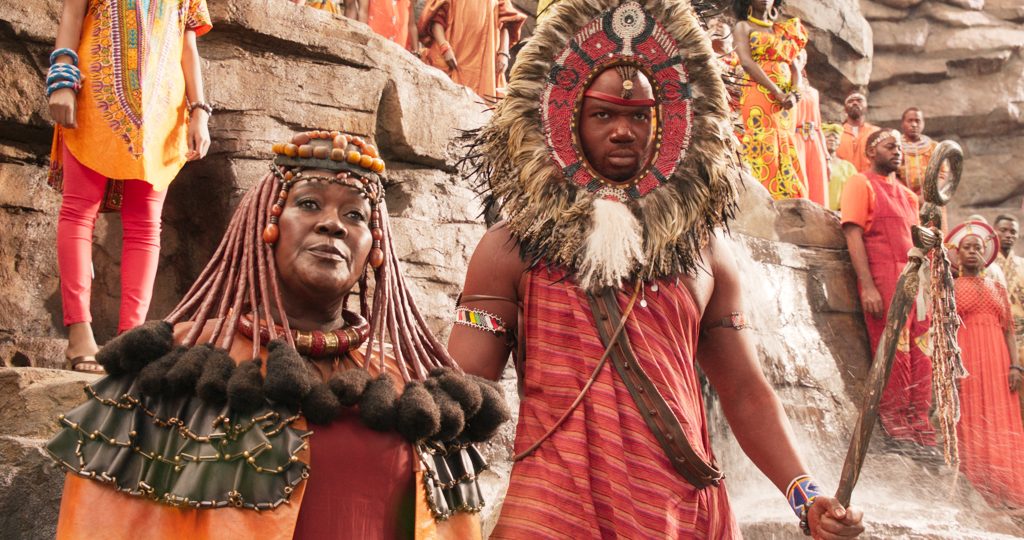 "I am a peripheral Dungeons & Dragons fan, and I listen to my friends who are game masters, the ones who create the worlds and the characters and help facilitate the storylines, this is a very detailed level of expansion and world-building, and that's just on this small scale tabletop game. But this is something that has to have real worlds built, cultures expanded upon, and each one of those cultures has its own norms, its own looks, its own subcultures, and each one of those cultures has to be fleshed out. From what they eat to what they wear, what their transportation is, what their technology is, it's just a massive amount of world-building. Then there's the futurism component, plus the historical component, all of this creates these specific worlds that are mind-boggling. I'm glad I just keep track of the numbers. [Laughs.]"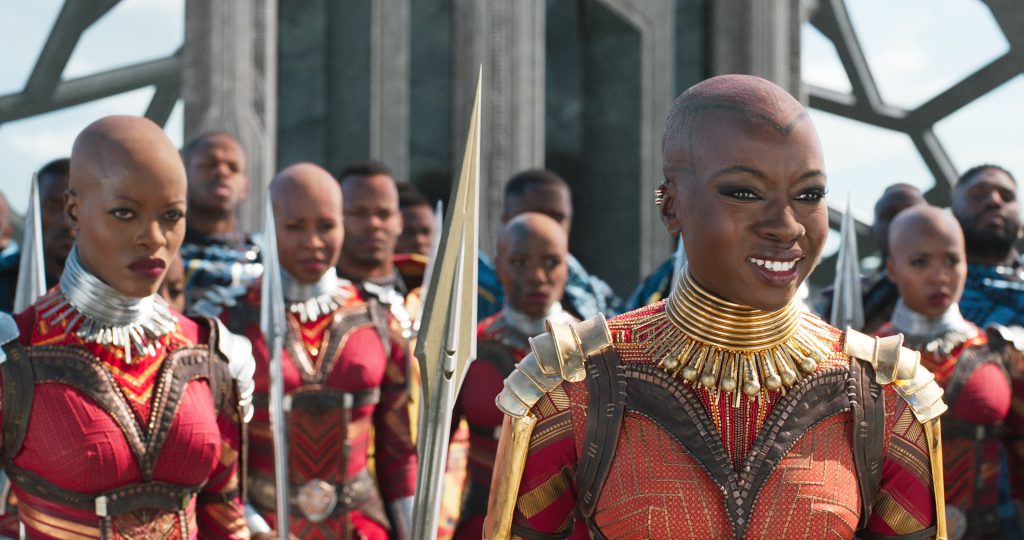 As for what Morgan knows about the story of Black Panther: Wakanda Forever, she says she is mostly, blissfully, in the dark. She gets to work on the film without knowing how the story will play out.
"The scripts are under lock and key. You have to be authorized to have access to the script, and I do not have the authorization," she says. Yet she gets a sense of things working in the costume department. She sees costumes going by, or one-line references on the shooting schedule or call sheet, which often includes brief descriptions of what's being shot, but she has no context for what's happening and she likes it this way. "The action, I have absolutely no idea. [Laughs]. Even as a fan, I will walk down the hall and I'll get drawn in by a costume, and then I'll remind myself, don't look!"
Working on Black Panther: Wakanda Forever is also a moving, occasionally overwhelming emotional experience due to the loss of Black Panther himself, Chadwick Boseman, in August of 2020.
"There were a couple of days in July where whatever the action was in the script, I could see it was emotional," Morgan says. "I asked one of our costumers, 'How was it?' She told me there were some tears on set. Sometimes I was like, 'I'm glad I was in the office because I don't know if there would have been enough Kleenex to help me keep it together.'"
Morgan believes that this level of emotion is only going to make the film stronger and draw more people to it. "I feel like this emotion is going to pull everyone into this film. There is no denying the impact of the Black Panther character, the legacy of the Black Panther character," she says.
As for her day-to-day, Morgan says becoming a part of the MCU requires some serious commitment.
"I have friends who work on other Marvel projects, on Loki and The Falcon and the Winter Soldier, and I mentioned one day that we should have a support group or club because once you've done a Marvel film, it's unlike anything else. You need to be acclimated to this environment, once you understand the mechanics of this and the scale of it, some folks will get it and make it through to the end, but it's a challenge. It's hard. But it is going to be rewarding and there are so many of us involved in this, in making the entertainment I like, that my mom is looking forward to, my friends are looking forward to. The MCU is simply epic."