"Hacks" Editor Jessica Brunetto on Creating Comedic Rhythm
Editor Jessica Brunetto has been collaborating with Hacks creator Lucia Aniello for years now. Brunetto worked with Aniello on Time Traveling Bong in 2016, and from there, she jumped into the editing bay for seasons four and five of Broad City (Aniello directed 16 episodes of the critically acclaimed Comedy Central series). So when it was time for Aniello to find an editor for her new series Hacks, Brunetto was her first choice.
Hacks follows the sometimes twisted, perpetually funny relationship between legendary comedian Deborah Vance (Jean Smart) and the young, outcast upstart Ava (Hannah Einbinder). Their courtship, as it were, is barbed, biting, and hilarious. The comedic timing on display, not just from Smart and Einbinder, but by a stellar cast that includes seasoned comedic performers like Kaitlin Olson, Megan Stalter, and Paul Downs never flags. Brunetto is a big reason why the series flows so well.
"I said yes without even totally knowing what the show was," Brunetto says, and who can blame her—Aiello's comedy instincts are razor sharp. We spoke to Brunetto about how she found Hacks comedic rhythm, how she handles the cast's brilliant improvisation, and why one scene in particular was the hardest she's ever cut.
Walk us through a day of editing an episode of Hacks.
It's worth mentioning that editing is often referred to as the invisible art, and I sometimes joke it also means invisible artist, because people often have a hard time understanding what our role is. Essentially we take all of the shot footage—dailies—we watch everything, we organize it all by scenes, and then we break it down and examine it by each shot, sizing close-ups, wide-shots, medium-shots, and we're basically organizing multiple takes of every performance. We're looking at it for a few things; for technical reasons, does it look good, does it sound good? But more importantly, I'm tracking the emotions of a scene. It could be comedic, it could be dramatic, whatever it is, I'm compiling what I think are the best performance from the actors and putting those things together.
How difficult is it to cut comedy?
I like to build an interesting rhythm. I think comedy is very much about creating an up-and-down momentum to the scenes, almost as you would compose a piece of music.
Can you walk us through a specific sequence in this season to create that musical flow?
A perfect situation to talk about is the opening of the pilot. We start very big and exciting, on a high note, with Jean coming off stage. We're following her, we hear the crowd cheering her, we hear the band play her off stage. We follow her backstage where all her handlers are, there's a lot of hustle and bustle that we worked into the sound design, and some additional lines we recorded with Jean after to liven up the walk to her dressing room.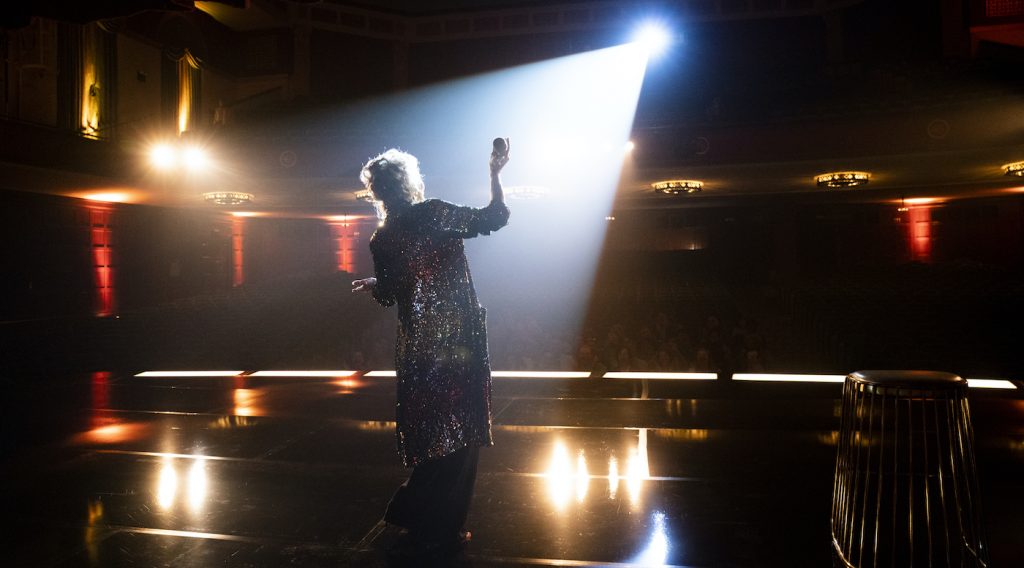 This is where we see the empire of Deborah Vance.
That's where it becomes a bit of a musical montage—she's going to her QVC show, her photoshoot, all these high-energy things that a comedy legend that has a business arm would do. And we build all that up in the beginning so when she gets home, it becomes really quiet, and you feel how lonely she is. When she's eating alone at the island in her kitchen, or you see her in this massive bedroom with all her stuff and nothing else, you hear some emotional underscore there, and you hear the humming of these big automatic blinds that close her in, almost like her own tomb. She's locked herself away from real emotional connections from the rest of the world. All of those things in contrast to the first two minutes of the show really tell you a lot about the character.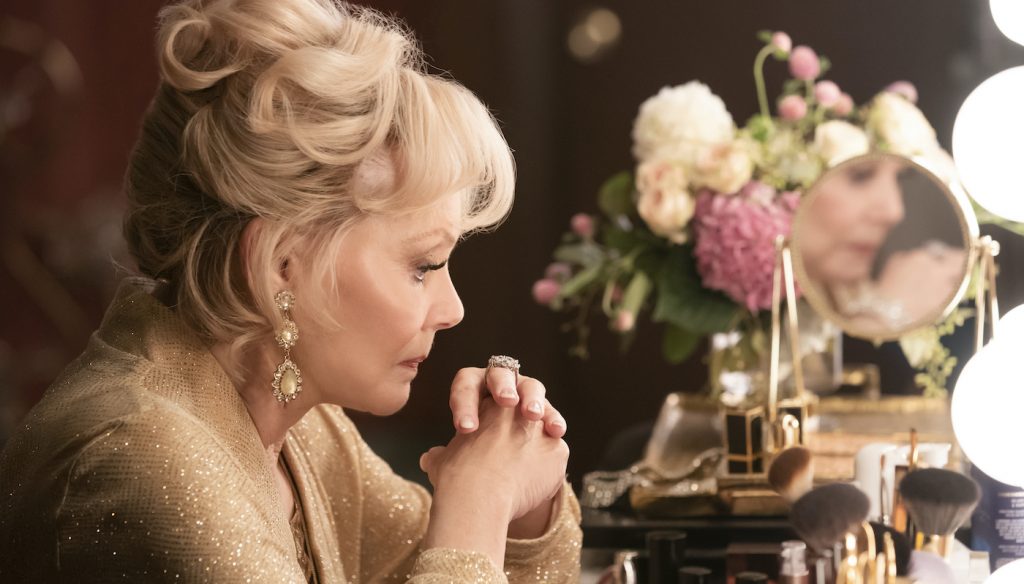 How did you handle shaping footage when the cast is riffing?
I'm fortunate to have an extensive documentary background, I started my career working with Michael Moore, so I'm not intimidated by unscripted material. I really just try to be fresh eyes for the showrunners and continue to go back to takes that make me laugh every time. I think it's easy to get the first laugh, it's really hard to get your 20th laugh. I try to concentrate on where I'm getting the laughs, even on Zoom. It's like a mini test screening to see what everyone's responding to.
How do you keep your mind fresh when you're glued to this material for hours on end?
I have a few tricks that I use. I think going for walks, especially when you're feeling like you've watched it 100 times in the last hour, helps. If it's not coming to me, I think it's better to stop for the day and come back to it fresh in the morning. I also find going to watch it in a living room setting and streaming it from my TV gives me a fresh perspective, versus looking at it on the computer. That way I can't do the thing where I want to make a little change, I have no control so I have to experience it as the audience would. And, a lot of times, I don't look at the scenes, I just listen to them. If I hear the right rhythm, the right drama, the right sadness, then it feels right. All the picture stuff I can adjust.
Is there a particular sequence that stands out to you that was the toughest nut to crack?
I think the sit-down interview towards the end of the pilot was really the hardest scene. In all my experience, I don't think I've ever had a scene that long. With the characters literally just sitting across from each other, that's such a huge challenge to keep it interesting. We had the interruption with Kaitlin Olson coming in, but at the end of the day it was Ava and Deborah going toe-to-toe. I felt like that was a good exercise in traditional editing, when to be close with Ava and Deborah, and then when to take a big breath in the middle of the scene with a wide shot. It was also good to remember the opulence in the room, the gold trim everywhere, the vases, all these things you wouldn't think were interesting but are telling you so much about Deborah. She's surrounded herself with handlers and stuff, but at the end of the day she's a very isolated person, and Ava is the first person who lights her up as a comedian. Because that was the hardest scene, I think it was the most rewarding.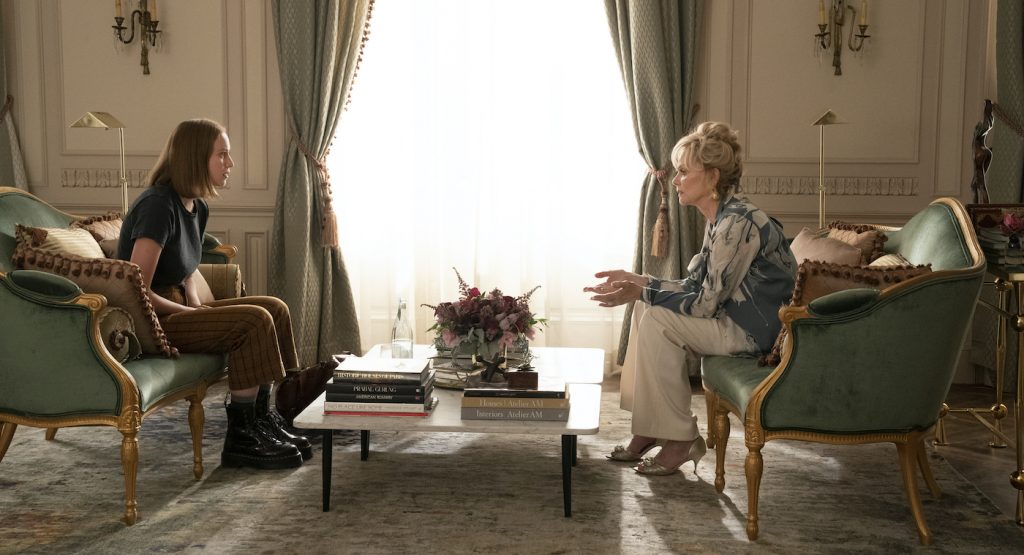 For more on Warner Bros., HBO, and HBO Max, check out these stories:
New "Dune" Images Reveal One of the Year's Most Anticipated Films
The Matrix 4 Gets Official Title As Warner Bros. Teases Trailer at CinemaCon
"Succession" Season 3 Premieres This October
Denis Villeneuve Writing Script For "Dune 2" & Zendaya Will Star
Featured image: L-r: Jean Smart, Hannah Einbinder. Courtesy HBO Max.