The Emmy-Nominated "Ted Lasso" Editors on Cutting to the Funny
Apple's Ted Lasso is one of the funniest series out right now. But it's more than the laughs that will keep you watching. The writing is clever, the performances are refreshing, and there's a depth to the characters that make you even cheer on the ones you hate. Well, maybe not Rupert, played devilishly well by actor Anthony Head.
The series centers on Ted (Jason Sudeikis), a former college football coach who's been handpicked to coach a pro soccer club in England by new owner Rebecca Welton (Hannah Waddingham), who has taken over the team following a publicized divorce from the aforementioned Rupert.
The pilot episode feels like the soccer version of the film Major League but quickly morphs into its own compelling underdog story. You begin to care more about the people you're watching than the game they're playing.
To cut the series, two of the show's creators, Jason Sudeikis and Bill Lawrence, tapped editors Melissa McCoy and A.J. Catoline, who were both nominated for an Emmy for their work on season one.
In the midst of finalizing the second season, the two sat down with The Credits to talk about the show's development and what it takes to keep this beloved series on the pitch.
Season one has been a huge hit and the second season might even be funnier. Can you share how you found the pace of the show from the start?
A.J. Catoline: We broke up the episodes with Melissa doing the odds and me the evens. By the time Jason [Sudeikis] and Bill [Lawrence] met with us for the first time, we had eight episodes cut. Having that many episodes open we were able to figure out what the show is and plant little seeds in the episodes that pay off later. Working with Bill is like going to a masterclass. He pointed out early on that Jason isn't going for the obvious laugh, but he's going for a feeling. He wants the characters to have breaths and leave air for the audience. As an editor in comedy, you're taught to tell a joke and then quickly get to the next one. With Ted Lasso, we wanted to leave room for the inhales and the exhales.
How helpful was it to split the series with another editor?
Melissa McCoy: It would be a lot for a single editor to do all of them. There's a ton of footage and then you have visual effects. It's also a big mental hurdle to get through the episodes. With A.J., we're able to plant ideas and pay them off later. There's a lot to juggle so it's great to have two of us shepherding the episodes and getting them as tight as they can be.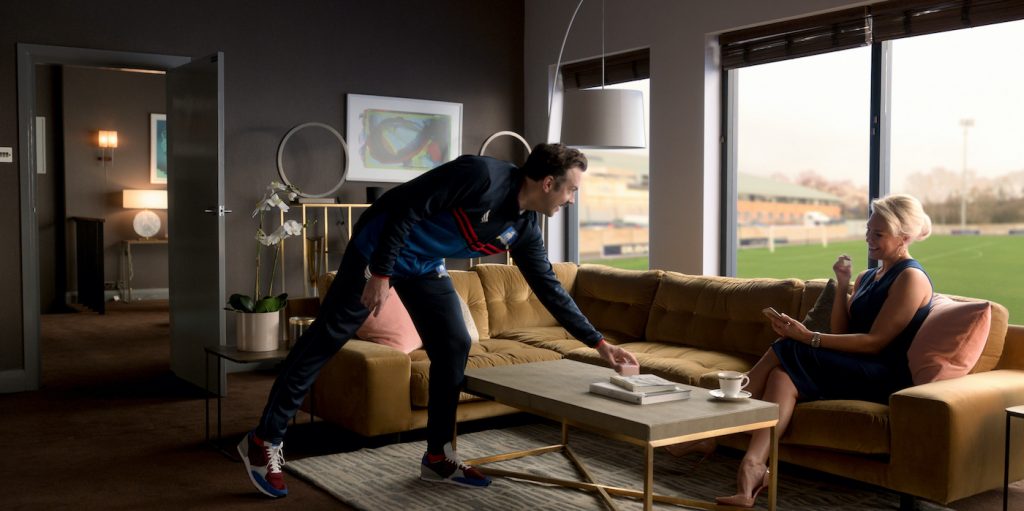 How do you keep the consistency from episode to episode?
Melissa McCoy: We try and watch each other's cuts, but Jason and Bill are great at keeping the series consistent. We talk so much about tone, how much we want to play with the jokes and pathos. Jason's notes are very specific and true to the characters. All those things help us congeal our edit. We have such clear leaders on this show shepherding us towards the finish line.
It doesn't sound like there's any ego on this show.
Melissa McCoy: There's not a lot of ego on this show. It's all hands on deck from the editing team and we all came back for season two stronger and more knowledgeable.
What separates Ted Lasso from other comedies is how it balances the struggles each characters faces. How do you navigate those moments?
A.J. Catoline: We realized quickly that the show is about pathos but it's a show about being vulnerable. For a character like Rebecca [Hannah Waddingham], the pain is coming out sideways. Jason wanted us to be in tune with that and track her. With Rebecca, we are going to look for close-ups and find reactions to build her story arc. Finding them is the easiest part of the job because Hannah is such a great actress there's no need to look for stolen reactions.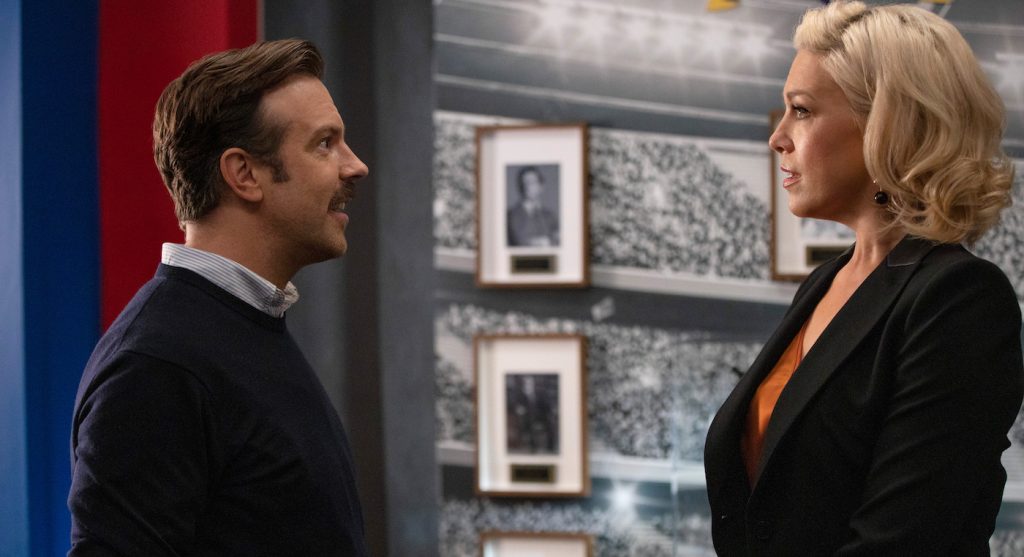 Ted is almost like a Ned Flanders of soccer. He rarely says anything negative, but when he does, it has an impact. How do you beat out those moments when he is getting his version of mad?
A.J. Catoline: There are moments in the show like when Ted is taking off his wedding ring in season one, episode six, where you see the pain in his face. Or, when he hustles Rebecca's ex-husband Rupert at darts season one, episode eight, and says "better manners when I'm holding a dart." That dart scene is one of the few moments where Ted gets mad.
We try to find these reactions of other characters that bounce back to him, to the root of his pain. In that dart scene, we find out his dad died when he was younger and Rebecca gives him a beautiful reaction. We play off that. It comes instinctively with the show as we are vibing with it, and Jason often times will let us know where the attention needs to go. As an editor, I love that.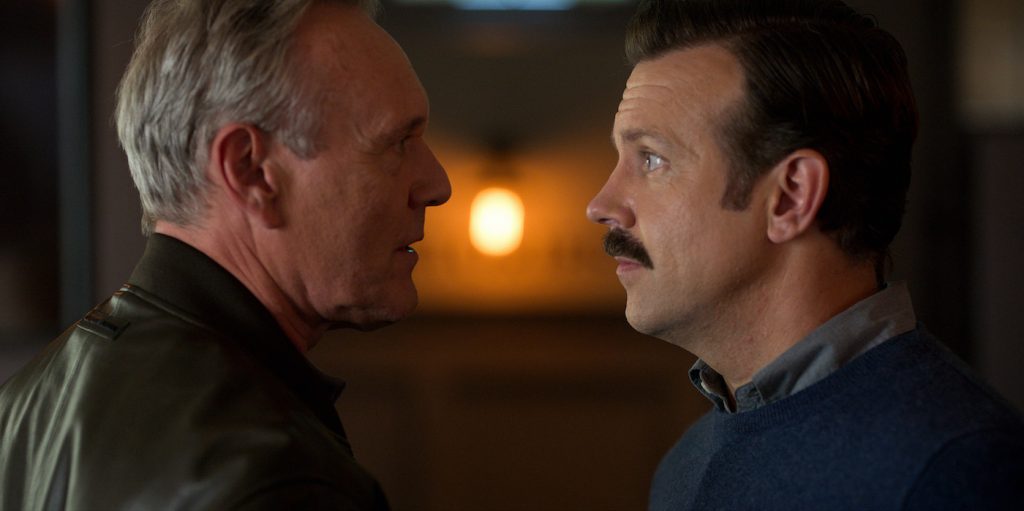 The show does an exceptional job with character arc and building connections. A favorite relationship is between Rebecca and Keeley (Juno Temple). Can you talk about how you created their chemistry?
Melissa McCoy: In season one Rebecca and Keeley's relationship really starts to form in episode three. When I read the script, I was like, oh my gosh, this is how women's friendships form. They're not going to be enemies, they're going to be friends. The energy the actors give is a lot of it. But I feel that when I am cutting, the music can help add to it too. Everyone is always stepping up and giving all they can because they feel so deeply for it.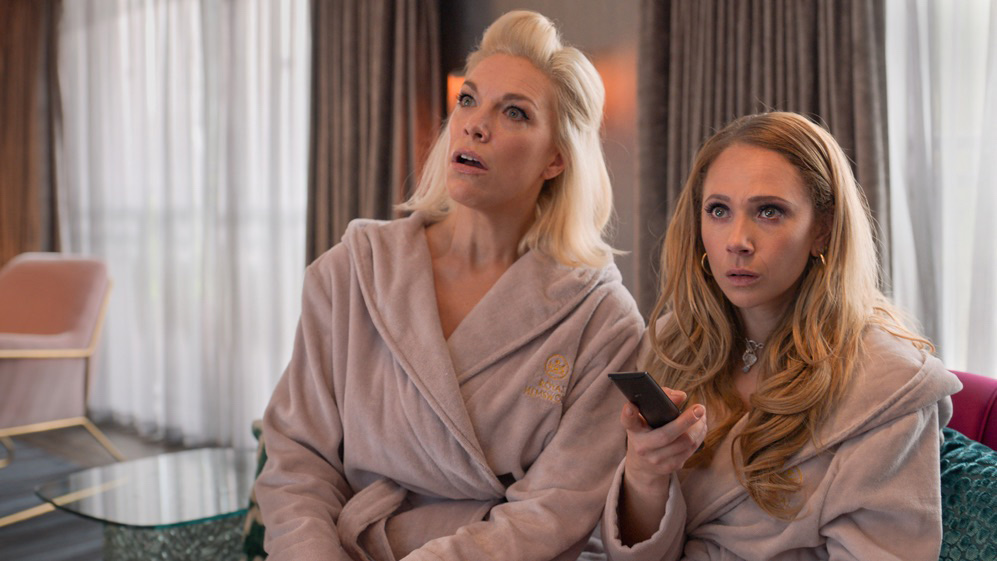 The relationship between Ted and Rebecca is fantastic too. Thankfully, it's never played as a will they or won't they, but as two people who admire and learn from one another. Is it easy to keep that tone in the edit? 
Melissa McCoy: You're right. They never play that romantic angle. Jason describes it as them being non-romantic soul mates. They really do feel like there's a connection but not a romantic one. It starts with the writing and the performances and then we follow those beats. They share a lot of respect for each other and are two people who listen and are there for one another through the tough times.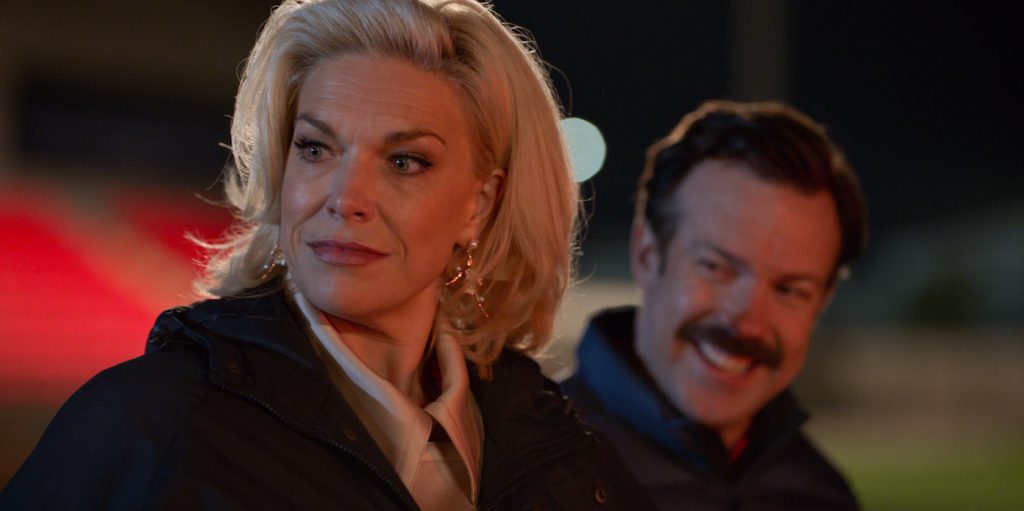 How do you approach cutting your Emmy-nominated episodes?
Melissa McCoy: Just working on the dailies for "Make Rebecca Great Again" it felt special from the get-go. Jason wrote the script and he had a great vision for it. For the edit, a lot of it was finding the beats for each character and creating the timelines behind the team reactions. There was a lot of buildup and tension leading towards the end and bringing scenes to their max potential because the actors were at the top of their game.
A.J. Catoline: The finale took advantage of having the first eight episodes to rely upon. None of us knew that when Ted said at the beginning of the season that he's here to coach the team win, lose or tie, that it would pay off later. We had no idea that in episode ten Ted would be rooting for a tie to win.
But with Jason, he's a magician. He lets you think the trick is one thing but the trick ends up being something else. We then kick it to Marcus Mumford's "You'll Never Walk Alone," which is a song sung in England for the health care frontline workers and I've watched that scene hundreds of times and still cry. That's the magic of the way it feels and the magic of the writing. And the title of the episode, "The Hope That Kills You," is beautiful.
Do you have any advice for assistant editors to get noticed?
A.J. Catoline: This show is about mentorship and in season two we promoted our assistant editors Alex Szabo and Francesca Castro to additional editors on episodes. Not only because we were under a release date, but the show is a lot heavier with more going on in season two.
For me, it's all about a vibe. It's not a resume thing but I felt a vibe with Alex. If you're just starting out, stick with it and believe in yourself, and keep cutting. Keep telling stories and keep connecting with people. Doing work through the editor's guild and ACE will help you make those connections. But above all, stick with it and be patient.
For more on Ted Lasso, check out these interviews:
"Ted Lasso" Casting Director Theo Park on Filling Out AFC Richmond's Roster
Emmy-Nominee Hannah Waddingham on the Joy of Making "Ted Lasso"
Featured image: Jason Sudeikis and Hannah Waddingham in "Ted Lasso," now streaming on Apple TV+.​