Jordan Peele Reveals Next Film's Poster & Title
In just two films as director, Jordan Peele's clout is such that the simple release of his next film's title and poster is a big deal. With that, we bring you both for his third feature, which is titled Nope, and the poster featuring an oddly shaped cloud. We're going to go out on a limb and take a guess at what we think Peele's film is about, although we're guessing we'll end up being wrong. What we can be relatively sure about is he'll be working the horror genre he's made his own with his first two, fantastic features, Get Out and Us.
Judging by the poster, we're going to take a stab and say that Nope will do for aliens what Get Out did for seemingly kind but secretly psychotic murderous white people and Us did for doppelgangers. We see a bizarrely shaped cloud (you could argue, we are arguing, that it's shaped like an alien ship) and a string of flags. The title also recalls any number of Peele's characters witnessing something absolutely insane and saying "nope" and turning right around and exiting the scene. So, for argument's sake, imagine a character in Nope hearing something outside, going to check, and seeing a strange ship hovering above his parked Subaru. Yeah, that's a hard nope and a quick retreat to the house for most sane people. Peele tweeted the image with a cloud emoji, much as he tweeted the Us poster and title reveal with that film's now-iconic prop, a pair of scissors.
— Jordan Peele (@JordanPeele) July 22, 2021
Peele's film includes Keke Palmer, Oscar-winner Daniel Kaluuya, and Oscar-nominee Steven Yeun. Do we know a single thing about the film? Of course not. Peele will keep it tightly under wraps and dole out cryptic bits of information, like any good horror maestro, in the coming months.
Nope isn't due in theaters until July 22, 2022, so we've got a long way to go before we learn more. For now, we'll enjoy this little slice of information, and knowing that we'll be saying heck yes to Nope next year.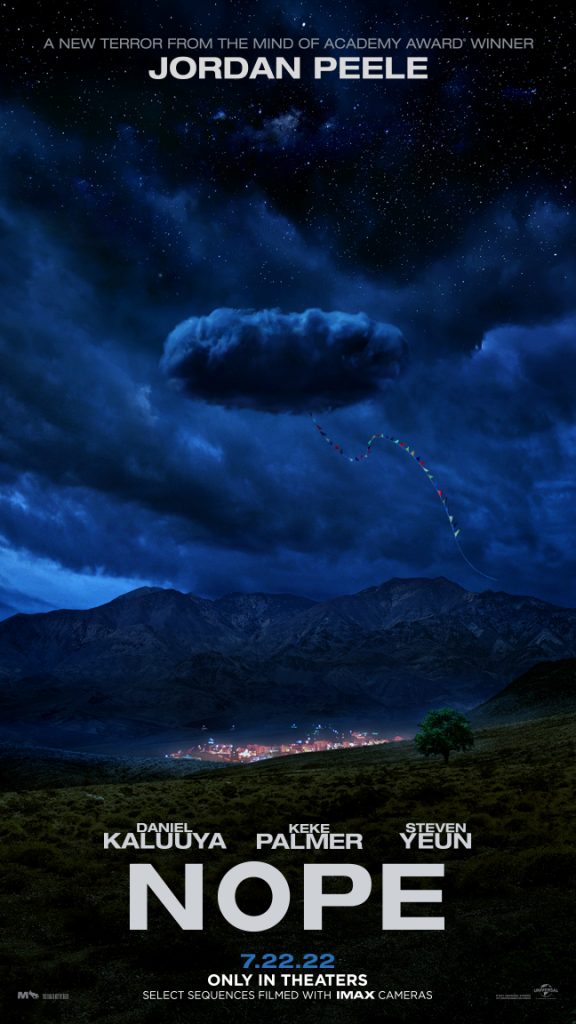 For more on Universal Pictures and Focus Features projects, check out these stories:
Documentarian Morgan Neville on "Roadrunner: A Film About Anthony Bourdain"
Going Pedal To The Metal With "F9" Stunt Coordinator Andy Gill
M. Night Shyamalan Teases New Film "Old" at Tribeca
"Candyman" Director Nia DaCosta's Stirring Juneteenth Message
Featured image: The poster for Jordan Peele's next feature, "Nope." Courtesy Universal Pictures.