Documentarian Morgan Neville on "Roadrunner: A Film About Anthony Bourdain"
Charismatic author, chef, and world traveler Anthony Bourdain went from relative obscurity working in a New York restaurant to international success at the age of 43 when his memoir Kitchen Confidential was released. It started a meteoric rise to fame and led to Anthony Bourdain becoming a household name. When he killed himself at 61, his suicide shocked fans all over the world. Now Oscar-winning documentarian Morgan Neville has created a fascinating, poignant portrait of the complicated man in Roadrunner: A Film About Anthony Bourdain. Using a wealth of unreleased footage and voiceovers of Bourdain from his shows, interviews with some of his closest friends and family, and home movies from his personal life, Neville reveals the story of what happened after Bourdain's rise. He also shines a light on the personal struggles of a man with a curiosity and drive that became increasingly antithetical to finding satisfaction or happiness. The Credits spoke to Neville about the new revelatory biographical documentary. Roadrunner: A Film About Anthony Bourdain is in theaters now.
What do you think makes Anthony Bourdain so compelling to such a wide variety of people?
He wasn't famous in a normal way. He was famous because he played himself. So it's not like a movie star where people know they're famous, and they like their movies. When people saw Tony in real life on the street, they felt like he was a friend of theirs they're running into. They wanted to go buy him a beer or sit down with him and talk. He also had that ability to connect with people very different than himself. I'm constantly shocked by the variety of people who were into his books and shows.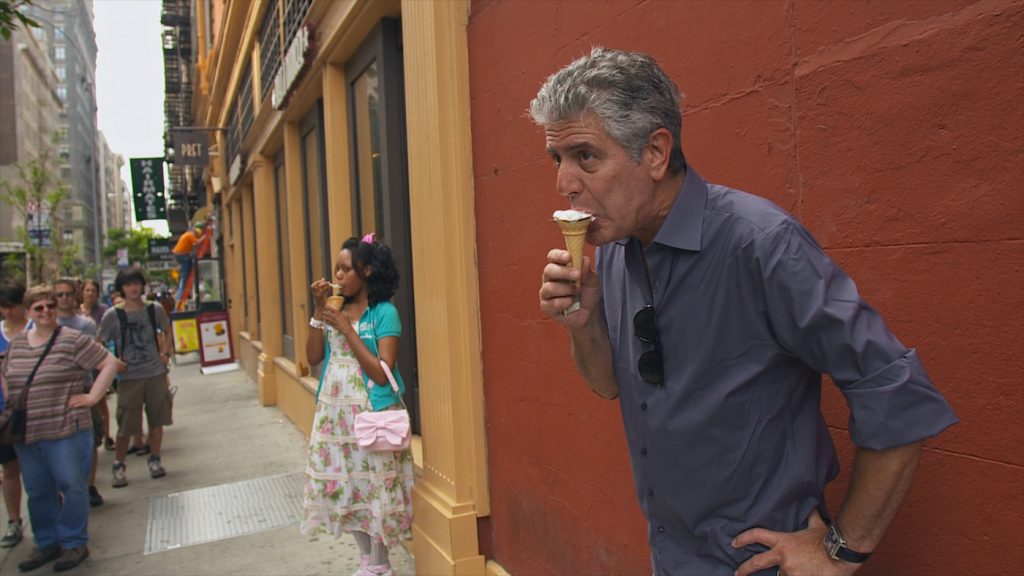 One of his best qualities was that he had a strong, opinionated personality. 
Part of what I think people connected with is he wasn't wishy-washy. He was very funny and sharp and he'd have opinions, but at the same time, he was constantly learning. He says in the documentary, 'I love nothing more than to go someplace and be completely surprised by it'. I think people trusted him because he was kind of a no-nonsense guy. When he went someplace, he would own it if he felt like his preconceptions were wrong, or that he was bringing that 'White Male American' perspective on things. He owned his flaws in a way that made people trust him.
More than 30 interviews were conducted for the film. What was the research that led to what we see from the subjects onscreen? 
The research was everything from putting together an 18-hour playlist of every song he ever mentioned, to watching all the movies he made lists of that he loved, to re-reading the books that influenced him, from Graham Greene, George Orwell to Joseph Conrad and Hunter Thompson. That was part of it. And then reading his books, watching the shows, and talking to people.
How did you put together the questions for the subjects? 
With my interviews, I end up, when I'm making a film, with just a list of words, not questions. And so I had a list of words that I would take with me into interviews, and each of those just represented an idea I wanted to explore. That's kind of how I do interviews. It's a little different.
Do you remember some of the words you used to get the conversations started?
They were words like curiosity, travel, addiction, childhood…words like that.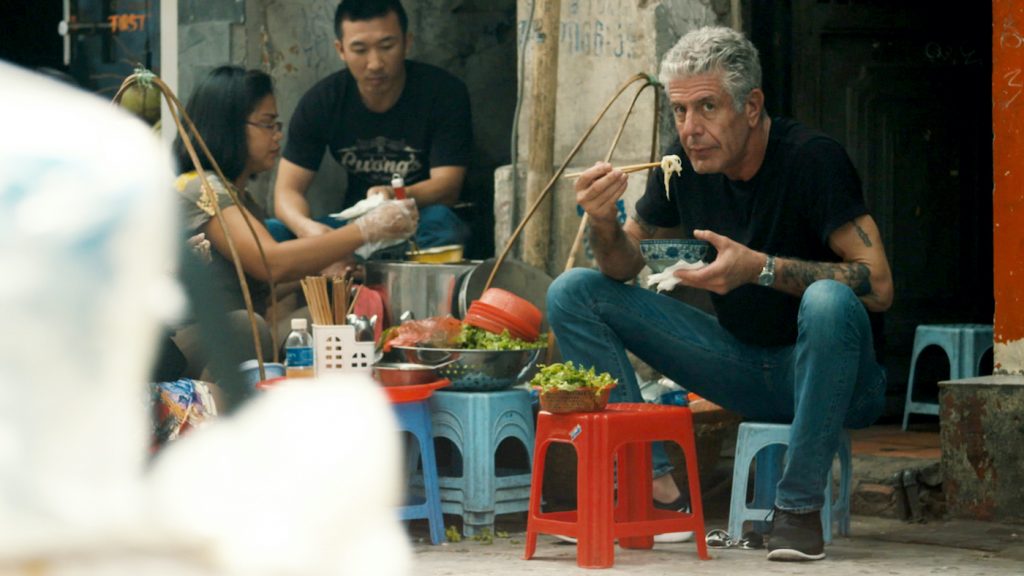 How do you find the balance of subjectivity and objectivity in the documentary, given the interviews are so personal? 
I mean, what is objectivity? All I can say is I went into this with zero agenda. I just went in to listen to people, and try and understand this guy as best as I possibly could. And I feel really good about that job. I worked hard at trying to understand who he was, and then I just tried to put that back into the film. In a way, I feel like my storytelling is about reflection. It's about reflecting what I hear, what I see, and even the tone of a person. My style of filmmaking tends to change based on the subject because I want the actual storytelling to be reflective of their sensibility, too. It is, for me, a big exercise of a kind of channeling. Is that subjective? Yeah, probably, you know, but it's in the efforts of trying to reflect a subjective person.
You edited Roadrunner sequentially from the beginning, which led to the arc of Bourdain's story. It feels like we live in his excitement, and then sort of plummet with him in the end. What was the process like with editors Aaron Wickenden and Eileen Meyer?
Aaron and Eileen are two amazing editors. They had cut the documentary Best of Enemies with me about Gore Vidal and Will Buckley. And Aaron has also been an editor on my Mr. Rogers and my Orson Welles documentaries. I had a shorthand with them, and we all talked about it. The process, in the beginning, was me saying, 'we are not going to think or talk about his death for a long, long time. Let's just totally put it out of our minds. Let's just go on the ride with him as we're telling this story.' We tend to read history backward, but you live history forwards. And so I didn't want it to feel like the whole film had the weight of portentousness constantly through the entire film. It could actually be exciting and full of hope and promise, and I think we got there.
This was very different than the way you normally edit, right? 
It's not the way I normally cut a film, but it was an unusual film. So much of the film is about trying to deal with tone, and understand how you alter the tone of a film as the story changes in a way that feels organic. I feel like so much of Tony's story is about connecting the good exciting things with the dark things, because so much of Tony's personality is about the interconnectedness of those things. I've said it before, but I think a lot of his flaws are also his superpowers, and for him, it was hard to kind of parse those out. And so it's a matter of kind of trying to just understand all the pieces of the same puzzle.
Roadrunner is about Anthony Bourdain, but it's also about mental illness and what suicide does to those you leave behind, which is one of the most powerful aspects of the film. That's such an important issue to show, because it removes all the supposed dark romanticism around suicide, and really shows the chaos and damage it creates.
Tony did have that kind of 'Live Fast, Die Young' kind of attitude, and you know what? That attitude is just bullshit. I've seen it. I've talked to people dealing with the grief left behind. I just feel like if I could do nothing else, I'd certainly want to de-romanticize the idea of killing yourself.
For more on Universal Pictures and Focus Features projects, check out these stories:
Going Pedal To The Metal With "F9" Stunt Coordinator Andy Gill
M. Night Shyamalan Teases New Film "Old" at Tribeca
"Candyman" Director Nia DaCosta's Stirring Juneteenth Message
First "Jurassic World: Dominion" Teaser Reveals Glimpse at Long-Awaited Dino Epic
Featured image: Anthony Bourdain stars in Morgan Neville's documentary, ROADRUNNER, a Focus Features release. Courtesy of CNN / Focus Features