Emmy-Nominated Composer Virginia Kilbertus on "Endings," "The Lighthouse" & More
Composer Virginia Kilbertus was not entirely prepared for her Emmy nomination for outstanding music direction and composition for a daytime program. Although she'd submitted her work on Hulu's Endings, a sci-fi adventure set in a near-future where four foster kids discover they're not alone after the disappearance of the last elephant on Earth, she hadn't been tracking the nominations since. "I hadn't been anticipating when they were announcing it," Kilbertus said by way of phone from Toronto. "So I was just on my email one day while outside with my mom and sister, and my friend in Toronto sent me a note that said, 'Hey, did you know you got nominated?' Then more emails came in, and it's just a very nice, lovely surprise."
Kilbertus' work on Endings is a lot more subtle and challenging than you might assume a kid's show would demand, but then again, she gravitates towards such projects and thinks that's what interested the Emmy voters.
"I was speaking with someone on the Alliance for Women Film Composers, when you've submitted to the Emmys you submit a blurb about the score, how it was done, and the inspiration, and I think that's what stood out to people," she says. "The Endings creator, J.J.Johnson, his first broad direction to me was that he didn't want to easily identify the instruments for the score. Like I had a violin solo and that was nixed because it was too standard, so that created a conundrum as I had to make something that sounded very otherworldly and different, but at the same time there were these very tender, human moments, and so it needed to feel relatable and intimate at the same time."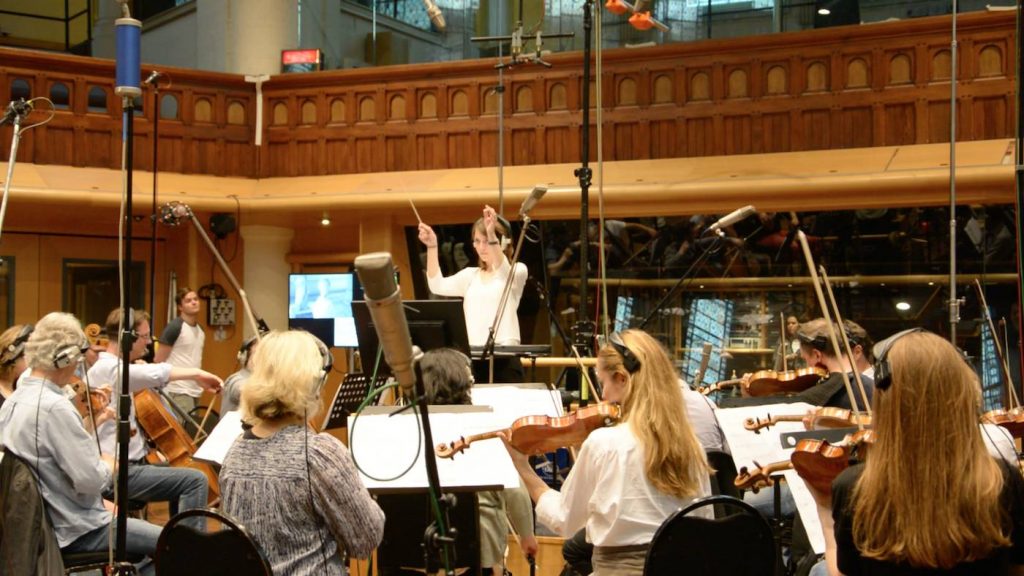 So how did she thread the needle between otherworldly and emotionally resonant? "I built softer moments by altering sounds, recording bowing in weird places on the instrument, and altering those until I had a softer tone," she says. "There were some raw acoustic recordings and some piano, but it had to be woven in against a texture that sounded familiar, but that also wasn't a standard melody, but more atmospheric. I had to kind of feel it out for each episode."
Kilbertus is not afraid to work differently, to approach each project like a unique puzzle to solve. To this end, one of her most impressive recent feats is her collaboration with composer Mark Korven Robbert Eggers' mindblowing The Lighthouse in 2019, which centered on two lighthouse keepers, played by Willem Dafoe and Robert Pattinson, losing their minds on a desolate New England island in the 1890s. Kilbertus worked with Korven to match the film's wild visual splendor and "Moby-Dick"-level verbosity with a score equal to the insanity.
"Essentially Mark had composed the score digitally with digital mockups, and it was my job to then sonically listen to the stereo mixes and deduce what was going on and then transcribe it for musicians," she says. Essentially Kilbertus was acting as an interpreter of sound, making a musical roadmap for the brass orchestra they'd eventually commission to create the music. In the normal course of musical notation such as this, you usually have melodies and distinct pitches to work with. This wasn't the case with the sounds Mark Korven handed over to Kilbertus. "A lot of it was not traditional, it was different, it was unique."
Kilbertus has embraced the astonishing growth and reach that technology has had on her line of work, and this helped her immensely when working with Korven on The Lightouse.
"We use sample libraries, which are essentially pre-recorded live sounds of orchestras, solo instruments, ensembles, it's a huge world unto itself," she says. "So when a film doesn't have a budget to record live, this is what you're hearing. Back in the day, they didn't sound as realistic, but now, technology has advanced so much that the average listener might not be able to tell the difference between the mock-up and the actual recording. Mark plays a gazillion instruments, a lot of them are weird. He didn't tell me he was using this virtual instrument or that, he just sent me the files. I think he might have recorded himself playing some weird, wacky instruments, and I translated them."
Kilbertus says that she welcomes the growing desire for nontraditional scores, but notes that there are certain projects that call for more traditional, orchestral music, and other projects, be they a children's sci-fi series on Hulu or a film from one of our most resolutely unique directors working today, that require something totally different.
"I'm seeing more of a want for experimentation," she says. "I think filmmakers are trying to push the boundaries and want a score that's different than anything else that's out there. Now with technology, you can sample any sound. You can bang a pot and make a score out of that. With minimal equipment, we can create these home sample libraries, and that provides a lot of room for play."
We spoke a bit about the late, great composer Jóhann Jóhannsson's score for Arrival, which managed to be otherwordly and achingly beautiful, mysterious, and yet oddly comforting. "That score for Arrival was a game-changer. It opened everyone's eyes to this new world that you could do these crazy weird things on a big production," Kilbertus says. "When I was applying to be a resident at the Canadian Film Center, that wasn't too long after Arrival came out, and when I mentioned him they told me everyone was saying that. It struck a chord with everyone, it was so moving and yet so different. That was an influence."
Kilbertus has some advice for up-and-coming composers—be brave and seek out the people you admire. "Don't be afraid to reach out to composers and talk to them. They'll be able to give you tips on what software they're using," she says. "When I was in school it was all paper and pencil, it didn't occur to me how much work people were doing digitally. When I got to Berklee College of Music, I was like, oh, it's like 90% tech! So don't be afraid to ask for help, and shadow a composer."