What are "Black Widow" Villain Taskmaster's Abilities?
Now that the early reactions to director Cate Shortland's Black Widow are hyping an action-packed, emotional spy thriller that completes the epic (and heartbreaking) story of Natasha Romanoff (Scarlett Johansson), we thought we'd turn briefly to the film's main villain, the Taskmaster.
One of Black Widow's big secrets is who is playing Taskmaster. Most Marvel theorists believe it'll end up being one of the main characters, someone like Florence Pugh's Yelena Belova or Rachel Weisz's Melina Vostokoff. (The character seems too lithe and nimble to be David Harbour's Alexei Shostakov.) So while we can't answer who Taskmaster is in Black Widow, we can take a brief look at the character's abilities, as outlined in the Marvel comics he's (and he is a he in the comics) appeared in.
The Taskmaster was created by David Michelinie and artist George Pérez and first appeared in "The Avengers #195" in May 1980. One of his main abilities is "photographic reflexes," which is described as the ability to simply watch another person's physical movements and duplicate them, perfectly, without practice or training, regardless of how complex they are (or how many years it took that person to learn them). In the comics, Taskmaster has cloned the fighting style of everyone from Captain America to Ant-Man to Spider-Man. We've already seen Taskmaster duplicate Black Widow's style in the trailers and teasers. Here he/she is doing it in this still images: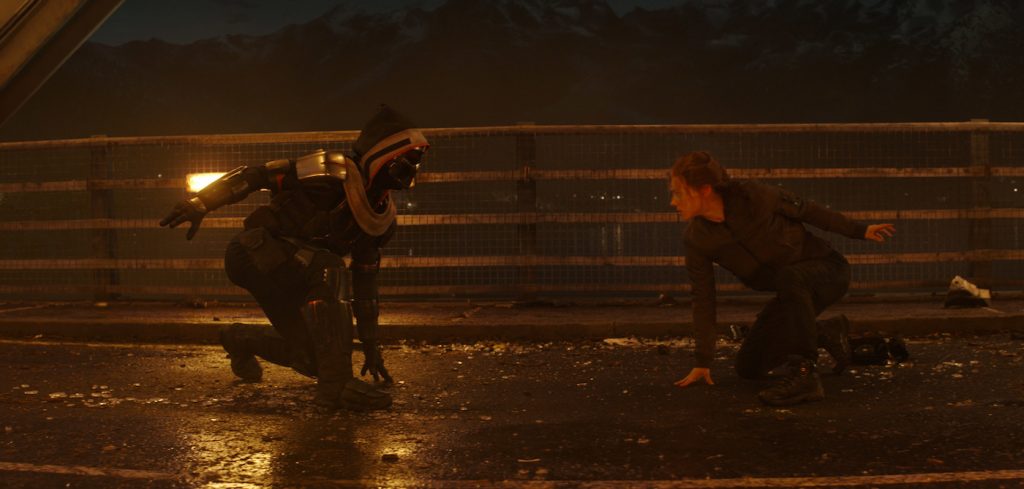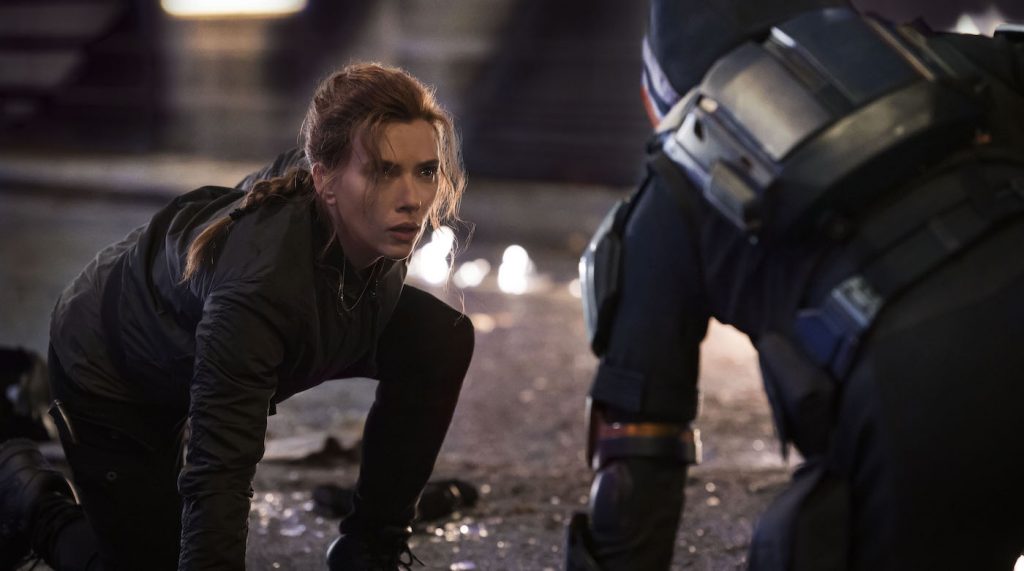 Taskmaster is also capable of copying subtle muscle movements, so he/ can also copy another person's voice. This allows the Taskmaster to fool devices by pretending to be the other person, a pretty nifty way of hacking his way into their secure systems. On top of all this, the Taskmaster has limited superhuman speed, superhuman reflexes, and superhuman agility.
Will the Taskmaster have all these exact abilities in Black Widow? It's unclear until we actually see the film—villain's abilities have been subtly, and no so subtly, shifted on the big screen in MCU films. One interesting thing to note is what Black Widow fight coordinator James Young said in an interview: "Taskmaster has studied the Avengers. You see flashes of Captain America, you see flashes of Bucky, you see flashes of Iron Man, and you see Spider-Man…how do you fight someone that can embody all the Avengers at once? The hard part of the fights is to make those moments read, but it's the moments you're going to remember."
Black Widow hits theaters and Disney + Premiere Access on July 9.
For more on Black Widow, check out these stories:
Early "Black Widow" Reactions Hail Visceral & Emotional Spy Thriller
Two New Epic "Black Widow" Videos Reveal Marvel's Big Return to Theaters
"Black Widow" IMAX Screenings Will Boast 22 Minutes of Expanded Aspect Ratio
New Footage Revealed in Ripping "Black Widow" Featurette
Featured image: Taskmaster in Marvel Studios' BLACK WIDOW, in theaters and on Disney+ with Premier Access. Photo courtesy of Marvel Studios. ©Marvel Studios 2021. All Rights Reserved.