Dressing Icons and Con Men With "Genius: Aretha" and "Better Call Saul" Costume Designer Jennifer Bryan
Costume designer Jennifer Bryan can pivot from glamour to gaudy, from an icon to a con artist, without missing a beat—or a thread. Bryan's work can currently be seen on National Geographic's third season of Genius, which focused on the monumental career and legacy of Aretha Franklin (Cynthia Erivo).
Bryan's now hard at work on a very different kind of show, trading in Aretha Franklin's shimmering dresses (and profound decency) for the gaudy, garish world of Saul Goodman (Bob Odenkirk), the morally flexible lawyer who centers Better Call Saul.
We spoke to Bryan while she was in Albuquerque, New Mexico, working on Saul's final season. This interview has been edited for length and clarity.
You've got a ton of photographic research available to you with Genius: Aretha considering Aretha Franklin's one of the most iconic musicians of all time—what do you do when you have that much material to work with?
The first thing I had to do is to start off with the script. There are so many images of Aretha, especially because she had such an exceptionally long career. Even though there are thousands of photos, and I amassed a stockpile of them, there were times when that wasn't enough. Especially in the earlier part of her career, when you had to rely on newspaper clippings. You don't have video, you don't have concert footage, that came later on. I was limited to a lot of photos that were black and white, which is a challenge for a costume designer [laughs].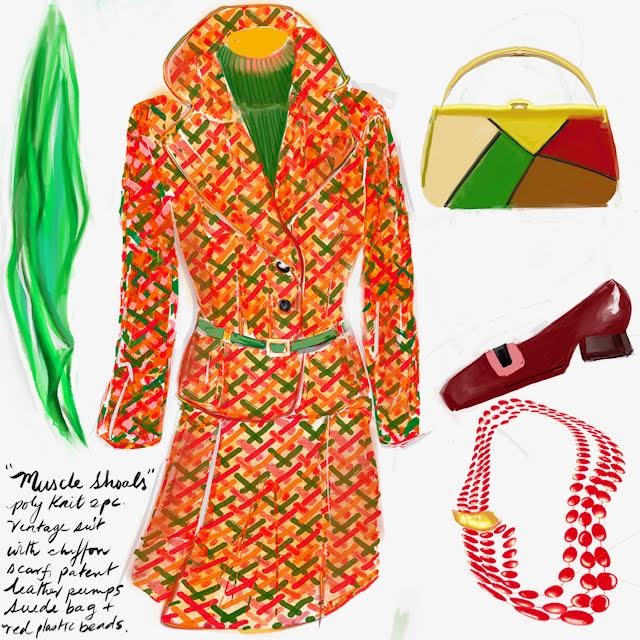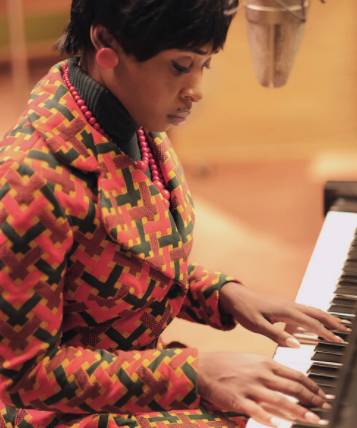 What did you discuss with showrunner Suzan Lori Parks when you came on board?
Part of my mandate was to replicate some of these iconic events, like when she did her fundraising concerts for Martin Luther King or her first European concert, I had to copy those dresses. Then, after that, it's basically my designs and my inspiration and my guidance from the director Anthony Hemmingway and Suzan. It's very unique to do a project where you have an iconic person. It's very interesting because you have to be able to create a freshness to the visual storytelling, and you also have events that have been recorded that you have to be in step with. You can't have someone look at your work and say, 'That's not what happened, I was at that concert!' It's a very unique show from a costume design perspective.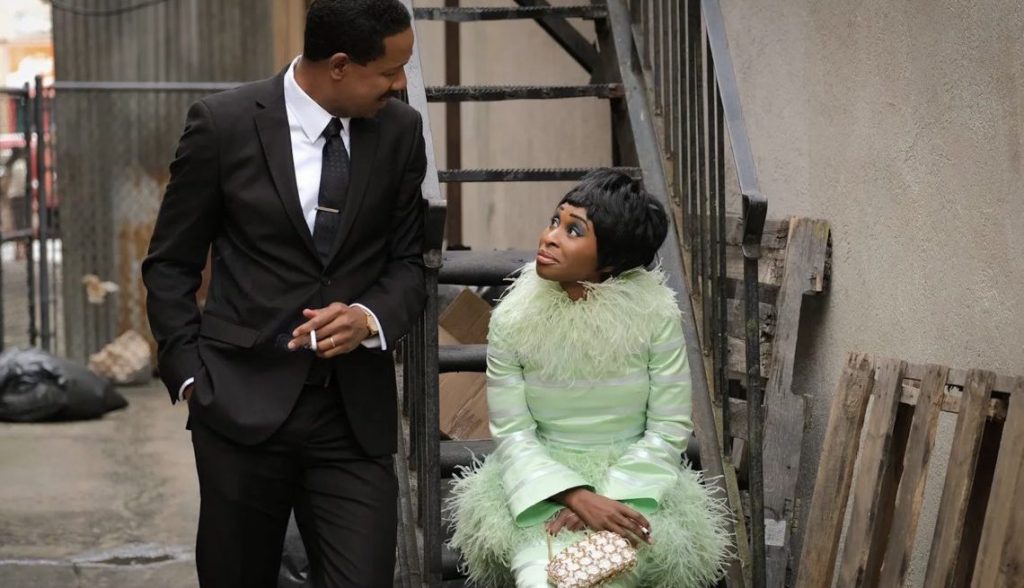 She was also a very private person—did that shape how you designed for her in any way? 
She was very private, and that's something Suzan Lori Parks explored in the show. There's an episode where she gets an opportunity to be interviewed by a Time Magazine reporter. As you can imagine, back in those days for an African American celebrity or personality, to get reportage in a major mainstream publication was quite unusual and quite exceptional. So she welcomes the interview, and then the interviewer really casts a really negative light in the article. I think she was stung by that and kind of withdrew. It was a curveball. You can spin a story any which way with a certain set of facts and paint it in a certain light.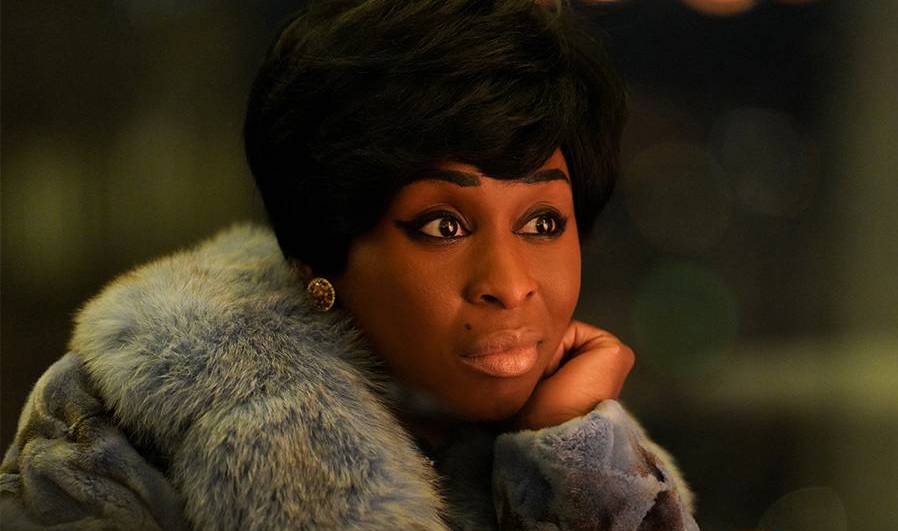 Can you also talk about her background and how that informed your choices?
She grew up in the church, her father was a very well-known Civil Rights leader. He was a mentor to Martin Luther King, and if you listen to Reverand Franklin's oratory, he'd cut these LPs of his sermons and people would buy them. Talk about ahead of the curve! We're talking about prehistoric podcasts [laughs]! If you listen to his oratory style, you can see where Martin Luther King got his style. So she came from a family where your public persona has to be spotless. You're the reverend's daughter. It was all instilled in her, this sense of propriety, at a young age. Yet on the other end of it, is the flamboyance of her fashion and her style, which is where I come in. To showcase that.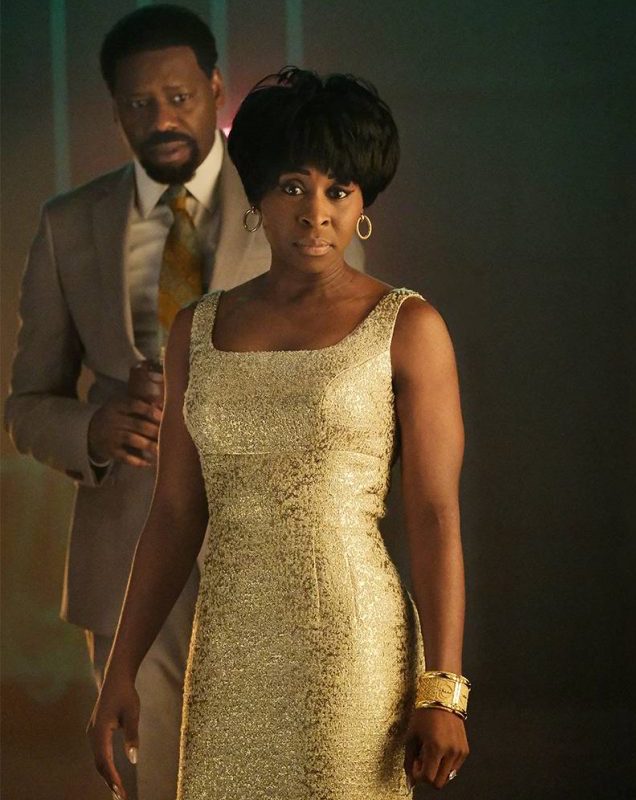 Let's talk about some of those amazing costumes and what your back-and-forth was like with Cynthia…
Having a performer like Cynthia Erivo fill these shoes of Aretha Franklin was so unique and special and different. What's great about Cynthia as a person is she's very adventurous and brave and forward-thinking when it comes to clothes. That was a boon for me. Cynthia had also done her homework, not only for the voice, which she does amazingly well but Aretha's look. I walked Cynthia through the first batch of things I'd collected and some of my sketches and I got a lot of great feedback.
Aretha was also so much more than just an iconic musician, how did you approach the other facets of her life?
After learning so much about Aretha, I can see through her professional trajectory how she carried her commitments to things on her sleeve. In the late 60s and early 70s you were dealing with Civil Rights protests, almost like it was last summer, I see parallels there, and she stepped out and she spoke about the issues. A lot of Black performers back then really didn't do that because they wanted to keep their recording contracts. So there's a certain braveness, she came into her own, she started to feel very aware of what was going on around her. Her lyrics changed, her venue changed, and her style changed.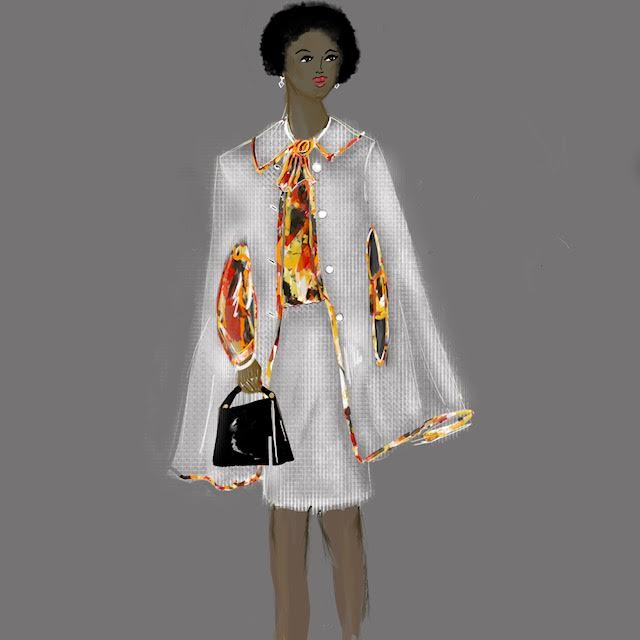 It brings to mind Regina King's One Night in Miami, which is primarily centered on Malcolm X trying to get Sam Cooke to speak out.
Sam Cooke was a huge star and had done that crossover thing. Aretha had also done that, but she was a risk-taker, and when you compare her to Sam Cooke and some of the other groups, they were like, 'I'm just going to keep singing that R&B and doing the pop songs and keep my politics separate from my career.' Back then it would have put them in jeopardy.
It's hard to imagine many other performers being able to handle this role as well as Cynthia does.
She took what I was doing with the style as seriously as she did Aretha's voice and genius. She didn't minimize the look compared to the vocal power that she has.
You're designing for someone who's a performer and who's very active, so not only do the clothes need to look great, but I imagine they've got to be functional?
Very. I was able to discover and find and hunt and pick out a lot pieces that were vintage, but they had to be able to stand up to the rigors of performing. When Cynthia got on stage and doing those concerts, I'd just look at her in awe, she didn't spare a movement, she was flat-out giving you everything. So knowing that Cynthia is physical, there were times I found dresses that I wanted to use but they couldn't stop up to the rigors of shooting, so I'd have to recreate them. That was fun, I could put my own spin on it.
Do you have a favorite piece from the show?
One sketch I did is a navy, silk velvet dress for when she's at the Regal Theater with her two sisters as backup, one of her earlier concerts. I sketched it right after I had my first interview with Suzan Lori Parks. I didn't know if I was hired or not, so I went to my drawing table and picked up my iPad, and sketched this navy blue dress. As I was doing it, I said, 'If I get this show, I'm going to find a place to put this dress.' Well, I did.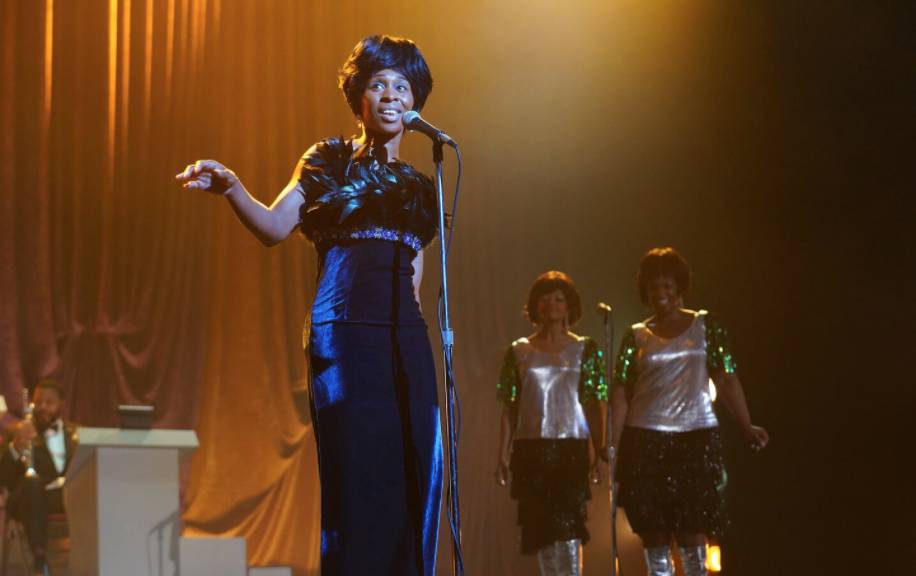 Let's turn to Better Call Saul, which really couldn't be more different. You've been in this weird world in Albuquerque for a long time.
I've been steeped in this world since the last season of Breaking Bad.
That season broke me.
The shootout in the penultimate episode! I'm there with you. So what happened when we finished the final season of Breaking Bad, there was talk amongst the crew about there's gotta be a spinoff. We didn't know who or what or where. So several months later, to my surprise and delight, Vince [Gillgian] calls me and he goes, 'We're doing a spinoff And it's going to be about Saul, our lawyer.' That was a surprise. I think a lot of us thought it was going to be Jessie, which is what happened with El Camino. Now we had to rewind and recreate Saul to see how he got to Breaking Bad and ended up being this razor-sharp lawyer who has a lot of moral conflicts.
So how did the fact we were going back in time to a pre-Breaking Bad Saul Goodman inform your choices?
We know he's going to end up being a bit of a peacock with the suits and the ties, but he doesn't start off with any money, so for the first season I suggested that he basically buys a cheap brown suit. Brown is such a weak color. No other lawyer or background person could have a brown suit, and certainly not double-breasted. I isolated that style for him. So if you go back to season one that's what you're going to see, so that gave me a ground floor to start to build on the crazy suits and the loud colors. And you know, a lot of lawyers actually copy that look? That was great for me, and it still is, and we're in our final season so we're tying up storylines, or the hanging chads as I call them.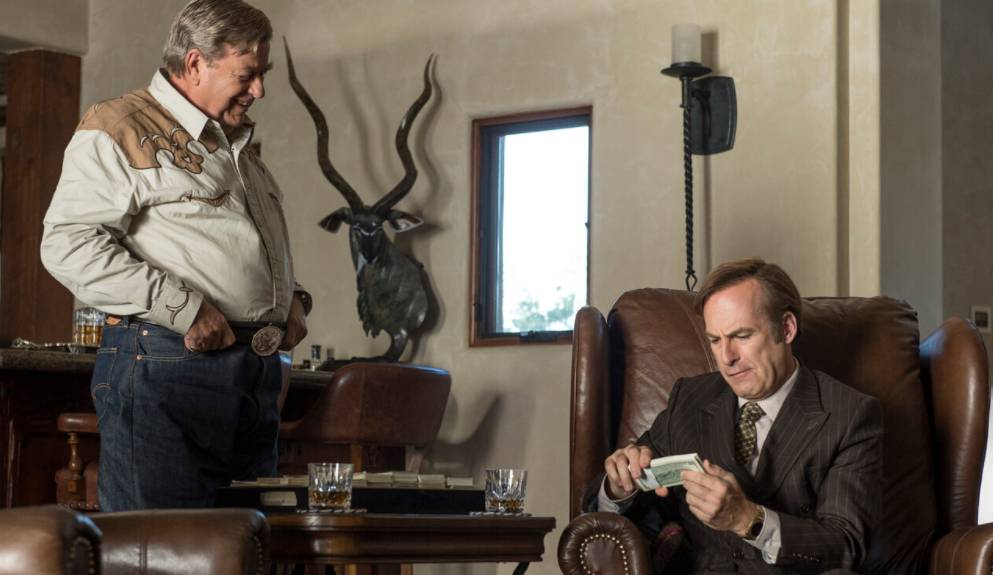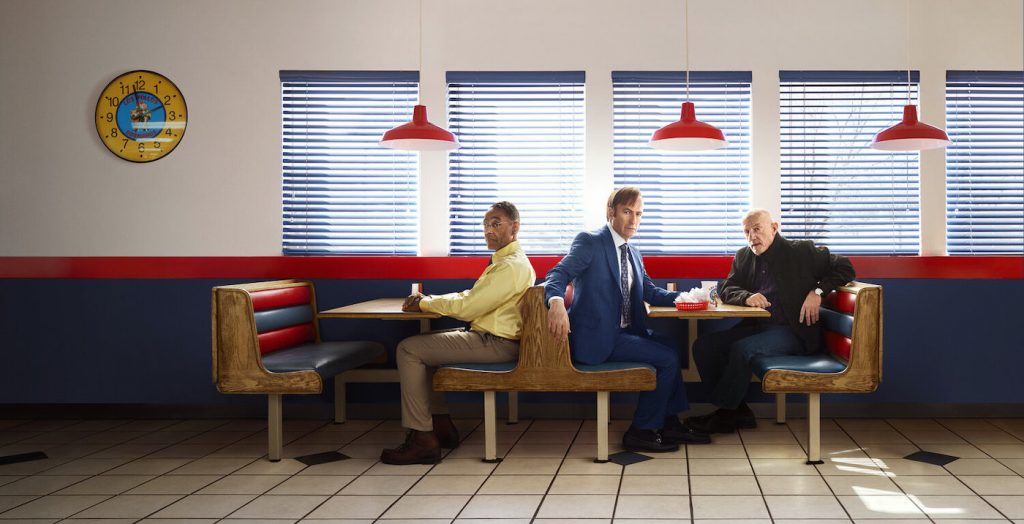 It must be fun to go from the glamour and an iconic human being who's larger than life to this sun-baked lowlife world of Better Call Saul.
It's pretty fun. What it does is also as a creative person you have to really expand your visual toolbox. You gotta have a lot of tools. The tools I need for Better Call Saul for that kind of contemporary show are different than Genius: Aretha. They're both very lush shows but in a different sense. They need to be as equally as strong, and I love it.
Featured image: L-r: Cynthia Erivo is Aretha Franklin in "Genius: Aretha" and Bob Odenkirk is Saul Goodman in "Better Call Saul." Courtesy of National Geographic & AMC.