Cinematographer Alicia Robbins on Filming the "Grey's Anatomy" Covid Season—During Covid
While there's little in the way of "good luck" that can be attributed to an ongoing pandemic, there is perhaps a little good timing, in the speedy arrival of a vaccination. For cinematographer Alicia Robbins, she chalks up her arrival as one of the two people chronicling the struggles in Seattle's fictive-yet-storied Grey Sloan Memorial Hospital, from behind a pretty active lens, to both "a stroke of good luck, and good timing."
"I was working on For The People," Robbins says, recalling the short-lived SDNY-set legal drama from Shondaland, the production company of Grey's Anatomy creator Shonda Rhimes."I was C camera operating (and) while I was there, Grey's Anatomy was looking for a DP to come out and shoot a couple of stand-alone episodes."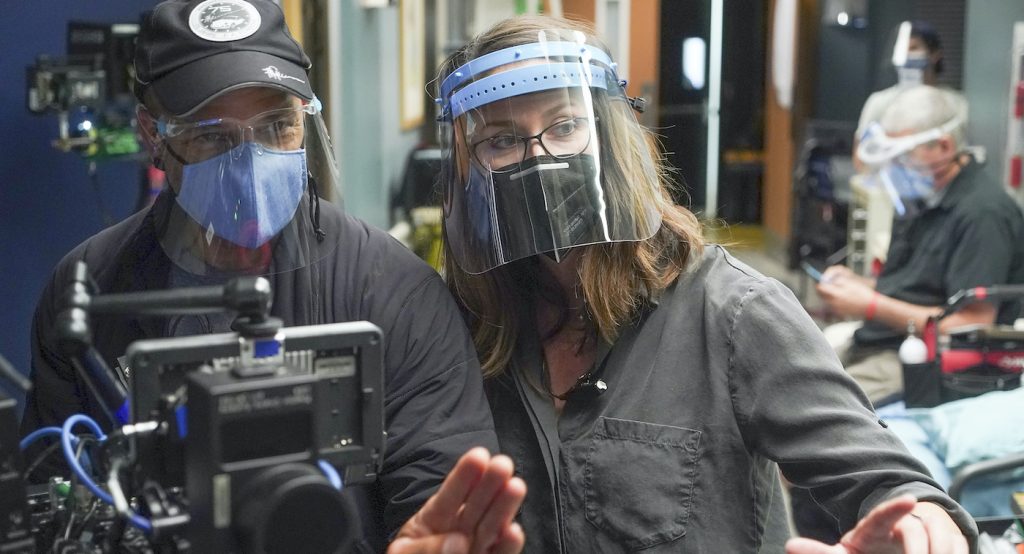 She was referred by For the People's co-executive producer, Merri D. Howard, and after meeting with Debbie Allen and Grey's other producers, wound up shooting a couple of episodes in season 15, which in turn lead to her working as alternating DP with the show's long-standing cinematographer Herbert Davis, who decided to leave last year. So a couple of years after wielding that C-camera, Robbins "was bumped up to lead director of photography in Season 17."
That would be the season where Covid hits at Grey Sloan, where the titular heroine, Ellen Pompeo's Dr. Meredith Grey, lies in a coronavirus coma, hovering between life and death. The storylines—and production designs—were rearranged to suddenly take in the world's new realities. All this was happening along with a crew who found itself observing brand new protocols to bring those stories to stream-hungry audiences, while also wearing the same protective gear as the characters in front of their lenses.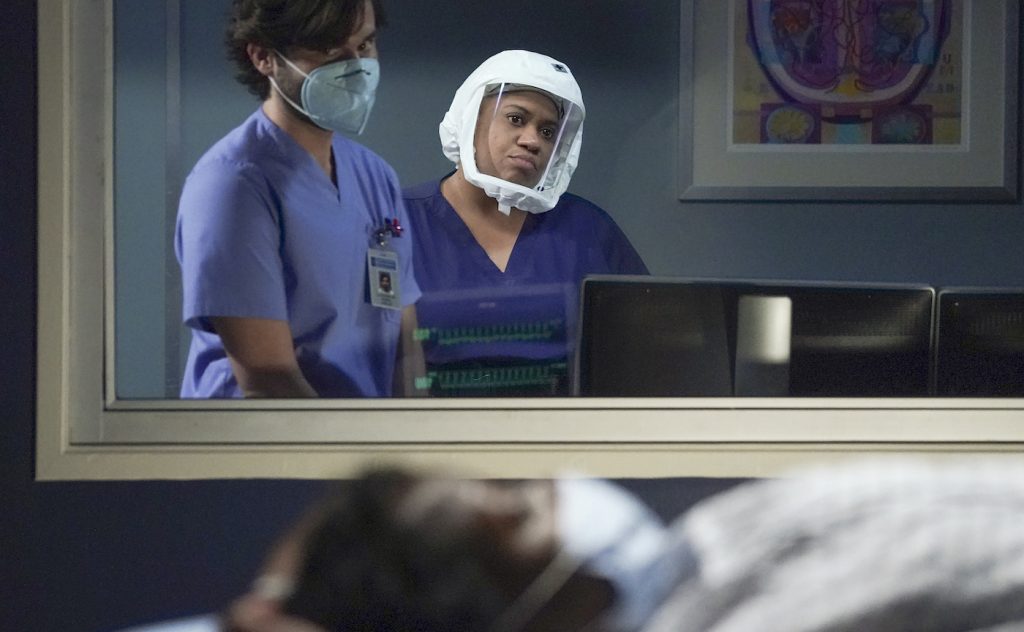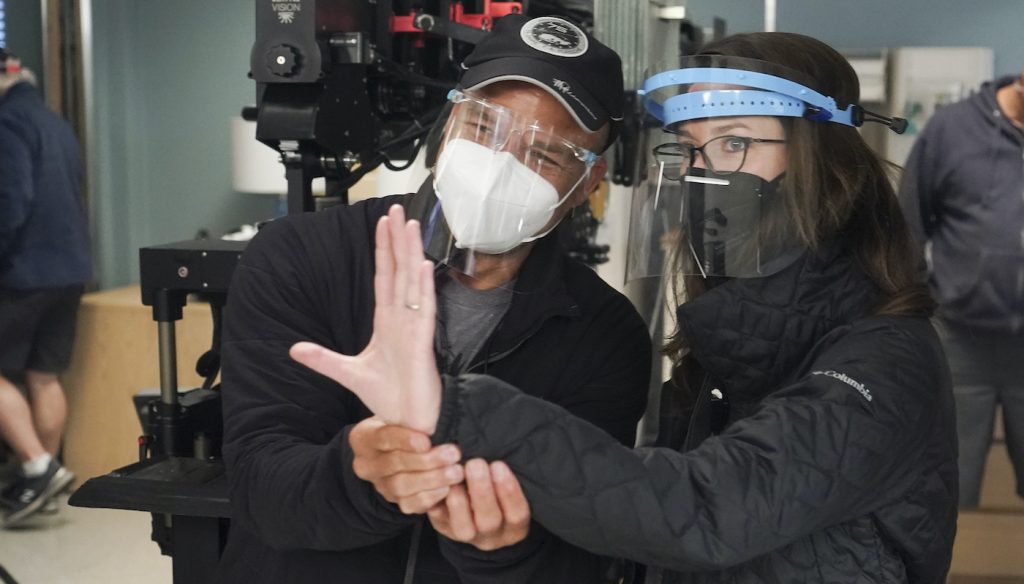 "They're in full PPE, while we're in PPE," Robbins recounted, acknowledging that it also "made it incredibly difficult; just the day-in and day-out of us having to abide by these protocols," while, of course, they're shooting stories about characters who have to observe the same protocols, perhaps even more carefully, in a medical setting.
But even on a recreated medical set, there were considerations: "We had to make sure we were all watching out for each other since you don't get as much oxygen. You're dehydrated. We'd ask each other, have you had water today?' 'Go get some water right now," Robbins says, which also meant some flexibility with the already-limited crewing—i.e, a camera assistant bumped up to operator  because "the AC had to get a drink of water."
But through it all, they got their work done. "We pretty much maintained our ten-hour days," Robbins says. "We did not have to shut down due to Covid." This was in part because they didn't do as much location work, and were able to shoot in Los Angeles. "Most of it was shot at the stages, where we found quite a few new sets being built."  Those new sets included some that replaced what previously would have been locations.
But even some familiar sets, like that for Grey Sloan, were undergoing changes. One big change was a switch to LED lights. "It was time for the show to jump into the 21st century anyway, in terms of lighting technology," Robbins says.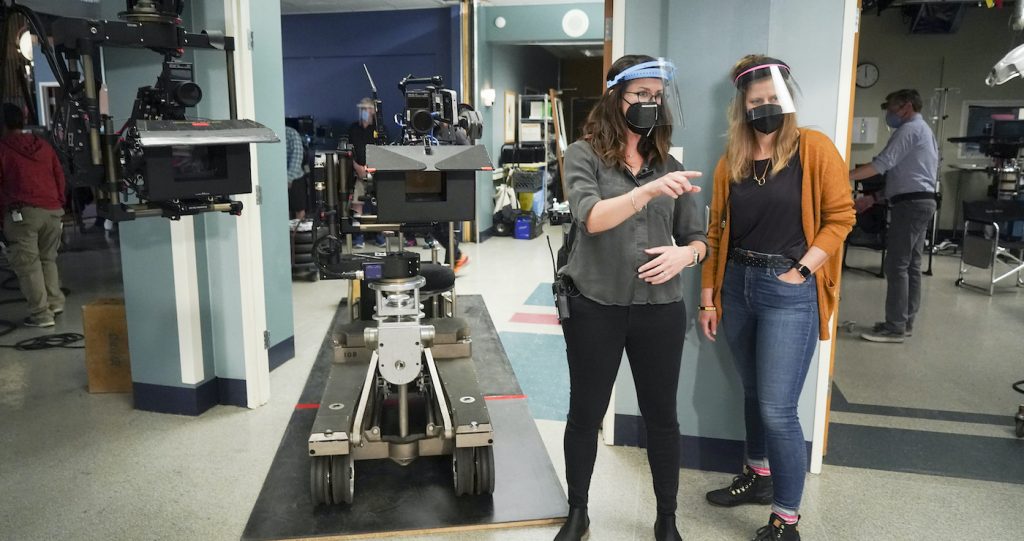 But, as with the masks, that meant on both sides of the camera. For production, one of the key factors for transitioning to LED (at least indoors; tungsten still had a role in exterior scenes) was that it allowed "on the fly tweaks of color or exposure through the DMX board."
But not all of the effects were via the board. "A lot of the LED lighting we added was in the frame. We'd incorporate desk lights, incorporating our own units that could visually be seen," Robbins says.
Some of what could be seen, however, was quite subtle and prompted by changes made by hospitals themselves, which generally now seek to duplicate circadian rhythms in lighting for patients' benefit. The theory is that cool light helps keep you awake, and warmer lights help patients rest and ultimately sleep better. So the tone of the light was usually determined by "what activity was taking place in the scene."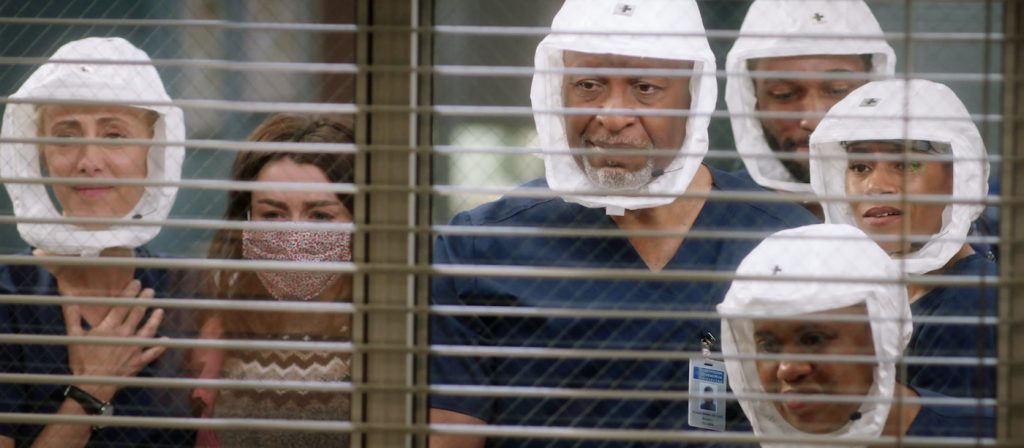 In turn, those circadian rhythms were captured primarily by "Arri (ALEXA)I Minis and Cooke S4 lenses, (our) lens of choice for a few years now," Robbins says, though those were sometimes supplemented with an Angenieux Optimo 40mm Zoom, a lens also noted for its 4k resolution.
"Another change that was made was to up our resolution to 3.2k in the Minis," Robbins adds. "Previous seasons have been shot in HD quality, because that is the deliverable for ABC, (but) with time constraints on set, it made sense we'd give editors a little more resolution to play with."
A recent Netflix deal, in a production venture with Shondaland, will allow fans to stream all but the current season of the show. And on May 10, one big question about Grey's legacy was answered—the show was renewed for an 18th season.
Robbins has meanwhile enjoyed her close collaborations with alternating cinematographer Steven Fracol, and production designer Brian Harms, who she worked "hand-in-hand with," when incorporating some of the camera department's electric design into the set, such as the outdoor tents in the parking lot (just like at the hospital down the street from where this being written), used for staff gatherings, with its visible light tubes.
With both the working conditions and plotlines provided by the pandemic, "it gave us permission to shake things up a bit," Robbins says. That shaking will continue past the most wrenching parts of the plague year and into an 18th season.
Featured image: GREYS ANATOMY – "Episode 1716" (ABC/Richard Cartwright)