First "The Tomorrow War" Images Tease Amazon's Alien Invasion Epic
The first images from director Chris McKay's The Tomorrow War are here, teasing the big sci-fi epic and McKay's live-action debut. The LEGO Batman Movie helmer has quite a cast at hand to help him make the transition, including Chris Pratt, who stars as a man drafted to fight in the titular future war with nothing short of the fate of humanity on his shoulders.
Pratt is no stranger to aliens, but rather than banding together with extraterrestrial misfits as he's done in the Guardians of the Galaxy franchise, here he's banding together with fellow humans to take out some aliens before they end humanity as we know it. Amazon released a few new images ahead of the first teaser, which drops on Wednesday.
The conceit of The Tomorrow War is that Earth gets a grim message from a group of time-travelers—it turns out that thirty years in the future, the world is on the verge of collapse after a brutal and costly war with aliens. This is where Pratt comes in. His character, Dan Forester, is a high school teacher and family man—probably not the first person you'd expect to travel into the future to fight aliens—but lo and behold, that's what Dan does. He wants to protect said future for his daughter, and he teams up with a scientist (Yvonne Strahovski) and his estranged dad Slade (J.K. Simmons) to venture forth into the somewhat known and help Earth win the fight.
Joining Pratt, Strahovski, and Simmons are Betty Gilpin, Mary Lynn Rajskub, Sam Richardson, Edwin Hodge, Jasmine Mathews, Theo Von, and Keith Powers.
The Tomorrow War is due to hit Prime Video on July 2.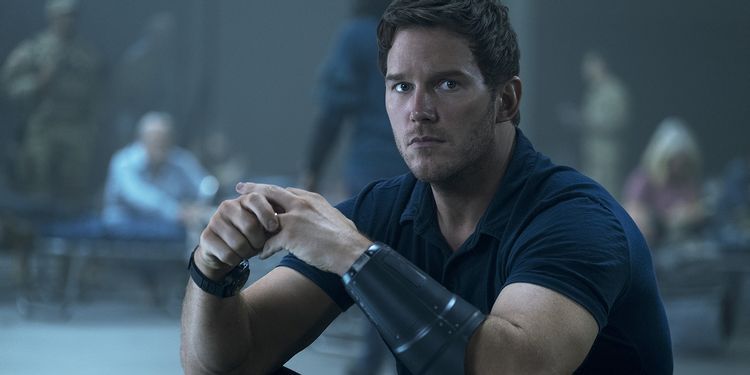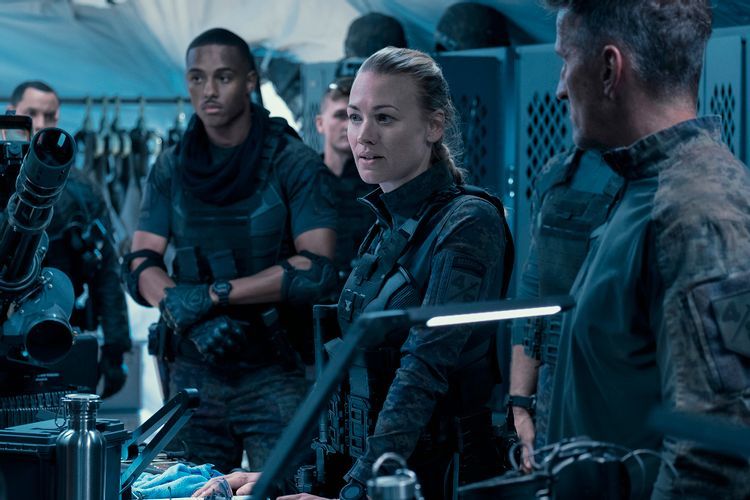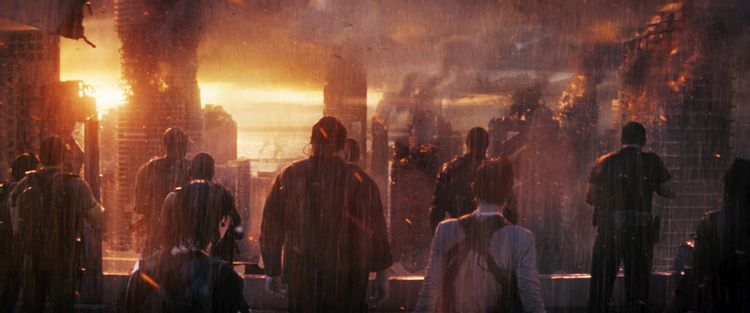 Here's the official synopsis for The Tomorrow War:
In The Tomorrow War, the world is stunned when a group of time travelers arrives from the year 2051 to deliver an urgent message: Thirty years in the future mankind is losing a global war against a deadly alien species. The only hope for survival is for soldiers and civilians from the present to be transported to the future and join the fight. Among those recruited is high-school teacher and family man Dan Forester (Chris Pratt). Determined to save the world for his young daughter, Dan teams up with a brilliant scientist (Yvonne Strahovski) and his estranged father (J.K. Simmons) in a desperate quest to rewrite the fate of the planet.
Featured image: "The Tomorrow War." Courtesy Amazon Studios