Chloé Zhao Makes History (Again) With Best Director Win at DGA Awards For "Nomadland"
Chloé Zhao continues to make history on Nomadland's triumphant march towards the Academy Awards. Zhao became the second woman ever and the first woman of color to nab the prestigious Director's Guild of America Awards' Best Director award. The only other woman to win the award was Kathryn Bigelow in 2009 for her work on The Hurt Locker. 
It was a big year for women at this year's DGA Awards, with nominations for Promising Young Woman director Emerald Fennell (in the same category as Zhao), and for One Night in Miami director Regina King and The Forty-Year-Old Version director Radha Blank in the first-time feature category. That category went to Darius Marder for his work on Sound of Metal. 
Zhao and Nomadland are piling up the awards as we head towards April 26th's Oscars. She's already won a Golden Globe for Best Director, a BAFTA for best director, the film itself was named both BAFTA and AFI's Movie of the Year, among a slew of other wins and nominations. While there's always room for a surprise or three at the Oscars, Nomadland and Zhao herself seem to be set on a course for the kind of night Parasite and its director, Bong Joon Ho, enjoyed last year.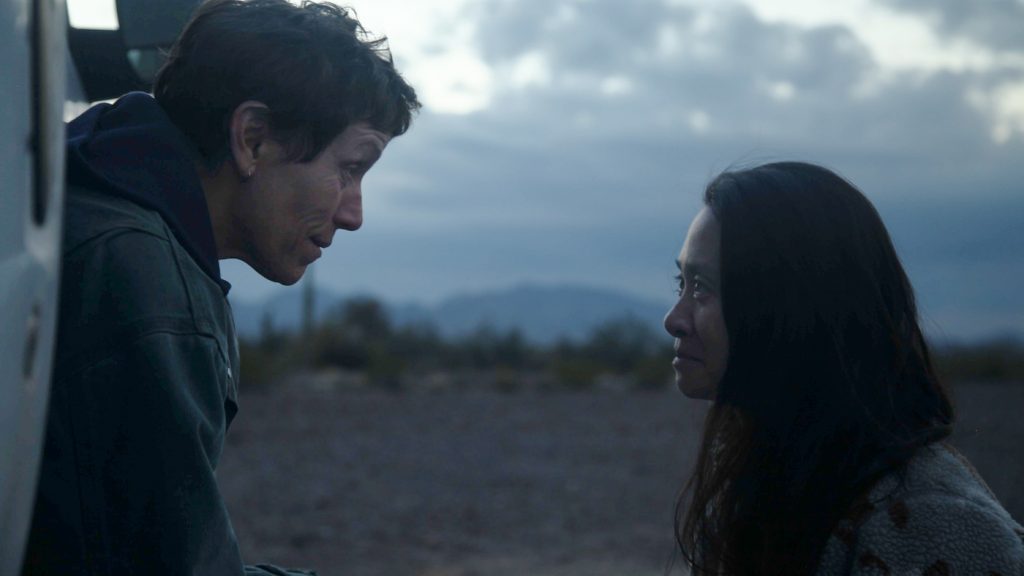 Zhao's next film will be a markedly massive shift in size and scope—she's directing Marvel's Eternals, starring Angelina Jolie, which deals with the concerns of another kind of nomad—the alien and superhero kind. No doubt she's only just getting started. Eternals is set for a November 5 premiere.
For now, however, if you haven't yet watched her stunning work in Nomadland, we strongly recommend you do. The film is streaming on Hulu.
Featured image: Director/Writer/Editor/Producer Chloé Zhao and Frances McDormand on the set of NOMADLAND. Photo by Joshua James Richards. © 2020 20th Century Studios All Rights Reserved