Makeup Artist Laini Thompson on Helping Transform Andra Day Into Billie Holiday
For Billie Holiday's listeners, her music is eternal, but her life story may be less so. Directed by Lee Daniels, The United States vs. Billie Holiday (now streaming on Hulu) envelops itself in both aspects of the star's biography, opening on Billie (Andra Day) on stage, glamorous, impeccable, and singing "Strange Fruit," the most political ballad in her oeuvre. Eerie and heartbreaking, "Strange Fruit" was first published in 1937 as a poem by Russian-Jewish schoolteacher Abel Meeropol, written in protest of the lynchings of Black Americans, then rampant in the South. As contemporary viewers can likely infer, Holiday's performance of the song was perceived as a threat by the white authorities of the time. Despite the singer's vast commercial and artistic success, in The United States vs. Billie Holiday, the feds are never far behind—and they make Holiday's life hell.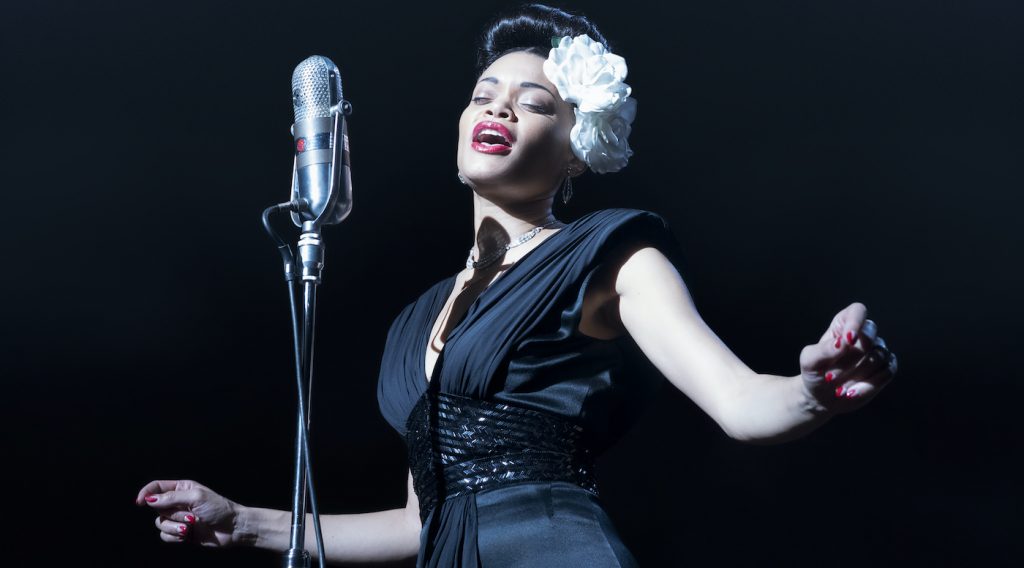 However, when Golden Globe winner Day is on stage, she dazzles, put together in Prada costumes by Paolo Nieddu and period-precise hair and makeup. "Extensive, meticulous research went into this particular time frame because it's just a small portion of her life," Laini Thompson, the film's makeup department head, says. Working with a plethora of photos, videos, and audio recordings over six weeks of prep, Thompson zeroed in on details like the shape of the real Holiday's eyebrows, which were evolving from the thin look of the 1930s to the more defined arches of the late 1940s and early 1950s, the era when the film takes place. But "her thing was her lips," says Thompson. "I found probably three photos of her with a mirror meticulously lining her lips—that was important to her. In almost every picture, whether she was at home in a casual setting, if she was walking her dog, her lips were perfect."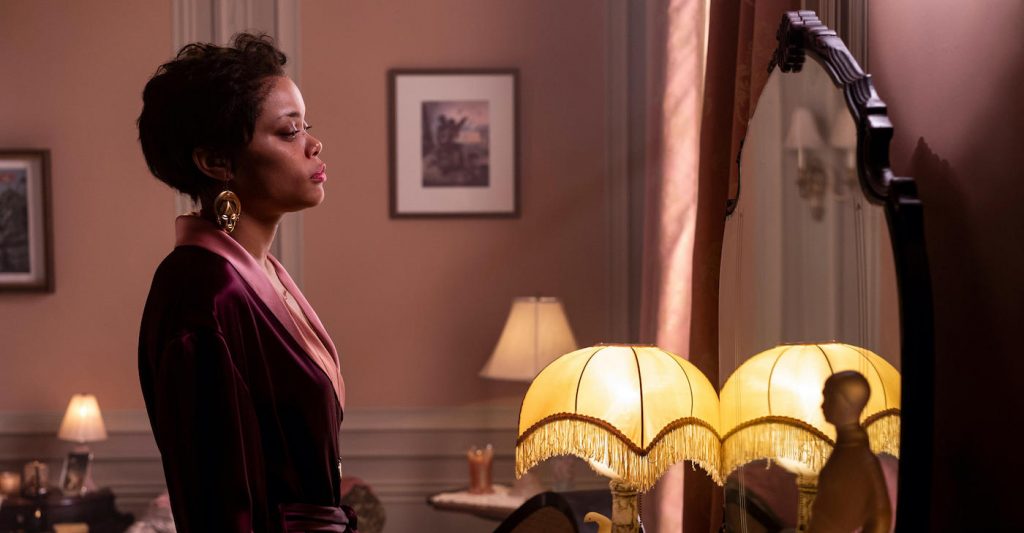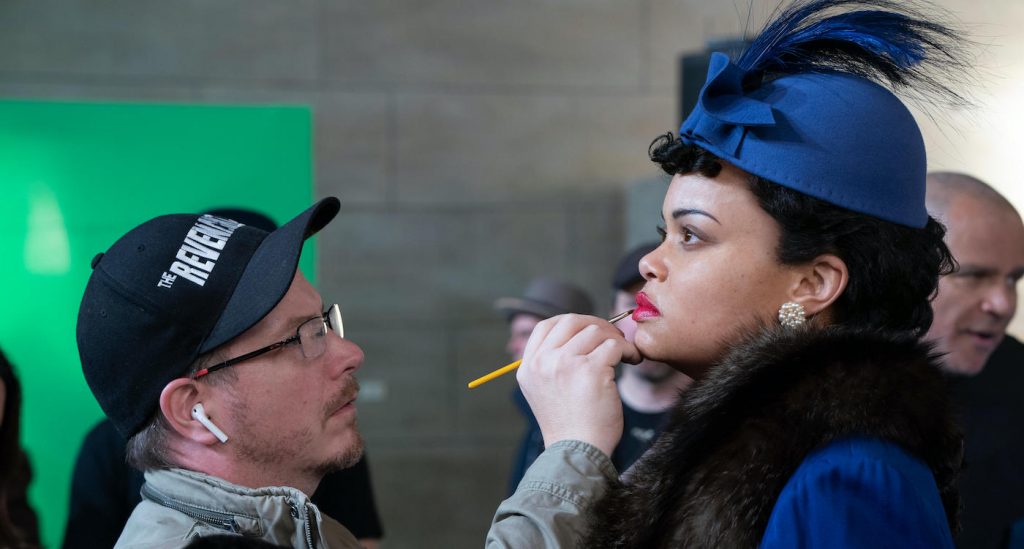 For the makeup department head, this meant touch-ups between every one of Day's performance takes and extensive testing during prep—following costume designer Nieddu's lead on the tone of the actress's overall looks, Thompson and the lead hairstylist, the late Charles Gregory Ross, spent three of those six weeks devoted solely to Day. "Lee wanted to know exactly what she was going to look like in this gown, in that pant outfit. We did extensive testing and still photos so that he could get a visual and he would say, no, the lips aren't right. The red isn't right. He wanted a real red." After hitting on a gleaming shade of candy apple, "maybe I took it a tad further," Thompson says of its shine, but Holiday's performance photos indeed feature a distinctly glistening look. "A lot of women during that era wore matte lipstick. We had to make a decision on which way we were going to go," she says, and thus designed a range of subtle, toned down adjustments to the look in scenes set backstage, on the road, or in court. In the end, we can almost track Holiday's mental and physical whereabouts just by her lipstick.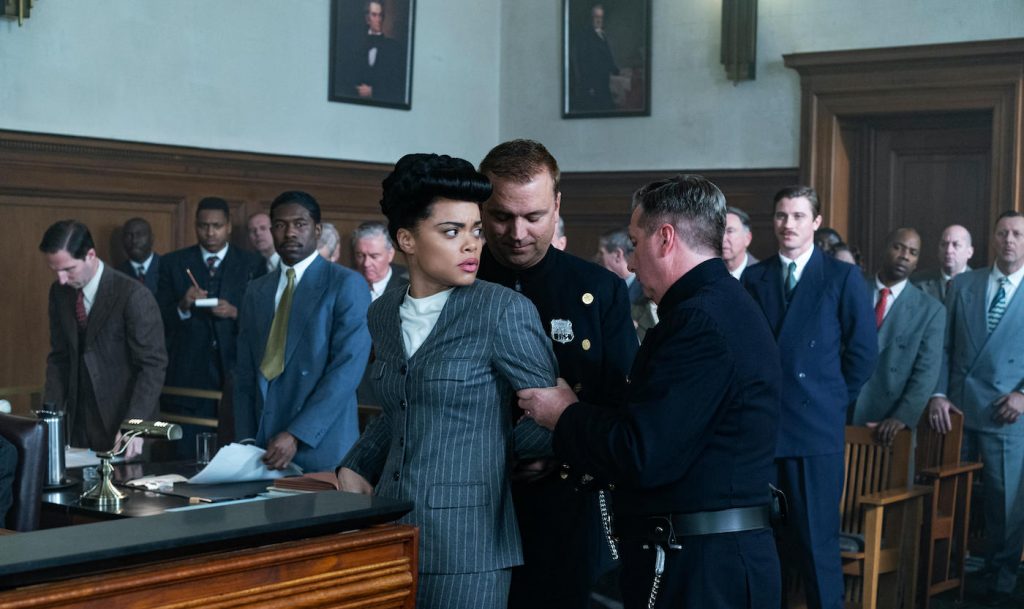 As political persecution, abusive men, and the earlier traumas of Billie's life catch up with her, heroin addiction takes over. She grows increasingly unwell, a complicated process to visually replicate. Thompson's team switched out Day's brown contact lenses (her natural eye color is hazel) for specialty lenses that gave the whites of the actress's eyes a yellow, jaundiced hue (determining the degree of Billie's jaundice was a process in itself, with Thompson testing out makeup looks from pale to primary yellow before settling on a happy medium with director Daniels). "We had these prosthetic appliance teeth made that were a little crooked. They were heavily stained because she was a chain smoker," says Thompson. Ross, the lead hairstylist, created a wig and then hand-picked out the hairs to accurately depict the singer's stress- and illness-induced hair loss.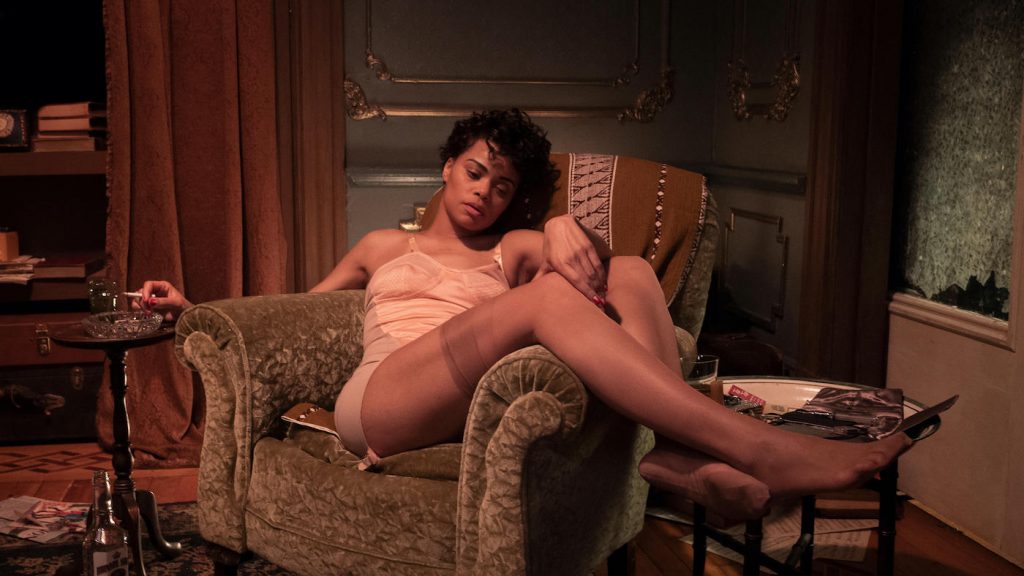 "It was a lot of attention to detail, that to me brought about the reality of the scene, of the life that she was going through at the time, the hard times, and the fact that the government was coming down so hard on her," says Thompson, who demonstrated Holiday's difficulties with drug addiction not just through the tell-tale track marks of heroin use, but by strategically "distressing" Day, rendering her skin less than flawless or playing up a dark under-eye.
Before reaching this bleak apex, however, The United States vs. Billie Holiday is as glamorous as it is raw, with glowing, slightly fuzzy scenes reminiscent of mid-century filmmaking. Unfortunately, the slightly oily atmospheric smoke that created that soft, filtered aesthetic worked against rather than with the makeup. Thompson's department was kept busy blotting down the actors, "trying to maintain a clean, fresh look without anyone appearing overly oily or sweaty looking," while also avoiding powder. "When I see people that are too matte, they almost are between here and death," Thompson jokes, but given that Black skin tones tend to naturally reflect light, working to preserve that particular glow was key in terms of both makeup and lighting.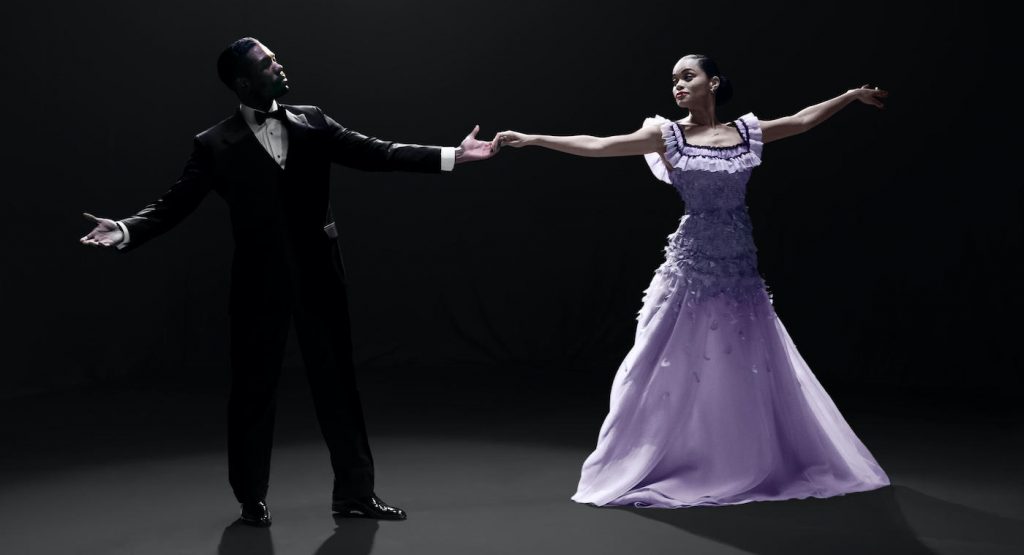 "Vanity never dies in stars," says Thompson, and the film holds up Holiday as the celebrity she was, despite her political persecution led by Harry J. Anslinger (Garrett Hedlund), the first chief of the U.S. Treasury Department's Bureau of Narcotics. Even as she lies dying in the hospital, Billie asks Jimmy (Trevante Rhodes), a morally torn federal agent, to paint her nails red (a much-simplified version of the signature red and white design researched and recreated by Thompson's team to accurately mimic history). After all, Billie does receive visitors at her hospital bedside—they just obscenely include FBI agents hellbent on hounding the singer until the very end.
.
For more on The United States vs. Billie Holiday, check out our interview with cinematographer Andrew Dunn and production designer Daniel T. Dorrance.
Featured image: Billie Holiday (Andra Day), shown. (Photo by: Takashi Seida/Hulu)