How Costume Designer Paolo Nieddu Worked With Prada For "The United States vs. Billie Holiday"
Few musicians are as iconic as Billie Holiday. So much about Holiday was avant-garde for the time, and as a queer Black woman of power, she ruffled more than a few feathers just by existing. Lee Daniels' new film The United States vs. Billie Holiday is focused around one specific event in the singer's life, chronicling her determination to sing the protest ballad "Strange Fruit," and the consequences of that commitment. Outfitting such an icon was a huge undertaking, and costume designer Paolo Nieddu was excited to take it on, building over 70 looks for Andra Day, who performs in the lead role. Partnering with Prada for some of Holiday's most dramatic costumes, Nieddu captures the glamour of the time and the essence of one of the most important Black historical figures of the 20th century. The Credits chatted with Paolo Nieddu about his collaboration with Prada, his favorite designs, and how he put these eye-popping pieces together.
Let's start with you talking about Billie's beautiful, very dramatic pink gown.
That was one of my own designs. There was a vintage dress that I saw that was the worse for wear. It was falling apart, and I really wished we could use it, so I basically took that and used it as an example to create this fresh, baby pink satin dress. Billie is the Lady in Satin, so I definitely wanted to incorporate that into her wardrobe. I added a really full crinoline underneath it that was a really stiff tulle that I'd seen, and I heightened it and made it fuller. Lee loved that. She was singing "Lover Man" in the film. She'd just been abused, and she has to put on her face and go out there, and it was such a vulnerable moment. She's putting on this gown, and she looks so gorgeous and so fabulous, and yet moments before she'd just been kicked in the ribs, and she still has to get out there and sing.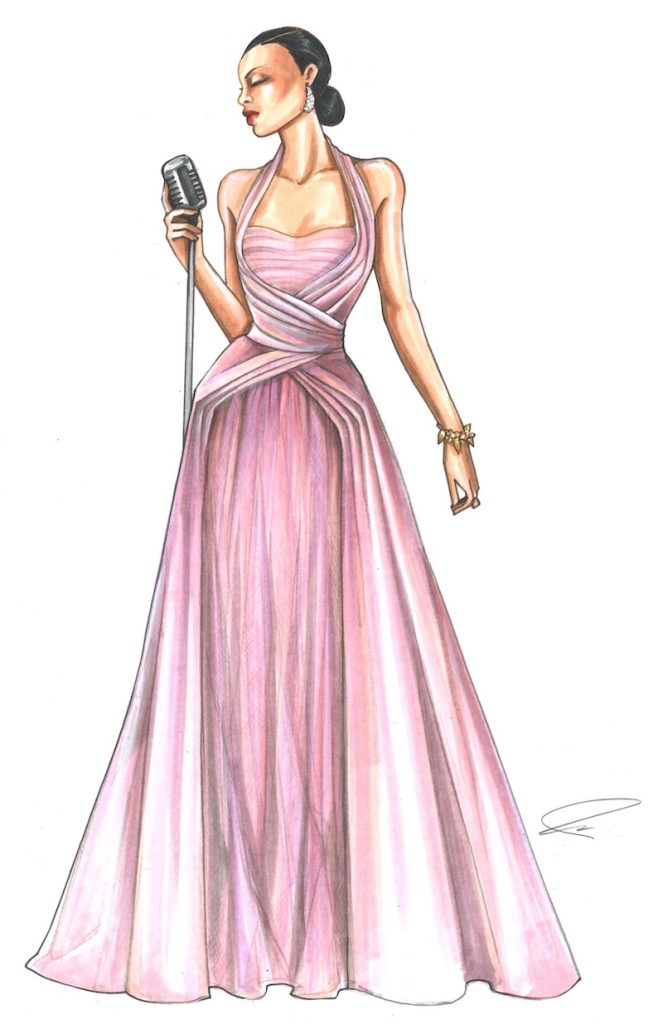 There are 9 gorgeous costumes that represent your partnership with Prada. Can you take us through one example of the collaboration, or what you call the "Frankenstein-ing" of it? 
For the "Solitude" performance, is a black and white gown, and that's such an iconic image of Billie. That was inspired by a dress that I had showed Lee in the beginning, going through pictures. I think it was a publicity photo. I wanted to see that moving. With that research photo and with Prada, it was finding the elements that most evoked the image of Billie. They had a piece in their collection, a bodice from their spring/summer 2012 collection, and I suggested that as a base, then they interpreted the bow placement. Then there was a skirt that was from another of their collections. These were pieces from previous collections that I pulled, that fit the storytelling. That was how we worked together.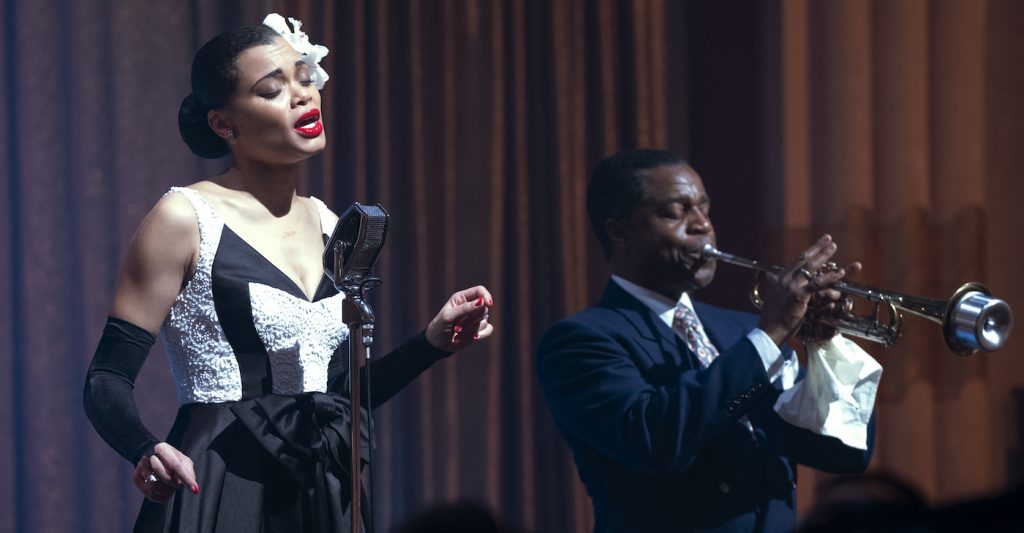 One of the most talked about from your work is the costume for Billie's Carnegie Hall performance. That was sewn by John Hayles. How did you wind up working with him?
I met John when I was working on a pilot at Universal Studios. He was the head tailor at Universal. This was around 2015. He had worked in Hollywood for years and years. He was a dressmaker, and that's always been his main focus. He'd made me a beautiful gown for a different project. While I was doing prep for this movie, I got in touch with him. He's retired, but still has his studio at home. He said he could make a few things, and I was so grateful, because we had 8 weeks to prep this entire movie. John did the pink dress and the black Carnegie Hall dress. He knows the eras so well, and has been in so many fittings with so many bodies. I have so much respect for his work and his career in the business. He told me his first job was in the fitting room for Some Like it Hot.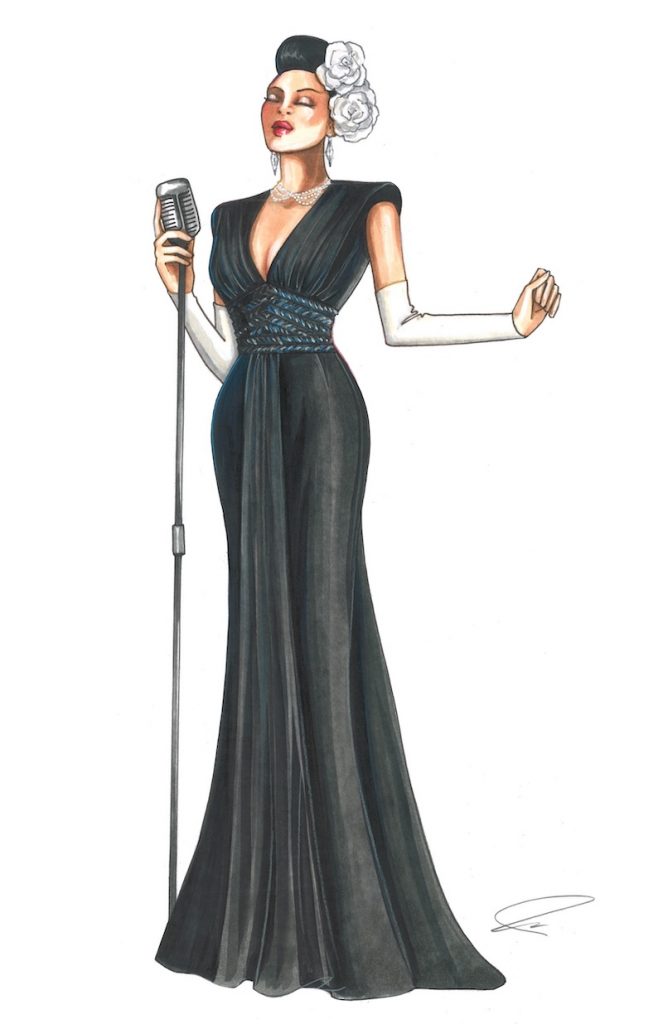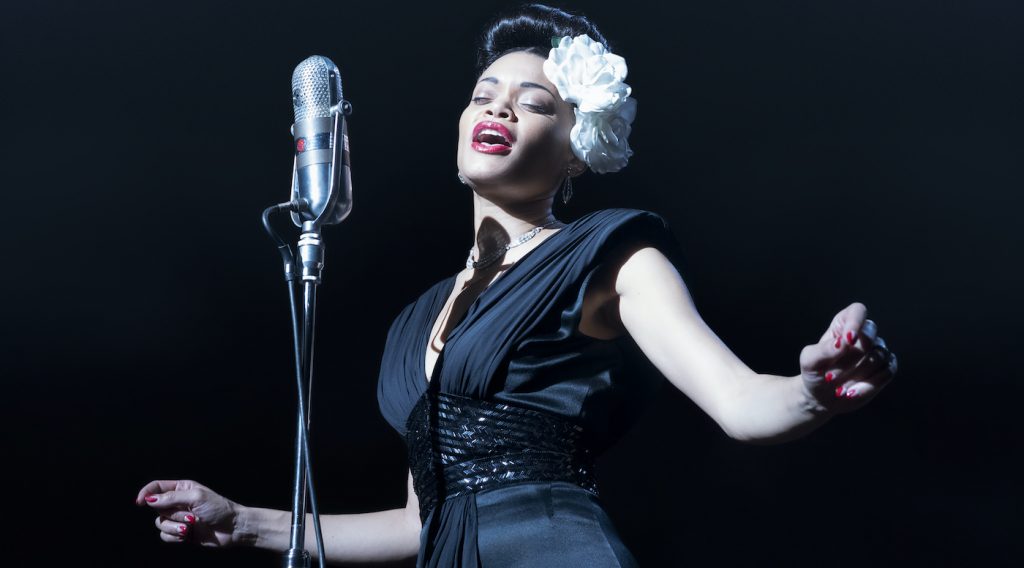 Could you name two of your favorite designs for the film, and tell us what makes each special?
I have to say the Carnegie dress, because it really was an organic process in coming together. It went through so many incarnations. It started out not being very modest, and then it got bigger, and then the shape of it changed. John had made a muslin of the first gown, and when I saw it, I knew I needed to rework it. I scrapped it, then I drew it again on the airplane. I was on the way back to Montreal for this huge tone meeting that Lee had us in. There's something in the silhouette, the shape of it, the way it moved, the simplicity of it, the texture, I really wanted something that the light would reflect off of. When she takes the stage and you see her from behind, you get that triangle, and even just in silhouette you know it's Billie. Also working on it with John made it such a special dress to me.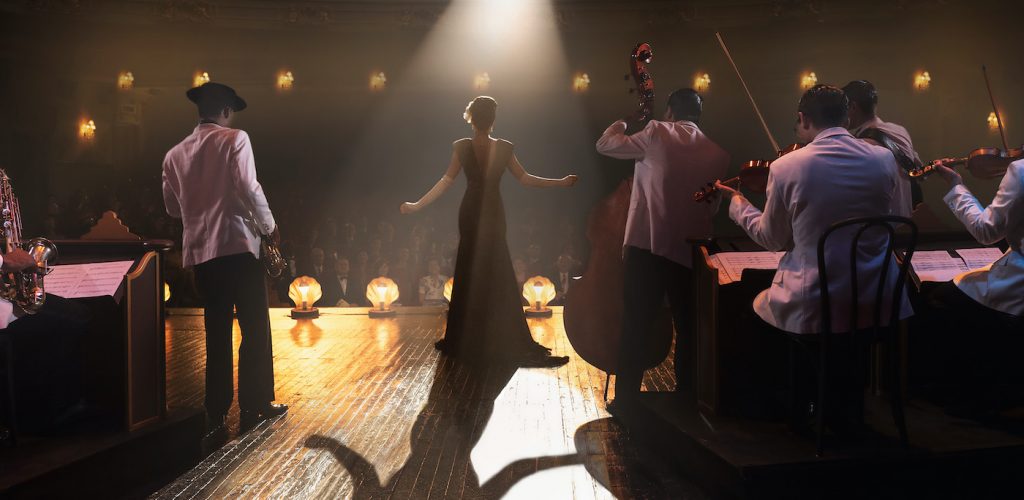 I also really loved the foundation garment I made for her. She's in Joe Guy's apartment, and she's really stoned, and she puts on his coat. She's going to go get ice cream and she gets busted by Jimmy. The process of getting something like that made was something I'd never done before, so it was a challenge. It was challenging just finding the new material that could look vintage and would work, and finding the hardware, taking hardware off old garter belts to put onto this new piece, and we dyed it several times. It was such a difficult process, and to see this picture of her in it on the chair, it really works. It's exactly what I wanted.
What are you going to carry with you from the experience of working with Prada? 
I feel like I got to contribute to the legacy of that house, and to the extension of what it is that they do. The fact that they partnered with a costume designer and with a filmmaker to produce costumes in the way that Givenchy did for Audrey Hepburn, that's something I take away from this. I got to create, and direct, and help curate these pieces, that will be seen forever, and that are associated with a storied house, and I was a force in helping that look come together.
The United States vs. Billie Holiday streams on Hulu on February 26.
Featured image: Andra Day on the set of THE UNITED STATES VS. BILLIE HOLIDAY from Paramount Pictures. Photo Credit: Takashi Seida.