"Miss Juneteenth" Writer/Director Channing Godfrey Peoples on Her Potent Feature Debut
Writer and director Channing Godfrey Peoples' feature debut Miss Juneteenth is a subtlety powerful lesson in compassionate observation. Born in Fort Worth, Texas, with a theater degree from Baylor University (just a 90-minute drive south from Forth Worth on the I-35), Peoples' Miss Juneteenth is a moving portrait of her hometown, and, more to the point, the tight-knit community of mostly Black people she grew up with. After graduating from the School of Cinematic Arts at the University of Southern California (where she met her husband and creative partner, Neil Creque Williams), Peoples' returned to Texas as a screenwriting fellow in Austin, mentored by the esteemed filmmaker Charles Burnett.
Miss Juneteenth is centered on the life of a young mother named Turquoise Jones (a phenomenal Nichole Beharie), her daughter Kai (Alexis Chikaeze), and the titular Miss Juneteenth pageant where young Black women compete for the title. As important as the bragging rights, the title comes with a scholarship to a historically black college. Turquoise, a former Miss Juneteenth herself, channels her own thwarted ambitions onto her daughter, with reliably mixed results. The film, shot entirely on location in Forth Worth, depicts Turquoise's community, faded and financially threadbare but still vibrant, with the kind of intimate, understated confidence of someone who knows the place in her bones. As  Angelica Jade Bastién writes in Vulture, "Peoples treats her characters with a sincerity that gives them heft. The film itself struck me for the depth of feeling it engenders, the beauty of Black life it swims in, and its specificity."
The Juneteenth in the title refers to a holiday with important regional specificity, one that Peoples grew up celebrating. Juneteenth commemorates the ending of slavery in the United States on June 19, 1865. This was two and a half years after President Lincoln's Emancipation Proclamation, and two months after the Civil War ended. It was on June 19, 1865, that Union soldiers, led by Major General Gordon Granger, galloped into Galveston, Texas with news that the war had ended and that the enslaved were free. Their delayed emancipation had finally come.
"So much of the journey about getting the film made early on was we'd go out and pitch, and we'd have to explain what Juneteenth was," Peoples says. "Once we explained it, then I could talk about our characters and what the story was. I was always examining the idea of Juneteenth in the film thematically. What does freedom mean for these people in the present-day? What does freedom mean for Turquoise and for Kai?"
This interview has been edited for length and clarity.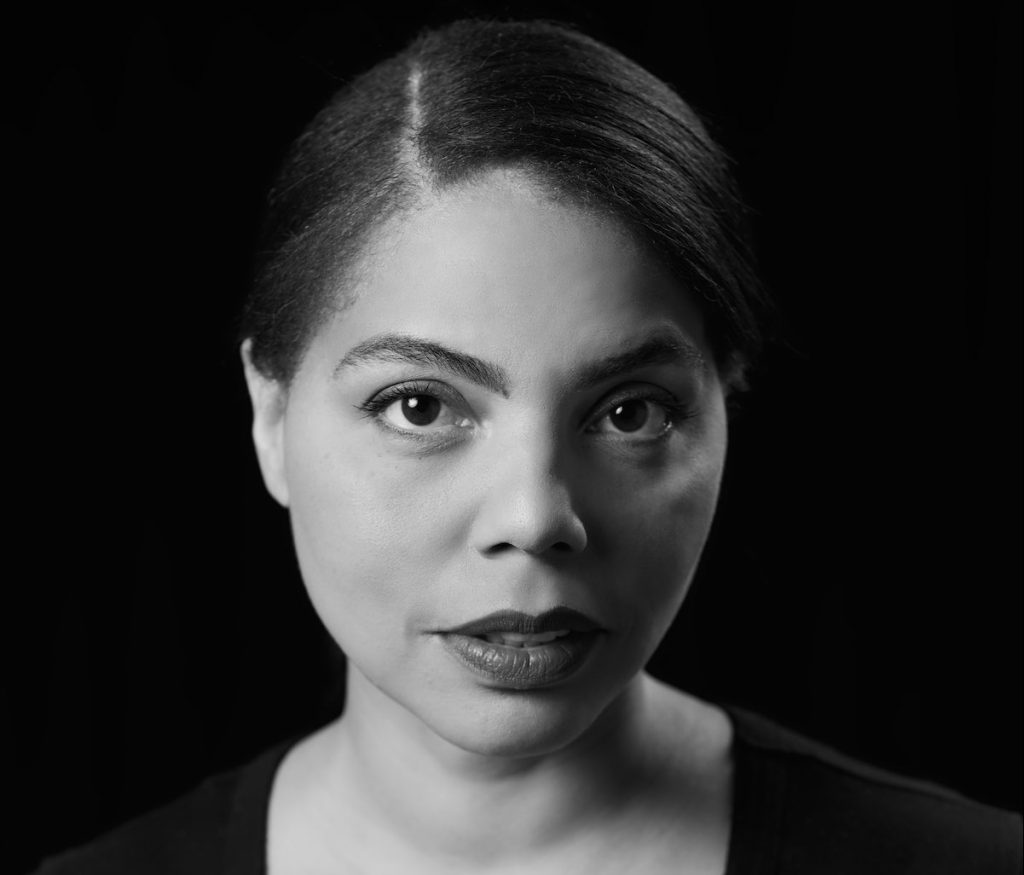 Miss Juneteenth feels like one of those films that could only have been made by somebody who really knew the people and the place—were you always intending to come home to make your first feature?
There was a great responsibility, in addition to it being a really vulnerable place for me. The film is so personal, it's about where I'm from and the people that I love. It's like laying your soul bare. My style as a filmmaker is greatly influenced by my upbringing. I got to really witness the authenticity of the Texas community I was raised in. I'm from a major city but it feels like a small town, I grew up in a tight-knit historically Black community, and it always felt so alive and real to me.
One of the many striking things about this film is that the stakes aren't life or death, they're more quotidian but no less impactful. The story of Turquoise is about love, opportunities gained and lost, community, ambition. 
I believe the kind of work I want to do is tell stories about humanity and especially the humanity of Black folks. When you talk about Charles Burnett's Killer of Sheep and My Brother's Wedding, Julie Dash's Daughters of the Dust, you get to see black folks in these really natural environments, with all their subtleties. These are the films where you see Black folks just be. I talked a little bit earlier about this authentic community I grew up in, it gave me this sense and I could just sit in this community and just watch and take it in. I believe in authentic dialogue, I'm a stickler to staying close to the script because I'm showing a community on screen that hasn't been seen before. Growing up in this community, there's so much that you feel. I love subtlety and nuance and finding those tiny human moments. Those are so important to a character's journey. Those are the moments that feel the most real to me.
The performances are phenomenal, beginning with Nichole Beharie. How did you work with your actors to make sure the specificity of this Fort Worth community came through?
Early on we sat Nicole down with a family friend who lived in Fort Worth her whole life so she could listen to the way she spoke. From the atmosphere to the accent, literally every part of the film needed to live and breathe this community. I cast professional actors in the lead roles, and then we cast people from the community. We shot all on location in the community where I grew up, and there were folks behind the scenes and in front of the camera who I'd known my entire life, so the professional actors were surrounded by the energy of my community. I mean, Turquoise is based on the women in my life, from the community, from my family, and most especially my mom. My mom was an inspiration, single for most of my life, and trying to live her own dreams.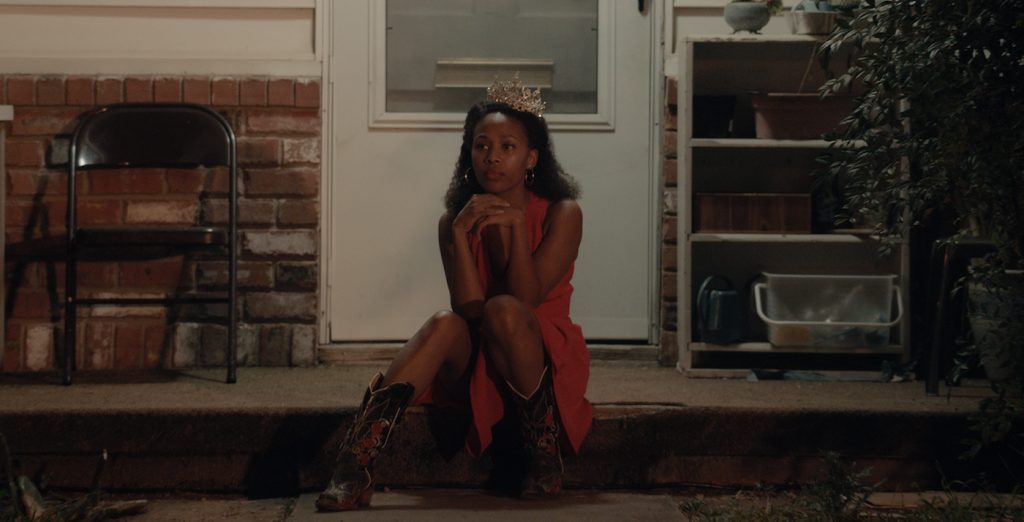 Miss Juneteenth also looks at the way things both change—neighborhoods, communities—and stay the same, in terms of class and racial divisions. How did you walk that line?
I wanted every aspect of this film to feel like I felt when I went into the community. I wanted it to feel lived in. I took my partner Neil into the community, and he said something that sat with me, he said: "It's interesting, this community feels like it's slightly past its expiration date." This historically Black community was once this bustling Black enclave that's being gentrified today. So I took that and spoke to my creatives about it. I wanted everything to feel that way in the production design, in the cinematography, in the costumes. Everything should have this slightly worn look. There's this sense of regret in Turquoise's life, and the film is about this woman who has this dream deferred but knows deep down that she just wants something for herself. That's radical, in a way, to be able to examine that, to see a black woman in a lead role doing that. Yes, her own dreams are deferred, but she wants her daughter to have a better life. I think of Langston Hughes' poem "Harlem," and that first line—"What happens to a dream deferred?"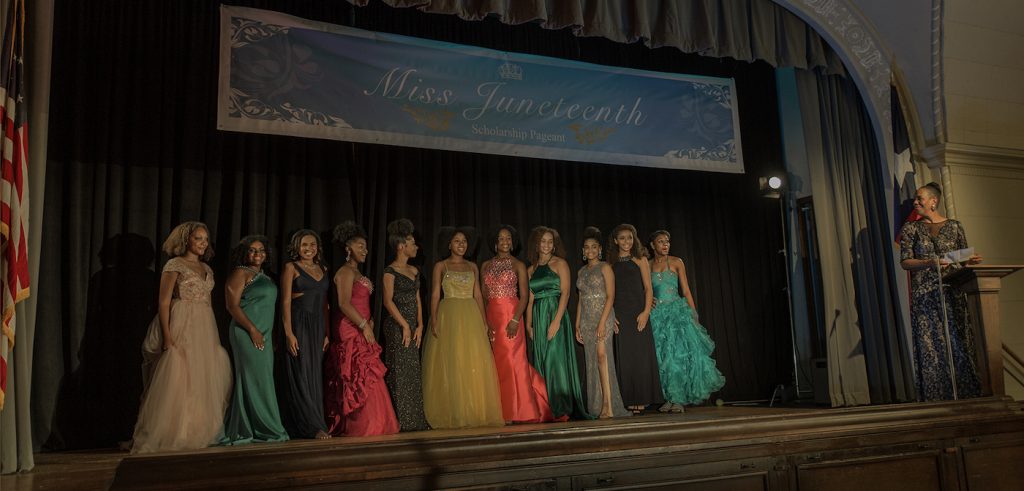 You can really feel Turquoise's almost suffocating ambitions for Kai. 
Something really interesting happened before the film. I had written this script as a daughter and then right around the time we were going to make the film, I found out I was pregnant with a daughter. My daughter was on set with me, she turned one on set. She was often in the little baby carrier much of the time while I was directing. Here's this little human being, and I immediately felt something I'd never felt, this bond I'd never experienced. I also had this fear that overcame me, this feeling of wow, I'm responsible for this little person and I want to give my daughter the best life. So I was experiencing what Turquoise was feeling. I was constantly saying to Nicole that, whatever we do, we have to find the joy in their relationship as well. I hope we were able to capture that. I felt like we did.
Miss Juneteenth is available on Amazon, iTunes, YouTube, Vudu, and Google Play. 
Featured image: Nicole Beharie is Turquoise and Alexis Chikaeze is Kai in "Miss Juneteenth." Courtesy Kanopy.