Why Radha Blank's "The Forty-Year-Old Version" Resonates
For people in their 40s, life can often feel like it's still waiting to start. Some are struggling to figure out what's next for them professionally, others are contemplating starting a family — and for many (especially now), the uncertainty can feel overwhelming. For Radha Blank, her 40th year was supposed to mark her arrival as a successful playwright, but life has a way of not delivering the way we want it to. In Blank's new Netflix film The Forty-Year-Old Version, the writer/director portrays a lightly fictionalized version of herself with many aspects of her actual life threaded in. While Blank, whose writing credits include ABC's Empire and Amazon's She's Gotta Have It, would hardly seem to be lacking success, her film tackles the dreams she had that were diverted and delayed, and what she's done about it.
The Forty-Year-Old Version is a riff on her career struggles, a love letter to Harlem, and an homage to films and filmmakers who have inspired her. Blank nods to Spike Lee's She's Gotta Have It with the lush black and white look of her film (her DP is Eric Branco). Her storyline hints at Barry Jenkins's beautiful feature film debut Medicine for Melancholy with glimpses of a sensual but fast-developing love story launched from a one-night stand. Yet The Forty-Year-Old Version is deeply original, a coming-of-age tale about a woman in her 40s, with Radha Blank playing, yes, Radha Blank, a playwright who teaches high school theatre. She's now ten years past being named one of Spotlight Magazine's 30 Under 30 Playwrights to Watch, still searching for purpose and a place for herself in the theater world. She is also coming to terms with a rapidly gentrifying Harlem, a neighborhood that might not be the space where her story can fully be appreciated. Blank is trying to get a new play off the ground, but unfortunately, the folks who might be able to support her dreams are eager to change a lot of the Black roles and storylines within her play.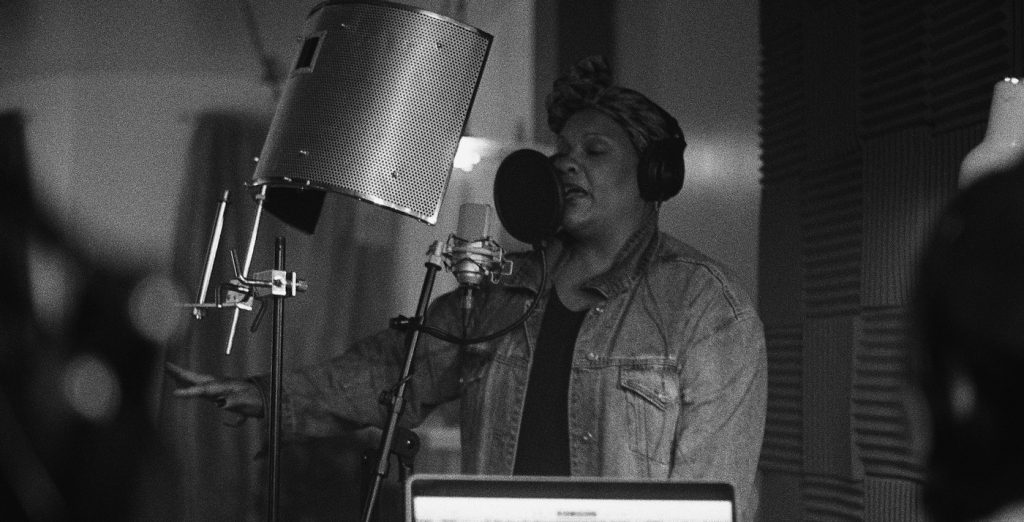 Blank refuses to give up on her art and begins to channel her frustration through rap. It's in this new medium that she finds she's more honest than she'd been while writing for the stage. Throughout her film, Blank uses comedy, through dialogue, body language, and facial expressions, to convey her emotional landscape. As an actor, her comedic timing is spot on. As a writer, she's strategic with how she uses laughter to get her audience to fully digest what's truly happening, both to her character and to the world. As Blank discovers a new layer of herself, she poses the question: "Is the world ready for The 40-Year Old Version?"
As funny as The Forty-Year-Old Version can be, it also challenges its audience to understand the pressure that society puts on Black women to be perfect. To navigate a career, to find and maintain a healthy and successful love life, to start a family, and to do it all with a smile on your face. This is a beautiful story, one allows us to see a reflection of ourselves and know we're not alone in trying to find purpose in whatever space we may be occupying. I believe this film will help start those healthy conversations amongst Black creatives who are struggling in their creativity, to connect with other like-minded individuals, and create a space where we are supported and thrive.
To that end, the film is produced by Lena Waithe and her production company Hillman Grad Productions, which is rooted in providing a space for marginalized storytellers and diverse voices. Joining Blank are Reed Birney, Imani Lewis, Jacob Ming-Trent, Oswin Benjamin, and Welker White.
The Forty-Year-Old Version is currently streaming on Netflix.
Featured image: THE FORTY-YEAR-OLD VERSION: Behind the scenes of RADHA BLANK (WRITER, DIRECTOR). Cr. JEONG PARK/NETFLIX ©2020