Director Angel Manuel Soto on His High-Octane HBO Max Feature "Charm City Kings"
In some ways, it's a story that director Angel Manuel Soto knows little about. But it's also one he knows only too well. Centered around the urban dirt bike culture in Baltimore, Maryland, Charm City Kings, making its debut on HBO Max, is a raw, coming-of-age drama based in a culture where respect is earned through stunt riding.
Take the bikes out of the equation, and it is remarkably similar to how Soto felt growing up in Puerto Rico.
"One of the things that I noticed was the fact that Puerto Rico and Baltimore are not that different when it comes to struggles and marginalization," says Soto during a Zoom conversation. "I really saw a lot of the things that Mouse goes through as almost the same thing that we went through in Puerto Rico. The main changes were the language and the architecture and maybe the extreme subculture of the bike life. Our stuff was boxing or baseball – that kind of thing."
Charm City Kings is based on filmmaker Lofty Nathan's 2013 documentary 12 O'Clock Boys. It followed the three-year quest of 13-year-old Pug to become a member of the title group, a gang of Baltimore dirt bikers so named for their ability to ride with their front wheels straight up as if they were pointing to the twelve at the top of a clock.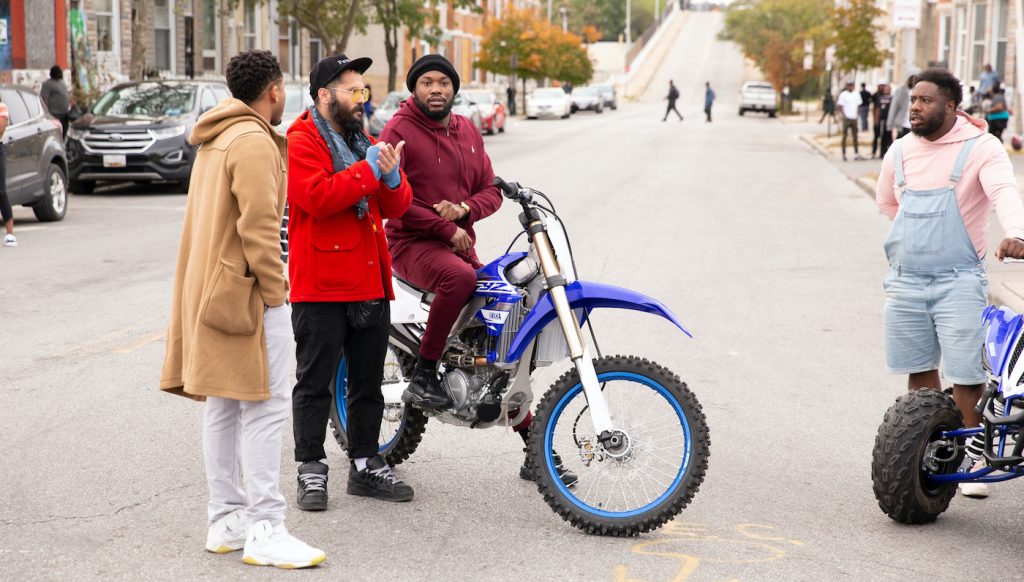 Oscar-winner Barry Jenkins took the idea and crafted it into Charm City Kings and the story of Mouse (Jahi Di'Allo Winston), a teen living with a single mom (Teyonah Parris) as he deals with the death of his older brother Stro. Though Mouse has a natural gift for caring for animals and a path to becoming a veterinarian, he's willing to throw it away for a chance for urban bike glory. His opportunity comes in the form of Blax (Meek Mill), a recent parolee who leads the Midnight Clique, the baddest of bad biker gangs. Blax also runs a repair shop and is willing to take Mouse and his best friends Lamont (Donielle T. Hansley Jr.) and Sweartagawd (Kezii Curtis) under his wing to teach them how to build their own bikes. As Mouse becomes entrenched in the street life of the Clique, both his mom and his mentor, Baltimore detective Rivers (William Catlett), realize that Mouse is in danger of meeting the same fate as Stro, who died during a drug deal Blax orchestrated.
"I already had seen the documentary, so when I got the script that said 12 O'clock Boys written by Barry Jenkins, it was, 'Okay, I gotta read this,'" Soto continues. "It was the first draft. And even though a lot of work was done to it later by Sherman Payne (Payne is credited as screenwriter from a story by Jenkins, Kirk Sullivan, and Christopher M. Boyd), it was really a good foundation for the story, a very exciting journey of a character that the documentary didn't really have. Barry's starting point provided space for Sherman to put in a lot of the heart and the banter and the energy of the kids and what happens toward the end."
Though he feels Charm City Kings has a much different tone, Soto likens it to the themes of Stand By Me, Boyz n the Hood, and Menace II Society. "It's like being able to say, 'Oh, I remember how I felt watching those movies,'" he continues. "What I love about its energy is the funny banter and the innocence — all the stuff that we focused on as teenagers, meeting the girl and how innocence can be easily destroyed by a pivotal moment."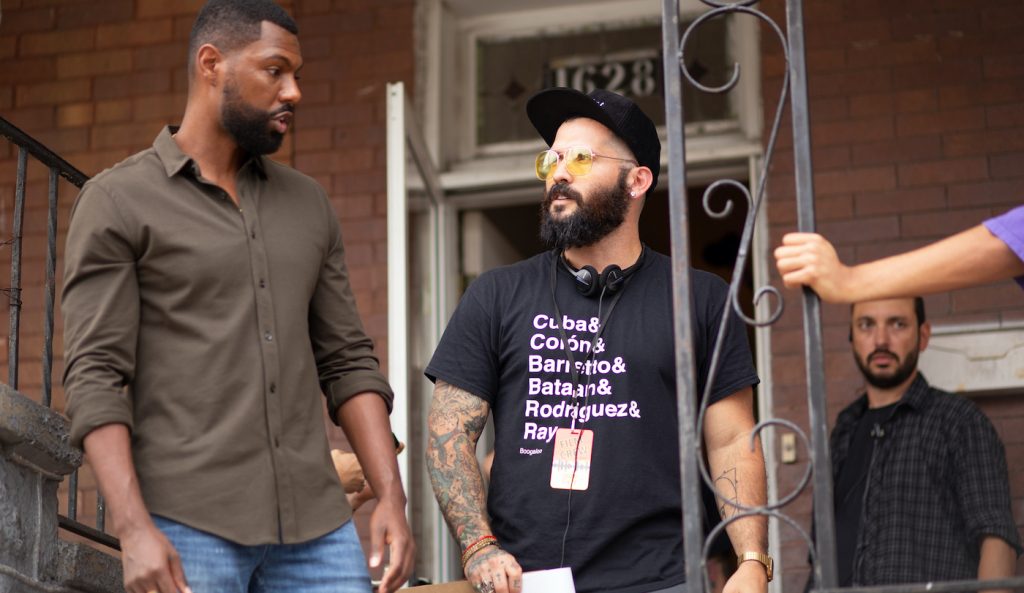 Staying true to Baltimore meant shooting in Baltimore. Reminding us that Jada Pinkett Smith, one of the film's executive producers, hails from there, Soto said there was never any discussion about filming Charm City Kings elsewhere. "I couldn't think of any other way of doing it, to be honest. It's very hard to mimic Baltimore," he adds. "There is bike life in other cities, but Baltimore is pretty much the epicenter of this movement. I studied architecture and one of the things that's very hard to replicate is the row houses. You can have row houses in different parts of the states, but Baltimore's are very unique. Even East Baltimore architecture is different from West Baltimore architecture in the way the steps are designed."
Knowing how the events of recent years have tainted the city's image, Soto also hopes the story will help shine a light on its energy and positive elements. "It is a love letter to Baltimore," he says. "That was what we really wanted to do. So that's why the whole film is 100% shot in Baltimore."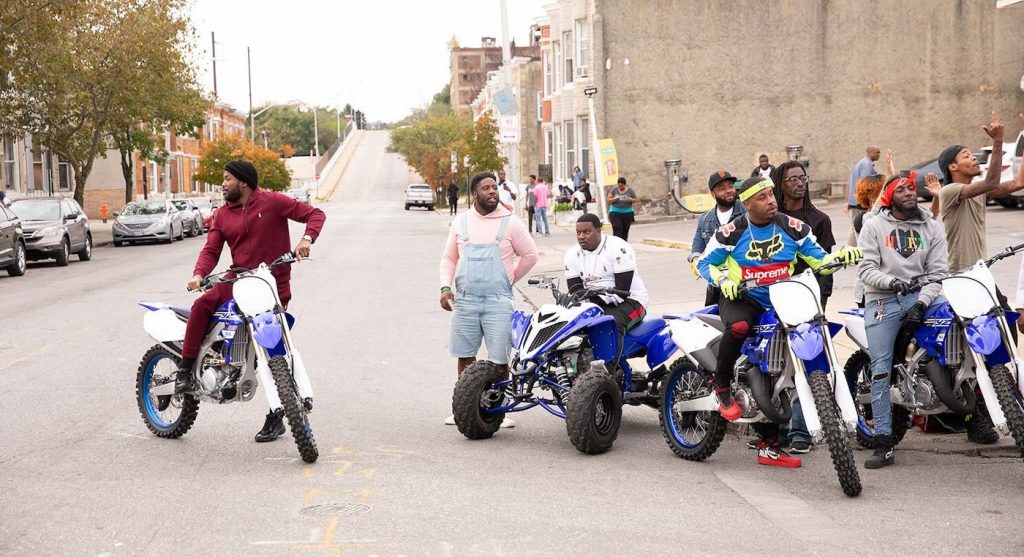 The director gives a lot of credit for the film's sense of optimism and joy to his young cast. To keep it real, it was decided that Mouse, Lamont, and Sweartagawd should be played by actors in their teens. Having featured child actors in his early work, Soto was very comfortable directing performers in this age range.
That innocence, the very spark in the eyes is very hard to replicate," explains Soto. "There's something about not being stained with life. It is very hard to have an adult or a kid that's older who has gone through a lot of issues to realistically play younger."
Not to say that Winston, Hansley Jr., and Curtis were novices at their crafts. Winston, for example, had already been featured in such films as Queen & Slim, The Dead Don't Die, and Proud Mary. Soto was amazed at their on-camera chemistry. "They really became the characters to the point that it felt like they've been best friends forever — and they had just met," he adds. "It was a delight to see. They made my job very easy."
Equally as impressive were the riders featured in the urban bike sequences. Realizing the key role they play in Charm City Kings, Soto spent seven weeks prior to filming immersing himself in the culture. He described what he saw as crazy, but in a good way. It turned out to be time well spent.
"These guys, they know their bikes better than their own girlfriends," says Soto. "I've never seen this type of talent before. Being able to trust them to be who they are really helped us get intimate with those scenes. I felt comfortable that I could get close to the action because they have such control but also such freedom."
And it only stands to reason that having delved so deeply into the urban bike culture that, at some point, Soto would get on a bike himself. And he did. But wisely, he waited until Charm City Kings had wrapped to take his turn at the wheel. "When we finished shooting and I knew it was safe, I stayed a couple more days and that's when I went on the bike," Soto says with a laugh. "I knew if I rode during shooting, I was gonna get in trouble. But after shooting, I was like, 'If I break a leg, I can work with that.'"
Featured image: Charm City Kings – Angel Manuel Soto with the three teenage performers – Jahi Di'Allo (on bike), Kezii Curtis (with glasses) and Donielle T. Hansley Jr. Courtesy HBO Max.