"The Mandalorian" Nabs 5 Creative Arts Emmys
When we interviewed The Mandalorian's Emmy-nominated cinematographer Greig Fraser, we were blown away by his description of how he and his fellow crew members shot Disney+'s live-action Star Wars series. Now, we're happy to report that Fraser has won the Emmy for Outstanding Cinematography for a Single-Camera Series (Half-Hour) for his work on season one's episode 7, "The Reckoning." Fraser shares the award with fellow DP Baz Idoine. Unsurprisingly, this gorgeously rendered series is cleaning up in the Emmy's craft categories.
The Volume, that bespoke technology that Fraser, Idoine, series creator Jon Favreau, and many more developed, allowed them to create many of the visual effects backgrounds the show required, in real-time. The LED-based technology is essentially a sound stage where nearly half the series was shot. Many the far off planets that the Mandalorian (Pedro Pascal) visits throughout the first season were realistically rendered in real-time on these new versions of green screens, with the backgrounds moving with the camera thanks to an amplified gaming engine that makes all the necessary calculations as the characters and cameras move.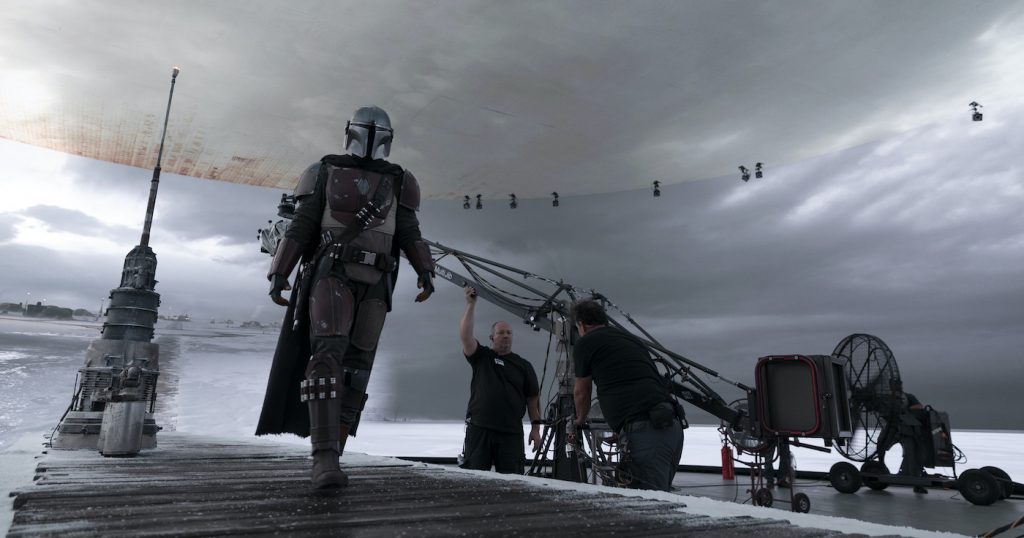 The Mandalorian not only won for Fraser and Idoine's cinematography, but also Outstanding Visual Effects for episode 2, "The Child" (beating out heavyweight contenders like Stranger Things, Watchmen, and Westworld), Outstanding Production Design for a Narrative Program, Outstanding Sound Editing for a Comedy or Drama Series, and Outstanding Sound Mixing for a Comedy or Drama Series.
As for Fraser, he told us that "the technology didn't drive the story, the technology was helpful in telling that story." As groundbreaking as that technology was, what has made The Mandalorian a hit and an Emmy darling is the fact that people were drawn to the story. Which isn't all that surprising considering it involved Baby Yoda.
The Mandalorian returns to Disney+ for season 2 on October 30.
For more on The Mandalorian, check out these stories:
"The Mandalorian" Season 2 Trailer Introduces the Jedis