Zack Snyder Reveals His New Version of Steppenwolf for "Justice League"
As we approach Warner Bros. and DC's epic virtual FanDome event on August 22, we're starting to get some juicy details on upcoming films. One of those films is Zack Snyder 's Justice League, arguably HBO Max's most hotly-anticipated title.
The tentatively titled Zack Snyder's Justice League will feature a brand version of the villain Steppenwolf (played by Ciarán Hinds), who was the big bad in the original, Joss Whedon co-directed version of the film that came out in 2017. Snyder has made it clear he intends to reveal a completely different version of the film in nearly every regard, and that apparently includes giving us this fresh version of the warmongering supervillain.
Snyder shared his new version of Steppenwolf on the VERO app. Not only did Snyder drop this juicy image, but he also added a spirited caption: "Just working today. Pulled this out of the editorial. Sorry he's low-resolution, but I've seen him in all his hi-res glory and he's a thing to behold. Quick question… how many f**ks do you think he gives???"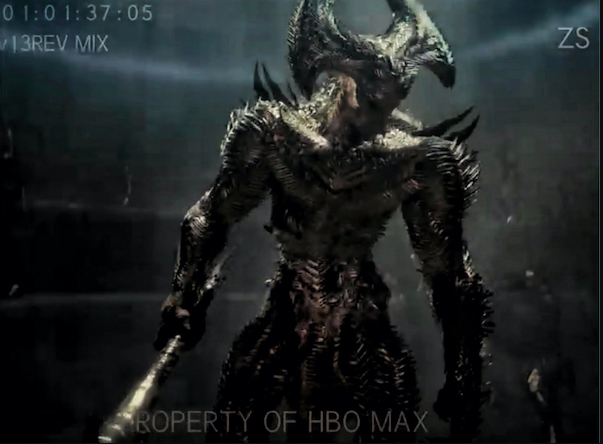 Steppenwolf will be joined by another major supervillain in Zack Snyder's Justice League—Darkseid. Snyder already teased Darkseid in a tweet, and we know he'll have an important part to play in this story. He'll be played by Ray Porter.
Zack Snyder's Justice League might bear the director's name, but he's hardly alone in bringing this thing together. His wife and producer Deborah Snyder has been a major player here, and the original cast and postproduction crew are coming back, too. The cast will be recording new dialogue, and the original postproduction crew has a boatload of VFX, scoring, and editing work that will be necessary to make Zack Snyder's Justice League a reality.
"ReleaseTheSnyderCut first became a passionate rallying social media cry among fans in 2017 and has not let up," Warner Media said in a press release when they revealed the film was actually happening. "From countless press articles and hundreds of thousands of social media mentions, it became a powerful global movement among cinephiles and comic book fans."
That global movement made Zack Snyder's Justice League possible. We'll see what Snyder and his team have cooked up when it finally bows next year on HBO Max.
Featured image: The Snyder Cut is real. Zack Snyder's Justice League is coming to HBO Max. Courtesy Warner Bros./HBO