Patty Jenkins Reveals Epic New "Wonder Woman 1984" Poster Ahead of Trailer
There is a lot of incredible stuff coming tomorrow at the DC FanDome event, folks. And to remind us of this fact, Wonder Woman 1984 co-writer and director Patty Jenkins just dropped this delicious new poster for the film. She also let us know she'll be revealing the trailer during her FanDome panel tomorrow, where she'll be appearing—virtually, of course—alongside her stars Gal Gadot, Chris Pine, Kristen Wiig, and Pedro Pascal.
First, let's have a look at the poster, which shows Diana Prince (Gadot, naturally) soaring in her golden eagle armor. The armor comes straight from the comics. Diana dons a pair of golden wings, an eagle helmet, and a sword made by the god Hephaestus. (In the comics, that sword could cut anything, including Superman.) You'll note the poster is not only keeping up with the film's colorful, very 1980s' wash of colors, but there's an important note in the lower righthand side—only in theaters. Warner Bros. is still planning on showing Jenkins' sequel on the big screen. Here's hoping that holds!
Many fun new things ahead… See you TOMORROW!! Who's ready? #TRAILERDROP #WW84 #WonderWoman1984 @GalGadot #DCFandome @PedroPascal pic.twitter.com/M9KiMGUDnC

— Patty Jenkins (@PattyJenks) August 21, 2020
Here's the poster in full: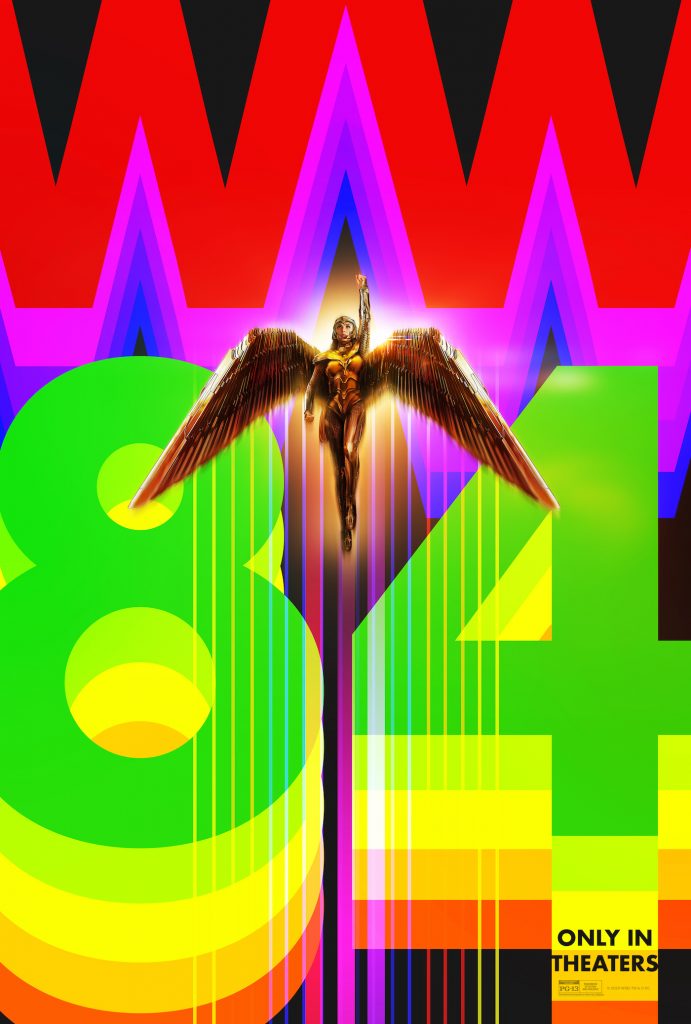 The Wonder Woman 1984 team will be joining a slew of other big-name stars at the FanDome event, which kicks off tomorrow at 1 pm ET. Some of the talent and titles that'll be a part of the mega virtual gathering include The Batman writer/director Matt Reeves, Justice League director Zack Snyder, The Suicide Squad writer/director James Gunn and many members of the cast.
Some highlights of the event include:
Things kick off with a Wonder Woman 1984 panel at 1 pm ET. Co-writer/director/producer Patty Jenkins and stars Gal Gadot, Chris Pine, Kristen Wiig, and Pedro Pascal will be on hand.
There will be a 30-minute panel for James Gunn's The Suicide Squad at 3 pm ET, including writer/director Gunn and his epic cast. What's more, they'll be taking part in a "Squad Showdown" which will test their Suicide Squad knowledge. Maybe we'll also finally find out who's playing who!
At 5:45 pm ET Zack Snyder will take part in a panel where he'll discuss all things Justice League, including the long road to getting his hotly-anticipated cut of the film in front of viewers.
At 6 pm ET none other than Dwayne Johnson will take part in a Black Adam panel to discuss his starring role in the upcoming film. Expect a few surprises!
Brace yourself for The Batman panel at 8:30 pm with writer/director Matt Reeves. We will almost definitely be getting our first glimpse of the film.
This is but a taste of a massive menu of virtual options. For the full schedule, check out all things FanDome at the official site, dcfandome.com.
Featured image: Caption: Theatrical poster for Wonder Woman 1984. Courtesy Warner Bros.