Does "The Suicide Squad" Have the Best Ensemble Cast of 2021?
The DC FanDome event brought us a ton of new teasers, trailers, images, and actual information about some of the films we're most excited to see. While co-writer and director Patty Jenkins' Wonder Woman 1984 is due to hit theaters (we hope) this October and features a lot of excellent performers, three of Warner Bros. and DC's biggest films are slated for 2021. Those are James Gunn's The Suicide Squad (August 6), Matt Reeves' The Batman (October 1), and Zack Snyder's Justice League (coming to HBO Max sometime in 2021). All three of these films have great ensembles.
Justice League features Henry Cavill's Superman, Ben Affleck's Batman, Gal Gadot's Wonder Woman, Jason Momoa's Aquaman, Ray Fisher's Cyborg, and Ezra Klein's The Flash. The Batman boasts Robert Pattinson as the Caped Crusader, Andy Serkis as Alfred, Jeffrey Wright as Detective James Gordon, Paul Dano as the Riddler, Zoe Kravitz as Catwoman, Colin Farrell as Penguin, and Peter Sarsgaard as a new character, district attorney Gil Colson. These are, clearly, very good casts!
Yet Gunn's The Suicide Squad has the kind of eclectic grouping you rarely get to see. It includes verifiable A-listers like Margot Robbie, Viola Davis, and Idris Elba, phenomenal character actors like Michael Rooker and David Dastmalchian, up-and-comers like Storm Reid and Daniela Melchior, and beloved hybrid leading men/character actors like Nathan Fillion and John Cena. And that's only like half the cast. Folks, The Suicide Squad is straight up stacked with talent.
In the "Roll Call" video revealed during FanDome, The Suicide Squad finally revealed exactly who everyone was playing. Sure, we already knew who the returning champs were—Margot Robbie's Harley Quinn, Viola Davis's Amanda Waller, and so on, but up until this past Saturday, much of the cast's roles were being kept secret. Michael Rooker is Savant! John Cena is Peacemaker! Nathan Fillion is T.D.K.! Pete Davidson (!!) is Blackguard!
So to answer our question raised the title to this story—yes, yes it does.
Here's the Roll Call video. We an't wait for this movie to come out:
Here's the full poster: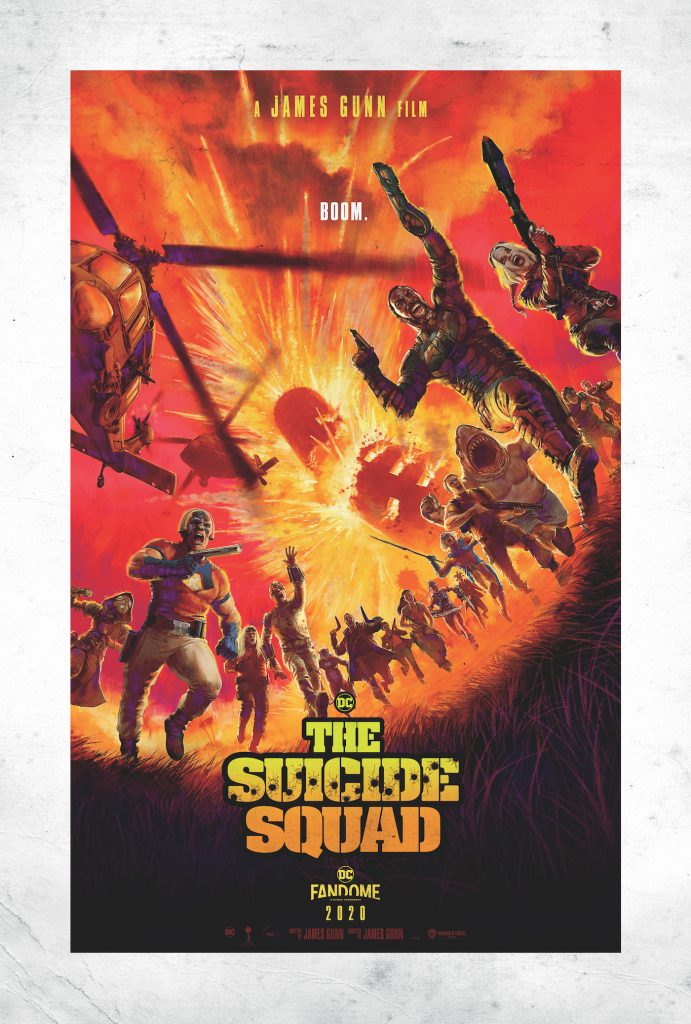 For more on the DC FanDome Event, see below:
At Long Last "The Batman" Trailer Reveals Robert Pattinson as Caped Crusader
James Gunn Reveals "The Suicide Squad" Footage at DC FanDome Event
The New "Wonder Woman 1984" Trailer Delivers the Goods
Here's the First Trailer for "Zack Snyder's Justice League"
Featured image: 'The Suicide Squad' logo. Courtesy Warner Bros. Pictures