Allison Jones & Ben Harris On the Funny-Unfunny "Curb Your Enthusiasm" Casting Process
How do you cast a show where most household name actors play themselves and entire scenes are based on improv? Well, it's complicated. To get on Larry David's Curb Your Enthusiasm, now in its 10th season and booked to begin shooting Season 11 come fall, coronavirus permitting, you need to be funny, but you don't have to be funny, and you definitely can't seem to be trying to be funny. On actors who make it to an in-person audition, "they don't have to be haha-funny, ever," said Allison Jones, the casting director known for discovering, among others, Jonah Hill and Seth Rogen, in the course of shaping casts that came to be the signature of directors like Paul Feig and Judd Apatow. On Curb, "to be as real as possible is what they want because the situations and the characters are so ridiculous and confrontational with Larry—so much so that Larry just loves to see what these gifted people come up with. And usually, it's fricking hilarious," she added.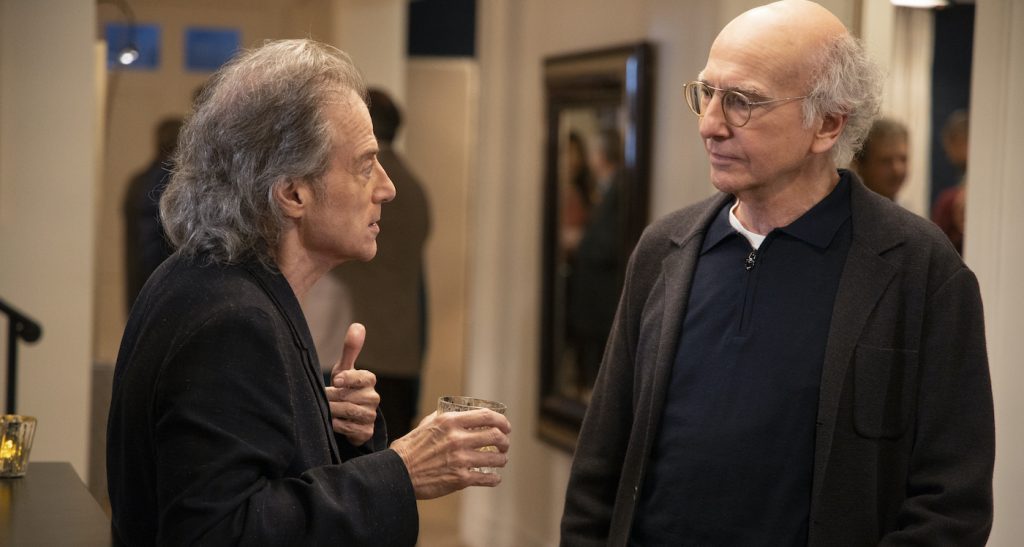 Jones and her associate of over a decade, Ben Harris, are nominated for an Emmy for their work casting Curb's 10th season, bringing in actors like Isla Fisher as a professional crier, Rebecca Romijn for the role of an unimpressed doctor's office manager, and Nick Kroll as a smarmy maitre d' of a restaurant that segregates pretty and ugly customers in separate sections (no matter whom he eats with, David's only recourse out of the unattractive section is blackmailing Kroll). Highlights among celebs who play themselves, or at least, versions of their own names, include Jon Hamm, Laverne Cox, Clive Owen, and Mila Kunis.
David causes outrage at an awards ceremony when he ducks Cox's on-stage hug after she'd privately advised him she had a cold, inadvertently turns Hamm, shadowing him for a role, into an obnoxious version of himself, and inspires Kunis to open a jewelry store out of spite. For Jones and Harris, casting people as themselves is an involved process with the actors, writers, David, actor/producer Jeff Garlin, and director Jeff Schaffer. "I think half of them Larry knows, so he calls or texts them. And then a lot of the people playing themselves have expressed an interest in being on the show," said Jones, remarking that at David's level of fame in the comedy world, even when she and Harris do have to call an agent for a particular star, "we don't get many no's on Curb."
Though the politically incorrect hit is eternally popular for cameo opportunities, Jones and Harris mentioned that a prior season had one role in particular, which went unnamed in our interview, get passed on by a few squeamish actors. "We've had these great actors do some questionable things, and play questionable characters," Jones admitted. As for organizing who appears on Curb under their own names versus in a fictional role, there's no particular system in place, with Schaffer, Garlin, and David "pretty cool with just getting the funniest person for the role," said Jones, though "some people, oddly enough, don't want to play themselves." Vince Vaughn, for example, joined the cast as Freddy Funkhouser, half-brother to Marty Funkhouser (the show's inimical Bob Weinstein, who passed away last year), but had years ago declined an ask to come on as himself during a poker game.
Whether playing themselves or other people, what matters most for an actor trying to get on Curb is striking that balance between being funny while not being required to be funny and definitely not appearing to try to be funny.  "The minute you're trying to be funny, [Larry, Jeff, and Jeff] see through that and they don't want to do that," Jones said. On top of those directives, given that so much of the show's humor comes out of improvisation, actors have to be able to riff with David right off the bat. Hopefuls are given a scenario but no lines, explained Jones. "Larry's in there, and they have to go from there. And a lot of times that's what you end up seeing in the show." Harris pointed out that this can be intimidating for the actors, but they both agreed that when it works, the casting room feels like a three-hour version of the show itself. "Larry is not intimidated by someone who's as funny as he is—he wants that to be the case," Jones said, recalling that "when J.B. [Smoove] came in, he was Leon from the second he came in. And he'd invented this hilarious character. Larry couldn't get through the audition, it was so funny."
Some bigger names have passed on Curb because they just don't do non-scripted work, and on the flip side, there have been improv pros who flopped. "Every once in a while we get somebody who's an excellent improviser, and they just bomb, because they're so nervous just to be auditioning with Larry," Harris mentioned. However, the most complicated casting prospects throughout Curb's run are Larry's paramours. "It's always hard to find a love interest for Larry. Always. I don't know why, but it's a fine line with age, vibe, who's too famous," said Jones. "It'll start with a list" of about 50 names, Harris added, "and we go around in circles sometimes." Which, when you really think about trying to pair off television's pettiest curmudgeon, seems entirely fitting for Curb's trickiest role to fill.
Featured image: J.B. Smoove, Larry David. Photograph by John P. Johnson/HBO.