Filmmaker Courtney Jamison Tells a Winning Story During Quarantine
Filmmaker Courtney Jamison entered a contest set up by Women In Film LA, ReFrame and IMDbPro called CURBSIDE SHORTS Two-Minute Film Challenge. The challenge invited "female and non-binary filmmakers from North America to create and submit for free a short film inspired by life while sheltering in place." Jamison, originally from Richmond, Virginia, had been sheltering in place in Los Angeles for months. She entered the contest with four friends. 
"I saw the announcement on Deadline, and was like, okay, let's just make something," Jamison says. "Things were calming down in LA, it was just starting to open, and I reached out to three good friends from Yale and one I met in New York who lives in LA. We got on Zoom and FaceTime and we were racking our brains on how we wanted to tell a story during quarantine."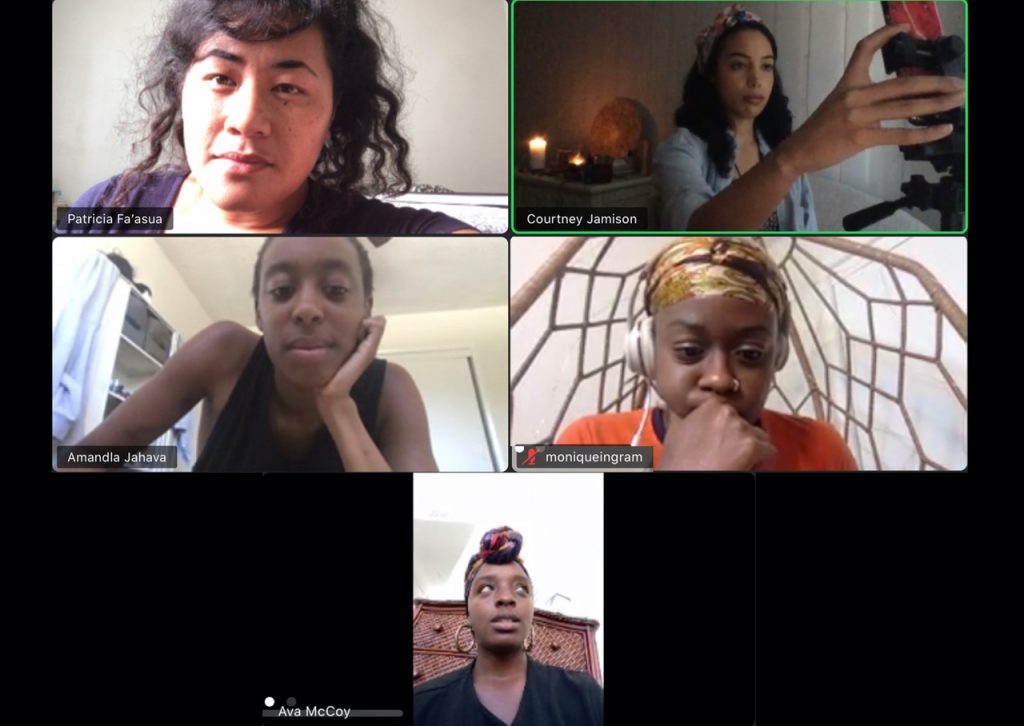 They ultimately landed on the plan of making a film about the way the constant consumption of news stuck in their minds. "Whether it was true or false information about COVID-19, the idea was how this information sticking with us," Jamison says. "Our original plan was to use news clippings. Then we realized we needed the rights to those, so we went back to the drawing board and came up with a script. We follow this woman [played by Amandla Jahava] during an afternoon, and we see her ritual, and how each day the ritual may change, whether it's a zoom date or an actual ritual to meditate, or having to leave the house to go get groceries."
Their resulting short film, Day 74, won the contest.
"It was four black women and a Samoan woman coming together, collaborating," Jamison says.  "We used my DSLR camera and my sound equipment and we just did our thing."

Jamison's road to filmmaking began in Richmond. "I got into all this wanting to tell stories because you've seen the unrest going on in Richmond, specifically with the monuments, so I felt my art was born out of this desire to make sense of what's going on, and figure out my own authenticity, my own voice, and how to heal people," she says. Jamison attended James Madison for musical theater and was planning on continuing along that route until she auditioned for the Yale School of Drama and got in. Her older brother Jai, a writer/director, is currently working on the CW's Superman and Lois, and Jamison says the two of them have grown their artistry in tandem. They made a short film together, Slave Cry, set in their hometown.
For Day 74, Jamison was learning on the fly. "It was my directorial debut as far as film goes, as well as my first time mixing sound," she says. "I didn't think that would happen in quarantine. I directed theater in undergrad, so most of what I learned, making a beat sheet, thinking about shots, was from watching my brother direct. This film was the first time I'd seen anybody since going into quarantine. We socially distanced while filming, figuring out how to take all the necessary precautions and also make something that was really fascinating."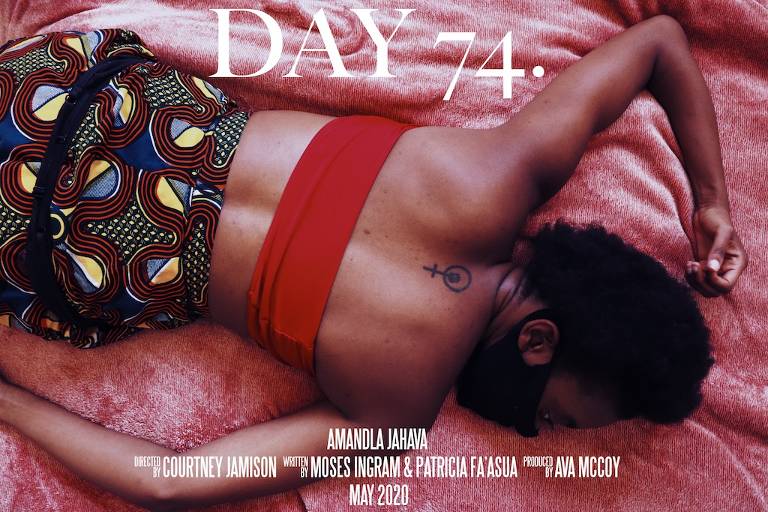 Jamison and her collaborators—Moses Ingram (co-writer), Amandla Jahava (actor), Ava McCoy (producer), and Patricia Fa'asua (co-writer)—saw their film win the challenge just as the country was undergoing massive, unprecedented protests in the wake of George Floyd's murder. "We'd just gathered together as friends who just wanted to make something, and in our desire to make something it just happened that our lead is a Kenyan American Canadian woman," she says. "Now in the context of what happened, it's further a reminder of what the result is when you give opportunities to Black and brown bodies, in front of and behind the camera."
After winning the contest, Jamison began hearing from people who saw her film. "The biggest takeaway was all the people who were telling me how seen they felt, how universal our main character's experience was," she says. "If we had more representation, more Black women, more Black trans women, more Black trans men, then these roles wouldn't need to be solely focused on their Blackness or sexuality. It's not erasure, it's just if you see the person and they're just going through their daily lives, it humanizes them. I'm interested in humanizing Black people, Black women specifically, so what you see on screen isn't us going through trauma for you to then understand that we're human."
Jamison also contended with the fact that she and her collaborators are around the same age of Breonna Taylor, the young woman shot and killed while in her bed in Kentucky. "We had this opportunity to make art, and that was taken away from her," Jamison says.
Jamison and her collaborators wanted Day 74 to show not only the anxiety and insecurity of living life in a pandemic but the ability to find ways to feel a connection. "It's also about finding joy, finding breath, finding laughter at the end," she says. "In times like this, we have to do work on the inner life as much as we do on the macro. You can dismantle a system, you can defund or abolish the police, you can have all these systematic changes, but what do we want to fill the world with. What sacrifices do I have to make to enact change?"
Slave Cry, the film she and her brother made, is especially poignant in our current moment.
"It's about, among other things, taking down the Confederate monuments," Jamison says. "We finished it early 2019. Growing up in Richmond, my artistry was born out of a desire to make sense of driving down Monument Avenue. I drove down that street every single day. As a kid, you were wondering, who were these people? They must have been really great. Then you learn the truth of what they represent. The monuments are reminders to stay in your rightful place, that you don't actually belong here, and you're not valued as a Black person. Imagine if we had a monument to Ida B. Wells or Harriet Tubman? Instead, they're uplifting these people as heroes. It wasn't uncommon to see a Confederate flag every day."
Jamison recalls watching The Fresh Prince of Bel-Air, Living Single, and A Different World as a child, and what a huge impact these shows made on her. "Even if I didn't necessarily see myself all the time growing up in Richmond, I at least saw myself represented on the screen. Here were people who reminded me of my aunt, my cousins, and these shows were some of the earliest things I fell in love with. I wanted to write a fantasy show about a Black girl who is the lead."
As for our current reality, Jamison feels like major, fundamental change is required. "I don't want this moment to be like, 'Let's just hire Black people.' No, we have stories to tell, we're skilled, we're interesting, you don't have to do this as a course correction or to just open the doors. Let's actually knock down the whole house and rethink everything and see what happens."
A few days after our conversation, Jamison emailed me some photos to use for this profile and provided me a fitting coda to this story. "Not sure if you saw the news," she wrote, "but they officially took down the Stonewall Jackson monument in Richmond today! We watched it live."