The High Note Director Nisha Ganatra on the Importance of a Diverse Cast & Crew
As a worthy follow-up to her critically acclaimed 2019 comedy Late Night, director Nisha Ganatra brings us The High Note, which was released this past May 29 for digital download. The film stars Dakota Johnson as aspiring producer Maggie Sherwoode, who works as personal assistant to iconic performer Grace Davis (Tracee Ellis Ross). It's a dramedy about women supporting each other as they reach for their highest goals and dreams. Ganatra spoke to The Credits about her new movie, perfect for movie lovers looking to watch something fresh, new, and decidedly hopeful in these profoundly difficult times.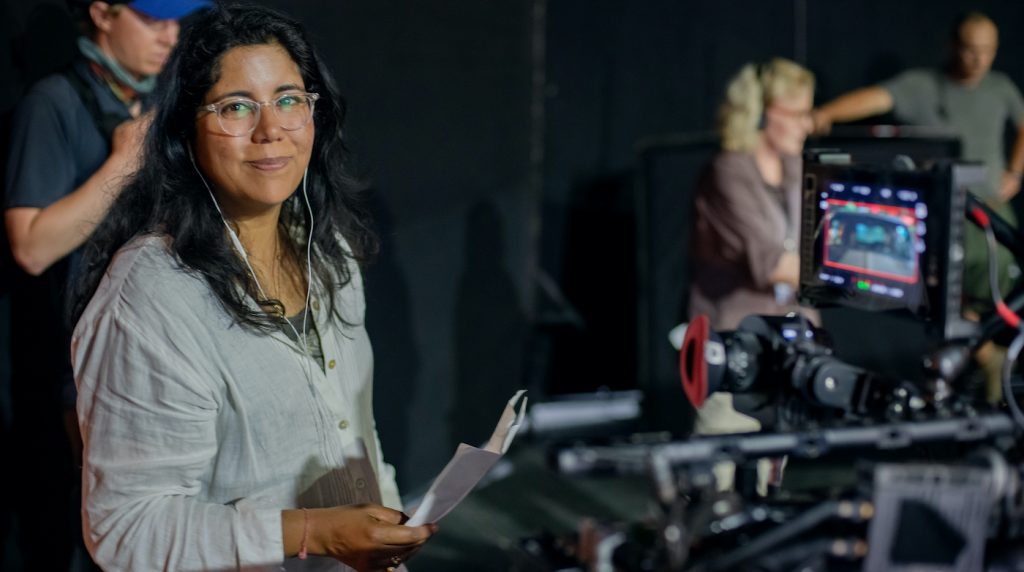 The casting in this film is inspired. For Kelvin Harrison, performing as a musician onscreen is something new. He is also the romantic lead, which fans get to see for the first time.
Kelvin has it all. He's funny, he's charming, and he can do dramatic work, but I really wanted to see him as a romantic leading man. I think he could be a real rom-com star. He might be the new Hugh Grant we've all been looking for. He's witty, and smart, and also a little self-deprecating and cocky. That's a wonderful combination, so finding out that he could sing, on top of it all, was great. He has a really beautiful voice and a really strong work ethic. He worked really hard in the studio to make his songs as good as they are. He was a composing major in school, so he really knows what he's doing. He knows so much about music, that he could help point out exactly the way it's supposed to be, so every detail in the movie is spot-on for discerning musicians that might watch and take us to task if it's not accurate.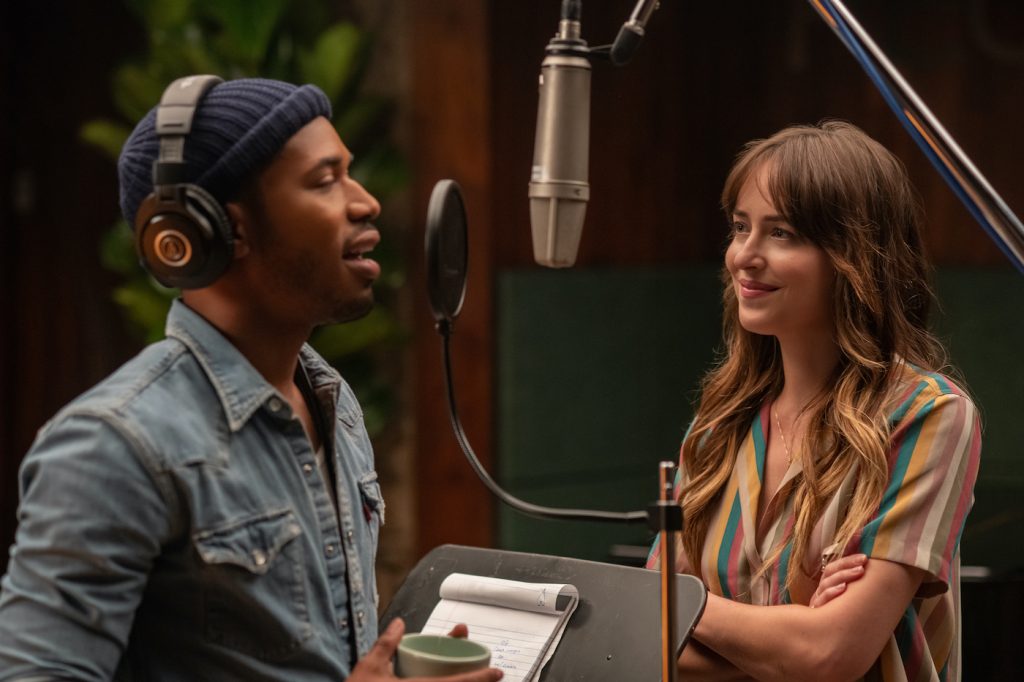 Tracee Ellis Ross is so magnetic as Grace Davis. How did she take on the role? No one has ever heard her sing, and it had to be scary for her, given she's Diana Ross's daughter!
She had never been in a feature film before but also had never sung in public. She was very trepidatious and scared about letting anyone hear her voice. I'd cast her before I heard her sing, so I was a little worried. I figured if she couldn't sing, there are tools to make people sound good, but it really would have been a shame. What wound up being captured was the emotion of her character as she was singing. Being able to be really present with all the emotion was really moving. It was really beautiful to watch her coming into her own. She had hidden her voice from the world, and we are so lucky she was able to share it with us now.
You make a point of hiring a diverse, gender-balanced cast and crew. Can you talk about your collaboration with production designer Theresa Guleserian and costume designer Jenny Eagan in creating the iconic looks that span Grace Davis's career? 
If you don't believe Grace Davis as a movie icon, the whole movie falls apart. That was our biggest challenge, getting that right, and making it believable. When I was just trying to get the job as director, I made a lot of album covers of Tracee Ellis Ross, just to see if people bought her as a music icon. I made them for fun, and it was really great because it really showed me how diverse her looks are, and that you really could track her throughout the years as a music icon. Theresa and I set about doing that in a much more professional way, with Theresa tracking her whole career. What was she wearing in the 80s? What about the 90s? What do her album covers look like now? We worked with Jenny to put together all those looks. We ultimately had one day to shoot all those album covers and take Tracee through a 20-year arc of her career as Grace Davis. We were lucky she was able to nail all those looks so quickly from her modeling experience. I think that day, as grueling and challenging as it was, was really key to finding the character in her head. She walked out of that photoshoot as Grace Davis from that day forward. I think that was an inadvertent but great rehearsal.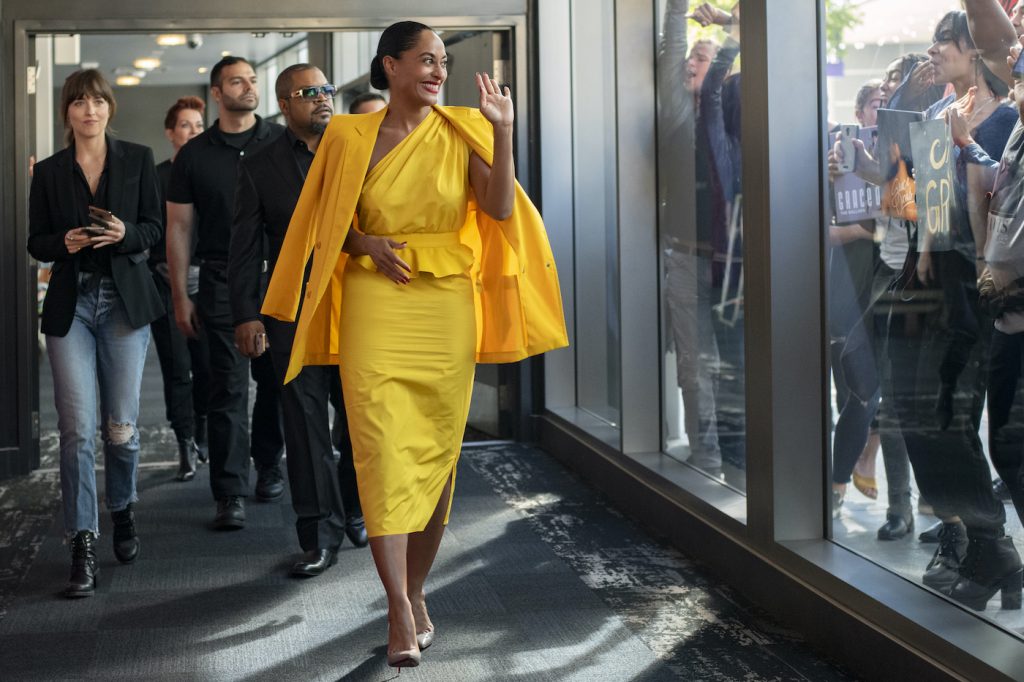 You also worked with female composer Amie Doherty, music supervisor Linda Cohen, and songwriter Sarah Aarons, which had to be valuable, since music and film run parallel in terms of the challenges to women in the business. 
It was really important to have a female composer, because who else could give voice to Grace Davis being an icon in a male-dominated field, and Maggie wanting to break into it, then a female composer who goes through that every single day? Amie's music was so unique and beautiful. Linda Cohen and I have been collaborating since my very first film. She has since become a legend. After Nick and Nora's Infinite Playlist, she became the most sought-after music supervisor in the business. I knew I didn't want to make this movie without her. Sarah Aarons came in during a stage when we were listening to thousands of demos. She came in, I met her, and every demo she sent sounded like a hit song on the radio. When she asked me which song I'd like to use, I said, "All of them!"
The High Note is full of risk, hope, and commitment. For those reasons and more, why do you think people should seek it out?
I guess it's one of those old school studio movies that you watch, and you feel happy, and lifted, and hopeful. It's definitely a movie that tells you to go after your dreams, and that everything's going to be ok. You come away from it smiling and feeling joy. That might make it the perfect movie for this time. We could all use messages of hope, and this movie is a real feel-good ride.
Featured image: Tracee Ellis Ross stars as Grace Davis in THE HIGH NOTE, a Focus Features release. Credit: Glen Wilson / Focus Features