Composer Sherri Chung on Batwoman, Riverdale & More
Composer Sherri Chung faced the production freeze due to COVID-19 with equal parts equanimity and patience. Because her work is often done alone, the self-quarantine aspect of the pandemic hasn't changed her process all that much. Chung has a studio where she has her own recording stage that can fit about 15 players, so that part of her process has been shuttered, but the fact that she was already on a natural hiatus, as she described it, working through mid-May on shows that had already wrapped, she hasn't felt quite so marooned. "For me, this feels normal," Chung says. "I didn't have to change my method. True, I'm not doing a whole lot of recording at the moment. For composers with weekly episodes, they've found ways to do it. Editors were able to take their rigs home, so we had to wait a little bit for them to finish their work, so they changed air dates, but for the most part, it was a bit the same. But of course, the world isn't the same."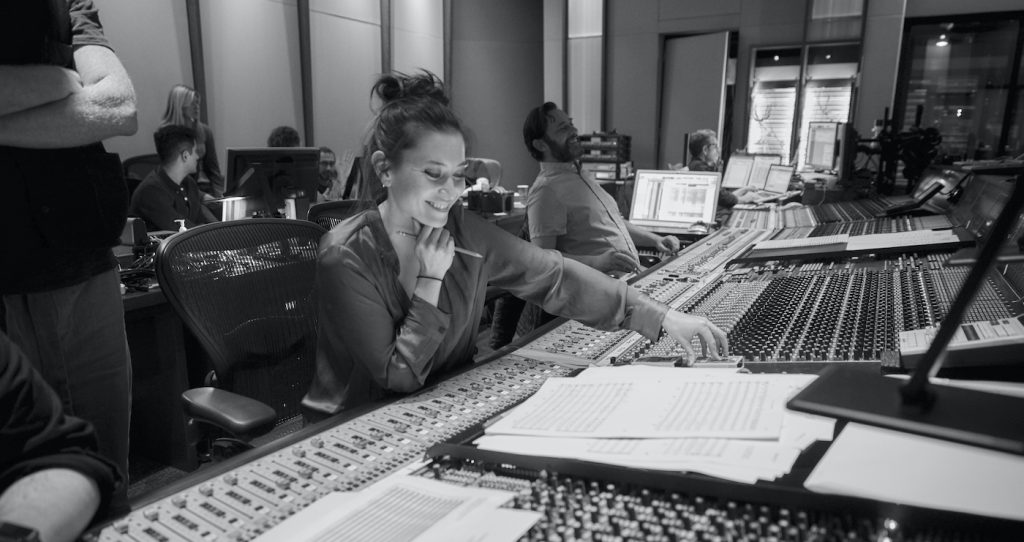 The last time I heard Chung speak was on May 29, when she took part in our Film School Friday virtual panel discussion, four days after George Floyd was killed by Minneapolis police officer Derek Chauvin, touching off protests against police brutality through the country and eventually the world. The event featured leading Asian American & Pacific Islander (AAPI) creators and to celebrate AAPI Heritage Month. Some of that discussion focused on how much the world of film and television had changed since the pandemic swept across the globe. Now, Chung and I spoke about how the world had changed again in the aftermath of Floyd's death. One of the first things we spoke about was the speed with which millions of people went from cautious isolation to willingly plunging into massive crowds to join the protests.
"We sort of live in bubbles as composers, living under a rock, when the quarantine started, I was sort of embarrassed that my life has mimicked quarantine for years. But this is different," Chung says. "We talked at first about how the pandemic is the great equalizer, but then you realize it didn't hit everyone the same. It not only affects older people or people with compromised health more, but it affects Black communities more. In terms of the industry specifically, there's been such a greater awareness in the things that we say, there's an awareness in our community to create a dialogue. In terms of art, I've noticed a lot of friends are writing music inspired by current events, what's going on, whether it's the pandemic or the protests and Black Lives Matter. I feel like there's even more of a community than I was feeling before."
In her normal, working life, Chung is the co-composer, along with Blake Neely, on two of the CW's (and now HBO Max) biggest shows—Batwoman and Riverdale. In the world of Batwoman, the recent big news was that Ruby Rose, Batwoman herself, would be leaving the show. Yet Chung was excited about how showrunner Caroline Dries and executive producer Greg Berlanti were approaching the change.
"Ruby Rose played Kate Kane, and in the world of the show Kate was filling in as Batwoman because Gotham was missing Bruce Wayne," Chung says. "What I think is great is that it sounds like they're going to treat this as Kate Kane leaving Gotham, and a new character comes in to carry the torch as Batwoman. When Luke Perry passed away on Riverdale, I'd never dealt with that before. It was heartbreaking. Sometimes these things that are heartbreaking or surprising, things that out of our control, can actually create a beautiful platform for creativity. It can open opportunities for the writers to create new avenues for the characters, and therefore the music does that, too."
On both Batwoman and Riverdale, Chung's favorite characters to score are the bad ones. Whether that's Batwoman's presumed-dead twin sister Beth Kane in season 1 or the Gargoyle King in Riverdale season 3, Chung loves writing music for a monster.  "In [executive producer] Greg Berlanti's world, I love when they add new villains, and I know there's a new villain coming in Batwoman," she says. "And you have these creative calls with the showrunners and producers, and everyone wants to make sure we're getting a new sound for the new villain. I always look forward to the beginning of these shows, because everyone's always refreshed and there's this sense of, 'Okay, what do we want to do!' In particular with Batwoman, I'm excited to meet the new Batwoman, whoever she'll be, and discuss whether we'll have new sounds for her. But I do especially love writing for the villains."
Chung has recently landed an exciting, albeit unmentionable, new project with HBO Max and Amblin and Warner Bros. Animation that she's eager to begin. "I'm super excited about it," she says. "I can't wait for the world to see." What kind of world that is one can only guess, but as bleak as 2020 has been, there have also been signs of hope. "All these people I've followed on social media have switched to use their platforms to speak about things that are meaningful," Chung says. "It used to be about using your platform for self-promotion, and now that's changed. There's more awareness now. What people are talking about has changed."
Featured image: Composer Sherri Chung at work. Photo credit: Steve Earle.