Your First Look at Timothée Chalamet in Dune
Looking ahead even a week at this point feels almost like hubris, considering how fluid—and how scary—everything is. Yet looking ahead is also a way to maintain a little hope, and there are some things to be hopeful about. For sci-fi lovers, the fact that director Denis Villeneuve's adaptation (and reboot) of Dune was already in the can before the spread of COVID-19 shuttered productions all over the globe is one small but potent kernel of joy. Even if you're not a fan of Frank Herbert's epic 1965 sci-novel or David Lynch's 1984 adaptation, the amount of talent involved in Villeneuve's Dune is staggering. Add to that the writer/director's irrefutable sci-fi bonafides (Arrival and Blade Runner 2049 were both gems, IMHO)—the new Dune is like a beautiful alien light awaiting us at the end of this seemingly interminable, terrifying tunnel.
Villeneuve managed to deliver a gorgeous sequel to the beloved, Ridley Scott-directed Blade Runner, so taking on a reboot Dune after it was originally filmed by none other than David Lynch is well within his wheelhouse. The man knows a thing or four about expectations. He also knows a thing or two about casting. For you Timothée Chalamet lovers (we're including SNL's Chloe Fineman, whose Chalamet impression is pure joy), Vanity Fair has revealed the first look at the talented young actor from the film.
The photo shows Paul Atreides (Chalamet) on his native planet of Caladan, preparing to leave for the dangerous mining planet of Arrakis. Paul is the son of Duke Leto (Oscar Isaac) and Lady Jessica Atreides (Rebecca Ferguson), the heads of House Atreides, who have a spice mining concern on Arrakis. Dune tracks the life of Atreides, this privileged child from a powerful family that, nevertheless, finds himself thrust into a dangerous power struggle once he leaves his comfortable, picaresque world of Caladan for the brutal mining planet. On Arrakis, Paul will find himself pulled into a battle with House Harkonnen, a greedy clan looking to become the de facto rulers of the planet and to obliterate House Atreides in the process.
"The immediately appealing thing about Paul was the fact that in a story of such detail and scale and world-building, the protagonist is on an anti-hero's-journey of sorts," Chalamet told VF's Anthony Breznican. "He thinks he's going to be sort of a young general studying his father and his leadership of a fighting force before he comes of age, hopefully a decade later, or something like that."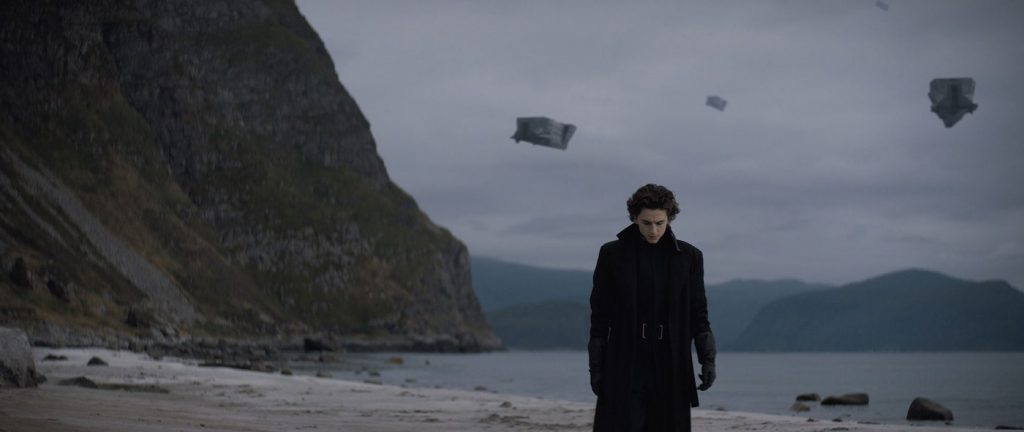 Paul's troubles on Arrakis aren't just fueled by the ruthless members of House Harkonnen; the planet is lousy with sandworms, colossal, meat-eating monsters that dominate the arid landscape. VF will reveal more photos tomorrow.
Dune is still set for release on December 18, 2020.
Here's the official synopsis from Warner Bros:
Oscar nominee Denis Villeneuve ("Arrival," "Blade Runner 2049") directs Warner Bros. Pictures and Legendary Pictures' "Dune," the big-screen adaptation of Frank Herbert's seminal bestseller of the same name.
A mythic and emotionally charged hero's journey, "Dune" tells the story of Paul Atreides, a brilliant and gifted young man born into a great destiny beyond his understanding, who must travel to the most dangerous planet in the universe to ensure the future of his family and his people. As malevolent forces explode into conflict over the planet's exclusive supply of the most precious resource in existence—a commodity capable of unlocking humanity's greatest potential—only those who can conquer their fear will survive.
The film stars Oscar nominee Timothée Chalamet ("Call Me by Your Name"), Rebecca Ferguson ("Stephen King's Doctor Sleep"), Oscar Isaac ("Star Wars: Episode VIII – The Last Jedi"), Oscar nominee Josh Brolin ("Milk," "Deadpool 2," "Avengers: Infinity War"), Stellan Skarsgård (the "Mamma Mia!" films, "Avengers: Age of Ultron"), Dave Bautista (the "Guardians of the Galaxy" films, "Avengers: Endgame"), Zendaya (HBO's "Euphoria," "Spider-Man: Homecoming"), David Dastmalchian (the "Ant-Man" movies), Stephen Henderson ("Fences," "Lady Bird"), with Oscar nominee Charlotte Rampling ("45 Years," "Assassin's Creed"), with Jason Momoa ("Aquaman"), Chang Chen ("Crouching Tiger, Hidden Dragon," "The Grandmaster") and Oscar winner Javier Bardem ("No Country for Old Men," "Skyfall").