Onward's Story Supervisor on Crafting Another Poignant Pixar Tale
As fans have come to expect, Pixar will be hitting us all in the feels with their new release Onward today. The movie follows the adventures of elven teen Ian (Tom Holland), and his big brother Barley (Chris Pratt). They miss their dad, who died before Ian was even born. For Ian's 16th birthday present, their missing father left a spell that would bring him back for 24 hours, so the family patriarch and his sons could spend some precious time together. There's some trouble with the magic, and Ian only brings back their dad from the pants down. Ian and Barley embark on a quest to find a magical stone that will allow them to make their dad whole, but they only have a day to do it, after which time he will be gone again. It may be a pretty intense basis for an animated feature, but the story is rooted in Onward director Dan Scanlon's own life. He and his brother lost their dad when Dan was about a year old, and all Scanlon had, was a recording a family friend gave them of his father saying hello and goodbye.
Story supervisor Kelsey Mann knew that defining the tone was essential to bringing Onward to life, and making it entertaining. In an interview with The Credits, Mann spoke about what the director had in mind. He explains, "I remember Dan saying the type of movie that he wanted to make. He said, 'I want to make a really fun and funny adventure film that just surprises you with a sucker punch of emotion at the end.' I thought, 'I want to do that. That sounds awesome!' Obviously, we had to set some stuff up to lead towards that emotional ending. Peter Sohn once told me that some movies at Pixar are comedies that have dramatic moments, and some of them are dramas that have comedic moments. With this one, I knew Dan always wanted to make a comedy. You have to balance that out."
Mann says they had an unusual roadmap for building the story. "One of the things that was really unique about this film is that we had the ending from the very beginning. Usually, the first screening is so different from what is released in theaters. For this film, we had the ending, and we haven't touched it since the first screening, which I don't think has ever happened. That was always really great because it gave us this emotional touchstone that we had to earn. Sometimes we'd watch a screening, and realize we didn't feel the ending, and that we felt it more the last time. It was a great barometer to tell if the rest of the movie was working. We always believed in that ending, we just had to earn it."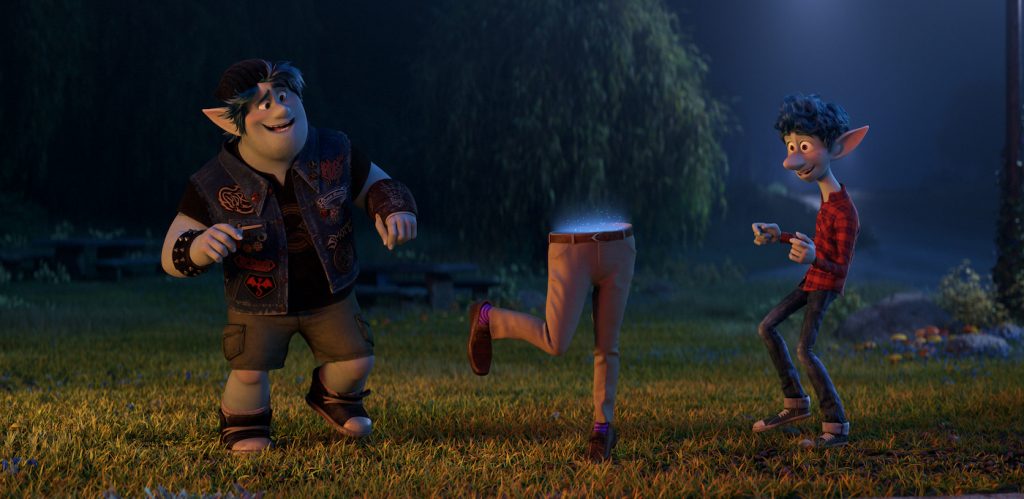 Scanlon also believed it was important to keep the ending a surprise. Mann explains, "We have this internal website, where we ask people their thoughts. One of the questions we asked, very early on, was if they saw the ending coming. Of course, we want to tell funny, compelling stories, but a big part of what I want to do is surprise the audience."
Although the tale is very personal to Scanlon, the director wanted to make sure Onward represented experiences from lots of different perspectives. Mann remembers, "Dan said, 'I don't want to make it just my movie, I want to make it all of our movies.' A lot of us contributed. My job as a story supervisor is to create a safe environment for the story team to talk about their own feelings and share their thoughts and experiences about life. Ian is a 16-year-old, so a lot of us would talk about what it was like to be 16."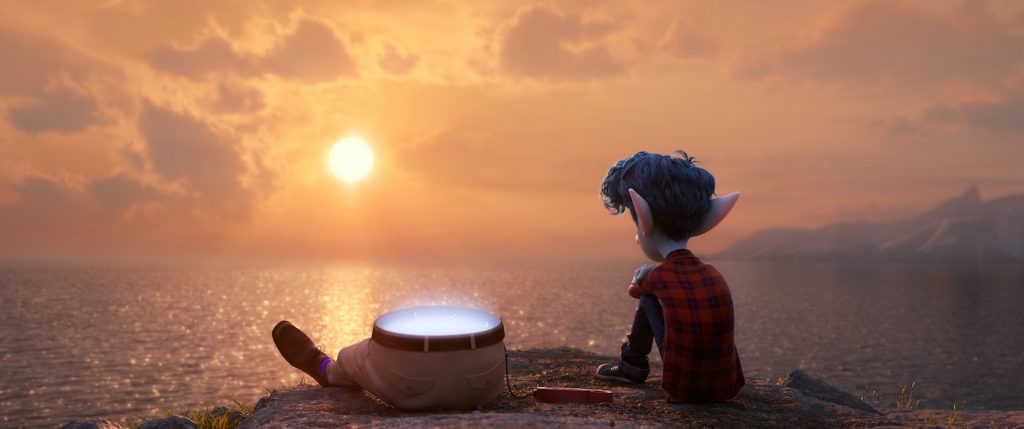 Mann offered an example from his own experience. "We were thinking about ideas that show how Ian couldn't stand up to somebody. I remember the chairs in my school had a little opening in the back, and dudes would just put their feet up on the back of my chair. I didn't have the guts to say, 'Hey, could you not put your feet up on my chair?' Their dirty feet were pressing up against my butt. I told Dan that I didn't have the guts to say anything, and he said, 'Well, that sounds pretty good, let's put that in the movie! We'll make them big ugly troll feet.' That's a small moment from my own life that I was able to bring." Mann continues, "The story team would bring those on a daily basis. Whenever I look at the film, I know where everything came from, so I see all the people in every little idea that's in the film."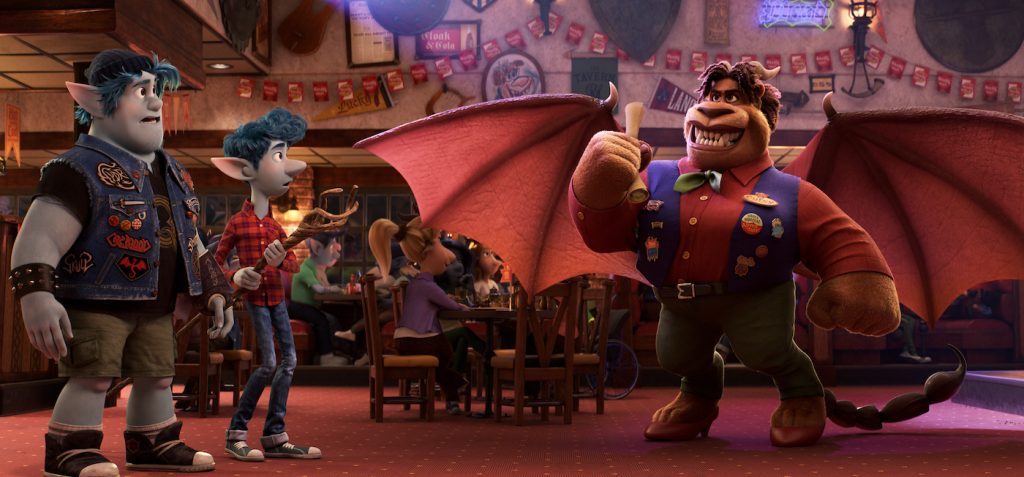 The job of the story department is to build the story to be cohesive, engaging, and entertaining, In Onward, everything was in the service of Ian's character arc, as he builds his confidence, and works to embrace his inner magic. Sometimes that meant losing major story points they'd been working on that didn't move that objective forward. Mann explains, "I always tell the story artists, 'You have to casually date your drawings. Don't marry any of them.' Sometimes when something doesn't work, the drawings are just tossed out." He has one great example from production. "I remember we did a whole section of the film, multiple times, that took place in a labyrinth, because that's a classic fantasy thing, right? We had this great idea of how they modernized it. They just added stores and food courts, and so it's a mall now. We always loved that idea, that they'd have a minotaur mall cop that's chasing people around, and it would have M.C. Escher escalators everywhere, but that didn't actually go anywhere. It was such a fun idea, but it ended up doing nothing for Ian. There's no reason why Ian would go into a labyrinth to be challenged. It did nothing to further his character or growth. We boarded it a lot. I want to say it was in the first three screenings. Then I remember Dan coming in and saying 'I think we should cut the mall'. The mall took four of our story artists to storyboard all the sequences that took place. It was a big set piece in the movie. It was right about the time we removed it that we started to come up with some of the best parts of the movie. They all came once we let go of the mall sequence. We spent a lot of time, ironically, lost in the labyrinth of that story point."
Onward is in theaters today.
Featured image: CONJURING DAD – In Disney and Pixar's "Onward," brothers Ian and Barley Lightfoot (voiced by Tom Holland and Chris Pratt) are given a special gift from their late father on Ian's 16th birthday. But when an accompanying spell meant to magically conjure their dad for one day goes awry, they embark on a quest fraught with some of the most unexpected obstacles. Directed by Dan Scanlon and produced by Kori Rae, "Onward" opens in U.S. theaters on March 6, 2020. © 2019 Disney/Pixar. All Rights Reserved.