Mythological Creatures Stand In for a Very Human Story in Pixar's Onward
In Pixar's newest feature, Monsters University director Dan Scanlon's Onward, the studio created a fantasy tale set in present-day suburban sprawl. Magic used to reign, we learn, but it was also difficult, and this world of elves, fairies, and centaurs long ago adopted and then adapted to technological comforts. Now, unicorns snack from trash cans in a whimsical simulation of Los Angeles, and the fatherless teenaged elf brothers at the center of the story, feckless Barley (Chris Pratt) and insecure Ian (Tom Holland) grapple with gap years and high school social politics instead of magic, spells, and quests.
The boys are plunged into a world only their ancestors would recognize when their mother, Laurel (Julia Louis-Dreyfus), gives her younger son his 16th birthday gift, a staff left behind by the father Ian never met. Thanks to a cryptic note and Barley's passion for Quests of Yore (a stand-in for the role-playing game Dungeons & Dragons), Ian halfway succeeds at achieving the gift's intended purpose: to cast a magical spell that will bring his father back for a single day. Rushing Dad's sentient legs into Barley's unreliable van, Guinevere, the brothers set off on a quest to a more magical part of town, to try to complete the spell before the day is up.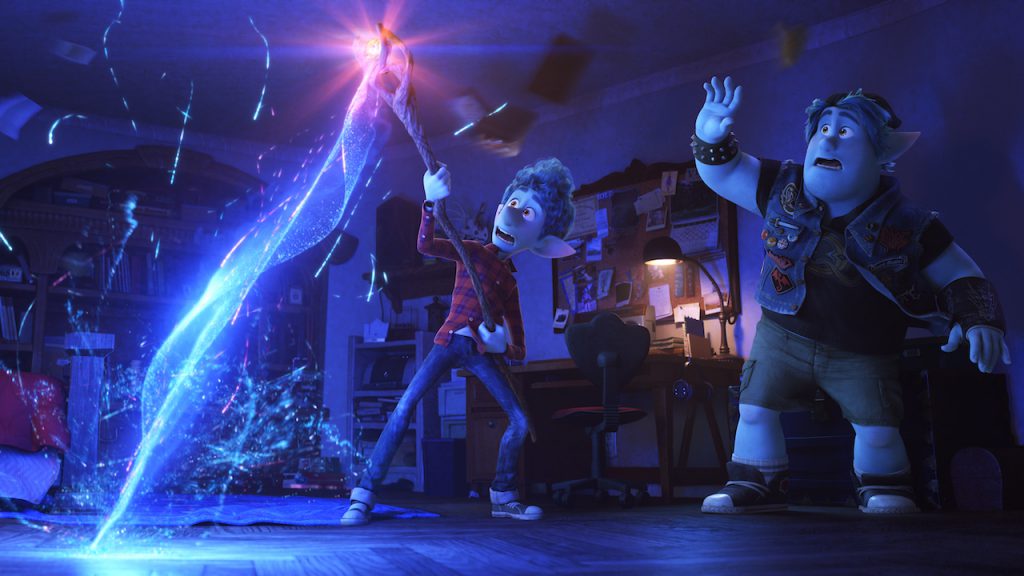 Despite inevitable comparisons to Harry Potter after an early screening at the Berlin International Film Festival, Onward was inspired by loss, not previous magical teenaged boys. Scanlon's father passed away when the director was a year old and his older brother was about three, and many of the film's most moving details were assembled from Scanlon's own experience. "We didn't really remember him at all and we had so many questions, as you can imagine, of what my father was like and how we were like him," he explained at a press conference after a screening. "That became the seed of the idea for Onward."
In an emotional scene, Ian converses with his father's recorded voice, played from on an old cassette tape he keeps at his desk. The shy teenager's longing for his lost parent is palpable. The moment was writer Jason Headley's take on Scanlon's own teenaged experience, hearing an audiocassette from an aunt and uncle on which his father momentarily appeared. "Hello and goodbye was all we got, but for us it was magical," the director said. However, when Headley initially pitched a version of the scene, Scanlon was hesitant. "When I first heard it I thought, that's a little schmalzy and on the nose. Then when it was actually executed, we were all really moved by it," he admitted. "And it's one of my favorite scenes in the movie now, and I take no responsibility for it."
For their suburban setting, Pixar's team also first looked to Clawson, Michigan, where Scanlon grew up, but the area, producer Kori Rae said, "was too quaint. We needed something a little more sprawling, like LA." Here, centaur police go after delinquent adolescents, fairies who have forgotten how to fly are assembled into angry biker gangs, and for the boys to reach a naturally resplendent area key to their quest, getting out of town can be accomplished by multiple routes, all of them challenging (new driver Ian's fear of merging on the freeway is both a running gag and a test of the teenager's hard-won new bravery).
Onward is part quest, part fantasy, and an encomium to brotherly affection. It's also a love letter to role-playing games, which in this world turn out to be historic rather than fantastical. Laurel races to her sons' aid with the help of the Manticore (Octavia Spencer) who can only be of service once she returns to form as the mythical combatant she once was and burns down her restaurant, a child-friendly simulation of her former warrior's lair. Barley is a big shambolic lout, but his seemingly excessive Quests of Yore knowledge comes in handy at nearly every turn of his and nerdy, know-nothing Ian's real-world journey. This aspect of the movie, however, was not inspired by Scanlon's own experience. "Kori and I actually didn't know very much about role-playing games or fantasy, for that matter, but we knew we wanted the story to include those. Luckily, we work at Pixar, and there's a lot of great role-playing fans there," the director joked.
"In this film, magic is kind of a metaphor for potential," Rae, the producer, pointed out, and as Barley and Ian race to bring back their dad, the familial tie between the polar opposite brothers is tested again and again—Barley is non-magical, but he makes up for it by pushing fearful Ian to use his gift to solve their real-world challenges. Despite a population of elves with dragons for housepets, the omnipresence of Onward's mythological beasts never eclipses the significance of those creature's personal relationships. "It had to be something that you the audience could watch and say, would I do that?" noted Scanlon. "Otherwise, the magic wouldn't mean anything."
Featured image: OH BROTHERS – In Disney and Pixar's "Onward," two teenage elf brothers embark on an extraordinary quest in a van named Guinevere to discover if there is still a little magic left in the world. Featuring Tom Holland as the voice of Ian Lightfoot, and Chris Pratt as the voice of Ian's older brother, Barley, "Onward" opens in U.S. theaters on March 6, 2020. ©2019 Disney/Pixar. All Rights Reserved.