Director Brett Haley on His Compelling Adaptation of All the Bright Places
Although he has just a handful of feature-length films to his credit, Brett Haley has become a master in creating character-driven worlds that resonate with audiences. The stories he tells are simple on the surface, but ultimately layered — from the septuagenarian romance in I'll See You in My Dreams, to the legacy of an aging actor in The Hero, to the father-daughter bond in Hearts Beat Loud.
Now, Haley brings his acumen for cinematic humanity to All the Bright Places, streaming on Netflix. The adaptation of the YA best-seller written by Jennifer Niven stars Elle Fanning as Violet Markey and Justice Smith as Theodore Finch, two teenagers struggling with past traumas who forge a life-changing relationship.
The Credits recently spoke with Haley about why he was attracted to this project and what he hopes viewers will take away from it. Edited interview excerpts follow.
How did this film come your way and why did you choose to take it on?
I had just premiered Hearts Beat Loud at Sundance and so I was looking for my next film and this came through. And I read the script and I was incredibly moved by it. At that time I was not aware of Jennifer's book, but then I read the book and I went in and I pitched for it. I'm a sucker for a good romance, and I think that this is a great romance, so I wanted the opportunity to do that sort of genre. And also, by the way, this came with Elle Fanning attached, and that's a very rare thing to have somebody at that level attached to material like this without a director, so I fought very hard to get this job.
You've typically also written the films you direct, which are original stories. This one was written by Jennifer Niven and Liz Hannah, and adapted from Niven's book. What impact, if any, did these circumstances have on your approach to directing the film?
Well, it was a lot less work, I'll tell you that [laughs]. But seriously, it was great. Liz Hannah was really the person that I worked with on the script. She was on set every day, so she and I were true collaborators on this, and I think Liz and I really saw eye to eye on the vision of the film, on the approach that we wanted, which was a very grounded and human and honest and emotional one. It was a pleasure collaborating with her and it was also a pleasure getting to know Jennifer Niven, talking to her, getting her blessing on casting, on various changes that we were making to the film. She was always right there, and always a great person to chime in and say, "You know, I think my book readers will love this, or be careful with this." So it didn't feel any different to me than directing something that I had written, because I've always written with a co-writer, Mark Basch. It's still a conversation.
Likewise, you usually shoot with an indie budget. Here you worked with Netflix. What impact did this have? Did it enable more collaboration, more freedom, more time?
Everything, yeah. We had a real budget on this film, where previously I'd been working with very low-budget films and having to shoot them in 18 days. That had been the most I had had up until this point. I forget how many we had, but it was certainly a lot more than 18. It was a dream. You know, I had stunts, I had visual effects, we built a roller coaster for this movie, we had techno cranes and Steadicam every day, and two cameras. But you know what, it did not feel overwhelming. It felt freeing. Okay, I can actually have a little bit of time here. I can actually have the equipment that I need to tell this story. But even if you have all the money in the world, you're still going to come up with challenges. That's just the nature of filmmaking, so it didn't take away those challenges, but it certainly gave me a lot more freedom to design, to shoot and have control in ways that I hadn't had previously.
How did you come to film in Ohio? 
The movie takes place in Indiana. We were one state away. We were trying to keep it, in terms of the topography, very similar. We found locations that we felt were so very Indiana, a lot of cornfields, a lot of flat land. We worked incredibly hard to recreate those real places, the actual "wanders" that Jennifer wrote about in her book. So my production designer, Bruce Curtis, went early. He location scouted and found the big location, what we called the Blue Hole, which was the swimming hole that Violent and Finch go to. That was the crucial location, when he found it outside of Cleveland, we knew that that was our home.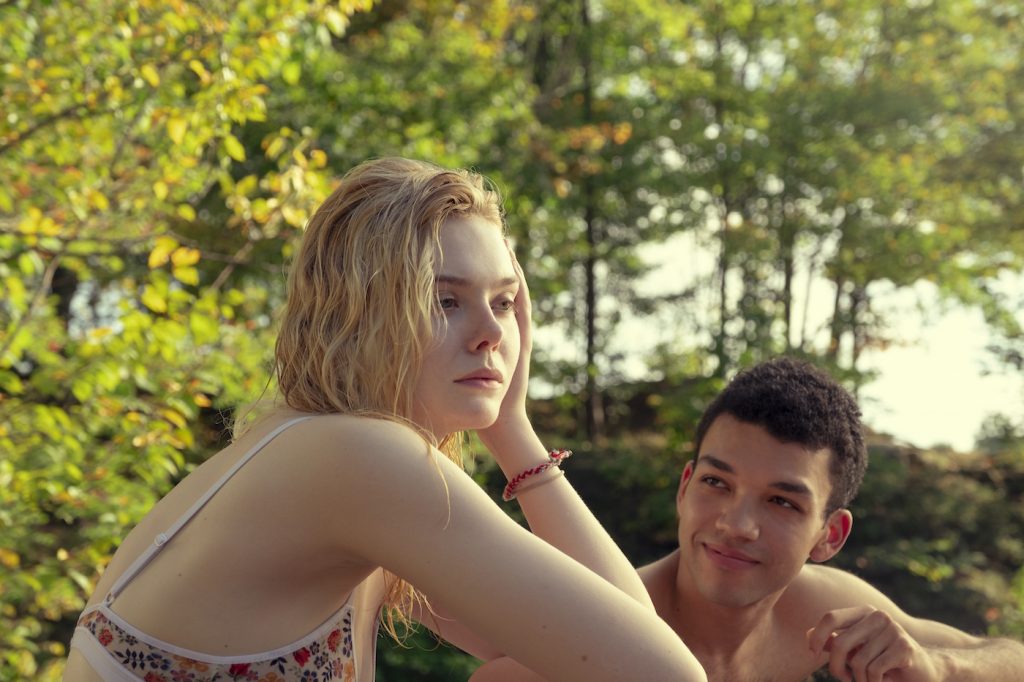 Most of the film features just your two leads, Elle Fanning and Justice Smith. Was there any rehearsal time? Did you ask them to spend off-screen time together to help build the necessary chemistry?
Yeah, we definitely had some rehearsal; me, Justice, Elle and Liz had two days of rehearsal here in LA before we started. We all connected very quickly, the four of us. Liz was friends already with Elle. I didn't know Elle or Justice, but through the auditioning process, I got to know Elle, and then through the rehearsal process, we all got very comfortable with one another. And I think we were all on the same page about what kind of movie we were making. Our first conversation was what are we doing in this genre differently. Elle did not want anything clichéd or fluffy or high school movie-ish. She wanted it to feel very grounded and specific, and I told her that was my vision for it, that I wanted it to feel really honest and human. So rehearsal was a big part of it, and Justice and Elle had that kind of amazing, immediate connection that you're always crossing your fingers for. They got along like gangbusters and it was a joy to work with them. They're still incredibly close today.   
There are a lot of themes in this movie, one of the main ones being mental illness. How did you want to approach this very sensitive subject?
I talked to a ton of mental health professionals, about various mental illnesses like manic-depression, bipolar disorder, and we wanted to make sure that we were not putting any specific labels on anyone. We wanted this film to be a conversation. Like this is what "blank" is like, and this is what happens when someone has "blank." That's not an interesting conversation, that's a statement. This is a film that I intended to make for people to be seen, not for people to be told what to feel or told how they should feel about their own struggles in life. This film is about mental health, it's about grief and it's about love and connection, the struggles that we all go through. There's a gray area and I was very conscious to put that gray area in this film.
Featured image: Elle Fanning ("Violet"), Justice Smith ("Theodore Finch") in ALL THE BRIGHT PLACES. Photo by Michael K. Short. Courtesy Netflix.