Little America's Production Designer Amy Williams on Apple TV+'s Beautiful New Series
Apple TV+'s Little America is the rare show that you could argue really and truly needs to be seen right now. The anthology series from executive producers Alan Yang (Parks and Recreation, Master of None) and Kumail Nanjiani (The Big Sick, Silicon Valley) focuses on the lives of largely working-class immigrants in America. Each episode focuses on the experience of a different character, whether it's 12-year-old Kabir, an Indian-American boy left to run his family's motel after his parents are deported in the first episode "The Manager,"  or Iwegbuna Ikeji, a Nigerian college student in Oklahoma who finds his sense of place through the state's cowboy culture in "The Cowboy." Each episode drills down into the individual experiences of people who rarely get a chance to be the focus of a television series, and considering our current political climate, there has perhaps been a better time to tell these stories than now.
Little America actually began in print, in Epic Magazine, which created the series to focus on "extraordinary true stories." In its television adaptation, a host of excellent writers, including Nanjiani, his Big Sick co-writer (and real-life wife) Emily V. Gordon, and more have created an 8-episode first season that premiered on January 17. Because of Little America's anthology structure, which focuses on a different character each episode, it required a multiple of talented cinematographers, editors, costume designers, and production designers to pull off. One of those production designers, Amy Williams, helped walk us through the creation of Little America, and how she made sure she got the details right on the lives of these hard-working Americans.
Let's start with when you first heard about this project. What were your initial thoughts?
As soon the announcement came that Little America was happening, I wanted to do it right away. Alan Yang was attached to produce, and he and I have a long-standing relationship, so I'd say a year or two out from production, I sort had my eye on the project and I wanted to be a part of it. Alan recommended me and brought me into it.
What's it like working on an anthology series where everything changes from one episode to the next?
We're essentially making short films. There are different directors for every episode. So down the line, we had our own teams, and while I shared an office and a production crew with another production designer, Diane Lederman, beyond that, we also had our own crew and staff.
There's also a third production designer, Zoe Sakellarpoulo?
Yeah, one of our episodes had to go to Canada, because of America's ban on Syrian refugees, so that's where the third production designer came in. That part is kind of unbelievable, having to move a production called Little America to Canada because of our current political situation.
Did you have an overall aesthetic mandate for the series? Or were you designing each episode like a wholly contained, singular story?
We wanted to come from a very naturalistic place that we agreed upon, but because we had different cinematographers, different designers, and the stories are so individual, there wasn't a cohesive look we were going for in each episode. You can see the cohesion in the final product, but there are stylistic differences from one episode to the next.
Tell me about the episodes you designed.
I worked on the first episode, "The Manager," and then the third, "The Cowboy," about the Nigerian refugee who dreams of becoming a cowboy, and my third episode was "The Baker." It was a production designer's dream. We were filming in New Jersey and we had to create different time periods, different regions in the US, completely different countries. It was really fun to design. Luckily, because of Epic Magazine, we were aware of the stories of these real people, and to some extent, we had direct access to them, which included research images of what they looked like and where they lived. It was a lot of trying to stay true and authentic to these different character's backgrounds and countries, what their home decor looked like, and not romanticizing any of it but making it feel real.
What else did you use to help find your way into these stories?
I rely on a lot of editorial style photography and photographers who focus on real subjects. I try to get very personal if we have access to the subject, to get little details about what they have on their nightstand, what their kitchen looks like. Before Little America, I worked on Tigertail, which was also about the immigrant experience, and prior to that, I'd done a short about Cambodian refugees in North Dakota. It was the theme of my year, supporting immigrant stories. It's really emotional. The biggest compliments I've received from the show were from actors on the set who would come up and say, 'Hey, you created this Ugandan village and I can't believe you got the color of the dirt correct!' Or people reaching out to me on Instagram, like a Nigerian refugee telling me he hasn't been home for years but that I helped bring back his childhood.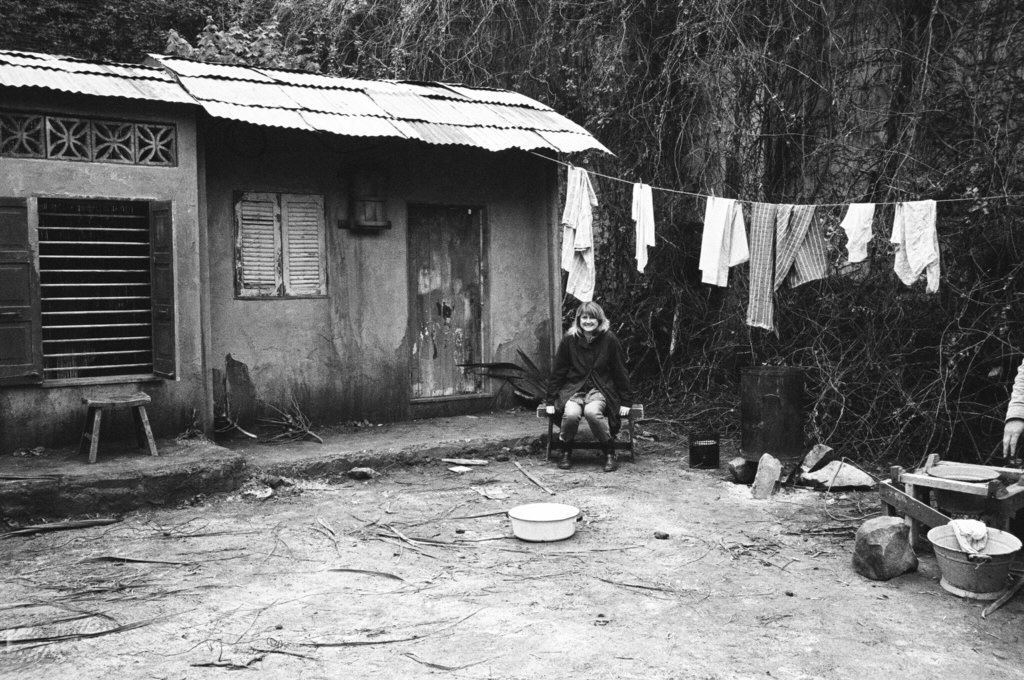 What has it been like working on this series at this moment in America?
You work on something like Little America and there's a depth of meaning in the show, and you feel like you can't go back and work on the flashy, shallow stuff. It really motivates you to be a part of this kind of storytelling and narrative. They're starting up production on the second season, and I really think this show could go on for years and years. These stories are beautiful and heartbreaking.  As an audience, I think we're all craving new stories and new worlds. You see it in the actors, too. They're so excited to get these roles, they're so excited that they don't have to fake an accent, they don't have to play a stereotype, they can embrace their own language and tell their own story.
Little America is currently streaming on Apple TV+.
Featured image: "The Baker" episode in Little America. Photo by Chioke Nassor. Courtesy Apple TV+