Joker's Oscar-Nominated Composer Hildur Guðnadóttir on Creating a "Wordless Dialogue"
We're looking back at some of our interviews with this year's Oscar nominees in the lead-up to this Sunday's telecast. This story was originally published on October 7, 2019.
A female composer being hired for a studio film is a rarity, with 94 percent of the 250 films released in the US in 2018 scored by men. It is to his credit that director Todd Philips hired Icelandic cellist and composer Hildur Guðnadóttir to create the score for Joker. It offers a welcome challenge to the statistics, and also has proven to be a brilliant move on his part. Guðnadóttir just won an Emmy for Chernobyl, which she wrote at the same time. The score for the new film is intense, unforgettable, and integral to the film coming together organically. Guðnadóttir discusses her creative process, the emotional experience of writing music, and a collaboration she calls "a wordless dialogue" for Joker with The Credits.
How did you get the job of creating the Joker score? 
I got a call from Todd Phillips almost two years ago. He told me he was writing a script and asked me if I'd be interested in reading it, which I of course was. He then asked if I was interested in creating music based on my feelings from the script, which I also did. He just really connected with the music that I made and thought it was exactly right for the kind of story they wanted to tell with the film. It was very creative and a beautiful dialogue from the start.
As the scores are coming from different places, what was the timeline of working on this, as well as the Chernobyl score? One is historic, and one is fiction, but they both have to do with an implosion of sorts.  
It was an identical timeline. I was approached about Chernobyl about the same time, and so I worked on both of them and would switch back and forth between the two. As to the idea of implosion, that's a really interesting point I hadn't really thought about. I think subconsciously that might have influenced me in the process of both projects. Most of what informed each project is exactly that one is historical and one is fictional, and that, for me, was the biggest difference. When you're working with real events, where there are still people suffering, or who have lost someone, it was really important that the music wasn't overdramatizing the events, but helped people feel what it was like to be there, elements that can't be captured with a camera or costumes. I wanted to show those invisible elements, so they were based on the factual elements, instead of fictional elements. All the music is based on recordings of sounds from a fully functional nuclear power plant. With Joker, on the other hand, since it was a fictional story, I had a bit more space to fill in the creative gaps, and be a bit more fictional in feeling, a bit more playful and more dramatic.
Joker is both a very emotional and very physical score.
I approached it very much from an emotional standpoint. I wrote everything based on the script. I didn't have Joaquin's performance or visual understanding about the cinematography or costumes. I based it much more on my emotional reaction to the storytelling. What you hear is based on my emotional and physical reaction from reading the story, which I think is a better way to access my creativity, because I experience reading quite viscerally.
In Joker, you used the cello as a central instrument. Was part of that decision based on how bendable the notes are on the instrument, as a parallel to his ever-shifting or bending state of mind?
Yes. That's exactly it. I'm playing all the cello myself. Most of my solo records have very much the cello as a center point. Todd had a very strong reaction to that, and that was one of the only clear directions from the beginning. He loved the cello I was using and wanted that to be a focus. That was pretty exciting for me because I have been playing the instrument since I was 5, so I have a very strong physical and emotional connection to it. I also hadn't been using it at all in any of the scores I'd been doing. I had put it aside to experiment with other sounds and ways of writing. Going back to the cello was like coming home after being away for a long time. The reason I have that connection to the instrument is you have so much flexibility with the intonation. The piano is not a good instrument for me, because I find it too restrictive. Just like speaking and using voice, which is also one of the instruments I use the most, you have so many ways of bending, going around notes, and reaching, unlike pushing buttons or keys. I don't like pressing something and getting only one specific sound. I want to be able to bend it and play with intonation.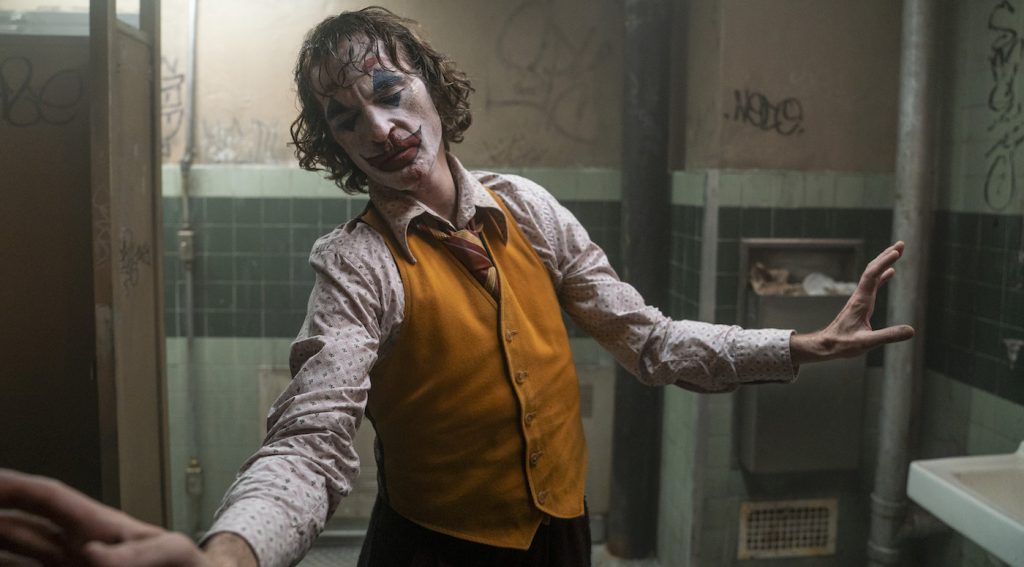 Because you came on the project so early, Joaquin Phoenix was able to use some of the work you were doing on the score to develop his physicality as the Joker. Was there a back-and-forth of being influenced by what he was doing for you as well? 
I didn't have any actual dialogue with Joaquin while they were shooting. I sent them a lot of music, which they used while they were shooting, playing it on set a lot. I know the camera work is also really influenced by the music, and the sort of general mood of the set was very informed by the music. In the beginning, I really didn't know how the process was going to go, and then I started finding my way. Then they started shooting, and I saw the dailies. I saw how Joaquin was responding to the music. It was actually mind-blowing because we didn't really talk about it at all, but he was physically expressing so many of the same movements I had thought of as I wrote the music and so many of the same physical responses that I had felt from reading the script. This was without us having any interaction about it, other than through the music. No one had ever talked about this dancing he does. There is no dancing written in the script. It became a reaction to the music, which was completely unexpected.
So it really was like a wordless dialogue…
Then of course when I started receiving the dailies, and I saw how he was responding to the music, and how the images were being born out of playing the music, then I started writing more music, reacting to that, and so it was a fantastic back-and-forth, but without words. It was all emotion. It was a truly beautiful wordless dialogue. It's such a fascinating project to be a part of, because I'm not really a word person, and I don't really like describing much when I'm working. I just love it when I can work from feeling. This was one of the strongest, most rewarding projects in that sense. There was no description of how the music was supposed to be, and no description from me about what each piece was about, or how it should be interpreted. It's all based on feeling. It's a really inspiring, creative way of working.
Featured image: Caption: JOAQUIN PHOENIX as Arthur Fleck in Warner Bros. Pictures, Village Roadshow Pictures and BRON Creative's "JOKER," a Warner Bros. Pictures release. Photo Credit: Niko Tavernise
For more Joker coverage, read our interview with costume designer Mark Bridges and makeup department head Nicki Lederman.