1917's Oscar-Nominated VFX Supervisor on Creating Relentless Immersion
"I think what's really kind of interesting is all the movies this year are using visual effects for widely different reasons," notes 1917's Oscar and VES-nominated visual effects supervisor, Guillaume Rocheron. And in an Academy FX slate that ranges from Avengers: Endgame to The Irishman, he has a point.
For the Visual Effects Society's awards, the final two feature film categories are divided into two: One where visual effects predominate in photoreal features—hence Endgame is up against the Rise of Skywalker, and other FX-driven films—and one for supporting effects in photoreal films. In other words, where effects work is in the service of an ostensibly realistic film (thus, on the VES side, 1917 is up against not only The Irishman, but also films like Ford v Ferrari and Joker).
1917 developed a recent head of steam, to use a metaphor from World War I-era technology, with a best picture win at the Producers Guild awards, where director and co-writer Sam Mendes called this translation of his grandfather's war stories the "best experience of my professional life." But Rocheron notes putting that experience on screen was not about spectacle. "That's what really makes the project interesting from a visual effects standpoint. The effects were all designed to work with the shots," and every shot, he adds, was "a bit of a magic trick."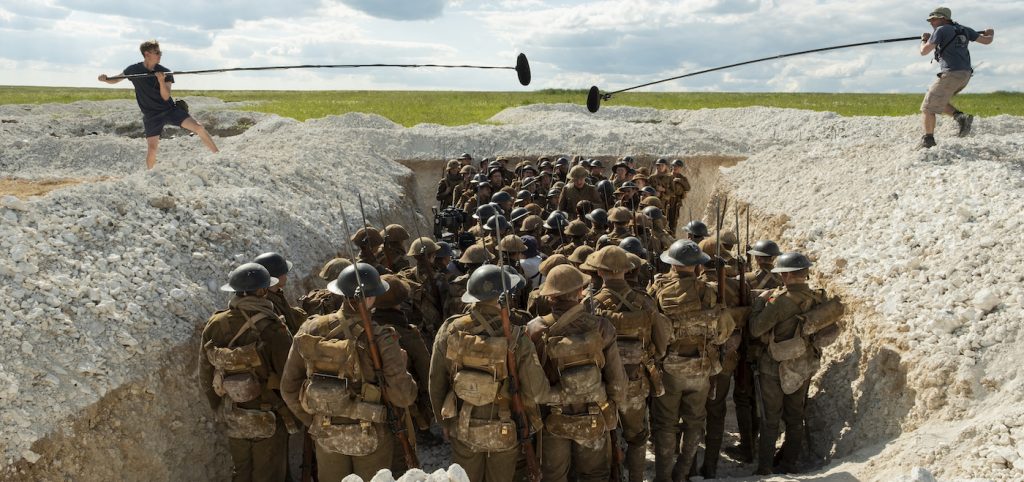 Rocheron, who shared a previous Oscar for Life of Pi, and has overseen work on films like Godzilla: King of the Monsters and Ad Astra (the latter as the supervisor for effects shop MPC), knows from magic tricks, but here notes the trick here was a new one: "I'd never been asked to make a movie appear to be one-shot" before.
"The design and execution were tremendously more complicated than other projects I have done," he continues, noting that you might use visual effects "for a shot that lasts five seconds, and you're on to a new shot."
Of course, they tried to get most of those shots done in-camera, and considering they were working with a master DP like Roger Deakins—also Oscar-nominated for his work on the film—some of the load was definitely shared.
"We designed all these camera moves and positions really precisely. It's a ballet," Rocheron adds. And he cites some examples of this particular dance that really exemplify the work for him.
The first two are the seven-minute walk through No Man's Land, which involved visual set extensions, and the other was when George MacKay, playing the earnest but beleaguered Lance Corporal Schofield, has to jump into a river to elude enemy combatants.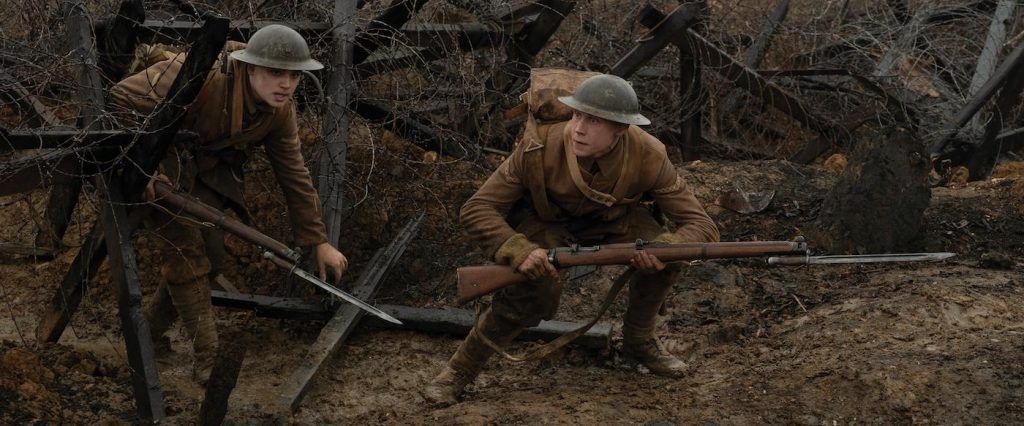 "The only way we could make the camera flow was to transition to a digital shot from the real one that starts the sequence," Rocheron says.  The bridge that Schofield jumps from was "in a backlot in Shepperton," while the river was "a completely different location."
But the FX crew, Rocheron shares the Oscar nomination with MPC's FX supervisor, Greg Butler, and special effects supervisor, Dominic Tuohy, who oversaw the practical, mechanical and explosive effects, had a different consideration: "We had to showcase it in a way Roger would have shot it," Rocheron says. Meaning, they had to make it look as if Deakins and his crew had jumped into the river with the character. "The whole point of one-shot movies is to be absolutely visible."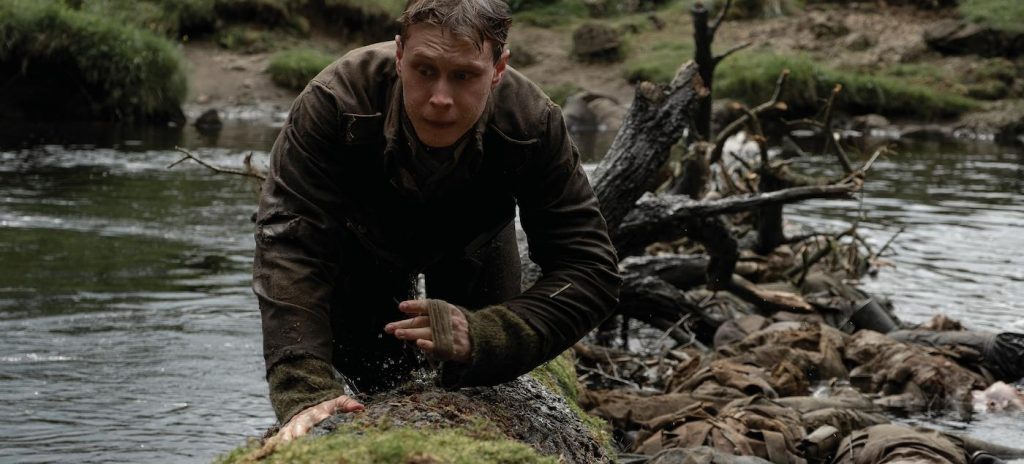 Another sequence where this continuous visibility was a challenge was a plane crash when a German fighter is shot out of the sky. "One of my favorite examples is this plane that crashes right in front of our eyes. I love this scene. It's a really good recap of how we made it. It was, Okay, let's never look away."
Rocheron explains that on a normal film, one not structured to be a long, single shot, there'd be cuts, reaction shots, actors running away, etc. And while there are reactions and actors running, all that happens within the frame, in seemingly real-time, as the plane falls to earth.
"We did a CG plane as it's impacting with the barn," Rocheron says. "We shot that against a blue screen (with) real fire, real debris. From there, we transitioned the CG into a real plane. So we do another transition to a shot with the plane on location, so the actors can go in and extract the pilot from it. It really is a magic trick, and we never looked away."
Rocheron and his crew spent time looking in many places for the visual guides they would ultimately need to sell those tricks.  "We looked at a lot of reference materials at the Imperial War Museum in London. We also went to Northern France," he says, to photograph a particular church that would wind up helping to make more magic in Shepperton's backlot, as part of a village built by production designer Dennis Gassner, also nominated for his work.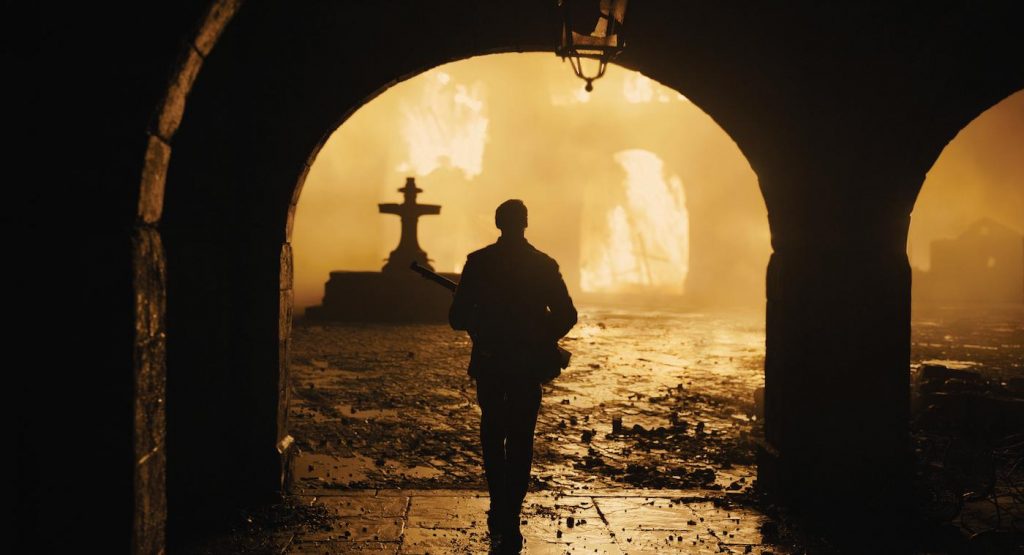 "We were trying to blend with what Dennis did," including adding the digitally reconstructed church to the village, so it could be burned down later. "Everybody had to really rethink how to do their work," he says, and that included "doing the stitching"—a task that was the prime focus of one of the post houses—"and also the environmental work."
The whole process, he says, was like going on a journey, albeit one much longer than the real-time experiences of Schofield and his companion, Lance Corporal Blake, while "not making it look like you're cheating your audience."
Judging from the responses of critics, and nominating bodies in both guilds and academies, the audiences have felt anything but.
Featured image: Cast and crew members on the set of "1917," the new epic from Oscar®-winning filmmaker Sam Mendes. Photo Credit: François Duhamel / Universal Pictures and DreamWorks Pictures. Photo Credit: François Duhamel / Universal Pictures and DreamWorks Pictures