How Costume Designer Ruth E. Carter Detailed the Look of Dolemite is My Name
If you ever meet Ruth E. Carter you'll be enamored by her kindness. Her humbleness. The costume designer has seen her name pinned on multiple Spike Lee films like Malcolm X, Summer of Sam and Chi-Raq. She detailed Spielberg's Amistad and Martin Luther King Jr. in Ava DuVernay's Selma. In February of this year, she won the Academy Award in costume design for her meticulous efforts in Black Panther, making her the first African-American woman to do so. In her acceptance speech, Carter dedicated the award to her then 97-year-old mother saying, "You are the original superhero."
So yeah, when The Credits learned she was attached to Dolemite is My Name, a Netflix original film directed by Craig Brewer (Hustle & Flow, Black Snake Moan) that stars Eddie Murphy as Rudy Ray Moore, a real-life comedy and rap pioneer of the 1970s, we had to give her a call.
You're considered a legend in the industry. So I must ask for all the other and up and coming costume designers reading this: what's something they should never leave out of their sketchbook?

Color. As costume designers, we understand color differently. When I first started in the industry there was a trend or pattern going on and color was not part of it. It was sort of void of color as we were supposed to be more subtle and not let the costume overpower the scene. I agreed with that then. But it's important to find a way to bring color into the story as there's a lot of color in life. A costume designer shouldn't be afraid that her sketchbook uses all of the colors of the palette.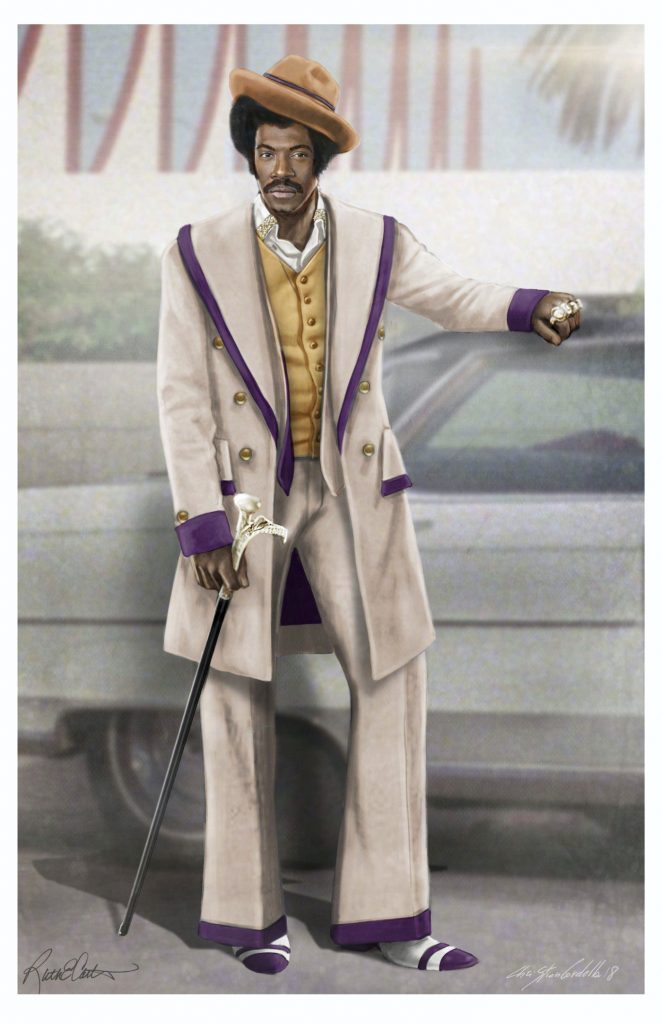 This project was your first with director Craig Brewer—and both of you are currently working on Coming 2 America—how did he see this film in terms of its costume design?

Craig was excited to take on this story. He had a lot already planned and pinned on walls and understood how amazing and important the character development of Rudy Ray Moore was. We talked about specific scenes in detail and I realized from the first meeting I was going to be a student of Rudy's style. And that we couldn't do this film without certain outfits that we see in the original film.
The story takes place in the '70s, an iconic era for fashion. What was your influence for the fabric?

You know, fabrics of the '70s have been improved upon so much today. We no longer use double-knit polyester or Qiana knit fabric that were really big and bold during that time. We're a lot more sophisticated with our fabrics and textures. I really had to rewind the clock and take it back to when we first discovered polyester spun and double-knit. When we first discovered how sexy Qiana knit could be. That was a big part of what made '70's new-era fashion…they were able to print on synthetics with bold choices and color combinations. Once I found the source for those fabrics I collected them and did what I could as far as dying or printing to give them their flavor.
You mention bold choices. Did you come across anything too bold that you felt needed to be pulled back?

The secret to the Urban Dandy or the pimp style is that a lot of times you had to be bold to be seen or standout. It was an era of big shades, wide lapels, wide-leg pants, and platform shoes. So when an Urban Dandy dresses, he has to think about his alter ego and what he's expressing with it. That's what Rudy Ray Moore did with Dolemite. He found a way to express his character through his clothes.
Eddie Murphy does a stellar job playing him and you've worked with Eddie before. How was it collaborating with him again?

It was a lot of fun. I love how Eddie embodied the costumes. He had the right swagger…the right facial expressions that really brought the character to life.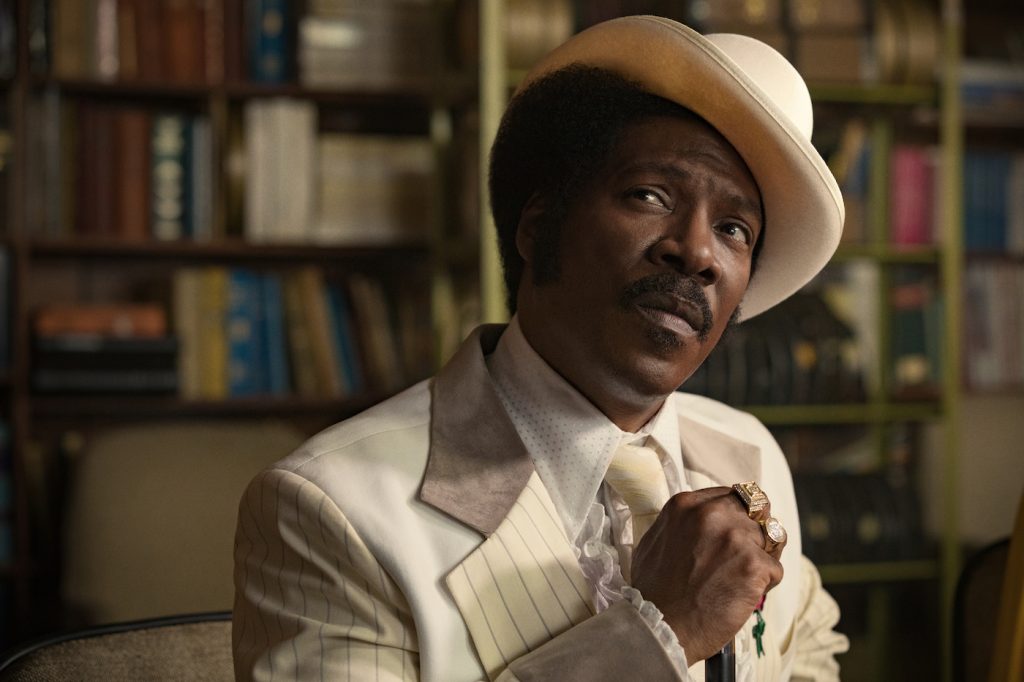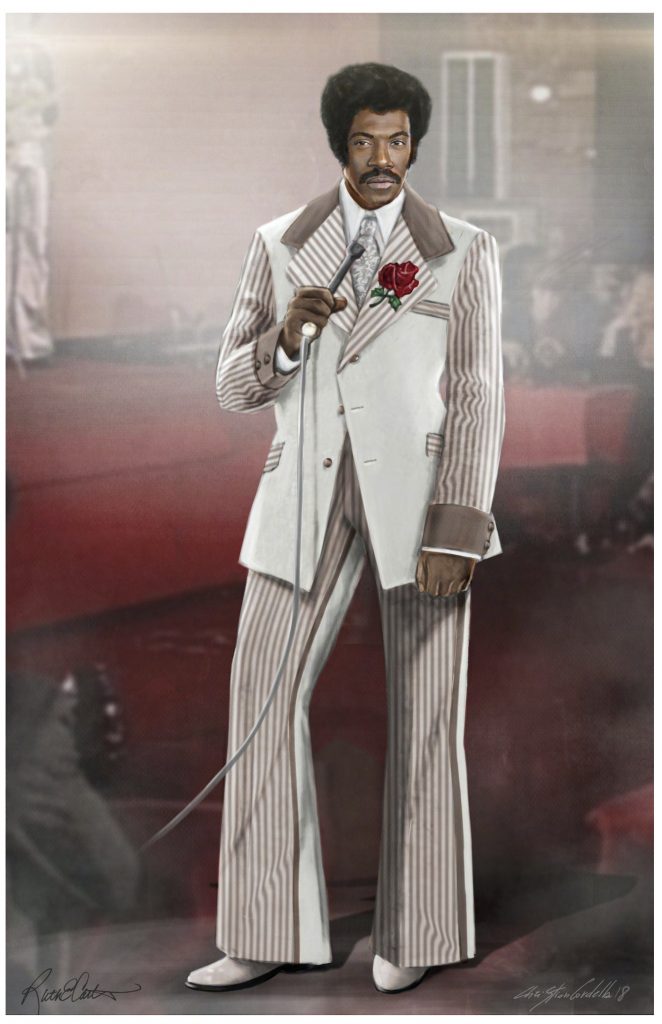 Before Rudy finds his way as Dolemite, we see him trying hard to make it big. How did you want to separate Rudy's look from Dolemite?

Rudy is a guy who works in a record store. He had some success but it's not enough. When I first started thinking about what Rudy should look like I imagined a grown-ass man. Someone mature. He's the guy people know on the streets so he has a certain stature in the community. He also mc's at a nightclub.
When I talked with Eddie about how he wanted to portray Rudy he said he thought leisure suits would fit the character. We also used short-waist jackets and matching pants with pattern shirts. There's a bigger person in Rudy but not as big as Dolemite so it gave us room to grow.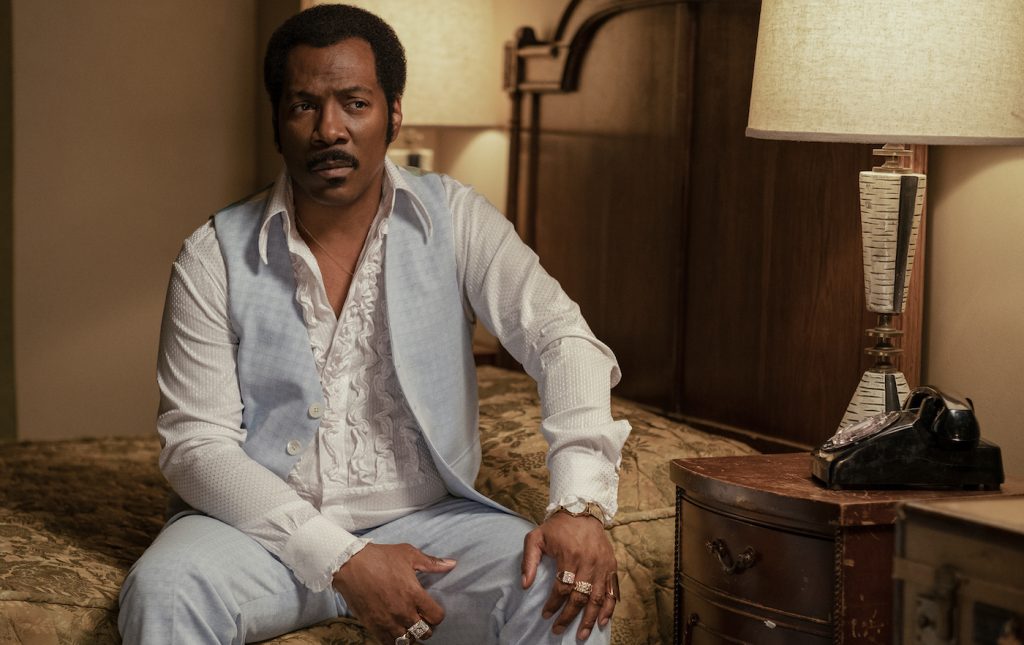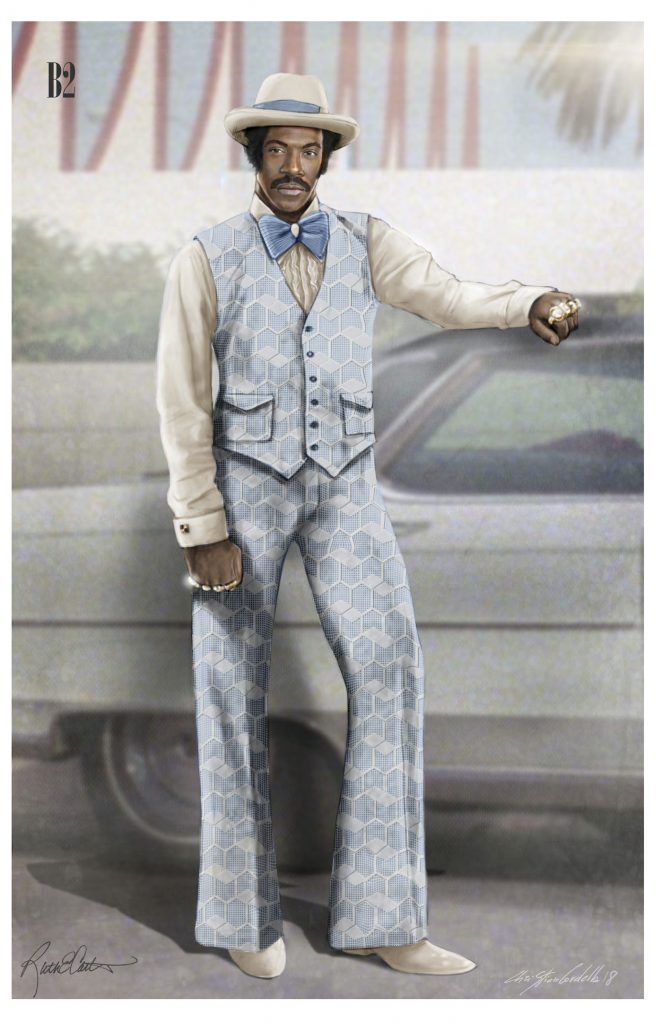 How much influence was the 1975 film Dolemite in creating the Dolemite character?
We looked at a lot of his work and I felt like Dolemite was the one guy who was the biggest cheerleader for himself – someone who believed in his abilities to create something that people would respond to no matter what. He had confidence. He was also a big avant-garde. He had to come up with something that set himself apart from other leads in movies and radio comedy records… The Super Fly or The Mack films of the era. His whole idea of finding a rhythm and rhyme style made him unique and that uniqueness was is how we created his style.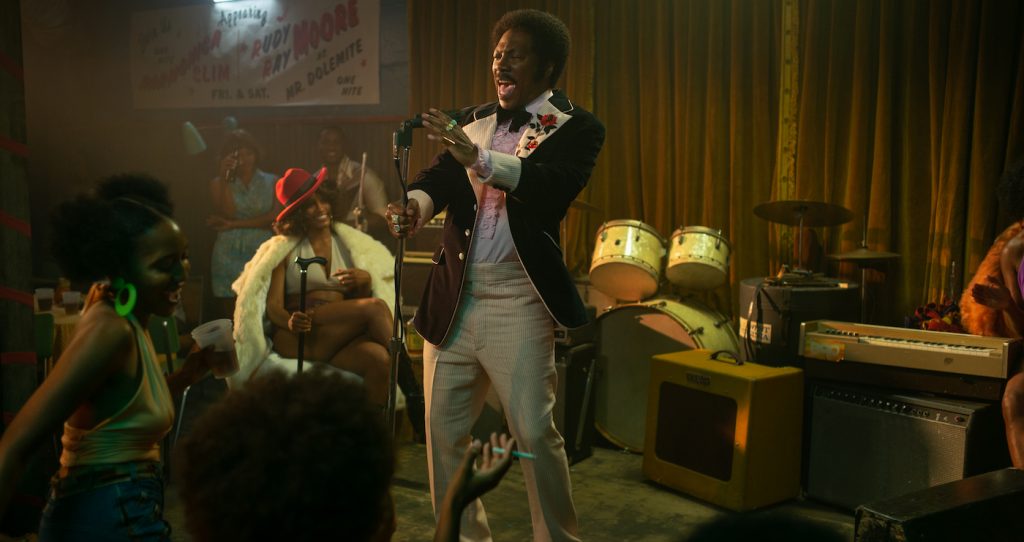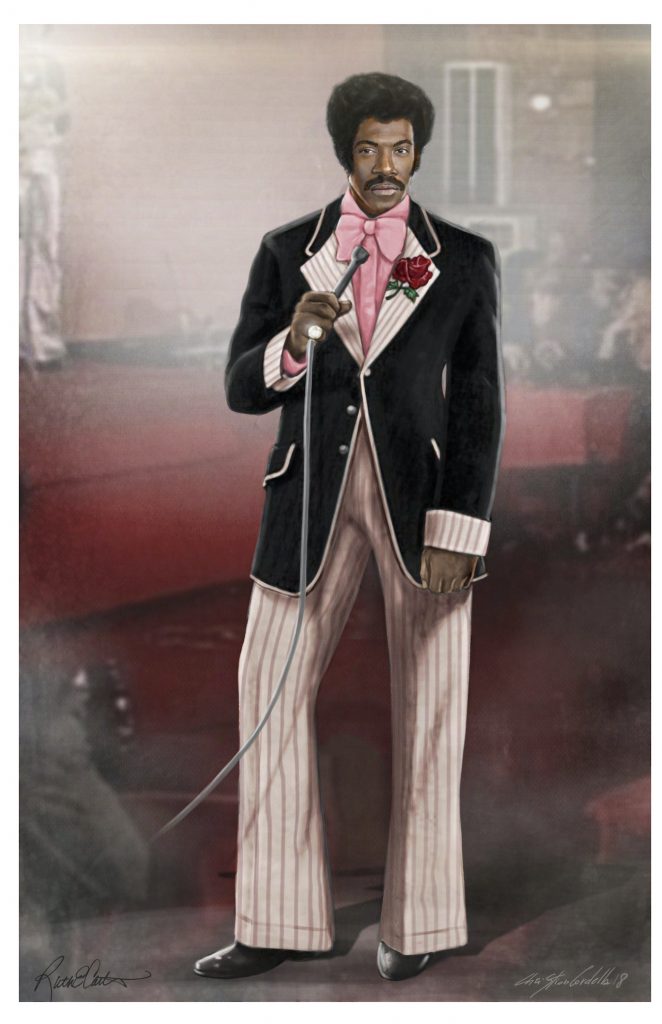 The unique style you mentioned seemed to flourish in the details. Were the smaller things front and center in creating Dolemite's signature looks?
Yes. It was about finding the right combinations that really started to shape Dolemite. When you start adding those details it starts to build this larger than life character. A red rose applique was clearly one of his signature styles so I wanted to honor his taste and add it to the outfits.
Let me get you out on this. With Black Panther, you were able to create one-of-a-kind costumes using anomalous techniques. Can you share something unique about Coming 2 America?
We're cruelty-free on the project. As you may recall in the original movie Prince Akeem [Eddie Murphy] wore a big lion sash as a sign of royalty. For this one, we've been able to create a cruelty-free environment through 3D printing.
Featured image: Eddie Murphy is Rudy Ray More in 'Dolemite is My Name.' Courtesy Netflix.