Renée Zellweger on Becoming Judy
Despite numerous screen classics over decades, Judy Garland famously never won an Oscar. She was favored to win for her major career comeback in 1954 for A Star is Born but lost to fresh-faced Grace Kelly. So it would be a fitting, full-circle tribute if Renée Zellweger, in her own major comeback role as Judy Garland, took home the Oscar for Judy, as many expect she will after the film's recent triumphant festival reception including a standing ovation at the Toronto International Film Festival that brought Zellweger to tears.
In her first musical performance since Chicago, Zellweger's compelling interpretation of the show biz icon has wowed critics. But the actress modestly credits her sizzling portrayal to a collaborative effort.
"It was a series of shared experiments — let's see what happens, let's try that, what should she do here, what should she look like — and injecting as much information as we could: audio, her beautiful recordings in the car and in the rehearsal room, her talk show appearances, TV show appearances…it was just a very special collaboration and always in action, always in movement, always; all of us digging all the time and discovering," says Zellweger. "It was a marvelous sort of moving celebration of her."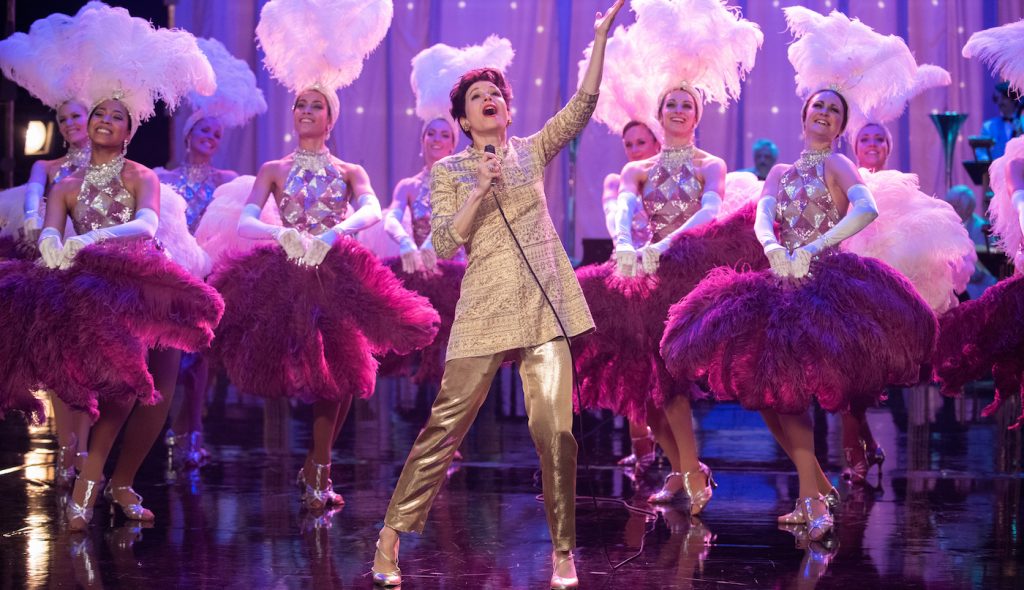 Judy is an alternately haunting and inspiring look at Judy Garland's 1968 extended engagement at Talk of the Town in London, which took place just six months before she died in June 1969. By the time of the London engagement, Garland survived a nearly five-decade career. But she's broke and battling ex-husband Sid Luft (Rufus Sewell) for custody of their young children Lorna and Joey (Liza, her daughter with director Vincent Minnelli, is already a young woman with her own blossoming career). She's about to marry her fifth husband, Mickey Deans (Finn Wittrock). At just 47, she is still a monumental talent with a loyal fan base but an emotional wreck who needs to keep working to pay her bills after Luft mismanaged all the money she earned after years of films, concert and TV appearances. Her London shows are alternately brilliant and disastrous, and Zellweger manages the feat of portraying Garland's singular gifts clouded by insecurity and drug dependency.
Zellweger says "context" was the single most important element she wanted to convey about Garland.
"When I read the script, I thought, yeah, and I felt all kinds of things: love, appreciation, affection, empathy, and outrage especially following up and digging around and looking at the materials and comments on this period in her life. There was a lot of cruelty and inappropriate commentary that sort of didn't conceptualize the circumstances and you can't leave that out because unless you properly understand the trajectory of her life that led to these circumstances, you are not telling the truth. And it felt unfair," she says.
"I was enthralled that [producer] David [Livingstone] and [director] Rupert [Goold] were giving us an opportunity to say wait, let's fill in the blanks here and not talk about the icon and performer but the human being and try to fill in the blanks between conjecture and rumor and projections and all of the biographical accounts which you have to be judicious in absorbing, because everybody's story is told through the prism of their own experience or their own damage," she says. "When you understand the context, it is impossible to see it [her] in one light. In fact, I don't think you can properly know how truly extraordinary she was without truly knowing what she was grappling with and why that sets her apart."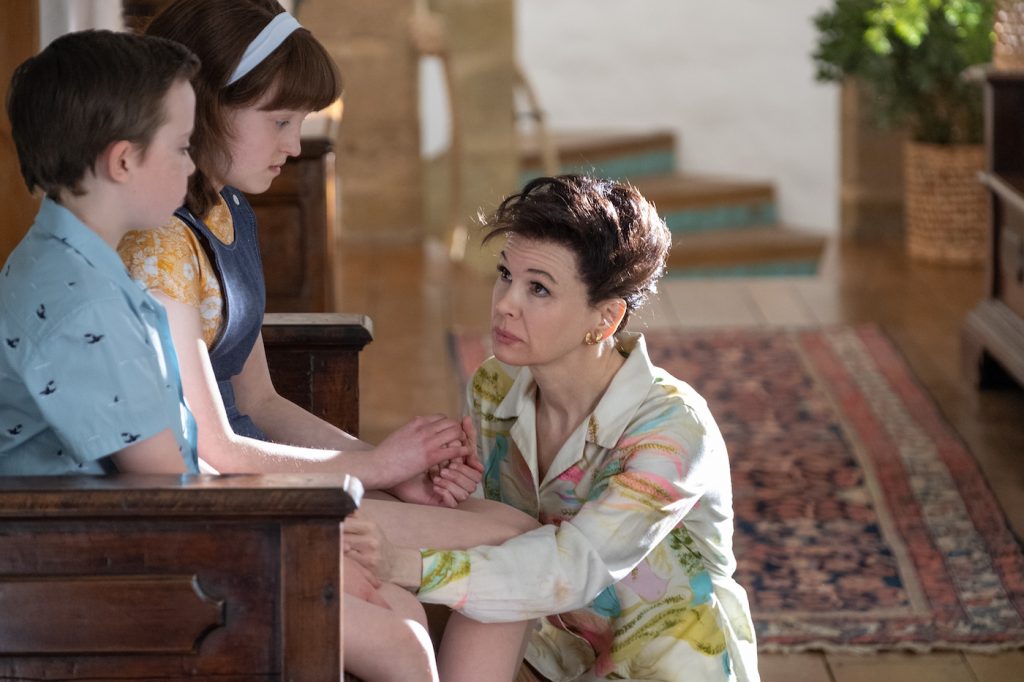 Shot over a year in London during 2018, Zellweger says singing and dancing as Garland was "just process, and learning, like any job. What do you need to do, what do you need to change?"
Zellweger prepared by immersing herself in Garland's recordings, TV appearances, films, and interviews. Playing an icon meant plumbing the depths of her humanity. Not only does Zellweger do all her own singing of Garland's signature songs such as "Come Rain or Come Shine," "By Myself" and a heart-wrenching "Somewhere Over the Rainbow" that will leave many weeping, she uncannily channels Garland's vulnerability, quick humor, intelligence, and survival instinct.
"She personalized the delivery of the songs to such a degree that everyone believed she was singing to them," says Zellweger. "Especially at this time in her life, she could dive into a song and tear it open and deliver the meaning in a way that was deeply felt by everyone in the audience."
Zellweger, best known for comic roles such as Bridget Jones's Diary and its sequels, says she channeled Garland's quick wit at every opportunity. "Her wit is one of her trademarks and she was so ahead of the game. She was one of the 'Rat Pack,' right? That was very important to me. And you can't be that funny unless you're wildly intelligent," she says.
For the entire team, says Zellweger, making Judy "was a celebration every day; the costumes, makeup, lighting, camera. The cameraman [Ole Bratt Birkeland] was a ninja — 'let's hop on that taxicab and get the right angle!' For everybody, it was this active expression of affection for this person who has meant so much to all of us. Just gratitude. I feel so much gratitude. It was such a very special experience."
Judy is in theaters tomorrow.
Featured image: Renée Zellweger as Judy Garland in the upcoming film JUDY. Photo credit: David Hindley Courtesy of LD Entertainment and Roadside Attractions