Motherless Brooklyn Production Designer Beth Mickle on Bringing Back Old New York
Edward Norton's Motherless Brooklyn is a hugely ambitious adaptation of the seminal 1999 novel by Jonathan Lethem. While it borrows heavily from Lethem's huge cast of characters—a gumshoe with Tourette's named Lionel (played by Norton himself) and the folks he calls friends and foes alike—it charts its own path with a more or less completely original story. The era is no longer the late 90s but rather the 1950s New York. Lionel becomes ensnared in a web of corruption, blackmail, and murder, pitted against power brokers who are literally remaking the city in their own image.
And that image of New York was crafted, in large part, by production designer Beth Mickle. Shot largely on location in New York, Mickle helped Norton bring his vision of a moody, mod era of the Big Apple into reality. The look and feel of Norton's Motherless Brooklyn were influenced not only by Lethem's source material but from Robert Caro's legendary biography of Robert Moses "The Power Broker," which reveals the controversial re-shaper of New York City who favored roads over public transportation and who cast a sour eye on anyone not wealthy and white.
For Mickle's purposes, she had her own re-shaping work cut out for her.
"Period signage, period storefronts, vintage couches. It's incredibly hard to build," she says. "The first thing you start with when doing this kind of job is reference images. Pinterest and Google, thank God. We used to have to go the image library of New York, and we still do a bit of that. But that's the first step, collecting all the imagery and getting a better sense of the architecture, signage, and graphics. Looking at what kind of vehicles populated the streets. That's general period research. Then with New York City at the time, there was no greenery, no public parks, no trees dotting the landscape. The traffic lights were different, the MUNI meters were either non-existent or very different. Bus stops were different. We needed to know what looked different on New York streets those days."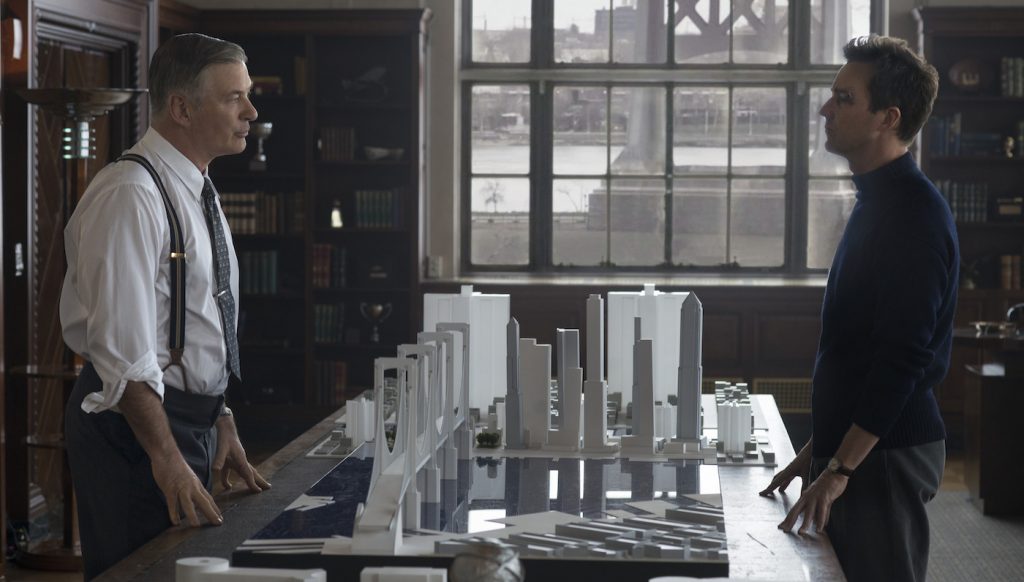 While some of New York's most iconic structures remain unchanged—your Chrysler and Empire State Buildings, your Brooklyn Bridge—this is a city that cannibalizes itself and changes year after year. It's almost a point of pride. For Mickle is a point of study.
"The second part is figuring out what locations exist in New York that haven't been wildly changed," she says. "Every street has been touched, but you can get lucky and find a few small pockets of commercial stretches, mom and pop shops, neon signs that still exist. The streets that don't have Walgreens and Macy's signs. You have to hit every borough and find the neighborhoods that haven't been too altered."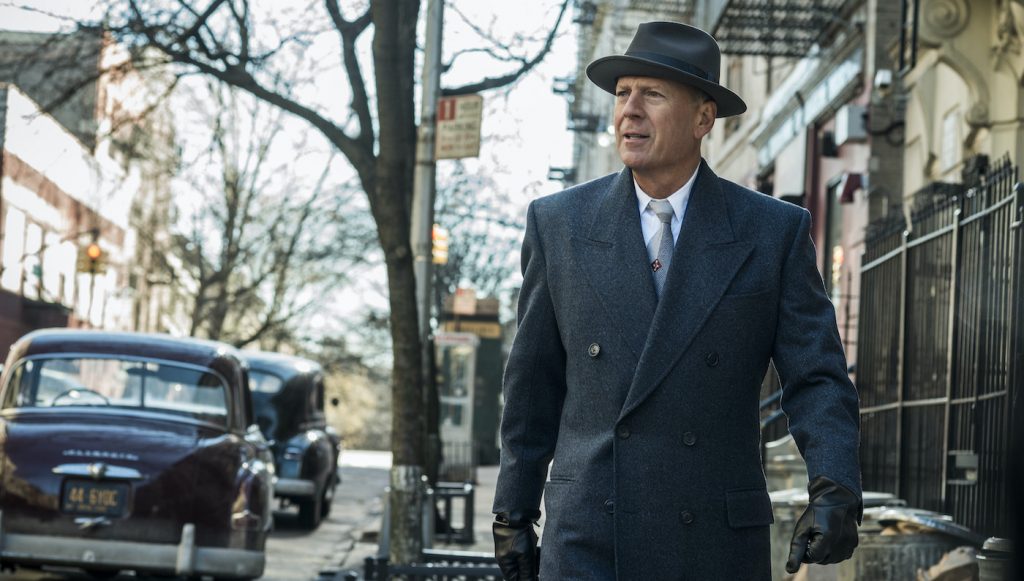 Once Lionel's swept up into the world of  Moses Randolph (Alec Baldwin), a hugely powerful real estate developer, based in large part on the life of Robert Moses, he finds himself traveling all over the city on the hunt for clues into a murder Moses is implicated in. A detective story will, by its nature, tread a lot of ground. This meant Mickle was building a large world for Lionel to operate in.
"I felt an incredible responsibility to show how the landscape of New York has changed over the years and to be very true to the tone of the city back in the 40s, 50s, and 60s," she says. "I think one of the big themes of the movie is gentrification, you see communities being displaced. In that period they took down tons of stunning architectural treasures, the original Penn Station being one of them. It's important to make sure those messages are driven home. You see what Robert Moses wanted to do—highways straight through Manhattan, highways through public parks—we'd have lost so much of what we cherish about New York."
There's still much to cherish in New York, of course, you just need to know where to look for it. A few key New York neighborhoods provided Mickle with the untouched quality she was looking for.
"Harlem was a huge jackpot. The whole opening car chase scene all took place in Hamilton Heights on West 148th street. There are great old residential buildings, corner stores that didn't take a ton of re-facading," she says. "We were very lucky with Sunset Park in Brooklyn, too, where most of those warehouses look the same. We were very lucky having nice long stretches of blocks that didn't need a ton of alteration."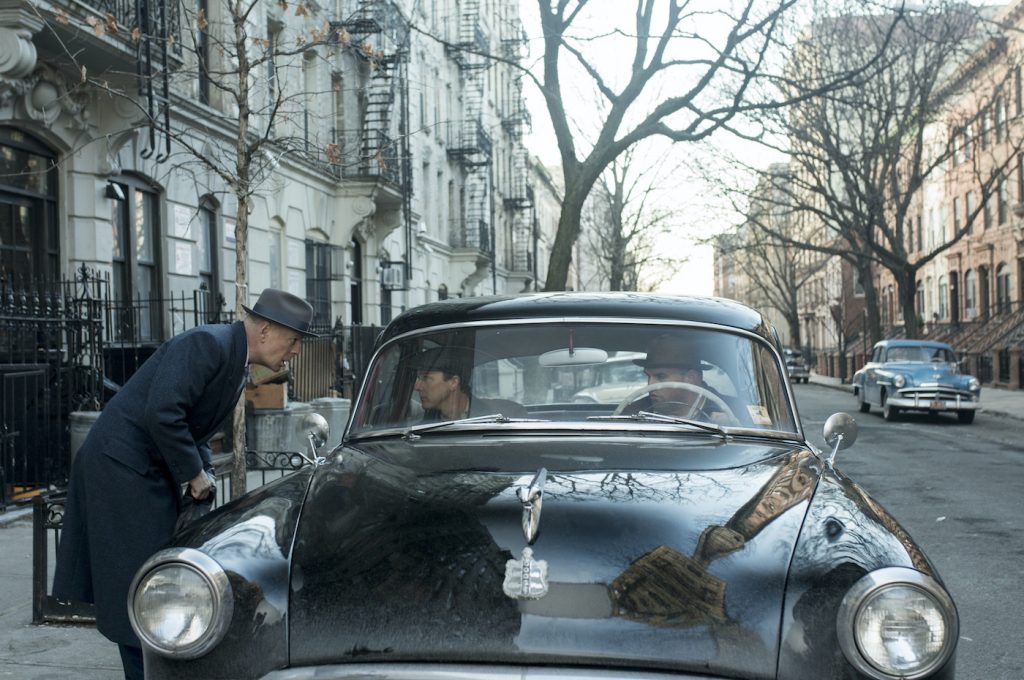 In Lethem's novel, Lionel and his crew of gumshoes are working in the Carroll Gardens section of Brooklyn. Mickle found that there were stretches there that worked, too.
"Henry Street in Brooklyn has a great commercial stretch that had mostly older facades, then we did signage, advertisements, newsstand, a flower store," she says. "There's no big Foot Locker sign, no big glass and metal condo structures. Mostly lower line architecture, with nice good, wide streets where we could park great period cars."
Mickle and her team found also found a midtown music venue and above it, a marquee that rounded onto 8th Avenue. While she worked on foreground signage, the VFX team added more theater marquees going down the block.
"Edward wanted the play Look Back in Anger to be on the marquee, so we came up with graphics to put posters down on the street level, then VFX added the title onto the marquee."
Mickle has been working on another New York period piece—David Simon's HBO series The Deuce—which gave her key insight into the way things change, and the way they don't.
"Doing The Deuce was a great exercise in layering eras, what people put out for display, a lot of us don't change those things for decades," she says. "You need a lot of layers to feel authentic. I was really happy with doing that really nicely here with set dressing and set builds. We built all of the other apartment interiors, we had a lot of really beautiful layouts, windows that would have been from the early 1900s, these people would have lived in these older spaces. If it's good design, it will never, ever go out of style."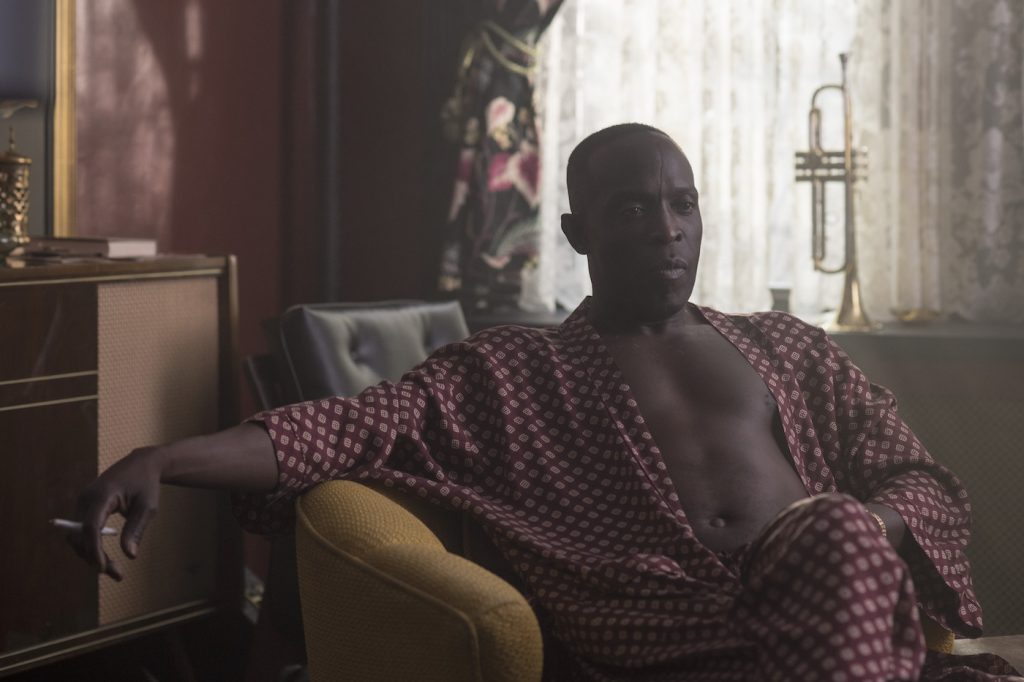 Motherless Brooklyn hits theaters on November 1, 2019.
Featured image: Caption: (L-r) GUGU MBATHA-RAW as Laura Rose and EDWARD NORTON as Lionel Essrog in Warner Bros. Pictures' drama "MOTHERLESS BROOKLYN," a Warner Bros. Pictures release. Photo Credit: Glen Wilson