Edward Norton on Redefining Heroism in Motherless Brooklyn
Edward Norton brought Motherless Brooklyn, his long-gestating passion project, to the Motion Picture Association's brand new theater last night for a special screening and Q&A moderated by professor Yanick Lamb, Director of Media Studies at Howard University. Norton's film, which explores institutional racism built into the very foundations of New York City, was inspired as much by Robert Caro's Pulitzer Prize-winning biography of "master builder" Robert Moses, "The Power Broker," as it was Jonathan Lethem's novel of the same name.
MPA CEO and Chairman Charlie Rivkin introduced the film to attendees: "I would like to say that the MPA and our six member studios deeply believe this truth to be self-evident: That America can only truly tell its story when all Americans have the opportunity to tell it. We are committing to supporting all efforts to work towards this outcome, from the stories we tell onscreen, to the actors we see performing them, to the people behind the camera helping to make them."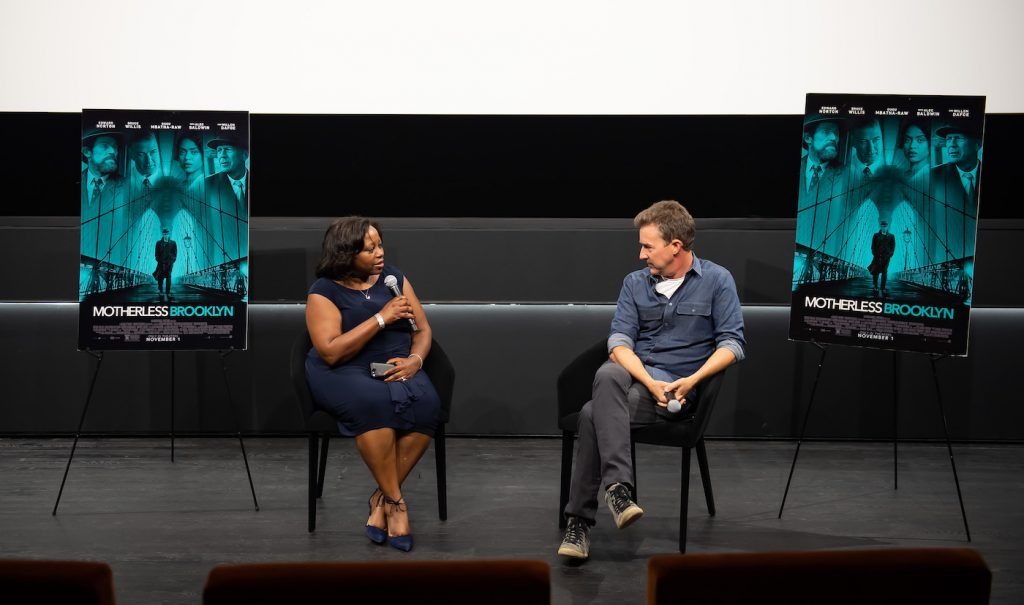 Lethem's novel is a postmodern detective story set in and around Carroll Gardens, Brooklyn, in 1999. Norton's adaptation shifts the era to the 1950s, and while it keeps Lethem's intriguing protagonist and the ensemble of characters largely intact, his film essentially leaves Lethem's narrative behind after the opening scene. Norton's passions—and some of his family history—are what fuel his richly textured crime drama. The central character is Lionel Essrog (Norton), a low-level gumshoe with Tourette's syndrome who's ensnared in a web of corruption, blackmail, and murder in midcentury New York, pitted against power brokers who are literally remaking the city in their own image.
After his beloved boss Frank Minna (Bruce Willis) is killed during a deal gone sour in the opening minutes, Norton's narrative diverges from its source material. We're swept up in the world of Moses Randolph (Alec Baldwin), a hugely powerful real estate developer and, yes "master builder," based in large part on the life of Robert Moses. Along with Lethem's novel and Caro's epic biography of Moses, Norton perhaps took even more inspiration from his grandfather, James Rouse, a pioneering urban planner, civic activist, and philanthropist.
"My grandfather had a slightly different ethos than Alec Baldwin's character," Norton joked. One of the principles Rouse instilled in Norton from a young age was that "cities are gardens for growing people," and his grandfather's spirit can mostly be seen in Willem Dafoe's idealist Paul, the brilliant brother of Baldwin's hard-charging, brutal Mo Randolph. "Development should be human-oriented," Norton said. Recalling a quote from his grandfather after meeting Robert Moses, he said, "he's one of the most dangerous men in America."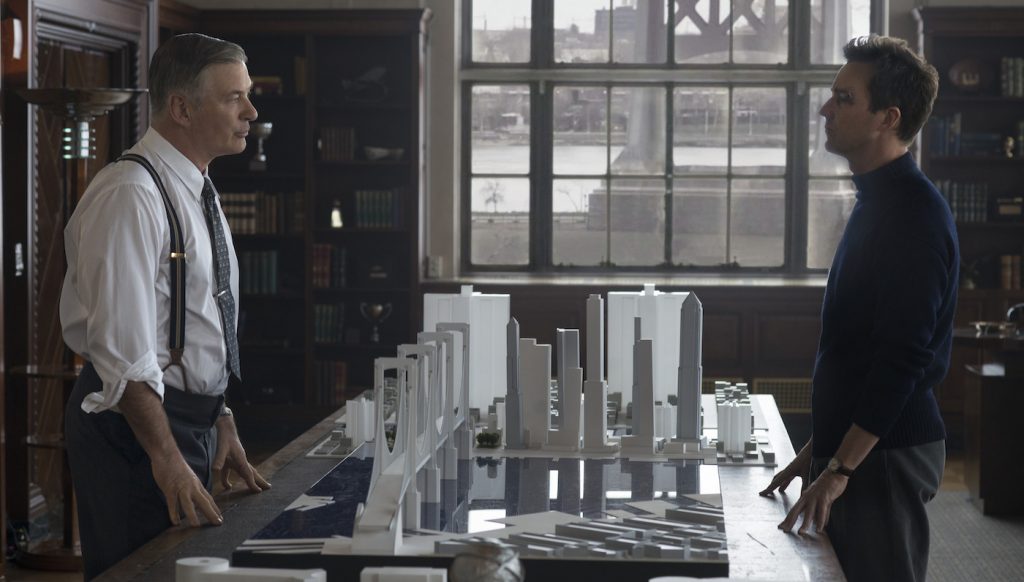 Moses is considered one of the most influential and controversial figures in the history of urban development. His vision for completely reshaping New York City often involved ripping out whole neighborhoods—usually populated by people of color—to make way for highways, parks, and more. Moses' hostility towards minorities, the working class, and the poor were "baked into the city" as Norton put it. Mo Randolph is doing the same in Norton's Motherless Brooklyn. Vibrant, working-class neighborhoods in Brooklyn and elsewhere in the city are deemed "slums." The residents are barely people to Randolph; they're merely obstacles to be overcome by any means necessary.
While Randolph is inspired largely by Robert Moses, there are other, more topical parallels that cannot be missed. He's a man who believes that because he is powerful, the world is literally his. At one point, he describes Gugu Mbatha-Raw's character Laura Rose, who is fighting on behalf of the residents being bullied and threatened out of their homes, and every other person of lesser means agitating against his vision, as "invisible" and essentially non-existent. Yet there was a time when Norton felt that his script might no longer be relevant—when President Obama was re-elected for a second term in 2012.
"I thought, maybe this is all in the rear view mirror, " he said. "But then…"
Norton didn't do a complete overhaul of the script when the mood and trajectory of the country changed dramatically after the 2016 election, but he did underline a few things. Yet Baldwin's Mo Randolph is a truly brilliant man—much like Robert Moses—which makes him a formidable adversary for Lionel, Laura, and everyone else who dares to defy him.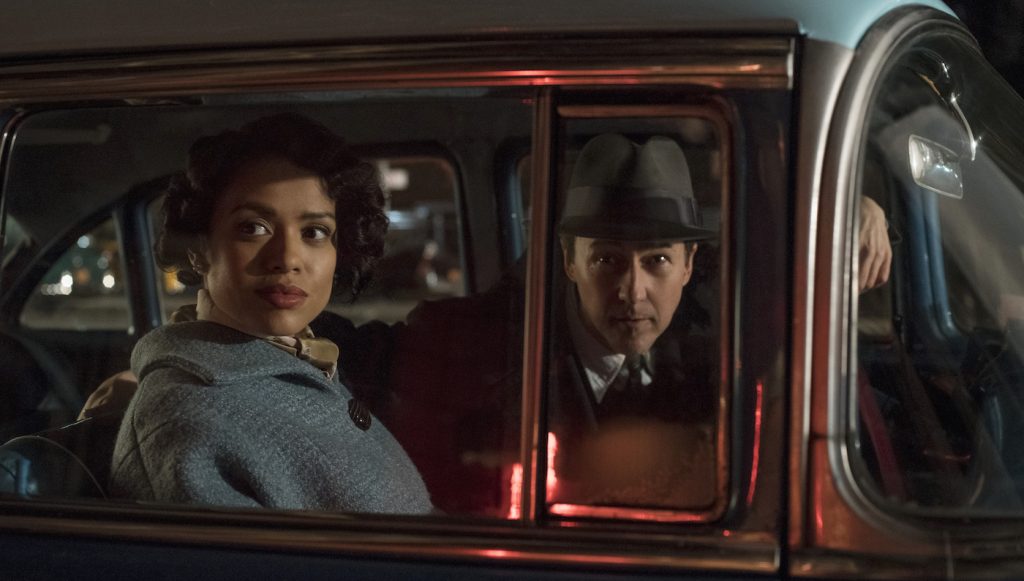 Motherless Brooklyn is very much an Edward Norton film—he wrote the script, he produced it, he directed and he starred in it—but he was adamant that a film like this only works when many, many talented people deploy their abilities to create something no one person could pull off. "I had one of the best cinematographers in the business [Dick Pope], I had an incredibly talented production designer [Beth Mickle], the whole cast did the movie for scale," he said. "When you direct something, all these other people apply the force of their talent, and then talent leverages talent and suddenly you look like you know what you're doing."
Norton credited Spike Lee's game-changing 1989 film Do The Right Thing as a film that "changed the aspirational bar of what's possible." Lee wrote, directed, produced and starred in that film. Ditto Warren Beatty's 1981 film Reds. When Norton met Beatty and asked him about Reds, he learned that Beatty was told repeatedly that making the movie would ruin him. "You realize that the films you really appreciate were often being discouraged at the time. Nothing good gets made without a sense of being way out on a limb. Nothing of quality gets made with airbags of security around it."
Yet the film Motherless Brooklyn is most connected to is Chinatown, that seminal 1974 noir in which private detective Frank Gittes (Jack Nicholson) is caught up in a huge web of corruption, murder, and rape in Los Angeles. While that film has a famous twist, Norton says that movies like Chinatown are less about plot and more about a feeling of going through the looking glass. "It's like hypnosis," he says, "wherever this is going, I'm in it."
In Norton's view, truly great noir films like Chinatown are actually very American in their impulse. They make you squirm precisely because they get at what's wriggling underneath the story of American exceptionalism. "The detective is a proxy for us," he says. "These films remind us that there's something else going on, and asks us, 'How much of this can we tolerate?' Noir challenges the validity of the topline narrative."
Ultimately, Motherless Brooklyn shines a light on a different kind of hero, not just the detective with Tourette's, but the people like Laura Rose who are trying to do something about men like Moses Randolph running roughshod over the less powerful. Lionel begins the film idolizing his mentor and protector Frank Minna, a man who was actually trying to make a buck off Mo Randolph's cruelty. In the end, he's got a new perspective.
"Lionel needs to take inspiration from people who are trying to take care of others," Norton says. "It shifts his view of what's heroic."
Motherless Brooklyn hits theaters on November 1, 2019.
Caption: EDWARD NORTON as Lionel Essrog in Warner Bros. Pictures' drama "MOTHERLESS BROOKLYN," a Warner Bros. Pictures release. Photo Credit: Glen Wilson