Jojo Rabbit Costume Designer Mayes Rubeo on Outfitting Taika Waititi's Vision
Writer/director Taika Waititi, who is half Polynesian, half Jewish, had a very clear vision for his new film Jojo Rabbit. Inspired by the novel "Caging Skies" by Christine Leunens, this coming-of-age satire follows German boy Jojo (Roman Griffin Davis) during the later part of World War II, as he shifts the opinions and beliefs with which the Nazi party has indoctrinated him. This happens through the careful, loving guidance of his mother Rosie (Scarlett Johansson), and the developing friendship with the Jewish girl Elsa (Thomasin McKenzie) he discovers his mom has hidden in their house. Jojo also has an imaginary friend Hitler (Waititi), who gives him advice about how to be the best Nazi boy he can be. The story is seen through Jojo's 10-year-old lens, and as such, is filled with the absurdity and confusion adults can often bring to interactions with children. The director is quoted as saying, "I experienced a certain level of prejudice growing up as a Maori Jew, so making Jojo Rabbit has been a reminder, especially now, that we need to educate our kids about tolerance and continue to remind ourselves that there's no place in this world for hate. Children are not born with hate, they are trained to hate."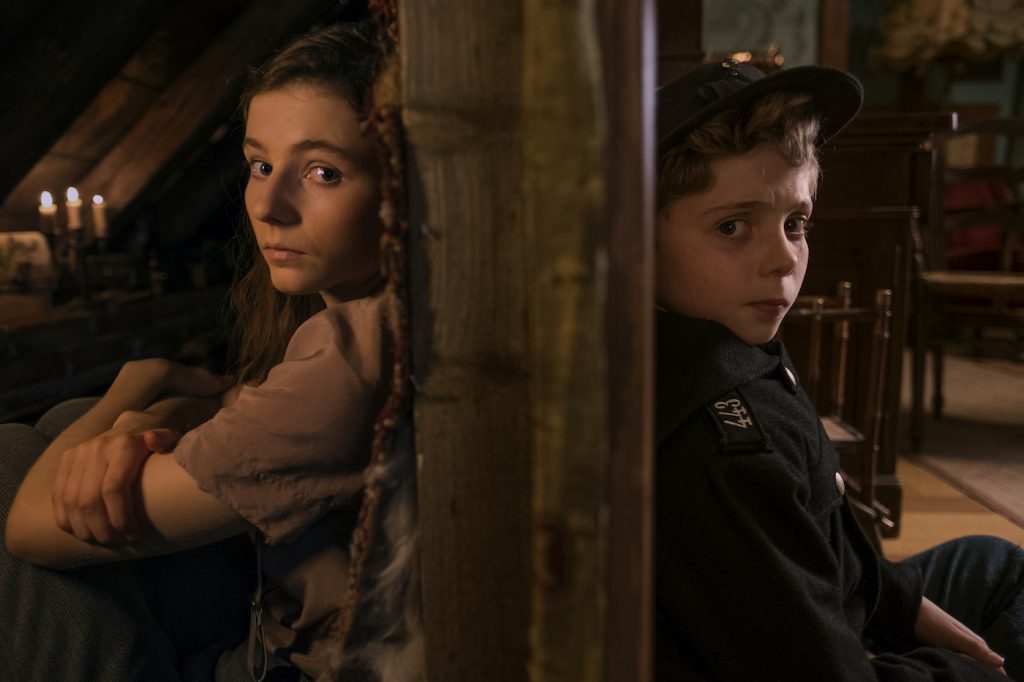 To bring this ambitious movie out of his imagination, and into life, the director hand-picked his crew, which included costume designer Mayes Rubeo. This was their second feature together, with Rubeo having previously created the costumes for his Thor: Ragnarok. When we spoke to the designer, also known for her work on Apocalypto, Avatar, and John Carter, Mayes said her experiences with Waititi have been inspiring. "I'm so honored to work with the mind of this person, which is amazing. When he comes to meetings, he's ready with ideas. He's also a great artist. It's a dream for a costume designer to work with a filmmaker like him. He may seem like a chaotic person, but he has the most incredible plan, in terms of creativity for a film. He sees it in his mind, and because he's such a talented artist who can sketch, paint, and do graphic art, he has the ability to draw on paper, in seconds, whatever he can't explain with words."
Waititi tasked Rubeo with creating alternative versions of Hitler's Nazi uniforms, which the designer says were categorized into three acts. The first, when Jojo is completely enamored with the 3rd Reich, and imaginary Hitler is his best friend, the second when he discovers Elsa and begins to question his beliefs, and the third, when he abandons his bigotry in favor of love and kindness.
"We had many ideas of how to go about Hitler. First of all, this Hitler is an imaginary person, from a child's mind. Jojo chose Hitler because he'd fallen into the trap of the Hitler Youth, or the Jungvolk, as it's called in the film. It was the cool thing to do. As horrible as it sounds, that's how they indoctrinated young people. The relationship between Jojo and Hitler was conceived as going in a descending pattern. They start out happy, then it goes into a downward spiral. Hitler starts out in very new, crisp, brightly colored costuming, and he looks younger, until a turning point in the story, when Jojo discovers Elsa in the attic.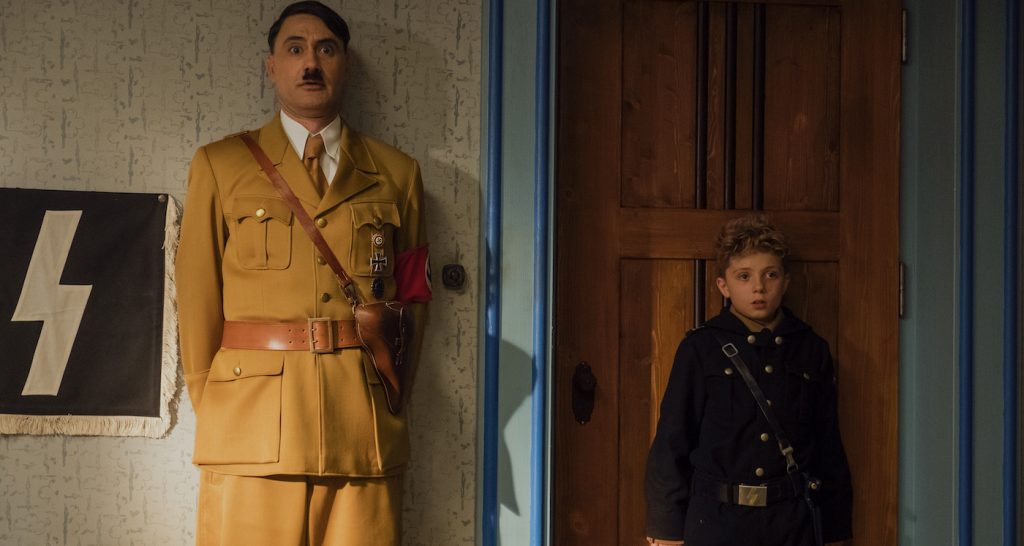 If you watch the movie, that's when everything shifts in mood and in color. Jojo's mood starts changing, and he's starting to have doubts about his imaginary friend. He also becomes the little policeman of the household. He wears his uniform in the house and is keeping an eye on the intruder. Then there's another tonal and visual shift when Jojo has a devastating loss, and he feels like everything that matters is gone. That's when the movie really becomes neoclassic. It has all those elements of the dark, incredible 40s and 50s Italian filmmaking, and goes from funny and sweet to really sad. Hitler becomes Jojo's enemy and is not as well kept as he was in the beginning. He has lost Jojo's adulation, and all his manipulations are failing him. His desperation shows in his costume. Jojo has a painful awakening, and is brought starkly into reality. All the color from the earlier parts of the movie are gone, and the whole visual palette of the film turns to a sort of winter."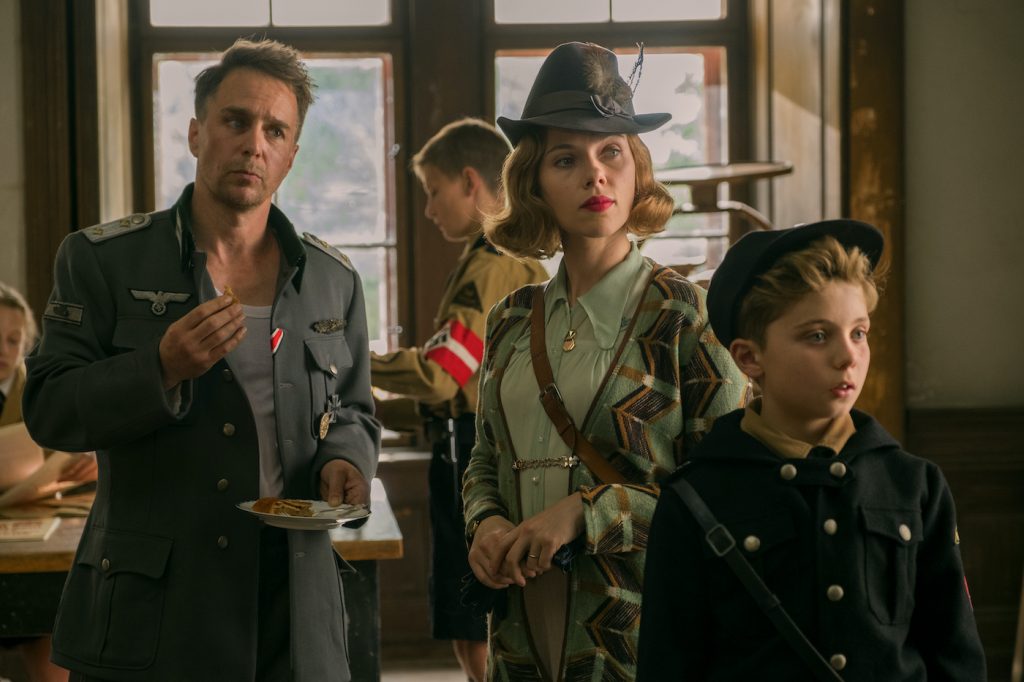 Rosie's entire costume collection is inspired by the most fashionable women of 30s Berlin. In particular, Rubio was inspired by Italian designer Elsa Schiaparelli and artist and avant-garde textile designer Sonia Delaunay for Rosie's brightly colored, highly graphic jackets and dresses. She notes that art and designs by Delaunay, a Jewish Modernist who was part of her husband Robert Delaunay's Orphism artistic movement, would have been labeled as degenerate in Nazi Germany.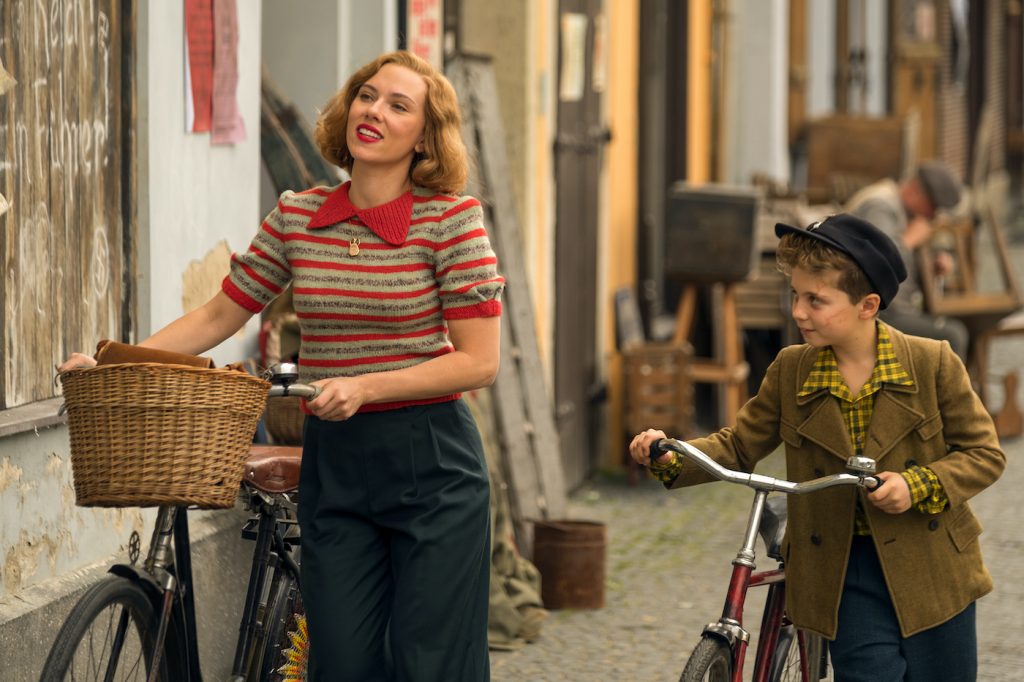 "All the costumes for Rosie were inspired by artists of that time. I imagine her as a client of Delaunay's fashion house in Paris. She had the boldest prints, and was very modern, very cubist. Delaunay was extraordinary, like a Miró or Picasso of costuming and textiles. I wanted all her costumes to have a profound foundation of artistic feeling from that era. Also, German women were keen to be fashion forward. There's something actually called 'Nazi chic' from the time. When the 3rd Reich grew, which was all part of a plan, they started to send German officials to Paris, and the wives stayed in Germany. They'd ask their husbands to bring them back the latest textiles, fabrics, fashion, and accessories from Parisian designers."
The film has several costume pieces that serve as integral to the story, but the most memorable are Rosie's spectator shoes. Once designed, Rubeo turned to longtime collaborator, famed shoemaker Jeff Churchill, and his team at Toronto's Jitterbug Boy footwear. "These shoes are definitely a character in themselves. They are telling the story of a person that has a very artistic background. You have to remember that in the 30s and early 40s the most popular films were musicals. It was all about dancing and jazz. We took the shape and design of spectator shoes, and made them very delicate, like something she had handmade at Pompeii in Italy, or made by some famous designer in Paris. They are also very colorful and brave, like Rosie. Her costumes stay colorful and bold throughout the film, because everything is based on Jojo's memory, and that's how he sees her. We are looking at her through his eyes. Memories from childhood are always really vivid."
Mayes Rubeo says she feels honored to be part of a film that she believes offers a very important message in an unusual, highly creative way. "There is nothing that I love more than talking about Jojo Rabbit. It was a collective artistic endeavor, brought together and fully formed through Taika's vision. I really cherish the collaboration, because it's so much about artistry and what we have to say right now. Nothing is shallow with him. It really goes deep down. What happened in history was horrible. Deplorable. But let's not make the same mistake again. We are so close to doing that. This movie was important for me because maybe it will help us start looking at things differently for good."
For more on Jojo Rabbit, check out our interview with VFX supervisor Jason Chen and production designer Ra Vincent.
Featured image: First still from the set of WW2 satire, JOJO RABIT. (From L-R): Jojo (Roman Griffin Davis) has dinner with his imaginary friend Adolf (Writer/Director Taika Waititi), and his mother, Rosie (Scarlet Johansson). Photo by Kimberley French. © 2018 Twentieth Century Fox Film Corporation All Rights Reserved