Production Designer Donal Woods on Settings Old and New in Downton Abbey
Picking up a year and a half after the end of the series' sixth and final season, the crux around which Downton Abbey the movie turns is right there in the trailer: King George V (Simon Jones) and Queen Mary (Geraldine James) are going to spend a night at Downton during a Yorkshire tour. The news comes in the form of a letter announcing their impending visit — it seems royalty is free to invite themselves to stay in aristocratic homes as necessary — throwing the household into a proportionately starchy frenzy. Lady Edith, now Marchioness of Hexham (Laura Carmichael), comes home, Carson (Jim Carter) is pulled out of retirement, the servants are in an uproar at being sidelined by the royal household, and Violet Crawley (Dame Maggie Smith) has bigger fish to fry. There's another estate with its legacy in question, as its occupant, a newly introduced relative named Lady Bagshaw (Imelda Staunton), mysteriously refuses to name Lord Grantham her heir. In between killing her company with one-liners — "Machiavelli was frequently underrated" is a particular favorite — Violet is hellbent on getting Harewood Hall into the clutches of the Crawley clan.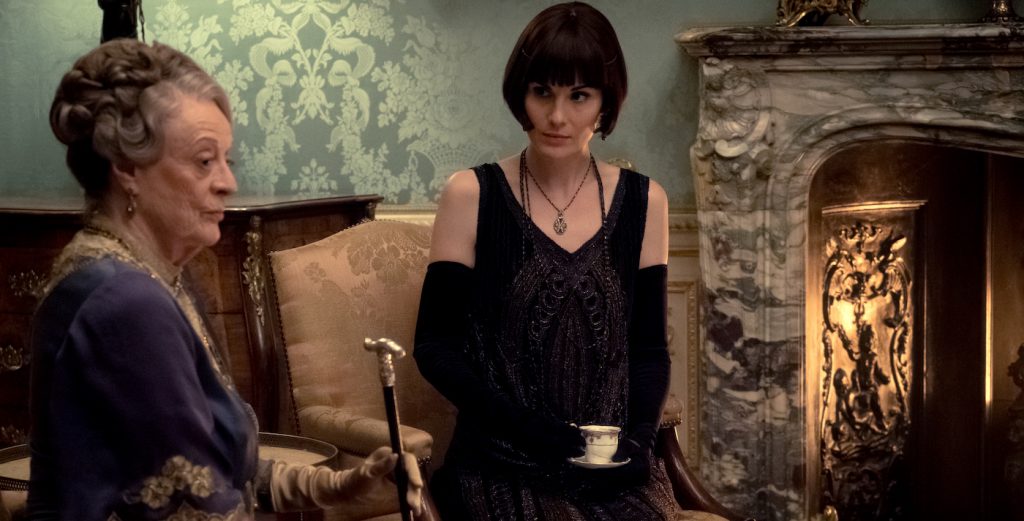 Elsewhere in the household, Daisy's (Sophie McShera) enthusiasm for her engagement to Andy (Michael Fox) pales next to her anti-royal fervor, and Tom's Irish Republicanism is yet again a point of consternation, which it needn't be, as it seems the dutiful widower is fairly distracted, having finally have found an appropriate crush. The background — which is never really the background in Downton — is arresting as ever. Watching Downton on the small screen was a treat, but seeing it in a theater is even better, with production designer Donal Woods adding numerous elements to level up many of the settings for the big screen. The addition of a few royal sitting rooms and Lady Bagshaw's contested estate means yet more high-flown environments on which to feast one's plebeian eyes, while the servants' quarters still look more well-built countryside-cozy than many a contemporary middle-class home, with that timelessly enviable kitchen still the heart of the bustling world downstairs. Woods spoke with us about prepping existing sets, fitting out aristocratic locations, and locating period items via unexpected sources.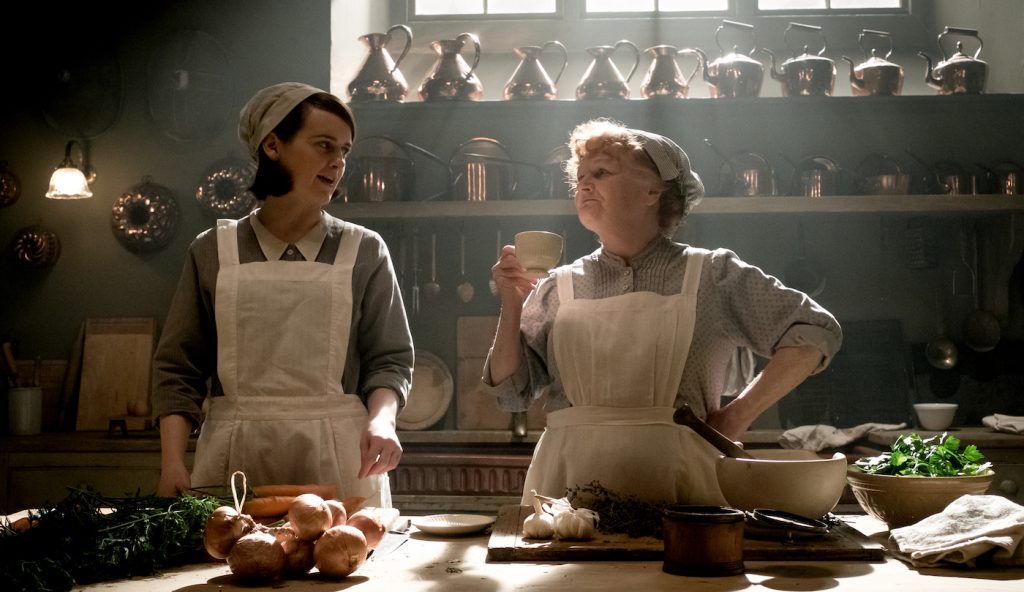 What did you have to do to take the settings from television to film?
Two things, really. We obviously had some sets still in storage from the TV show, but they really needed total refurbishment. They've had six seasons of use — the kitchen, the servants' hall, Thomas's pantry and the corridors, some of the hallways and the bedrooms. They all really needed rebuilding. Lady Mary's bedroom we wallpapered but also remade the drapes, the bed fabrics, and the carpets, and hired some different furniture and paintings. And the same with Edith's bedroom, as well.
With the new sets we built, because you get more money on a movie and get more time, you can actually raise the level. As the level was pretty good, anyway, and was very popular over the years, we had to raise it to [yet] another level. It was a very successful TV show, and that's fantastic. But we wanted to give the audience a lavish look, a more cinematographic look, richer, so that they'd be getting something special when they go to the movie theater.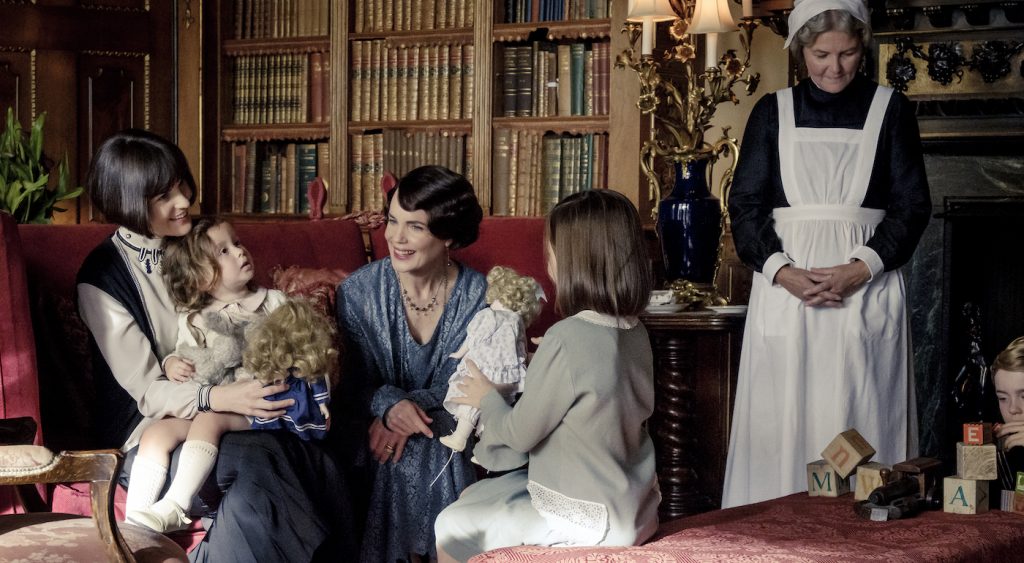 What kind of new sets did you build, and where?
Our sets were built at Ealing Studios. We built the existing ones, the kitchen, Thomas's office, servants' hall, those were all refurbished, or rebuilt, really. The new ones were the servants' bedrooms corridor, three servants' bedrooms, a silver room, a servery, Carson's cottage, a wine cellar. The wine cellar was fun — we always wanted a wine cellar, but never quite got around to doing it. So that was quite a big build, an underground, cavernous wine cellar. We were [also] able to build on location. The nightclub we built into a warehouse in Yorkshire and obviously there were the usual adaptations to make all the streets we filmed there seem like they were in 1927.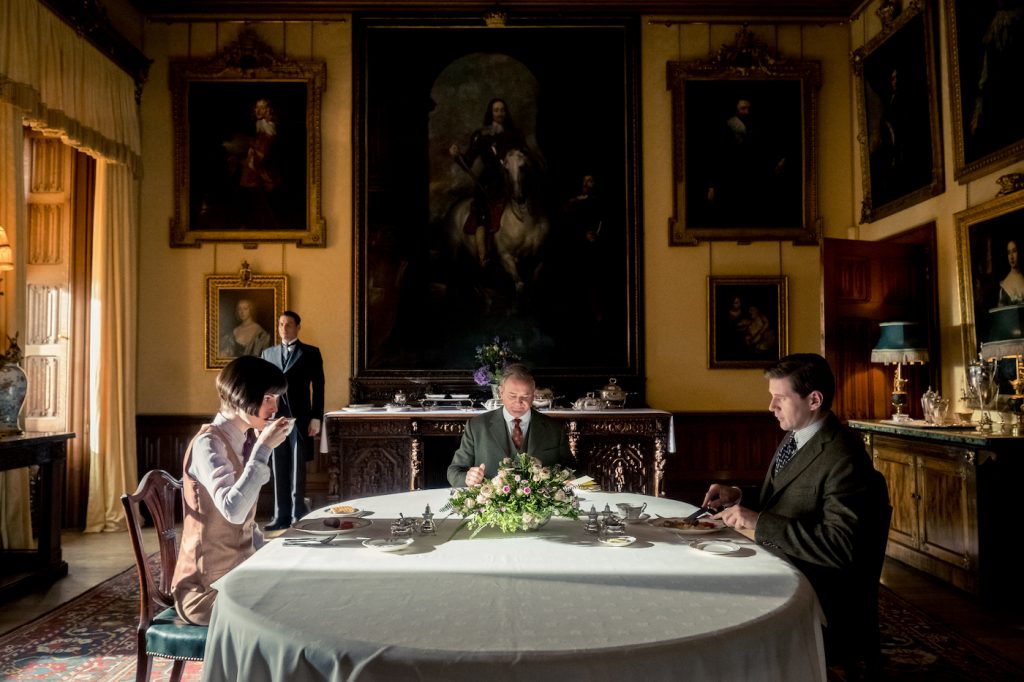 We also see some new settings outside the family estate, like a grocer's shop and Tom's car sales counter.
It was a good couple of days up at a place called Beamish in the north of England, which we'd gone to before in season six. It's a town built as a museum. We used the back of a [historic car showroom] which was perfect. The shop was in the same town. So those scenes we just used additional dressing. In essence, we used those for one scene each. Another thing is they had fully working trams, which we had on the street, as well.
Downton Abbey also has company this time around, in the form of Harewood Hall.
It's a real place, and to Lord Harewood [we] said, would you mind just including your house and your family in the story, which gratefully, he agreed to. We had a lot of dressing to do up there, because a lot of their furniture is priceless, so we had to remove theirs and put our furniture in. The only thing they didn't have is a ballroom. We drove about an hour south to another house called Wentworth Woodhouse, which is one of the biggest country houses in Europe. It's survived longer than Buckingham Palace and it's got 360 rooms, but is sadly in a rather sad state of repairs. We built an amazing ballroom. It did take a lot of work to bring it up to scratch. They're just starting restoration now — the house has been empty for a number of years. But in terms of the bare bones of fantastic architecture, it served us well. We put a marquetry ballroom floor down, drapes, bandstands, orchestra, so we were in there for about a week, basically bringing something that was once very beautiful back to life with tender loving care.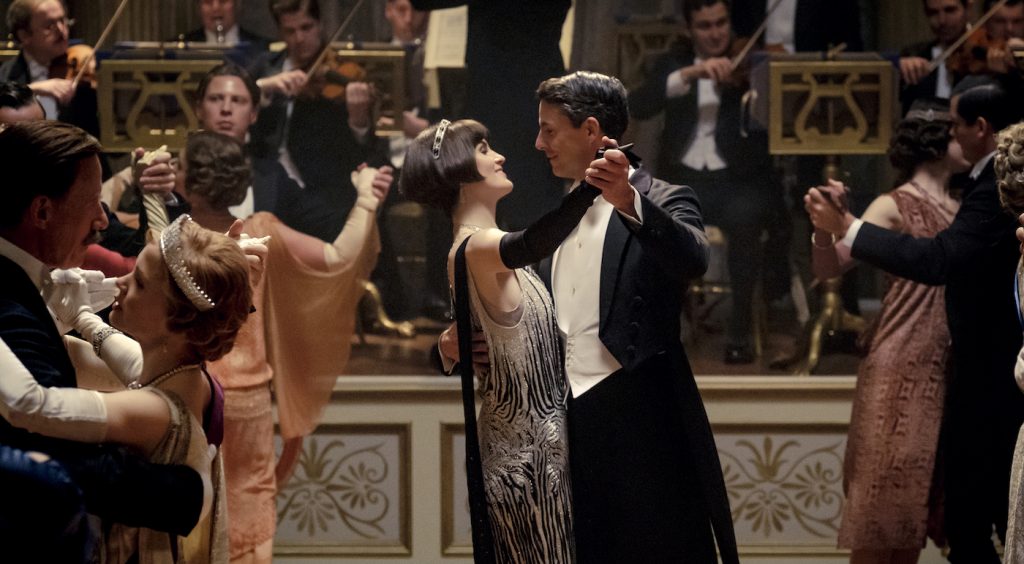 How do you handle shooting at such historic estates?
It's just respecting the property itself. You have to take extra care and extra time. For instance, their rugs are priceless. Certainly, at Harewood we had to remove their rugs and bring our rugs in. But they had to be checked for any infestation, so our rugs wouldn't then contaminate theirs. There's a lot of careful work that goes in. You can't just bring a rug in and put it down on the floor. That would be very simple, but no. A lot of their furniture, they don't want to have people sitting on it, which is absolutely fine, so we bring our own in. Obviously a lot of the small props, the photographs, the teacups, we bring all of those in. And the lighting, because the lighting has changed since 1927. We do a lot of scene work, which you'd think is there all the time.
The movie picks up a year and a half after How do you handle subtle differences in time?
The aristocracy at that time didn't really change much in their fashion. The fabrics changed, and certainly the costumes changed from season one to season six. But we're sort of just before Art Deco happened. It's 1927, the Chrysler building was being built, and even today, it doesn't really affect those large country houses in England. You very rarely go to those houses, even around Europe, where they've got anything Art Deco or mid-century or Sixties. It seems to have been lost in time. They seem to have just all decided to finish their interior design just after the First World War.
To get the look just right, do you have preferred research sources?
Everything, really. From the TV series and right through the film, I have a team who spend a lot of the day researching, everything from the color of the postage stamps to the style of writing. We've got wonderful museums in London — there's a post office museum, even. They can tell you what the franking was on the letters. You've probably seen in the trailer there's a letter from the king that arrives. Well, that was provided by Lord Harewood and his family, because they did have a letter from that king, that was sent to them. We managed to get the size and the style. You never know where the research comes from. I remember during the TV series we needed a food mixer. And I thought, where are we going to find a 1920s food mixer? One of my people went on eBay and we got a beautiful one for $90 from a lady in California. And it was still in its original box.
Featured image: Elizabeth McGovern stars as Lady Grantham and Hugh Bonneville as Lord Grantham and in DOWNTON ABBEY, a Focus Features release. Credit: Jaap Buitendijk / © 2019 Focus Features, LLC