It: Chapter Two Featurette Teases Final Battle With Pennywise
"This is the end of It," director Andy Muschietti promises us at the start of this featurette, appropriate titled "It Ends." You know that Muschietti, his screenwriter Gary Dauberman, and the cast and crew have pulled off something special in their two-part adaptation of Stephen King's iconic novel when King himself has become not only a fan but (spoiler alert) makes a small cameo in Chapter Two. King's also on hand in this featurette, reminding us that this isn't really a sequel, but the final installment of a massive two-part story.
Chapter Two finds the grownup Loser's Club returning to Derry, Maine, where It, the shape-shifting malevolence best known in his guise as Pennywise the clown, has reemerged after 27-years of being dormant. "For 27-years I've craved you," Pennywise seethes, and Chapter Two shows just how bad things get when Pennywise's cravings are finally satiated. One of the most resonants narrative elements for critics in Chapter Two is the fact that Pennywise itself is not only bad, but he feeds off the darkness and hatred in others.
Check out the featurette here:
The reviews are already out, with many folks praising Bill Hader's incredible performance, the emotional stakes, and Muschietti's grand achievement at having pulled off a hugely satisfying, often truly terrifying two-part installment of one of the most iconic horror tomes of the 20th century. One of the ways Muschietti and his team have done that is to highlight how Pennywise is hardly the only scary thing the Losers are facing in Chapter Two. The human heart, what it's capable of, and even just the ravages of time and the accumulation of loss are serious antagonists.
To this end, Time Out's Joshua Rothkopf writes "Even as it drifts into narrative indiscipline, you appreciate the movie's attempt to make sense of a troubled, beclowned present." The Chicago Tribune's Katie Walsh writes "It's all incredibly Jungian, dredging up their shadows in order to face them. But in the process, it becomes clear the horrors of the real world are so much more horrifying than any giant murderous statues, puking ghouls or elderly wraiths."
It: Chapter Two floats into theaters on September 6, 2019.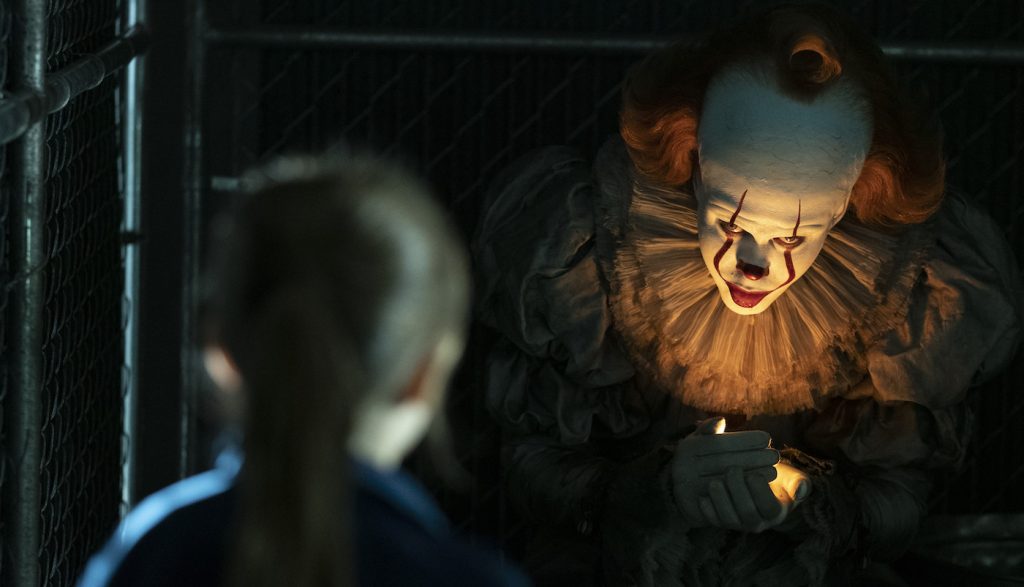 Featured image: Caption: BILL SKARSGÅRD as Pennywise in New Line Cinema's horror thriller "IT CHAPTER TWO," a Warner Bros. Pictures release. Photo Credit: Brooke Palmer