Director Nimisha Mukerji is one of Canada's Many Rising Filmmakers
A rising tide lifts all boats, and the tide of productions in Canada has been rising fairly steadily for years. Many blockbuster productions and popular television series' are utilizing Canada's large film crew community, natural splendor, and tax incentives. From the forbidding icy forests of Alejandro González Iñárritu's The Revenant (filmed largely in British Colombia and Alberta) to the postcard-perfect but deeply sinister setting of Derry for Andy Muschietti's It and It: Chapter Two, (filmed largely in Ontario), Canada has made a name for itself as Hollywood North. Director Nimisha Mukerji credits the big breaks in her career to working on MPA productions. Placing tremendous value on the relationships she hustled so hard to build, she wants more Canadian directors to have the same opportunities.
Mukerji is a part of a growing number of Canadian filmmakers who are not only making a name for themselves in the industry, they're helping other Canadian directors get a leg up. We spoke to the talented director about how she got her start, made her name, and why it's important for her to help other Canadian filmmakers get their break.
Let's start at the beginning. When did you know you wanted to be a filmmaker?
I went to the University of British Colombia as an English Lit Major. I loved film, but I didn't know anyone in the industry and I didn't know how to become a filmmaker. What I knew was that I loved movies. One of my jobs in university was working at Rogers Video. I took a film production course as an elective in my third year and at the end of the semester, I applied to the film production program. I got close, but I was shortlisted. When I got the no, it was the first time I knew I wanted to be a director. My parents were really supportive and helped me buy a camera, and I spent a year making a bunch of short films and just experimenting. Then I reapplied to the film production program and I got in.
This program has produced quite a number of notable Canadian filmmakers, no?
I didn't realize until I was in it how many notable west coast filmmakers came out of that program. Directors like Mina Shum, Julian Clarke, Lynne Stopkewich, Bruce Sweeney and Sturla Gunnarsson— just to name a few. I jumped right into film school, and when I graduated, I was one of five people selected by the Academy of Canadian Film and Television for an apprenticeship program. I chose to work under the Oscar-winning documentarian John Zaritsky (John had been my prof at UBC) and he was the first person to explain to me that how you choose to tell a story is as important as the story itself.  John showed me how to incorporate the techniques of narrative in order to showcase the power of docs to dramatically tell a story.
Which leads us to your first documentary…
After graduation I continued collaborating with filmmaker Phillip Lyall—we met as students at UBC and took turns working on each other's shorts. He introduced me to his friend Eva, who was on the waitlist for a double lung transplant as a result of having the fatal genetic disease cystic fibrosis. She was in this life and death situation, and Phil was working on a narrative script about her life. When we started talking about her story I began to realize that it just made more sense to approach the project as a documentary. There were real stakes here, she had this pager and if it went off it meant a donor had been found and she would get a transplant and a second chance at life, and if it didn't she had less than two years to live.
The three of us —Phil, Eva and myself— started making the film. It eventually received funding from CBC and Knowledge, and this became the documentary 65_RedRoses. When it broadcast in Canada it was credited with helping to triple the number of organ donors in British Colombia. I received a Gemini nomination for direction in a documentary program. 65_RedRoses went on to be selected by Oprah Winfrey for her Documentary Club on OWN, which had just launched—it was the only Canadian film selected. Netflix, which was still a relatively new thing in Canada, picked up the film for the US, so it had a large audience in America. It was acquired by Hulu, too, and was broadcast all over the world.
What did you do with this fairly sudden visibility?
I was selected for TIFF's prestigious Talent Lab, where I made a short film called The Arrival Hour that won their Emerging Filmmaker's Audience Award. I now have more than a decade of documentary experience behind me, and it has definitely shaped the way I approach storytelling. In documentary filmmaking, access and trust are paramount. You can't tell the story if you can't gain people's trust, and equally important is gaining access to their lives. I'm always looking for truth in my work.
It was 2009 when we finished 65_RedRoses and the Vancouver film industry was undergoing some very hard times. There weren't a lot of productions filming locally —I remember thinking that if I'm going to stay alive as a director, I can't rely on American productions coming in. I had to figure out what story I wanted to tell and just go make it. So I went right into directing another feature documentary, and thanks to the success of 65_RedRoses, Knowledge Network came on board for Blood Relative, which I shot in Mumbai with my creative partner Mark Ratzlaff.
Another one of your UBC connections…
Mark and I met at film school at UBC, and we got married in 2014. He shot and edited Blood Relative, and I directed and produced. I received my second CSA nomination for directing for that film and we were nominated for the Donald Britton Award for Best Social/Political Documentary.
After Blood Relative, it was all about trying to get my next film off the ground. Tempest Storm was my third feature, which got theatrically released across Canada by Mongrel Media. It was around this time that I started making more narrative shorts.
I wrote and produced Beauty Mark (2012) and directed In The Deep (2013), which was produced for Vancouver's short competition Crazy8s. Both were acquired by the CBC. I'm attracted to stories that showcase the underrepresented, have strong female characters, and showcase diversity. I was living in Toronto and received the DGC Ontario Mentorship Program, which included the chance to shadow a director.
Who did you shadow?
I did a bunch of shadowing of some incredible directors like James Dunnison and Bruce McDonald. I had directed a lot in factual television, I worked for VICE, CBC and Nat Geo, but the transition into scripted wasn't easy. My second big break came with the Women in View 2x More Program, where three female directors from across Canada were chosen to direct on the Amazon Studio series Dino Dina. The idea was you would shadow an episode and then get to direct one. Working on that series ultimately got me the job on Disney's Mech X4, which was filming in Vancouver. I'd been selected to shadow on that series a year earlier as part of a pilot program created by filmmaker Zach Lipovsky and producer Brian Hamilton at Omni Film. Six female directors were chosen to observe other directors, one was then brought back to shadow again (which was me), and then Zach and Brian championed to get me on that show.
This must have been a big change for you.
Mech-X4 was the first time in my career where I was directing on a proper union show, and I realized what directors actually get paid! Until then I had been passionate about all my work, especially my independent projects, but it was a constant struggle to stay afloat.  After the Disney show, I could actually see a future for myself as a director.
The past year and a half has been about hustling. I've had the good fortune to work with Disney again on the new series Gabby Duran & The Unsittables. I directed a movie for Hallmark Mysteries, which was great since I grew up watching shows like Murder She Wrote.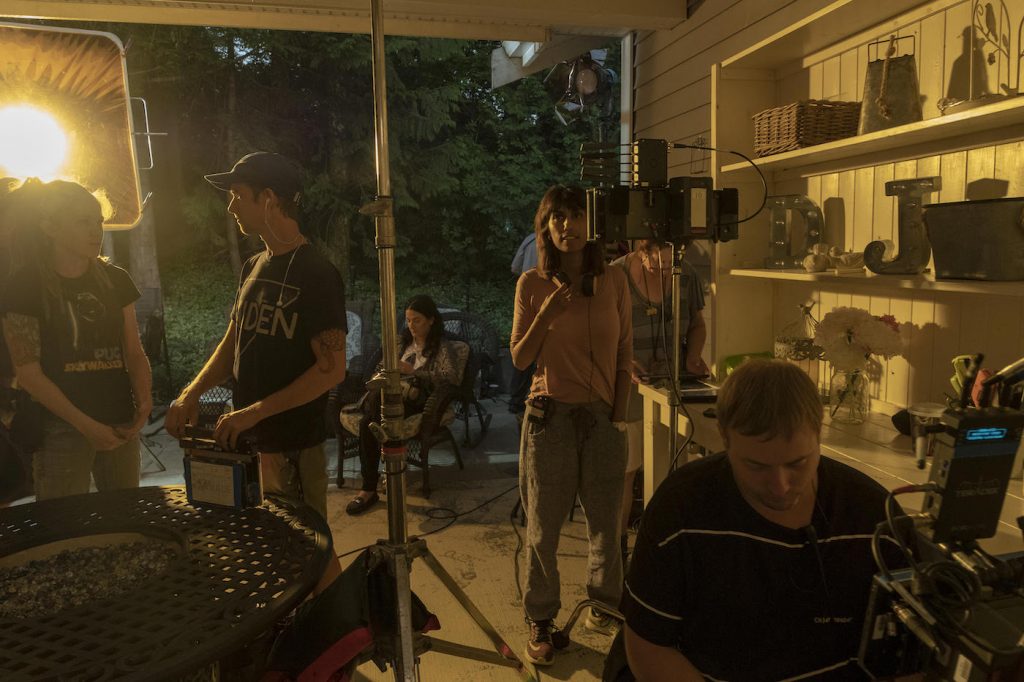 Now, I'm headed into directing a Lifetime Christmas movie, while developing a series with Mark that we're really excited about. I'm also producing a feature documentary called Jacinta (we've partnered with the Oscar-winning producers of Icarus). So I'm working on different kinds of projects and trying to support emerging documentary directors as well. Thanks to the directors who have taken the time to mentor me and support me throughout my career, I've been able to reach this stage, and I would like to pay it forward to the next group of female directors coming down the line.