Star Wars: The Rise of Skywalker Introducing Deadly new Sith Trooper
Rian Johnson's Star Wars: The Last Jedi gave us one of the best lightsaber battles in any Star Wars, ever. Full stop. Even the folks who were, ah, frustrated with the direction that Johnson took things in Last Jedi would concede that Rey (Daisy Ridley) and Kylo Ren (Adam Driver)'s battle with the Praetorian Guards in Snoke's Throne Room was epic (seen in the featured image above). Not only was the fight choreography absolutely phenomenal, but it was also the Praetorian Guards themselves, in their blood red armor and seemingly eyeless masks, that made the scene pop. Now we've got word that J.J. Abrams is introducing yet another type of Stormtrooper to the franchise in The Rise of Skywalker. Enter the Sith Trooper.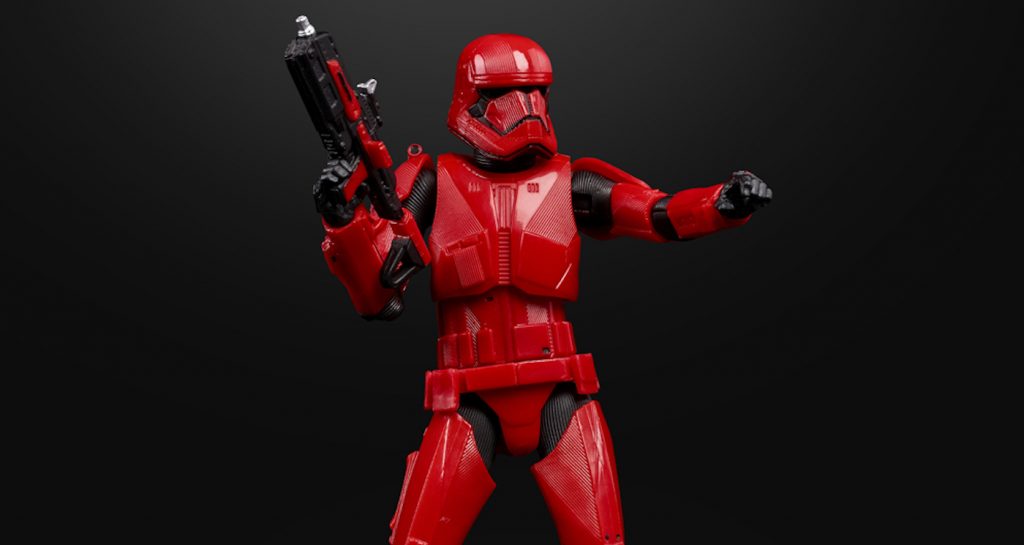 StarWars.com has officially revealed the first look at this new Stormtrooper design, which combines the color scheme of the Praetorian Guards with The Force Awakens' First Order armor. The Will the Sith Troopers be aiding Kylo Ren as he looks to eradicate the remaining survivors of the Resistance—including Rey? Are they the personal elite fighting force of an even greater enemy that Ren? We have questions, people, but no clear answers. Yet.
The actual Sith Trooper suit will be on hand at this year's San Diego Comic-Con next week as part of a very cool exhibit that will show every generation of Stormtrooper design. And yes, there will be plenty of merch on sale for anyone interested in owning Stormtrooper action figures, mugs, T-shirts, hats, costumes and more.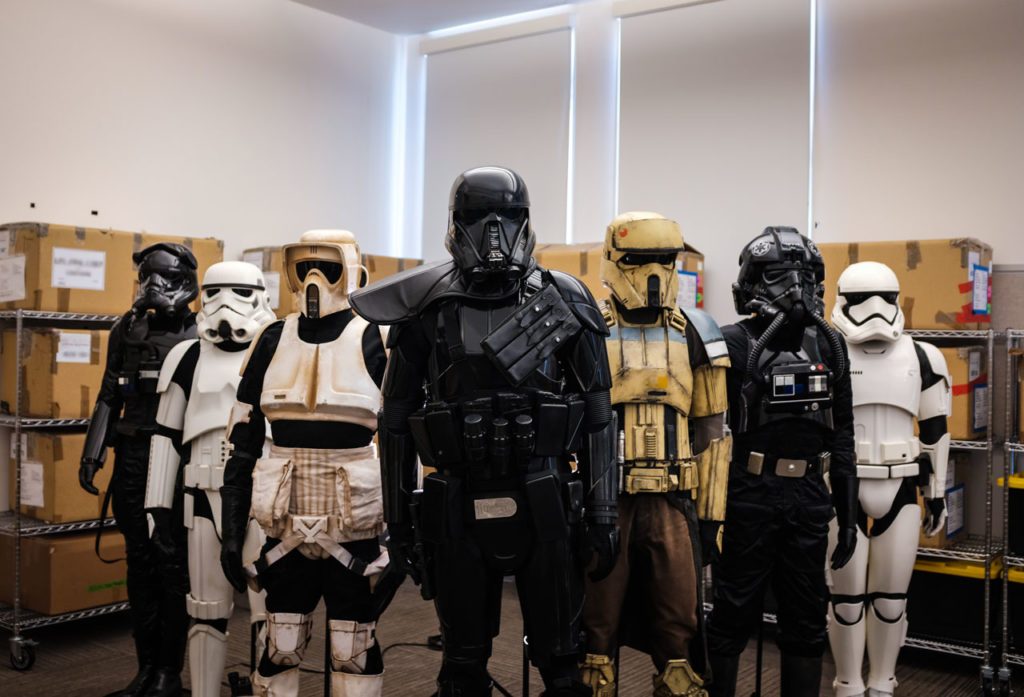 So what can we guess about these Sith Troopers? One thing is, if they've got Sith in their title, they'll likely be serving the Emperor. We know that Emperor Palpatine is back in The Rise of Skywalker—somehow—so perhaps the Sith Troopers are his elite guard. It would also make sense if they were fighting at the behest of Kylo Ren. Perhaps Ren's a Sith Lord by the time we meet him in the next film? Or Ren's Palpatine's new apprentice?
The color red in the Star Wars franchise has long been associated with those in power. See Supreme Leader Snoke's personal Praetorian Guard for proof. Perhaps we'll learn more about these fellas at SDCC when it starts next week.
Featured image: Star Wars: The Last Jedi. Praetorian Guards. Photo: Industrial Light & Magic/Lucasfilm. ©2017 Lucasfilm Ltd. All Rights Reserved.