Spider-Man: Far From Home—A Tale Told on Three Bridges
Peter Parker's summertime journey through Europe in Spider-Man: Far From Home is an American teenager's dream. His science class trip hits Venice, Prague, Austria, and London, with Peter (Tom Holland) making Spider-Man work detours to Berlin and the Netherlands. In reality, the majority of the production relied on locations in Italy and the Czech Republic, with sets built on a backlot in the UK's Leavesden Studios providing a backdrop for the film's stunts and visual effects.
"We had a great local art department in both Prague and Venice, and our regular art department in the UK," said Grant Armstrong, Spider-Man's art director. The locations chosen for the film were largely plot-driven, with Parker battling a multi-elemental monster traveling — supposedly — across the Multiverse, which first rears its head from the waters of Venice's Grand Canal. "From the time I came on board, we knew the elements would be air, water, and fire. Water, of course, made complete sense to be in Venice," said Armstrong. "Venice had its logistical issues, as you can well imagine, because everything has to be brought in by boat and taken away by boat, but they're so used to it, everything works like clockwork. How much you can fit on the barge is pretty impressive." Despite the city's ease accommodating a major film set, however, destroying the Rialto bridge was not an option, and the destruction wreaked on camera that was filmed on location was mostly limited to the Water Elemental's aftermath (for which Armstrong and his team boated in rubble and a few limited set pieces — otherwise "Venice doesn't need it, it's got everything there").
Instead, Spider-Man's moments atop the Rialto bridge and the introduction of seeming hero Quentin Beck (Jake Gyllenhaal) were filmed in the UK, on three different sets featuring exact replicas of the bridge's left side, center, and rooftop sections. Armstrong and his team also re-created the city's fish market to appear closer to the bridge in order to create a condensed sense of Venice, and rounded out the set by importing the city's signature transports: "We had to bring over gondolas, water taxis, dress the set with seaweed, so it looked and smelled very much like the real Grand Canal and Venice," Armstrong explained. "I think that's what I was most proud of in the film — you could not tell the difference between the real Venice and the one we built."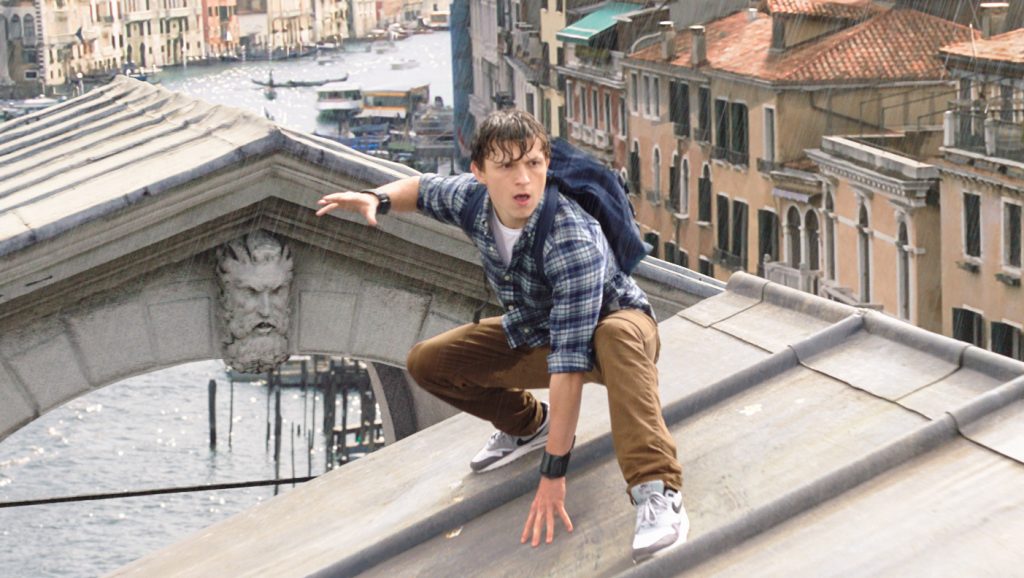 From a seamless Venice,  the class trip moves on, and Peter gets to experience a true rarity — a revealing heart to heart with his crush, MJ (Zendaya) on an entirely empty Charles Bridge at the height of summer in Prague. Lucky for the young actors, this scene was indeed filmed over a couple of nights on location, but for the Elemental villain's next arrival, the production moved to Liberec, a town about 90 minutes away. "We originally looked at the main town square in Prague, but when it came to taking it over for four weeks in the middle of the summer, it just wasn't going to happen," said Armstrong. Working with a small crew and a "fantastic" local Czech team, the production was able to dress Liberec's main square with a fairground and Ferris wheel, hire thousands of extras, and mostly mimic Prague's baroque beauty. Furthermore, "they were incredibly accommodating when we were having explosions at three o'clock in the morning," said Armstrong.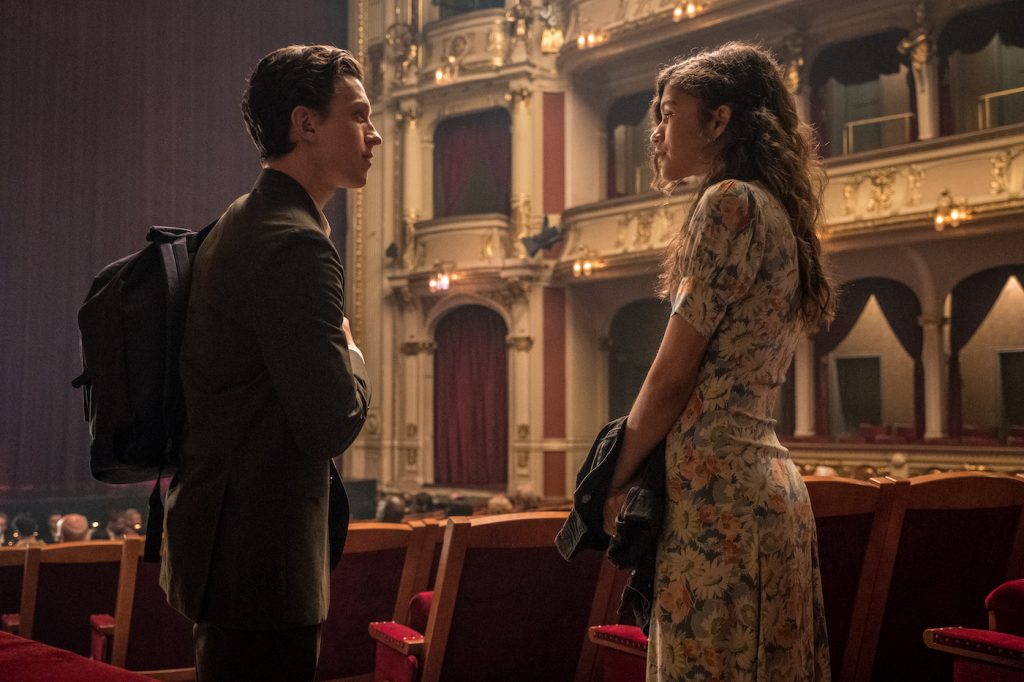 Eventually, the students and their beleaguered teachers (Martin Starr and J.B. Smoove) make their way to London. Paris and Valencia were also considered for the role of the backdrop to Spider-Man's big battle with Mysterio, whose sinister, ego-stroking intentions are by now fully revealed. "But it made sense that the kids end up in London," said Armstrong. Aside from an early Sunday morning shoot on location, the level of action giving way to destruction necessitated a bridge build. The team did a full survey of Tower Bridge, creating a 360-degree replica complete with a glass floor. "We built about eight feet off the ground, and in the middle did a twelve-foot camera pitch so you could be right underneath," Armstrong explained. "It was a lovely thing to do, to recreate an iconic piece of London."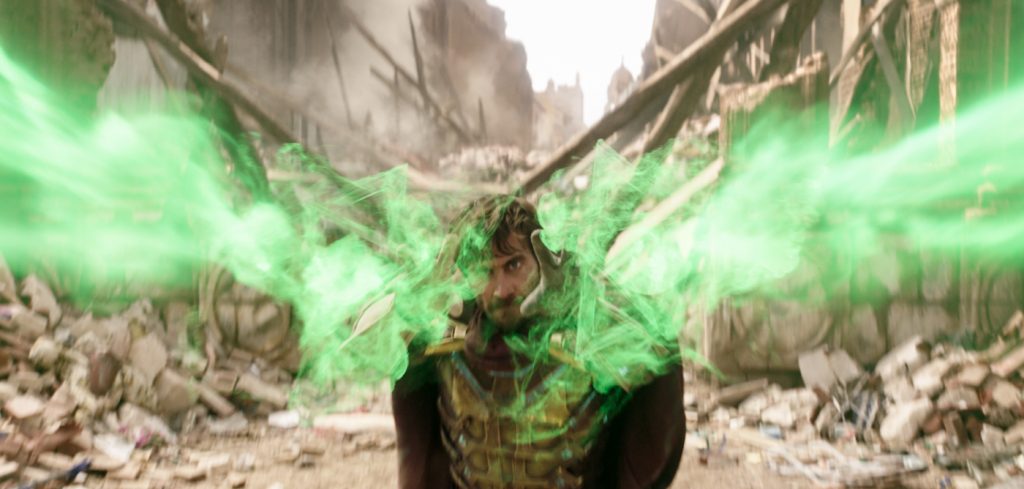 When Spider-Man isn't swinging through a seamless mix of sets, effects, and practical locations, he's on the road with his friends conniving to secure MJ's affection or figuring out how to take on his new nemesis. In these instances, unexpected locations provided the backdrop for a few memorable scenes supposedly scattered around Europe. Piloted by Happy Hogan (Jon Favreau), Tony Stark's plane lands in a Dutch tulip field, "which was actually filmed in a rather muddy farmer's field just outside Watford," Armstrong admitted. "A very clever visual effects department put all the tulips in." Finally, even as Spider-Man's foe's malevolence grows, most viewers will recognize that Peter Parker's most stress-inducing moment takes place not on a bridge but in a bucolic Austrian village when the teenager is wholly thwarted while trying to take a moment for himself. Don't be fooled by the presence of Germanic Amazon Toni Garrn — this supposed Austrian rest stop was really played by the Czech Republic.
Featured image: Spider-Man in Columbia Pictures' SPIDER-MAN: ™ FAR FROM HOME. Courtesy Sony Pictures.