How Spider-Man: Far From Home's Production Designer Made Europe Pop
The first time production designer Claude Paré went to Europe shortly after he quit school at age sixteen, the Montreal-based filmmaker put together a portfolio of paintings that earned him admission to National Film Board of Canada's training program. He rose through the ranks as prop hand, set decorator, set designer and art director to become one of Hollywood's go-to production designer behind such blockbusters as Night at the Museum and Rise of the Planet of the Apes. Two years ago, director Jon Watts pitched Paré on Spider-Man: Far From Home. "I was pretty tired because I'd just finished Dark Phoenix, and before that, I designed It, which was a real handful," Paré explains during a recent visit to L.A. "But when Jon said 'We're going to do it as a James Bond style on-the-road movie in Europe,' I decided 'Okay, I'm in.'"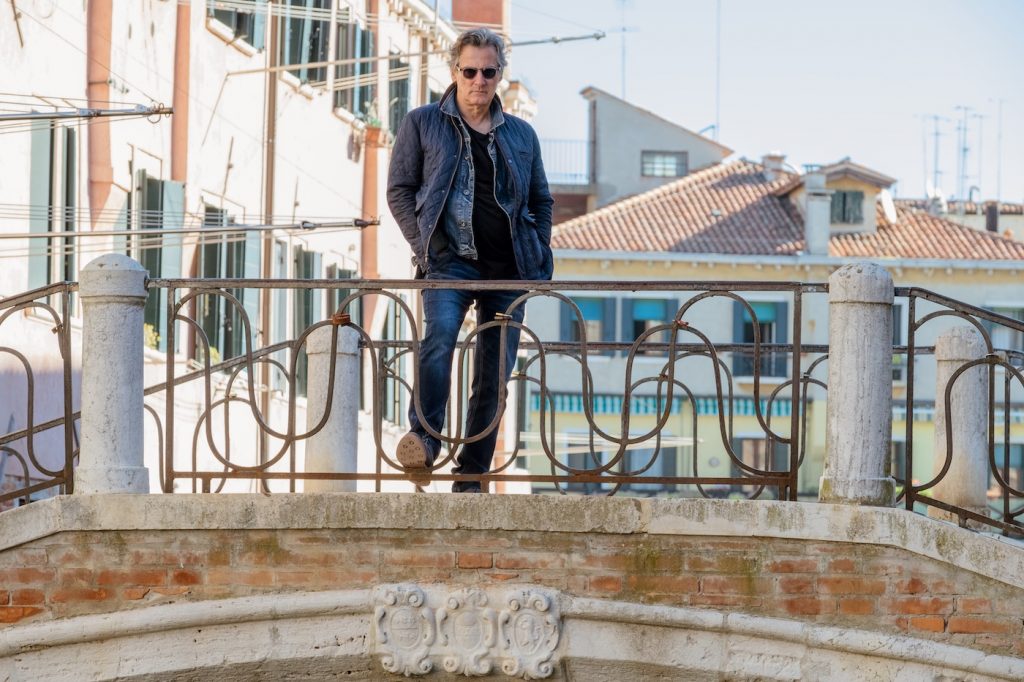 Paré spent nearly 10 months in Europe last year organizing the film's picture postcard settings. First, he scouted locations in Venice and Prague, photographing sites that would serve the superhero-as-tourist storyline tracking 16-year-old Peter Parker (Tom Holland) and his classmates including M.J. (Zendaya) on their travels through Europe. Then, taking a cue from the Far From Home villains who use so-called "Illusion Tech" to further their agenda, Paré and his team, based at the massive Leavesden backlot in London, designed a journey in which things are not always as they appear to be.
For example, Samuel L. Jackson's Nick Fury and Jake Gyllenhall's Mysterio characters pop up frequently in Italy and the Czech Republic. But in fact, Paré says, "Jake and Samuel never left London. They never went to Prague or Venice. That's why we had to do some really tricky things." Here's a guided tour through European landmarks—real and simulated—featured in Spider-Man in Spider-Man: Far From Home.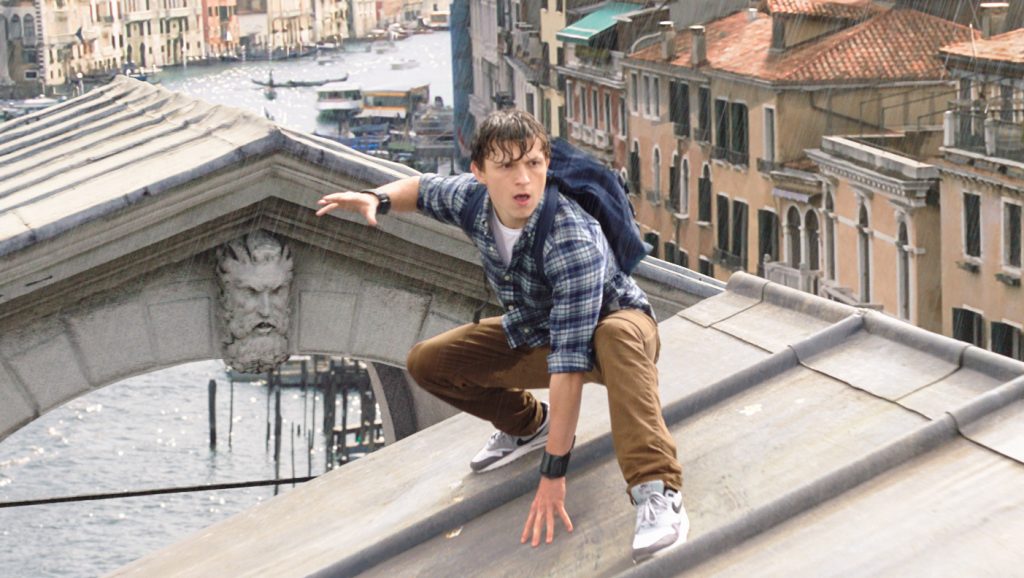 Bridge Hopping in Venice
Peter Parker starts his summer vacation in Venice, where a water monster rises up from the canals and terrifies civilians hanging out at the picturesque Rialto Square. "There's no way that we did that sequence with the actual Rialto Bridge," Paré says. "Parts of the bridge, the fish market, the embankment where Peter first sees the water coming from the manhole, all the canals, the posts Peter jumps across—that was all built on the backlot. Venice was a huge set with about 125 sculptors, painters, and crew members. Every sculpture was hand-carved, painted, bronzed and aged just like you'd see in Venice."
For Paré, emulating the canals' murky water proved especially challenging. "We had to measure every element to match the color of our water to what you see in the canals of Venice, which is really difficult to do in a giant tank," he says. "Also, the tank is pretty shallow and we had all these special effects pipes underwater so we had to make them disappear underneath this green water we'd created."
One element Paré did not build on set: Gondolas. Instead, filmmakers imported gondolas and taxi boats from Venice and put them to work in the UK. "When Nick Fury and Peter Parker travel through the canal, that whole boat ride was shot on a sound stage against a green screen. Then we went to Italy, filmed other boats on the canals and did some [photographic] plates for the background. The canal ride leads to Nick Fury's lair, which was built on location in London. So for just that one scene, we used three different venues."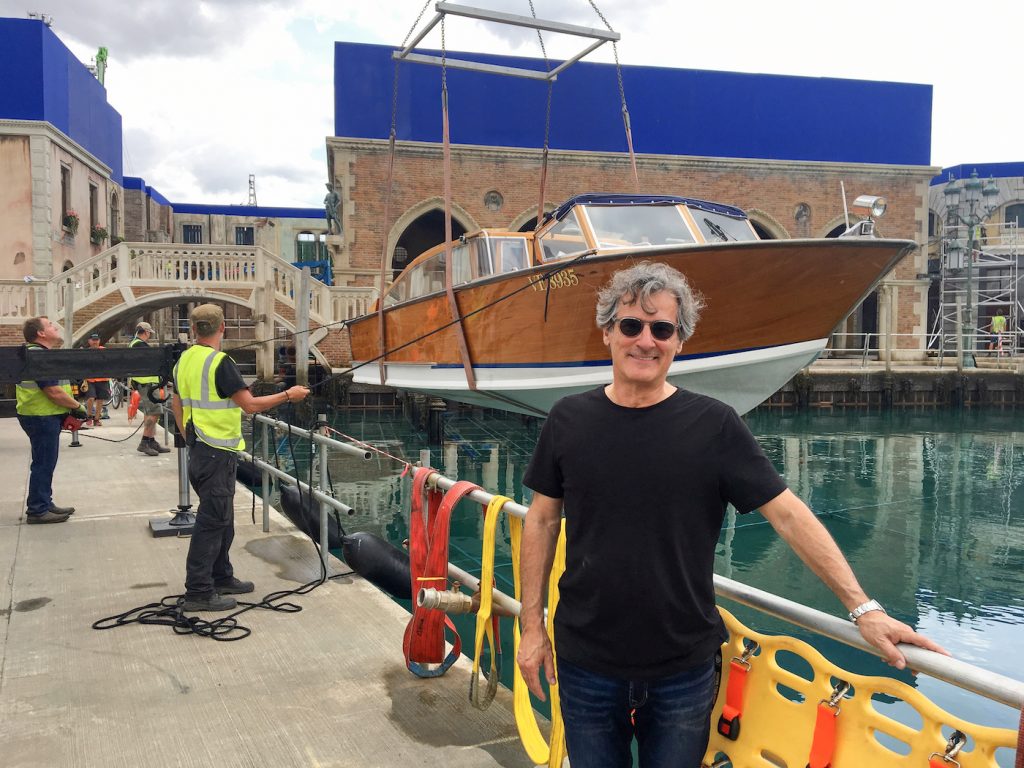 Cosmopolitan Prague
To establish a sense of old-world luxury befitting the Czech Republic's ancient capital, filmmakers staged Peter Parker's arrival at Prague's Carlo IV hotel. Paré says, "I changed the whole look of their lobby, brought in the grand piano where Peter Parker talks to Ned [Jacob Batlon], set up this huge center table with a big pot of flowers and placed gold stanchions leading to the desk," Paré recalls. "I really wanted to show the grandeur of the place." The hotel's second floor was shot in a country club in London, says Paré, who also swapped in England's Hatfield House as a stand-in for the Czech castle where Peter Parker meets with Mysterio and Nick Fury.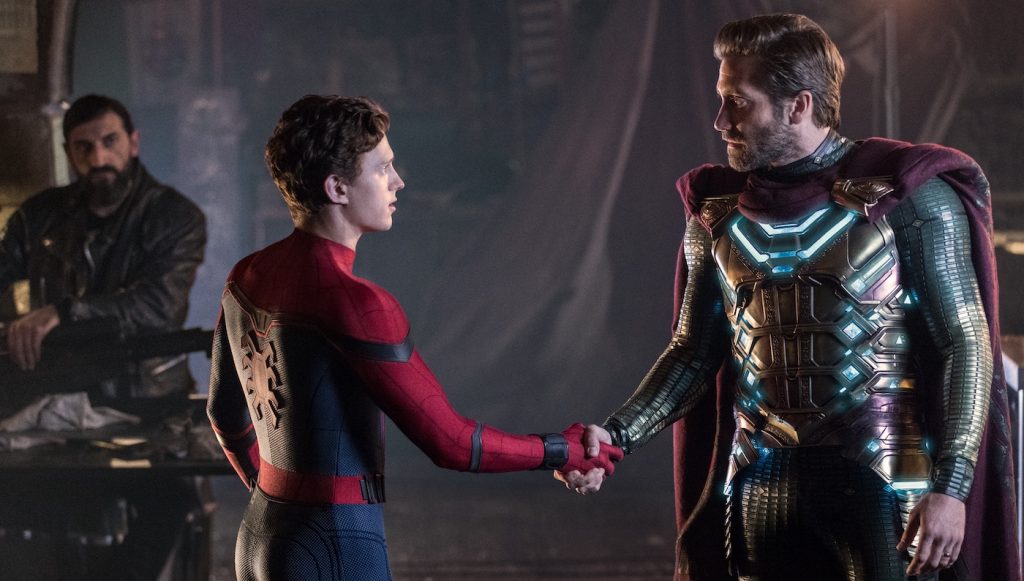 For a night-at-the-opera sequence, Paré designed stage décor for Prague's Vinohrady Theatre. Filmmakers used the 15th century Charles Bridge as the real location for Peter Parker and M.J. as they travel to  "Festival of Lights," which turns ugly when a molten monster goes on a rampage. The festival is supposed to take place in downtown Prague but, Paré notes, "We actually shot the big fire monster event an hour northeast of Prague in a little town called Liberec. The staircases, the crowd, the Charles Bridge were all filmed in Prague, but as soon as we hit the square, we're in Liberec. "
Looks Like Holland but…
On the run after meeting Nick Fury in "Berlin" (filmed in London), Peter Parker finds himself in a quaint Dutch village. "We created that little town square in a Prague brasserie," Paré says. "The restaurant had this big inner court they use for wedding receptions and that's where we built little shops to make it look like Peter's in the Netherlands."
Peter Parker's mentor Happy Hogan (Jon Favreau) then makes a grand entrance by landing his private jet in a field of tulips. "We had the plane ladder built on scaffolding, which we filmed in London, but the jet itself, the field of flowers, even the windmill in the background was all add in post with CG," says Paré. "Sometimes, movies have to be a little bit on the nose for an audience to quickly catch where you are. This is one of those situations."
London Bridge is Falling Down
Far From Home concludes in London with a skyborne assault on Peter Parker and company as they travel across the city's iconic Tower Bridge. Paré says, "We used tons of visual effects for all the [action] elements going on, but we only had one morning to shoot the kids at that actual Tower Bridge location. The rest of the Tower Bridge sequence we did on the backlot."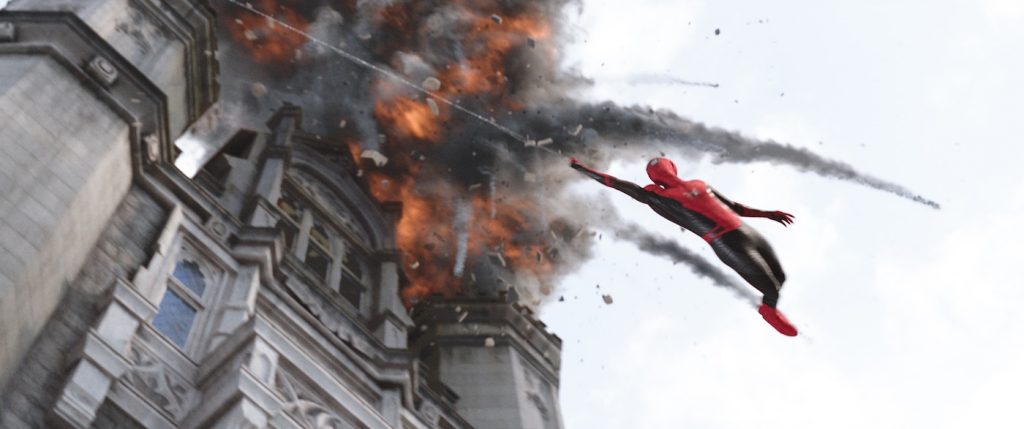 How did Paré manage to construct a camera-ready replica of one of London's most famous landmarks? "We surveyed the location, which is not that difficult now with all the digital tools we have no to measure things. And when it comes to textures and colors, we photographed everything very carefully. I'm meticulous about these details because for something like Tower Bridge, when you get an actor's head leaning against a surface with giant bolts that in reality have been painted maybe 200 times over the years, you don't want that to look new. Especially on close-ups, you have to be very careful on the final delivery of each set. Our big challenge on this movie was to cobble all these different things together and make it look seamless."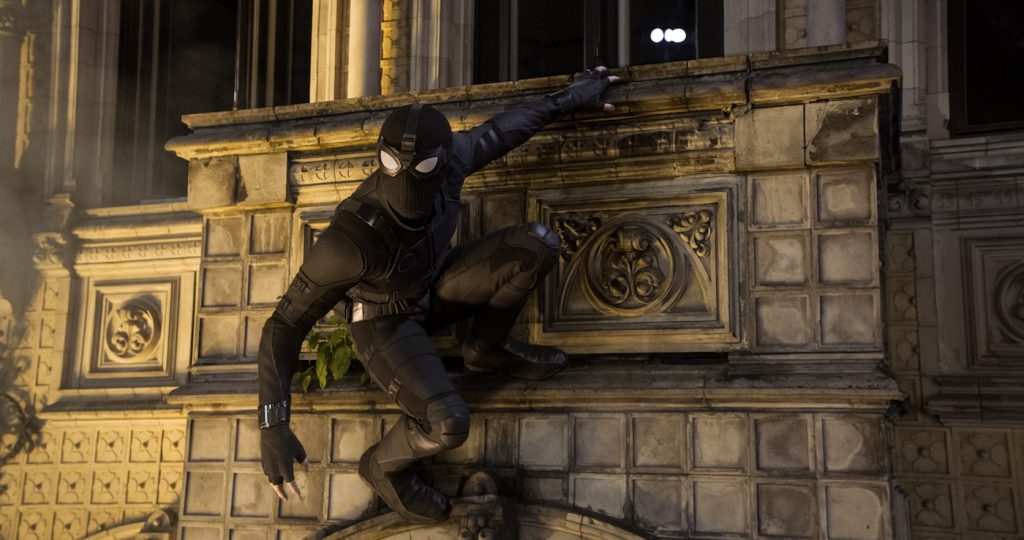 Spider-Man: Far From Home is in theaters now.
Featured image: Spider-Man in Columbia Pictures' SPIDER-MAN: ™ FAR FROM HOME. Courtesy of Sony Pictures