It: Chapter Two Reveals Terrifying Footage at San Diego Comic-Con
Warner Bros. officially kicked off San Diego Comic-Con 2019 at Spreckles Theater with footage from Andy Muschietti's It: Chapter Two. Their ScareDiego event also included a Q&A hosted by Conan O'Brien with Muschietti and stars James McAvoy, Jessica Chastain, Jay Ryan, Bill Hader, Isaiah Mustafa, and James Ransone.
The presentation kicked off with a new trailer (it'll be released later today) as well as three brand new clips. These clips will be kept secret for now (per Warner Bros. request, and frankly, it's best for everyone who wants to go into the film fresh), but some brief descriptions are available.
One thing to know about It: Chapter Two is that now that the Losers Club are adults—and played by the likes of Hader, McAvoy, Chastain and more—there will still be plenty of laughs thanks to the cast's skill and comedic timing. Hader and McAvoy, in particular, were killing it (pun intended) during the Q&A, and their chemistry will evident in the film.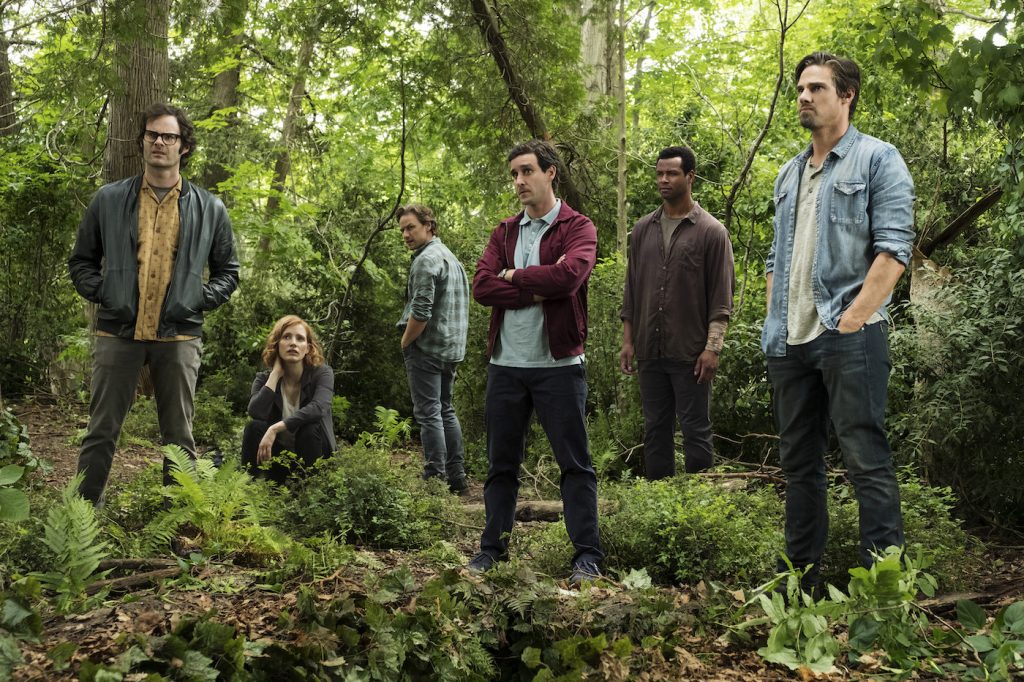 The second thing to know is more obvious—Chapter Two is going to be scary. Very scary. Muschietti has already said he wanted to "overwhelm the audience" with this film. The clips showed off an even more ambitious take on Stephen King's iconic novel, the sequel dealing with the second half of King's story.
Chapter Two also gives us an adult Losers Club who mostly can't remember what happened in their hometown of Derry, Maine, when they were kids. Only Mike (Isaiah Mustafa) seems to remember, and he takes on a detective role as the rest of the Club comes home to Derry. Someone else remembers the Losers Club too, of course—Pennywise the Clown.
One scene in particular, at a funhouse where McAvoy's Bill is caught in an increasingly malevolent environment, was so intense that the actor ended up having six months worth of tendinitis afterward (he revealed this during the panel Q&A).
The three scenes Warner Bros. revealed helped briskly set up Chapter Two, and the Losers Club's reckoning with the trauma they endured as children. The first scene showed the Losers Club reunited at a Chinese restaurant. The second was at a fair, where Bill plunged into the funhouse and ended up having a nightmarish time. The third scene brought the Losers back to the Neville house. It ended with Hader's Richie extorting the gang, "Let's kill this f**king clown."
"Chapter One is a movie about friendship and the power of unified belief," Muschietti said during the Q&A. "The second part is more about trauma. We will discover things that we didn't know about the Losers that started in that summer of 1989."
It: Chapter Two hits theaters on September 6. Check back in with us for the new trailer when it lands today.
Featured image: Caption: BILL SKARSGÅRD as Pennywise in New Line Cinema's horror thriller "IT CHAPTER TWO," a Warner Bros. Pictures release. Photo Credit: Courtesy of Warner Bros. Pictures