It: Chapter Two Director Andy Muschietti Going for "Overwhelming Experience" for Audience
You know you've got a good thing cooking when your sequel's trailer is this scary. Director Andy Muschietti set the bar very, very high for himself with his 2017 adaptation of Stephen King's iconic horror tome. That film went on to become the highest-grossing R-rated horror movie in film history. Now, Muschietti and the Losers Club are back for Chapter Two, with Muschietti once again working with screenwriter Gary Dauberman, this time tackling the second half of Stephen King's novel. The film follows the adult members of the Losers Club return to Derry, Maine, where their childhoods were, ah, interrupted by the shape-shifting monster they called "It," best known to us as Pennywise the Clown. In a new interview with Entertainment Weekly, Muschietti and some of the new cast dish on what we can expect. They don't give away any spoilers, of course, but the things they do reveal are very exciting.
An Overwhelming Experience
Muschietti's goals for the sequel are appropriately ambitious after the success of It. He told EW that he wants Chapter Two to be an "overwhelming experience" for the audience. "I think that everything that people love from the first one, like the humor and the emotions and the horror, will all be there," he said, "and cranked up, in some cases."
Slightly Differences From the Book
Bill Hader is the adult Richie (played by Finn Wolfhard in the last film, and again here in flashbacks), only unlike in King's novel, Richie isn't a shock jock or a stand-up comedian like he was in the 1990 film. Hader wouldn't tell EW what his job was, but he did promise it's "a real mind-blower."
James McAvoy plays the adult Bill, and like the novel, Bill is a novelist-turned-screenwriter here. McAvoy tells EW that Bill gets called back to Derry from shooting a film in L.A., which is a slight departure from the book where that movie was filming in England.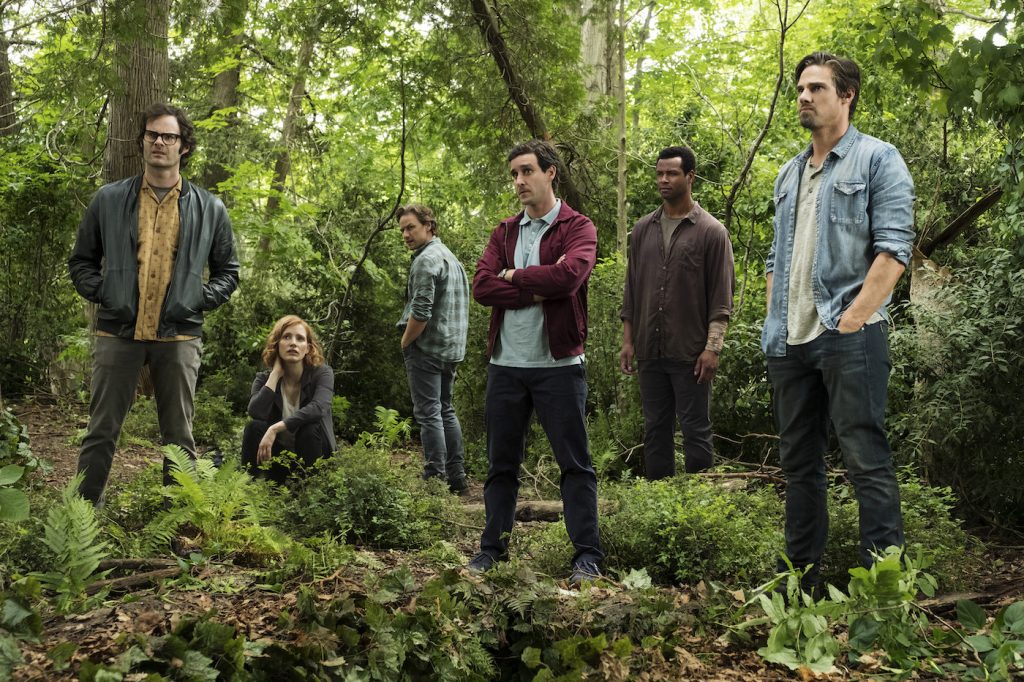 Only Mike Remembers Pennywise
Finally, Isaiah Mustafa's character, the adult Mike, never left Derry. He's a librarian, and unlike the rest of the Losers, he has not forgotten what befell them in childhood. "Mike sees how Derry is very special in a dark way," Mustafa told EW. "He's trying to figure out what the hell's going on in this town and what he can do to put an end to this cycle. It's an obsession for him."
Here's the official synopsis:
Evil resurfaces in Derry as director Andy Muschietti reunites the Losers Club—young and adult—in a return to where it all began with IT: Chapter Two. Because every 27 years evil revisits the town of Derry, Maine, IT: Chapter Two brings the characters—who've long since gone their separate ways—back together as adults, nearly three decades after the events of the first film. James McAvoy stars as Bill, Oscar nominee Jessica Chastain plays the grown-up Beverly Marsh, Bill Hader as Richie, Isaiah Mustafa as Mike, Jay Ryan as Ben, James Ransone as Eddie, and Bill Skarsgård returning in the seminal role of Pennywise. Andy Bean plays Stanley, and reprising their roles as the original members of the Losers Club are Jaeden Martell as Bill, Wyatt Oleff as Stanley, Sophia Lillis as Beverly, Finn Wolfhard as Richie, Jeremy Ray Taylor as Ben, Chosen Jacobs as Mike, and Jack Dylan Grazer as Eddie.
IT: Chapter Two hits screens on September 6, 2019.
Featured image: Caption: BILL SKARSGÅRD as Pennywise in New Line Cinema's horror thriller "IT CHAPTER TWO," a Warner Bros. Pictures release. Photo Credit: Courtesy of Warner Bros. Pictures