Meet the Man Who Provided the Vintage Props for The Sopranos Prequel
When a movie takes place in the past the filmmakers have to recreate a whole bygone world. We might not notice if a telephone, neon sign, or cash register is right for the period, but if it's wrong it can be a distraction. Prop Specialties provides all kinds of items to film and television productions set any time in the 20th century and even in the present, as most settings today include older or vintage items. Their specialty is providing props that really work so that when a character puts a coin in a vending machine, it dispenses the cigarettes, candy bar, or sandwich just as it did decades ago. In an interview, Steve Hozan talked about finding and caring for old technology, most recently for the new prequel to The Sopranos, and some of his favorite treasures, from 80's Apple computers to a vintage lie detector.
How did you get started in this profession?
Since I was young, my dad and I were always working on a project in the garage, whether it be sanding and restoring an old dresser, painting old license plates, or working on a classic car. Vintage items gradually became an obsession over the following 20+ years (I am 33 now). It's the old American craftsmanship, the history, the aesthetic design, and the fun of the hunt that contributes to my obsession with all things vintage, particularly electrical, mechanical, and electronic items such as arcade games, vending machines, computers, or neon signs.
I then started repairing and renting games (such as Pac-Man, pinball machines, or foosball tables) for parties. The creation of a gaming rental website eventually brought me a lead to a bar scene for Meryl Streep's Ricki and the Flash where multiple games were needed for the set.
Also, Prop Specialties and Arcade Specialties came from the motivation and support of my friends and family. In 2010 I worked out of a 400 square foot storage space, working off of the limited resources I had, and my knowledge and passion. I couldn't afford to buy power tools to work on the props…I even recycled nuts and bolts! But it always seemed to come together in the end.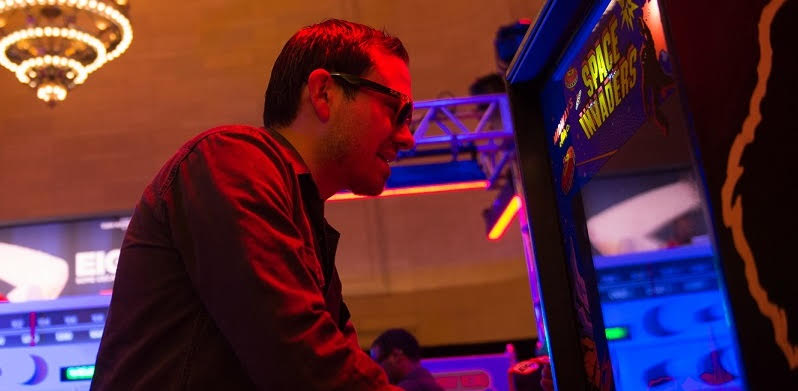 Do you sometimes feel like Indiana Jones tracking down rarities?  What are some of your most satisfying "Eureka" moments?
I certainly feel like Indiana Jones tracking down unique props! The ironic part is that a lot of the props we seek and are hard to find are actually not worth much. Some of the most iconic props we have were obtained for very little money, such as a 1940s neon "Coffee Shop" sign, and a retro 1950's cigarette vending machine with illuminated "Cigarette" logo. It was interesting for me to see how cheap it was to access things that people love for movies and parties.
Where do you look? Ebay? Thrift shops?
With the apps such as OfferUp, Let Go, and Facebook Marketplace, it's easy to find just about any prop. The challenge is removing myself from the mindset of hunting for one particular type of prop and expanding to new categories. This is why scavenging is so fun and unexpected. We receive calls from individuals cleaning out their parent's or grandparent's homes. Often times they don't want to host a tag sale or estate sale, so we receive calls and emails daily. Many of the items we are interested in sadly would have ended up in a landfill.
We scored some great vintage console TVs, Reel-to-reel stereos, and even dozens of early 80's Apple computers. We even found an original 1978 polygraph lie detector we are hoping to rent for a crime film. The most unique items seem to find their way to us. This week we received photos of an early wood and wicker 1900's wheelchair, a big old safe taking up space in a Manhattan office, and a 1950s beauty salon hair dryer chair.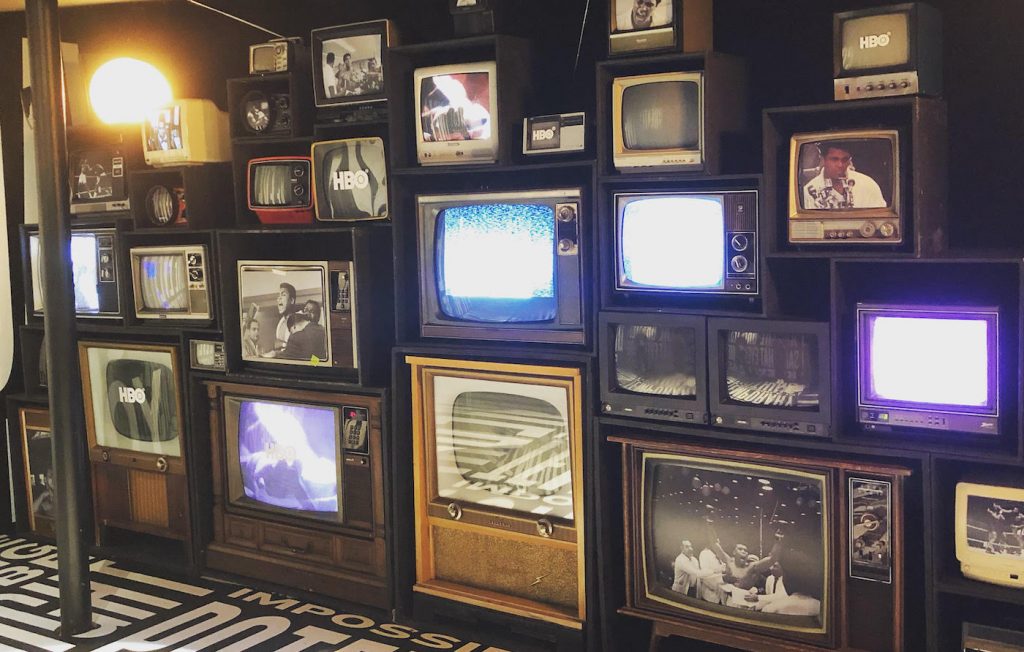 Is it hard to keep up with rapidly changing technology like cell phones and laptops?
Not as much as you would think. But our primary focus is on props that are 20+ years old, so newer tech doesn't really apply as much to us.
What decades are the most challenging to find props for?
Popular technology of the 80s-90s became rapidly obsolete—and so much of it was replaced and thrown out. It is amazing how difficult (and often times very expensive) it can be to find PCs and TVs from the 80s-90s. They were all thrown out! A functional Apple or IBM computer can cost $200-$600+.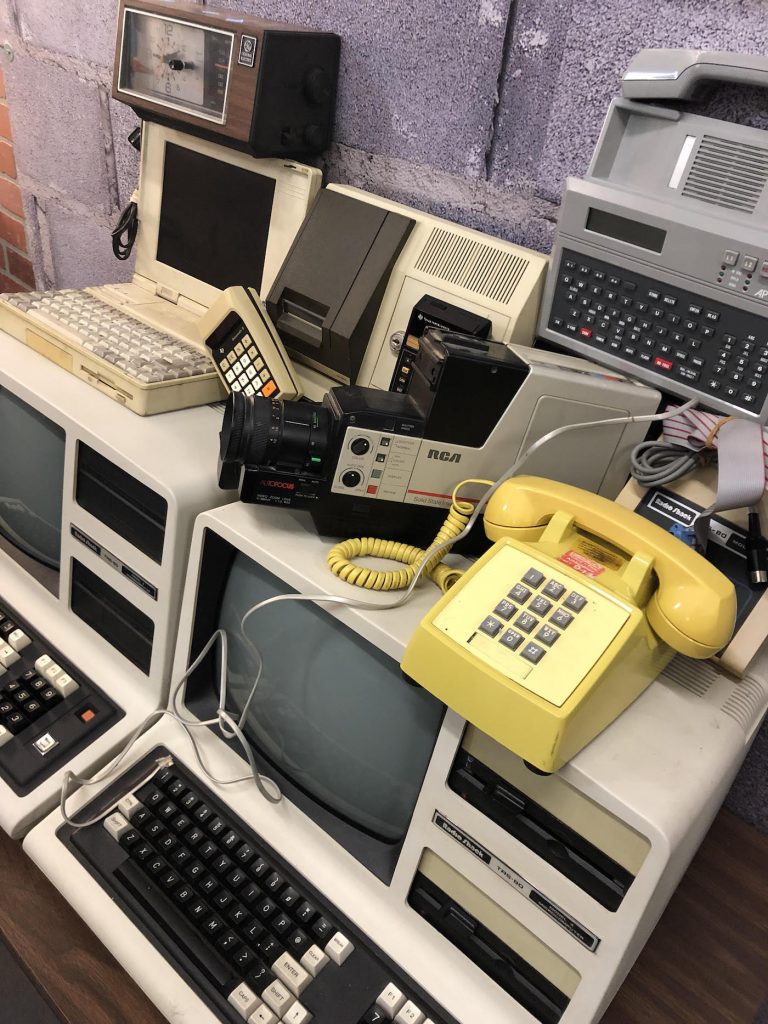 What are some examples of productions where you needed the props not just to look right but to function correctly as well?
Have you ever eaten from a sandwich vending machine? Not many have! On a production last year we had to rig a prison break room sandwich vending machine for [director] Ben Stiller and [actress] Patricia Arquette [on Escape At Dannemora]. The issue was that every time the machine was opened, the internal refrigeration temperature rose, causing the machine to malfunction and turn off. With 20+ takes, the sandwiches needed to be replenished, and the door opened. We had to rig the computer and refrigeration unit to consistently operate regardless of the temperature of the machine. With this customization, we were able to save the production team hours of time.
Do you sometimes find that today's actors are unfamiliar with the technology of just a few decades ago?
Not only are the actors unfamiliar with most of the technology we rent, but we can be too! In order for us to rent out a mechanical item, such as a vintage jukebox, we have to completely understand how it functions, how it will be used for the scene, and what malfunctions could possibly occur during the scene. We also maintain relationships with other local experts that are happy and willing to contribute. Prior to the rental, we create a detailed instruction sheet with photos for the production crew and even offer on-site consulting during the scene.
Is there any old equipment you wish we still had today?
With the nature of maintaining, storing, and renting vintage items, there is always the chance for damage or loss. We, unfortunately, broke a 1940s diner "BREAKFAST" neon sign, and a stunning "Psychic" neon sign. We now pad and crate the heck out of those types of delicate and irreplaceable items.
What were some of the most challenging period sets to work on, and why?
One of the most recent challenges was providing props for the recreation of a 1972 Newark vending machine warehouse for a set of The Many Saints of Newark, a Sopranos prequel. In order to recreate a realistic wholesale warehouse vibe, we had to locate multiple vintage props in matching sets, such as eight matching slot machines, four matching cash registers, and a variety of cigarette, snack, candy, and gumball vending machines. Many of these machines have been scrapped for metal over the years, which added to the challenge of locating these period relics.
Why do audiences love stories set in the past and what do we learn from them?
I believe that capturing the past in a film or television show can create a powerful feeling of nostalgia for the audience. Different time periods may have a different effect on a particular age group. Nostalgia is strongest for those who were young during the era of a particular scene. They reflect the technology, the fashion, the cars, and the cultural influences that they remember during that particular time. The result is a strong emotional connection to the film or television show.
Featured image: Steve Hozan using a vintage phone booth.