How Dark Phoenix's Key Costumer Handled a Mutant Wardrobe
Co-writer and director Simon Kinberg's Dark Phoenix was a very different kind of X-Men film for a variety of reasons. One is the fact that he removed X-Men from the title altogether. This was done to put the focus squarely on the troubled shoulders of Jean Grey (Sophie Turner), whose evolution, so to speak, into the titular Dark Phoenix is the film's central storyline. Yet despite removing the name of the mutant super-group from the title, Kinberg's film is the first to give the assorted X-Men actual uniforms. Dark Phoenix also attempted to bring the X-Men down to earth (despite a plotline that involved space travel and an alien villain), giving everyone from Jean Grey to the venerable Magneto (Michael Fassbender) more everyday looks.
What this all meant in practice for key costumer Catherine (Catoo) Gélinas was she had a lot of different pieces in the cast's vast wardrobe to keep track of. If you're not certain of what a key costumer does, here's a helpful primer: every single piece of clothing you see on screen must first be screened by Gélinas. While it's the costume designer's job to conceive of the film's sartorial look, it's up to Gélinas to make sure that vision makes it through all the last-minute fiddling, fixing, and fine-tuning to arrive on screen in the way it was initially intended.
We spoke to Gélinas about her massive job, the joy of working on a film as big and sprawling as Dark Phoenix, and why making a movie in Quebec offers a unique and often transformative experience for cast and crew.
Not many people know what a key costumer does—how do you best describe it to people?
I'm pretty much the police officer of what's being seen on screen. Making sure everyone is comfortable, warm enough, nothing is itchy, all the gear for the stunts will be comfortable, all the continuity, the last minute fine-tuning with aging the costumes, everything that is front of a camera will go through my eyes.
I imagine this means you're dealing with a lot of departments, as well as the actors themselves?
The technical and human parts need to be taken care of. My job has this very weird particularity in that I need to install intimacy before I ask for complicity. When I meet an actor, I often don't know them, yet I've got my hands in their pants or in their bra within an hour of meeting them. That's pretty much my job. Because I'm on set, I need to make sure I have good connections with all the departments so we know what we need to prepare. Props and costume, of course, are always talking, but I'm also meeting with the sound department because they put their microphones all over our costumes. We'll also deal with the hair and makeup department, to discuss good and bad matters. "You're putting makeup all over my collars, grrrr [laughs]." My department is very central, we have to work with pretty much everyone. We also had to work with the electrical department on this film.
Why?
Because we needed to put lights in these astronaut helmets, but the battery was hidden in the jackets, so we had to create little pockets to slip the battery pack inside so they have a light in their helmets so we could see their faces. The costume department is very central, especially on superhero films when they wear armor, funky helmets, and there are so many stunts and stunt doubles. You need to be able to fix the costumes that are involved in stunts, so you don't need 300 costumes each, and you also need to fix costumes in front of 300 other people, quickly.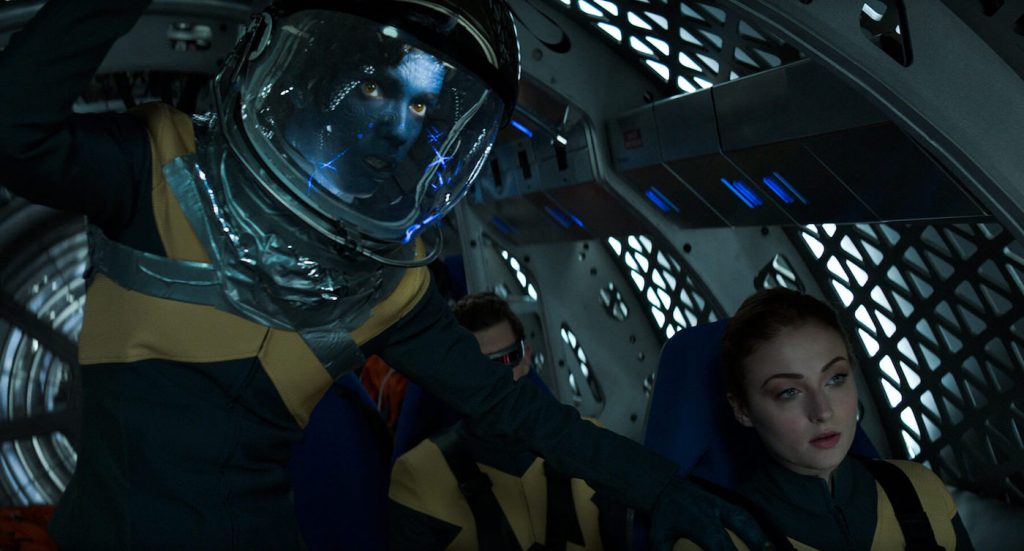 Dark Phoenix is a very different kind of X-Men film. Did it feel this way for you as well?
I've worked on every X-Men film since Days of Future Past. The thing was that was very new on this one was everyone had a uniform to go on the space shuttle, and we'd never had that before. Everyone had their own look and identity but on this one, it was very specific. They tried so many different designs, and then when we finally decided on the deep blue and yellow X, this uniform became a character. Every uniform was handmade and tailored for each of them.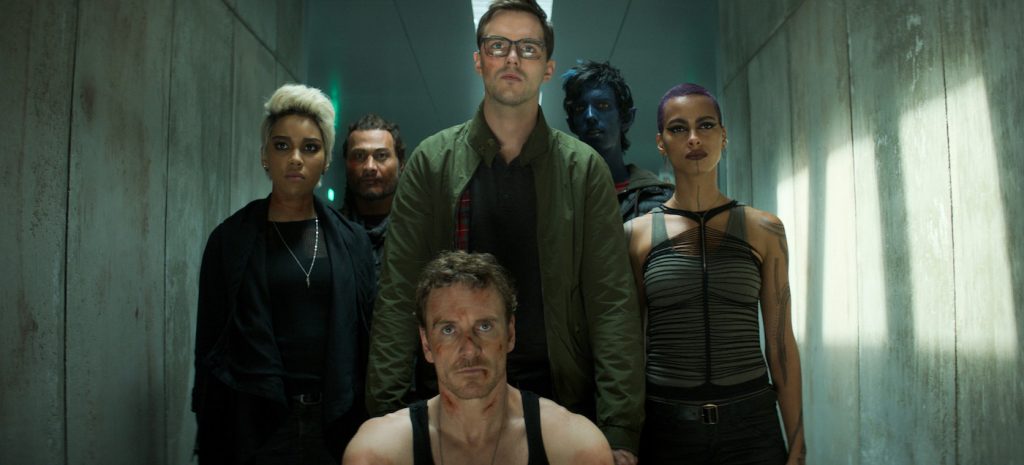 Did you have a favorite X-Men to work on?
To me, the best costume was for Beast (Nicholas Hoult), because he has two personalities. One is this very skinny guy, with not that much of a posture, this crazy scientist with kind of zero personality [laughs]. Then he becomes this hairy blue muscleman who is very cocky. Nicholas was the dresser's pet, everyone loved him because he was so nice. Going through the civilian look, putting him in this little cardigan, everything looks so round and worn and almost sad. We really made a point to make him look sad and depressed. But then when Nicholas's character "beasts out" as we called it, this poor guy had like three racks of costumes. A muscle suit that was three sizes bigger than his normal self. But it was the best challenge because it shows you how a costume helps build a character.
Michael Fassbender's Magneto has one of the most iconic pieces of wardrobe, that helmet. Did you handle the helmet at all? 
When he wasn't wearing it, Magneto's helmet lived in a little velvet-lined box where we put the helmet because it cost so much money [laughs].
To the layman, it would seem quite an easy bit of a costume—just pop on the helmet and you're done.
His helmet has always been a headache for every department; sound, hair, makeup, these little things are so much work. On Dark Phoenix, for once, he got a very cool and comfy costume. T-Shirt, jeans, a big jacket, super simple. There was no crazy cape, but the helmet was still there, but an old version of it. And there were only four of them, spread out over three units. So doing the math, where to put the right helmet on which unit was challenging. And you can't have 10,000 of them because they're so beautiful, they're sculpted and then molded to his head, but they also have to fit on the stunt person's head.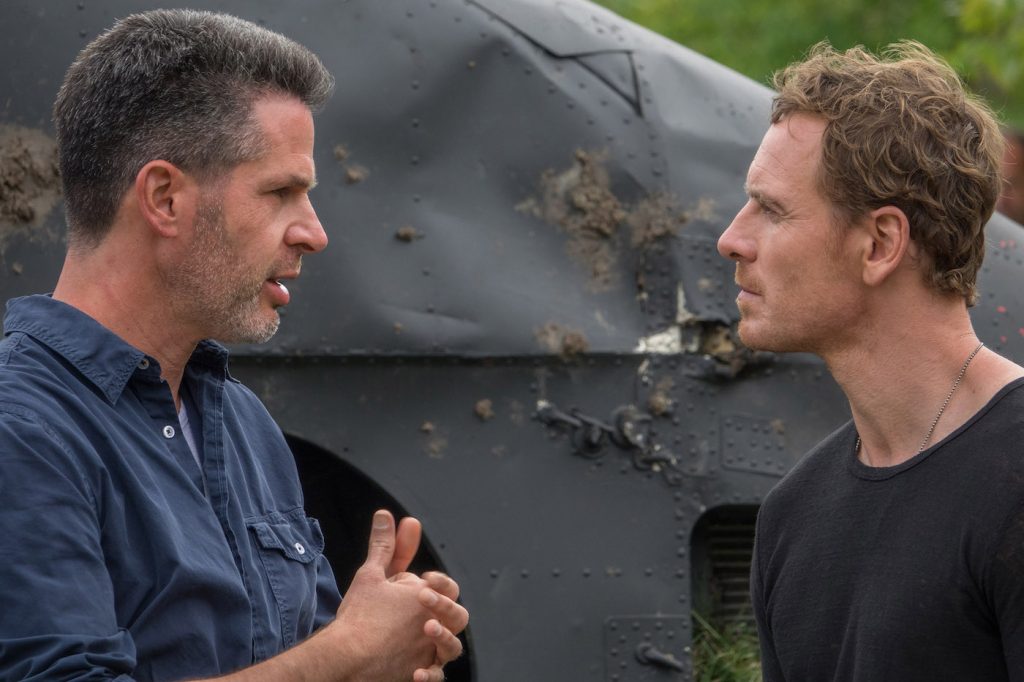 No other character transforms quite as much, or quite as crucially, as Sophie Turner's Jean Grey. Did she have a lot of costumes to keep track of?
The main idea from Simon on Dark Phoenix was, "I want these people to look as normal as we can so people can relate to them." Compared to the movies we did previously, it was less cartoonish, it was way more everyday, civilian kind of clothes. With Jean Grey, she began with things that were very comfortable and flattering, jeans and T-shirt and a long jacket, but then as we go deeper into the story, the colors change but the shape stays the same. Some days we'd shoot her in a very smooth, good girl kind of costume, that was chosen for the beginning before the mission. It's very subtle, but the more the movie goes on, the darker she gets, the longer the jacket gets. My part of the job was making sure there were no continuity mistakes, that she was always in the right costume at the right moment.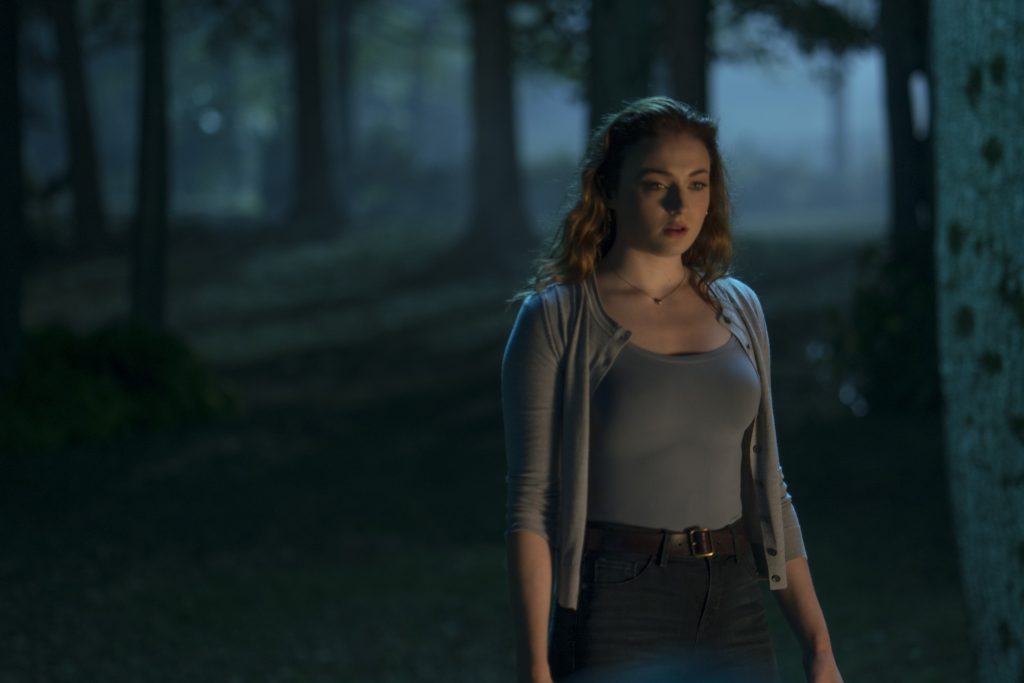 You've worked on all three of the X-Men films that have been shot in Quebec—what is it about filming in the area that keeps bringing the franchise back?
There's something very specific to the Quebec way of shooting, we have a department others don't have called a Unit Department. This department makes our life easier, especially for costumes on set. Because base camp is sometimes very far away, the actors can't go back to their trailers. This is when the Unit Department steps in. They're halfway between locations and production assistants. They're taking care of all the organization on and around set. You'll see the differences in the way we organize tents and chairs and tables and mirrors and racks. The Unit Department creates, essentially, portable greenrooms. They always have the best spots for us, and make special tents for our department. For example, when we had to shoot the astronaut scenes and the costumes were so big and wouldn't fit in normal tents, the Units Department made sure we have jacked up tents. They'd also make sure we have water, batteries for our walkies, AC, and all the food.
They almost sound like film production concierges. 
They really do take care of all of the comforts we need on set, which allows the assistant directors to take care of actors and background players. Without Unit, we'd have been miserable. Sometimes we were in studios, but other times we were in the country with like 10,000 mosquitos, super harsh conditions, and the Unit Department was there rebuilding tents and creating comfort for every department. Other crews don't initially understand, but then they go back wanting their own Unit Department. They really made our life easier.
For more on Dark Phoenix, check out our interview with co-writer and director Simon Kinberg here, and our chat with makeup department head Annick Chartier here.
Featured image: Sophie Turner and Jessica Chastain in Twentieth Century Fox's DARK PHOENIX. Photo Credit: Courtesy Twentieth Century Fox.