Showrunner Lauren Morelli Spins New Tales of the City for Netflix
The interwoven stories of the residents of Barbary Lane are being told again. Introduced in author Armistead Maupin's Tales of the City 40 years ago, and then adapted for television several times since the 1990s, the beloved San Francisco-set saga is being revived by Netflix and starts streaming this June.
Like its predecessors, which were based on Maupin's nine novels, the 2019 version focuses a lot on the LGBTQ community—but it does so with some new characters and a modern take. Original stars Laura Linney (also an executive producer) and Olympia Dukakis reprise their respective roles as Mary Ann Singleton and Anna Madrigal and are joined by Ellen Page as Mary Ann's daughter Shawna.
At the helm of the 10-episode sequel is executive producer and writer Lauren Morelli, who wrote and co-executive produced another Netflix series, Orange Is the New Black. For her work on that Emmy-winning show, she received writing nominations from the Writer's Guild of America and the Online Film and Television Association.
The Credits spoke with Morelli about bringing back Barbary Lane, staffing an entirely queer writers' room, and leading cast and crew for the first time. Edited interview excerpts follow.
How did you become involved in this revival?
You know, I got involved in a funny way. I had never heard of Tales of the City and I got a call one day from a producer who was working on it and they were trying to develop it and they were having a hard time nailing down Shawna's voice. And so the call I got was we're trying to make sure that this young female queer character feels authentic and sounds like how she should sound. So I actually came in to help with Shawna's voice and her story and then things sort of skyrocketed from there. I ended up writing a draft of the pilot and then when Netflix picked it up to series they asked me to showrun.
Is this revival a continuation of the nine-book series written by Armistead Maupin, or are you adapting from the series and picking up the story on your own?
It's sort of the latter. Almost all of the characters are from the books, so that's a really amazing gift to have, to be able to pick up on these characters and their rich history. The stories are almost entirely original. They almost exist in a little bit of a parallel universe from some of the later books. We're picking up from one place that's I think in book six or seven when Mary Ann's been gone for a long time and she returns home. We used that as the inflection point of what happens if Mary Ann Singleton returns to Barbary Lane after 25 years away. But then everything from that point forward is original to the show.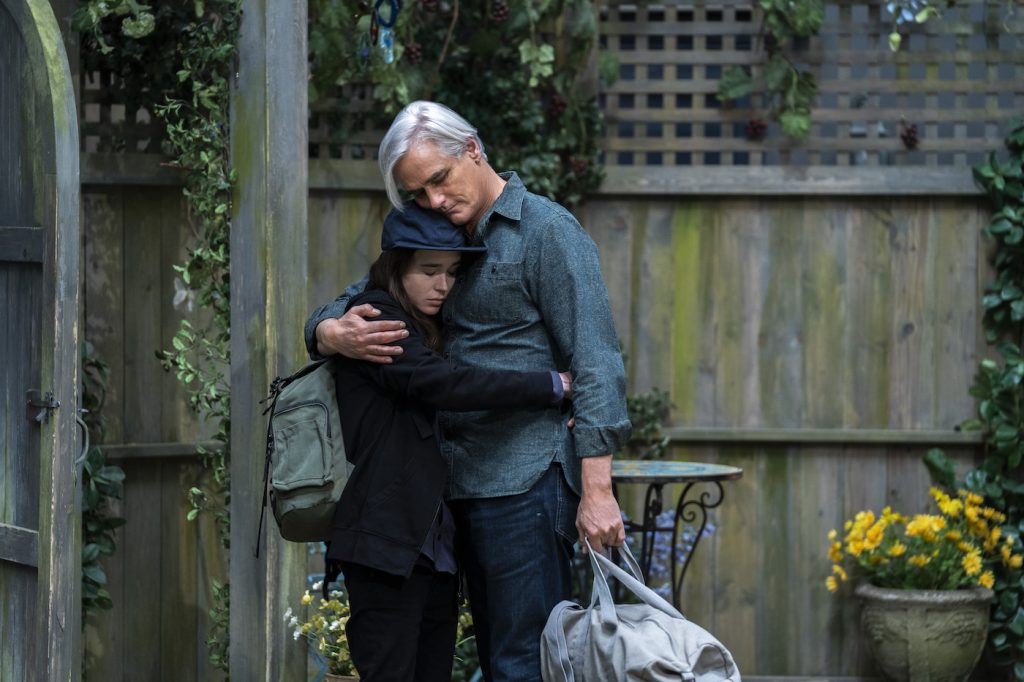 I read that your writers' room and directing team were made up of trans and gay people. In the times that we're in, is there a message that you want to send in having done this?
Our writers' room was entirely queer and everyone except one director is also queer. Gosh, there are so many reasons for me that it was important to do that. No. 1, it seems important when we're living in a world where we're still fighting the systemic power issues that we've been mired in for a long, long time—especially when I was in a position of hiring power to up-end some of those power systems. But also, when you're running a show where a great many of the characters are queer, it seemed to me that it made sense to hire people who represent a wide range of queer experience, because so often we are represented as a monolith when, in fact, we are as diverse as any community is. So it felt like, both with the writers and then also with the directing team, having those people around who can contribute their lived experience makes the stories that much more rich and authentic.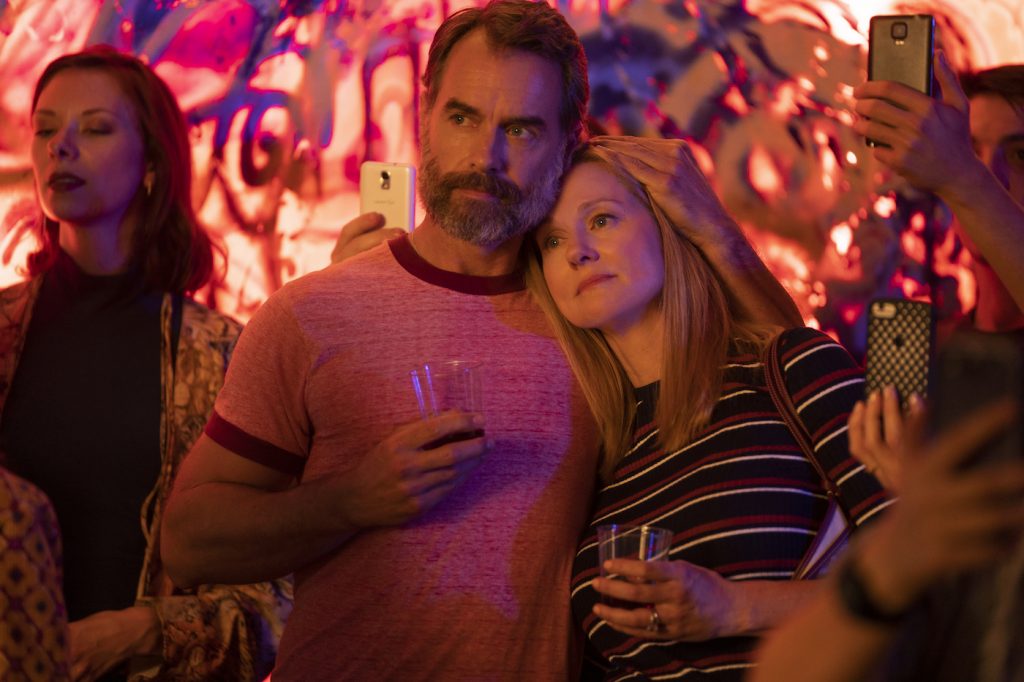 Given that it's 25 years later in the lives of these characters, and HIV is more of a chronic condition today, how did you approach the storytelling?
Michael, who is played by Murray Bartlett, is HIV positive, and so it felt important to show a man who is living with HIV and thriving. And the stories, at least within the community of Barbary Lane, that seemed to make sense to tell were those that might not be on television a lot—how two people in a relationship navigate that particular dynamic, how do we further the conversation within the community, what does it look like and how is it different in 2019 than it was in 1993.
Were Laura Linney and Olympia Dukakis immediately receptive to return?
Yes, they were both attached to come back before I even got involved, so I think they were both really, really excited. And Laura's also an executive producer on this version, so that was a remarkable thing to have.
You mentioned that you were brought on board to capture Shawna's voice. What's your intent with this character?
Hmm, the thing I love about Shawna is she has a very tough exterior but is incredibly loyal to those that she trusts, right? So once you're kinda past that tough shell, I love how tender she is with Anna, for example. I love the relationship she has with her dad. I think she is really the center of this world, but if you are not a part of this world, her immediate reaction is skepticism.
What was the greatest challenge for you in bringing back Barbary Lane, particularly regarding the set? It's such a world unto itself.
With regard to the set, here's where making a new version of Tales was really fun. Alan Poul, who produced the original series and executive produced this version and also directed three of the episodes, had the original set plans at his house. So there were these really amazing conversations that got to happen, where the original set plans are produced, but then our production designer on this show, Lester Cohen, then could look at those plans and think about how to adapt them and how to adjust. It was really incredible watching that set get built. It felt like a real house when you were in it.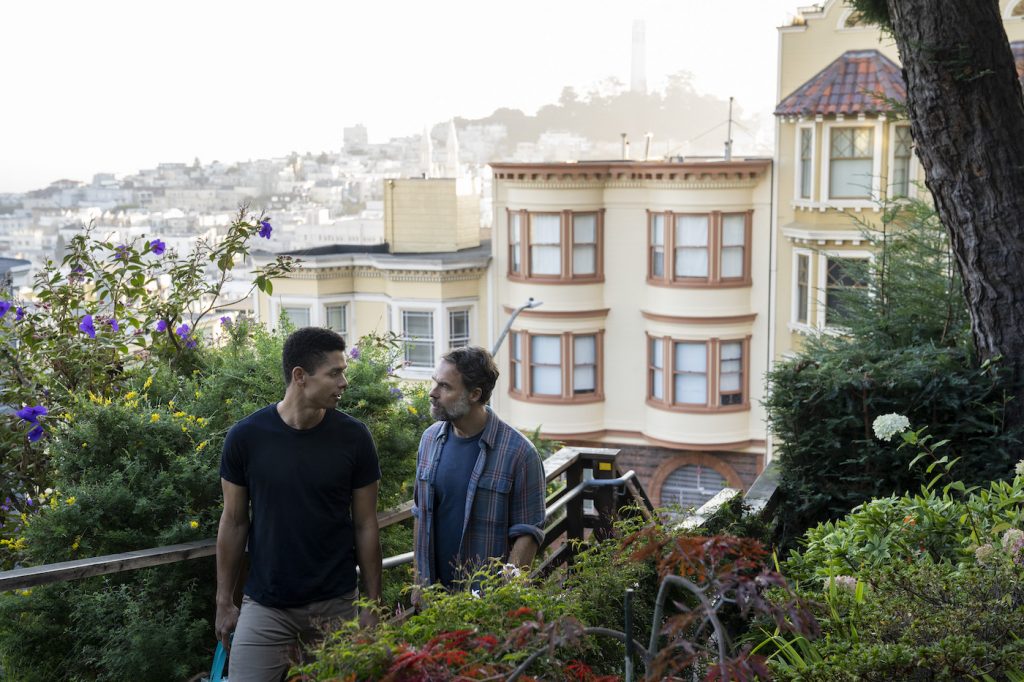 Where was the set?
We built that set in New York at a stage in the Bronx, at Silvercup North. About as far from San Francisco as you can get. But then we also shot in San Francisco, so all those beautiful establishing wide shots in San Francisco were shot locally.   
This was your first outing as showrunner. You have this great background from Orange Is the New Black, so how did that experience inform your job for Tales of the City?
Getting to watch Jenji Kohan, who was the creator and showrunner of Orange, run that show taught me so much about how I wanted to lead. She runs a remarkably democratic writers' room. When I was a beginner writer on that show and had no idea what I was doing, I was never made to feel like my voice mattered any less than anybody else's. And I think that was really important for me when I was given the chance to run Tales. A good idea can come from anywhere, so if you're really fostering an environment in which people feel like they can contribute and that they're valued for those contributions, the work gets that much better as a result of it.
Featured image: Laura Linney and Olympia Dukakis. Photo by Nino Munoz / NETFLIX