Game of Thrones "The Bells" Breaks Series Record for Viewership
Divisive, devastating, and now, historic. Game of Thrones' penultimate episode "The Bells" broke the series record for viewership this past Sunday. The episode in which Daenerys Targaryen turned King's Landing into a hellscape hauled in a record 18.4 million viewers across HBO's platforms. This topped the previous record holder, "The Long Night," which aired a mere two weeks ago. It's not terribly surprising that the series' two top performing episodes would be the final seasons' two major battles. The Battle of Winterfell, which took 11-weeks to film and was captured in all its dark, mystifying grandeur in "The Long Night" was, we thought at the time, the marquee fight. It had the Night King, after all, Game of Thrones silent, violent existential threat and his army of the dead. We were wrong. It turned out that the Battle of King's Landing (which was really more of a slaughter) was even more of a game changer, completely redefining the way we will look back at Dany's character and setting up the inevitable faceoff between her and Jon Snow in the finale.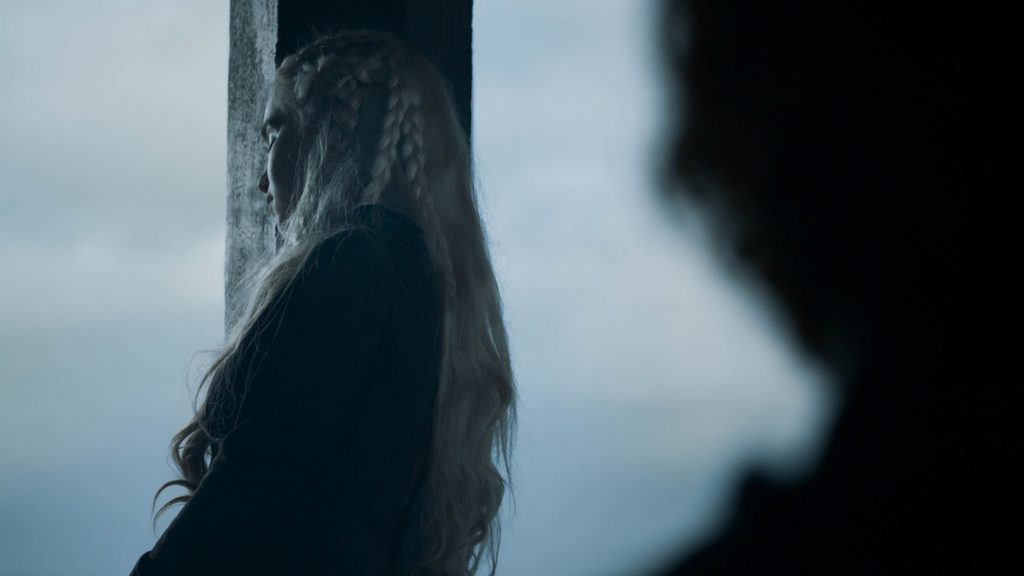 Not only did "The Bells" break the record for total viewership, but it also brought in a "time-period high" with an average of 12.5 million people watching the 9:00 p.m. airing. This bested "The Dragon and the Wolf," the season seven finale, which pulled in 12.1 million viewers. I'd be remiss if I didn't mention how reasonable Dany was in "The Dragon and the Wolf." That reason was nowhere to be found this past Sunday. If it returns again in the finale, it would be a twist too many.
Will this Sunday's finale break "The Bells" record? It's likely. Yet one can't help but wonder if "The Bells" will end up defining the series more than the finale. It will be impossible, really, for Dany to be able to redeem herself after murdering innocents in "The Bells." A final, shocking twist is, of course, possible. This is GoT after all. But it seems unlikely that it'll ring as harshly as "The Bells" did, no matter how many people are watching.
Featured image: Season 8, episode 5 (debut 5/12/19): Maisie Williams. Photo: Helen Sloan/HBO